POV Holder:
Kevin
Next POV
April 3rd
POV Used
Yes
POV Ceremony
?
HOH Winner
Bobby
Next HOH
April 1st
Nominations:
Kevin Cindy and Brittnee
Have Nots
Jordan, Brittnee, Naeha, Godfrey
POV Players
Godfrey, Willow, Johnny, Britt, Kevin, Bobby.
Jordan is the VETO HOST!
If you are outside Canada and want to watch the FREE Big Brother Canada Live feeds sign up for a VPN service here https://www.hidemyass.com/vpn/r16399/. It's safe to use, easy to set up, and cheap. Need to know more check out this post explaining how to set it up.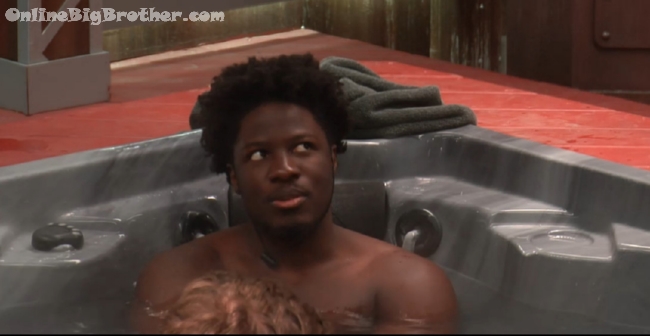 7:50pm hot tub bruno, Bobby and Godfrey
Bobby is telling Godfrey a lot of girls were telling him to nominate him this week . Godfrey thanks him for what he did he won't forget it.
Bruno wonders who the leader of the girls is.
Bobby thought it was Sindy but it's looking like it's Naeha. Bobby stresses how dangerous Naeha is.
Bobby wants to take another girl out next week. Bruno and Godfrey agree
Bruno thanks Bobby for not putting him up says that for that he's going to help him out next week. "We gotta stay strong man"
Bobby is worried about the girls flirting with guys and breaking up their group.
Godfrey mentions how smart the girls are and them flirting around is a weapon.
They start studying.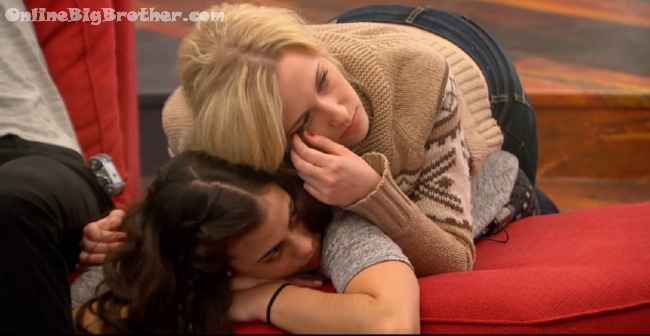 Lots of random living room chit chat ..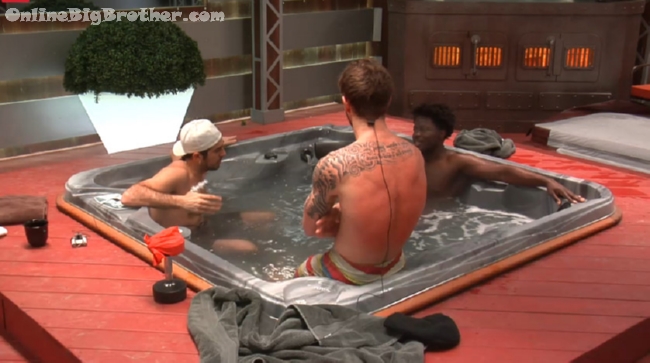 8:11pm Hot Tub Godfrey, Bobby and Bruno
Godfrey tells them he's going to nominate the people that have been throwing his name out. one of those people is Naeha.
Counting votes to get Sindy out, They need 7 votes.
Godfrey – "Right now I'm sure we have the votes" (To get Sindy out)
Bobby thinks it will be unanimous.
Bruno – She might get a couple votes like Naeha and Sarah
Bobby – That's going to expose the girls to the other girls
Godfrey – ya ya
Bobby – they are going to want a unanimous vote.. otherwise the girls will be Who voted Sindy to stay.. Might actually be nice it'll terrorize the girls a little more.
Bruno – I think Sindy knows
Bruno – Two down
Bobby – People have to go home
Bruno points out that Sindy wasn't even a target if she didn't have that one conversation (The one where she told the girls she's going after 2 strong guys) she would have stayed longer
Bobby thinks it will scare the girls to talk in the future
Bruno agrees it's scaring them even more
Bobby has noticed all the girls are pairing off with guys now.
Bobby – Gotta keep the forearm endurance up.. it's huge man in competitions
Bruno says how Bobby did in the HOH was impressive.
Bruno thought Sindy was going to get DQ'd
Bobby saw how good Sindy was doing which gave him reason to win the COmpetition. He thinks he would have been nominated if she had won.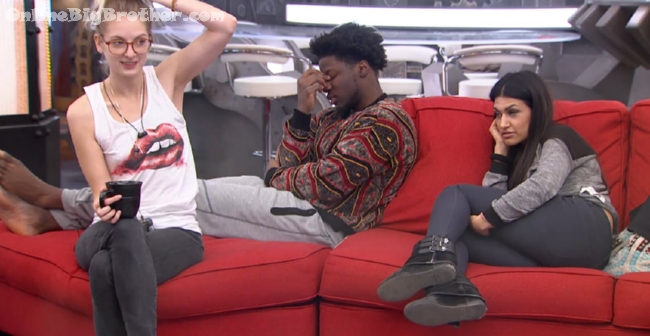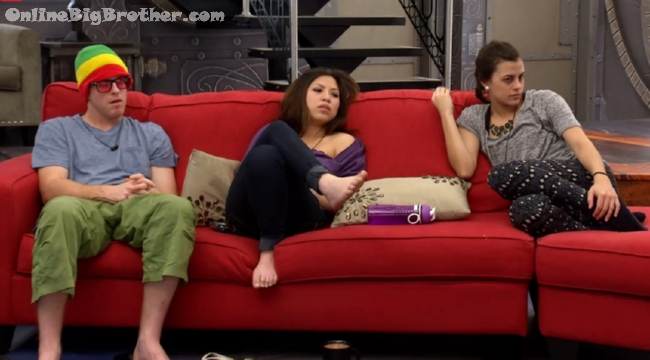 8:42pm …. Chit chat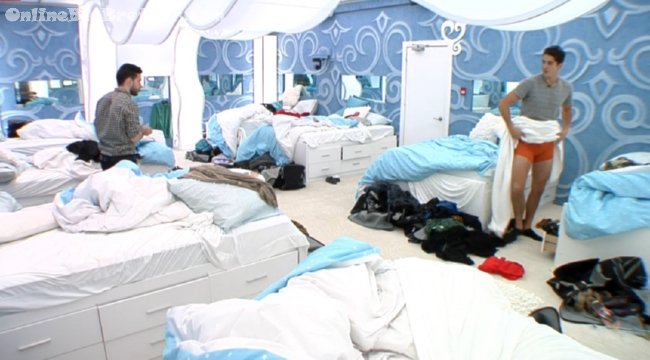 8:55pm Bedroom Jordan and Zach
Agreeing to have a meeting tonight and go over their next moves "We'll break down where we're at". They want to get the Chop shop to go after Naeha and Johnny and for Neaha and Johnny to go after the shop shop. Zach warns that Naeha and Johnny are forming something soon. Jordan tells him they have to be the last ones up pretend to go to sleep then sneak out to the storage room.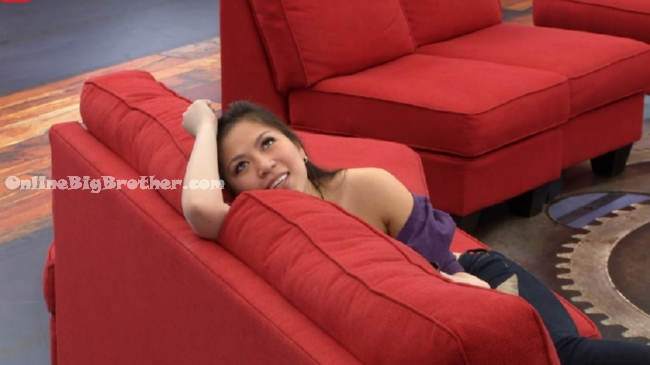 9:08pm Living room Sindy and Sarah
Sindy says she has a little crush on JP he's the only guys she hasn't flirted with. She only likes him when he doesn't wear his glasses he's "Super Cute" when he doesn't wear his glasses.
9:10pm Neaha and Brittnee
Neha wants them to talk to johnny and try to get Kevin in on it. "We need more people working with us"
Brittnee is worried they are goign to tell the guys. Naeha doesn't' think so.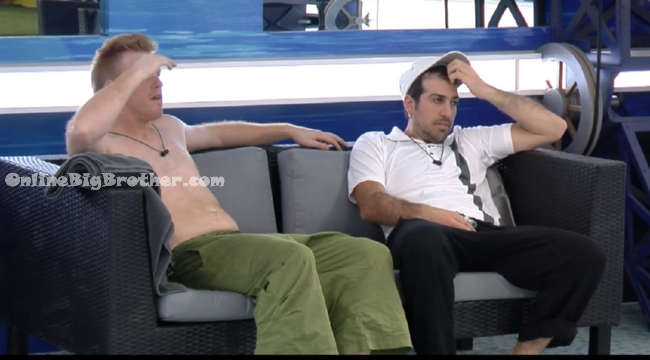 9:27pm Graig and Bruno Pool side
Thinking about telling Brittnee that Neaha has been trying to rally votes against her.
Graig thinks it's a great idea.
Bruno – That will make her distrust Naeha
bruno proposes he'll even start talking to Neaha to make it look like she's trying to get votes.
Bruno is worried that it might blow up "should we play it safe"
Graig doesn't think they need to.
Graig – I trust Zach
Graig – I had a good talk with Kevin he's going after Neaha 100%
Bruno says Johnny has no quit in him he's an animal, he wants johnny out fast.
Graig says the only people that annoyed him in the house was Risha, Sindy, Neha and Jonny.
Bruno – We have to get Britt tonight
Graig – We have to get Britt
Tonight they plan on telling Britt they are voting to keep her.
They both say they trust Bobby and Ashleigh 100%
Graig – We got this
Bruno we're doing so good
Graig is worried about Sarah but they both are glad she's been sleeping in Bobby's bed.
Bruno doesn't trust Sarah "Kevin I do but I don't .. kevin dangerous though"
Graig agrees.
Graig says he likes Kevin a lot.
Bruno – I want to get Deep with him deep with him emotionally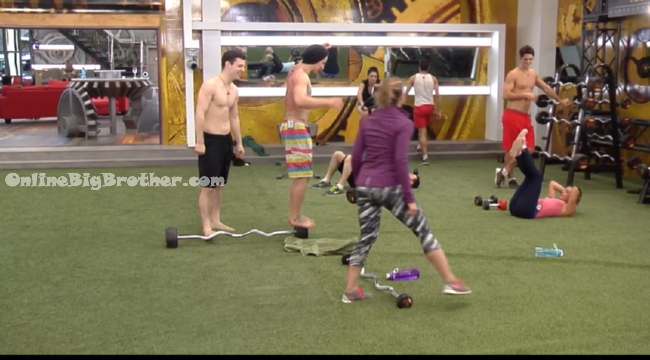 9:42pm Working out
Support the site and purchase your Amazon goods through our link below. It doesn't cost you anything and we get a percentage of what you buy.
Amazon Canada
Amazon USA