OK let's catch up. My video setting were a bit off so they are taking forever to upload to Youtube.
Karen won the Head of Household competition and nominated Mark and Demetres
Bruno won the Power of Veto and didn't use it.
Mark was evicted by a vote of 7 – 6
Demetres won the Head of Household
Neda won the time warp making her safe until Jury (Surprise surprise a vet won)
A summary of the weeks critical spoilers will be posted here.
Sounds like there was a big blow up involving Cassandra as well as a last minute scramble resulting in Mark getting evicted. Ika is playing on overdrive.. enjoy 🙂
This has been a good night of feeds worth watching so far. If you're outside of Canada you'll need a VPN to watch. Feeds are free and the VPN is cheap.
9:12pm Feeds 1-2 Bruno, Ika, Neda, Cindy with a S
These four vets are conspiring to get Demetres to take Cassandra out. Once Bruno leaves it sounds like the girls want Dillon gone first followed by Cassandra.
"Emily and Dillon are coming after us"
Neda calls Cassandra this season's Sabrina
Bruno wants Cassandra out
Ika says Demetres thinks Cassandra is the reason he almost went out
Bruno leaves..
Neda – I want Bruno and Kevin to be safe
Neda says the three of them are safe.
They agree Mark was a nice guy, "His parents did a great job"
Neda – Let's put up Dilin and someone else
Neda says Cassandra is going around telling people that she's going to backdoor Neda and Bruno.
The three girls say Dillon is a a$$hole
Ika – I F****ng love William
Neda about Cassandra "I HATE HER SO MUCH"
NEda says everyone from Season 4 HATES Cassandra
Ika says Cassandra is "stuck up"
Neda says Cassandra "Has" Dallas and Jackie.
Ika wants Emily nominated as the PAwn so she stays quiet, "I'm tired of her cackling"

(Still uploading.. it's long)
9:20pm Cam 3-4 Dallas and Emily
9:24pm Storage room Feeds 3-4 Bruno and Demetres
Bros…
Bruno – if I win you're safe
Bruno – we got to be safe with Cass n shit
9:30pm Cam 3-4 Ika and Dee
Ika says she's not going anywhere. stresses that Bruno is a good guy. Ika is happy Demetres won, "We're safe, we're good.. walk around twerk eat, jump up[ and down.. don't even ask if you're safe because you are"
Dee says Dillon is stressing
Karen, Neda and Demtres Storage room
9:36pm Cassandra and Kevin
Kevin saying he was closer to Mark than Demetres. They agree there's a connection between them. Cassandra wants to be close to Kevin and Bruno.
Kevin – talk to Bruno .. we're working together.
They mention how all the vets are teaming up but are nervous because it's starting that the vets have side deals with the newbies. They like Bruno and Jackie.
Kevin says the newbs and vets are integrating "Very very quickly"
Kevin – it's been an emotional day.. I'm burnt..
Cassandra – craziest week in Big Brother History .. that was a lot of drama
Kevin – I wanted to win HOH to prove to you
Cassandra – we'll be fine with Demetres being HOH .. I just don't want to feel like we're on the bottom of the totem pole
9:47pm Emily and Dillon
Dillon saying that he's going up because Demetres is intimidated by him

9:52pm Ika and Demetres CAm 1-2 Storage room
Karen joins them essentially trying to get Demteres to put Cassandra up saying that Cassandra was trying to get him out when he was nominated.
Karen points out that Dallas is in 2 alliances.
Karen leaves and Ika tells him he can't trust Dallas and Dilion.
10:00pm Ika, Cindy with an S, Neda
Ika says Demetres thinks Neda is lying about the Bruno voting the other way.
Ika adds that Demetres told her she's safe, Neda's safe and Cindy with an S is safe.
Ika – it sound sketchy
Cindy – I love you guys so much..
10:16 Kevin and Bruno
Bruno – Ika is close to Demetres.. she's going to tell him she told us to throw the two votes
Kevin – ok .. do you thin he'll go after us..
Bruno explains
Bruno – I think we're good with Demetres.. It's weird that Dallas thinks he's going on the block
Bruno wants them to try and convince Demetres to put Emily and Dallas on the block so they can backdoor Cassandra.
10:23pm Cam 3-4 Cassandra and Ika
Cassandra thought she was going to win the immunity. Cassandra says she doesn't trust Kevin, Ika agrees. Ika says Dillon is a "Piece of Shit"
Ika says Emily and Dillon are "Sketchy"
10:43pm Neda and Ika
10:44pm Dee and Dallas
10:50pm Ika, JAckie and Neda

11:08pm Demetres gets his HOH room
Instead of a HOH letter they get a video from their family.. Demetres gets a bottle of tequila, everyone takes a swig. Dilion starts to cry, he misses his family.
11:33pm Dillon continues to cry
11:34pm They get Beer

11:41pm Gary starts to cry..
11:56pm More crying from Dillon
12:03am More Dillon crying

12:19am feeds 3-4 Dillon Crying
Dillon tells Emily – You're so freaking pretty.. I don't care what you say or what you thin kI think you're a really really pretty girl"
Emily laughs – thank you, I love you you're the best.. 6 days feels like a lifetime.. we'll be friends forever
Dillon continues to cry "Give me a break quit putting the camera on me "F*** you camera"
12:48am Ika, Dee, and Cindy with a S
Ika drunk..

Everyone Drunk
1:00am Ika, Dee and Cindy with an S
Being Catty Feeds 1-2
1:03am Emily and Dallas making plans to save Dillon
Dallas says Dillon campaigned with everyone to get Demetres out. He's going up 100%. Emily wants to get Karen nominated with Dillon.
Dallas says they have to be prepared for the fact that it's maybe going to be him or Emily going up against Dillon.
Dillon joins them.
1:38am Kevin and Demetres
Demetres tells Kevin he's a big target along with Bruno and Dallas. Kevin compliments Demetres for keeping his cool today after the house blew up. Demetres says Kevin, Dallas and Bruno flipped on him the very last minute, "It did hurt.. you guys had my back at least 1/2 the time.. I have to go after the people that had my back never"
Demetres says the game doesn't have to be so difficult like "These f****g Chicks running round"
1:52am Demetres and Ika HOH
Demetres saying that Bruno, Dallas and Kevin were feeding him bullshit all week. It took a lot of self control to not "Light them up"
2:30am Dallas and Jackie
Dallas says he wants to team up with Cassandra and Jackie. explains that they have to build trust with other people. He can get Gary. They agree they can't trust Ika, Neda and Cindy with a S. Dallas points out how those three girls always crowd the HOH. Now that Demetres won those three girls are with him. They talk about how Ika was making out "Getting it on" with Demetres.
They are on the same page with those three girls.
Dallas – I wish Mark was here ..
Dallas think Dillon and Emily will be nominated if there is a backdoor planned it'll be him or karen.
Dallas – we're going to push Karen for retaliation… you are going to be off the radar.. Karen put that guy on the block.
Jackie says Dallas is better off with the newbies than the vets. Dallas agrees. Dallas mentions how Cindy with a S has already thrown Karen under the bus.
(Video uploading)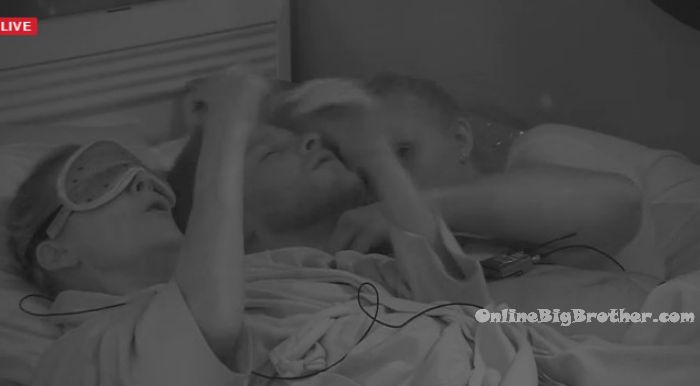 3am Karen talks to Dallas and Jackie about how if people want to come after her .. then game on! Karen goes to bed. Dallas – that girl needs a straight jacket. She burned all her bridges. Watch the move I'm going to make if I go up. I'm going to blow this sh*t up like it was 1915. Dallas then goes and snuggles up with Gary. Jackie gets up and stumbles around drunk. "I'm not drunk.. I swear!"
Jackie – "I'm not drunk.. I swear!" @bigbspoilers #BBCAN5 pic.twitter.com/4EDP1aKXOC

— Dawg (@DawgsBigBrother) March 17, 2017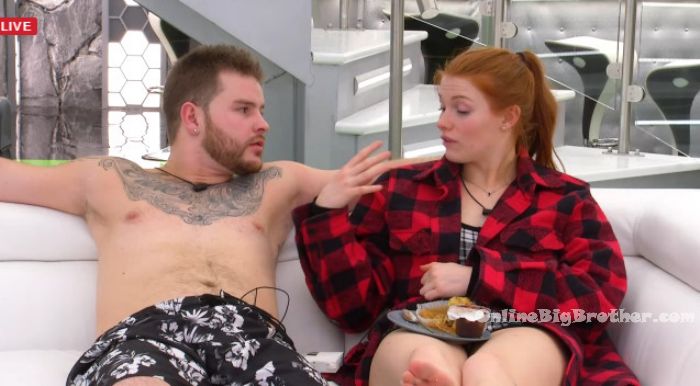 3:30pm Jackie and Dallas in the kitchen. Jackie – I want to go far in this game. People think I'm here to f**k around but I'm not. Dallas if Dillon goes on the block and I stay off I will vote him out. I would do that to build trust. You have my word. Jackie – can you tell me the truth.. are the vets working together? Dallas – some of them are. Tells tells Jackie he's got her back. They head to bed.
Beer on the #BBCAN5 FEEDS! pic.twitter.com/X4n2IHgqaR

— OnlineBigBrother.com (@bigbspoilers) March 17, 2017
Dillon Kisses Dallas #BBCAN5 pic.twitter.com/paiwqUdVdJ

— OnlineBigBrother.com (@bigbspoilers) March 17, 2017