POV Holder:
Zach
Next POV
Aug 16th
POV Used
?
POV Ceremony
Aug 11th
HOH Winner 1:
Nicole
HOH Winner 2:
Christine
Battle of the Block Winner
 Frankie/Ca;eb
Next HOH
Aug 15th
Original Nominations:
Nicole's Noms (Caleb & Frankie) Christine's Noms (Zach & Donny)
Final Nominations:
?
Have Nots
Donny and Zach
POV Players
Christine, Zach, Donny, Nicole, Caleb, Derrick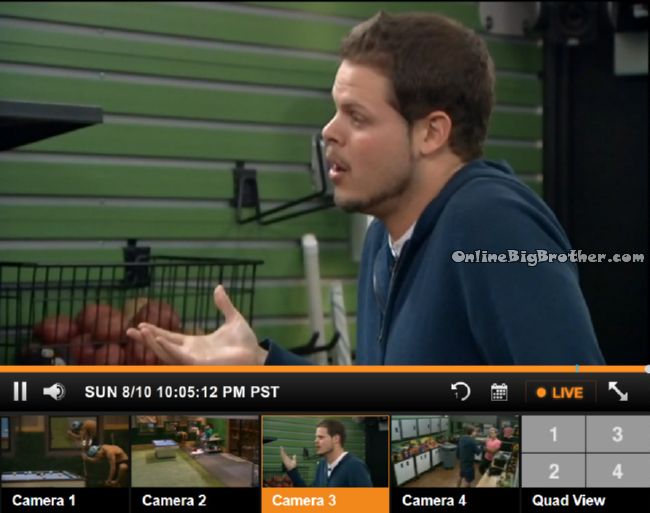 9:59pm Storage room Caleb, Derrick and Frankie
Frankie says Victoria hates him. They want to get Nicole on the block
Caleb wants to tell CHristine that Nicole was going to backdoor her.
Caleb says Nicole's exact words are "I promise you if you throw the competition i'll backdoor CHristine"
Derrick isn't sure it will work.. if it doesn't work and Nicole wins the HOH she's putting them up
Caleb – She already is putting us up
Derrick suggests Caleb go to Christine on his own.. still isn't sure it's the best thing to do..
Frankie – would you send Victoria home
Derrick against Donny.. probably not.. I'm being honest.. I dont ;think we have the votes to send Victoria home.
Derrick says Victoria can be manipulated but Donny can't if the entire house is voting CHristine out he will vote her out.
Derrick says if this doesn't work and they can't convince Christine ti put up Nicole they are on Nicole's Sh1t list
Frankie – "I'm already on her sh1t list"
10:13pm Kitchen Caleb, Frankie and Derrick .
Derrick is playing devils advocate with Caleb's plan to tell Christine. Derrick thinks it's too big of a risk. If Christine might not believe them. Caleb says other people were in the room Zack and Cody.
Derrick asks if he's going to throw their names out says it might arouse suspicions that the guys are together. . Caleb doesn't see why not Christine knows they a together she's with them.
Victoria joins them Frankie starts talking about a turtle at the football stadium.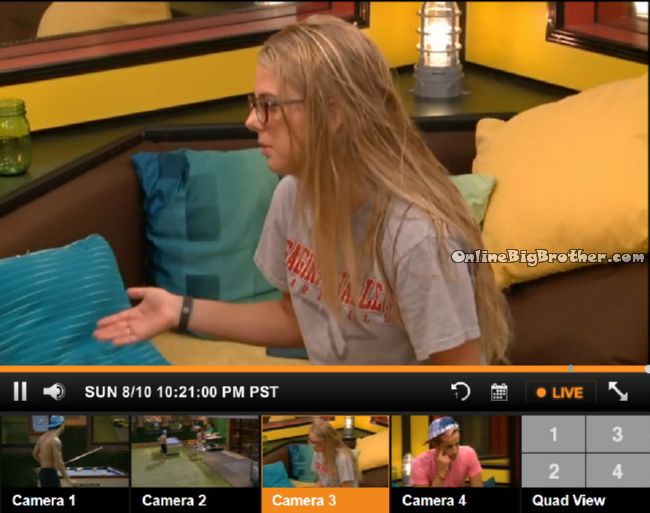 10:20pm BEEHIVE Nicole and Frankie
Frankie says he knows there was a play to get him out this week and he understands.
Nicole says she heard he said some things and at this point he's over it.. it made her upset she doesn't know if he said them or not.. It's something to do about your strategy
(They hash things out.. doesn't go well)
The Live Feeds are archived. You can go back and watch everything that happens
Try It Free! Subscribe now to the official BB16 Live Feeds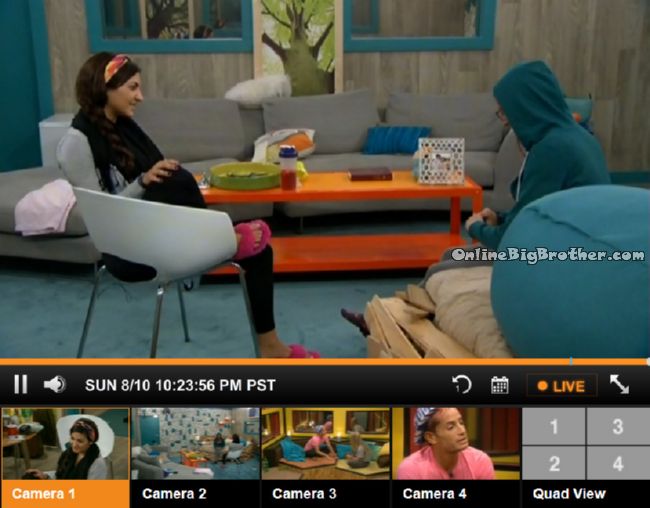 10:22pm HOH CHristine and Victoria
Christine can I start with the bad news the reason i'm telling you shes going up she promises she has everyones promise she's not going home.
Victoria – you know i'm not coming after you
Christine wishes she had a backdoor options .. Christine says she promised Nicole she wouldn't put her up , "I feel so bad about this.. I am pissed off.. Zach was literally the only person I didn't want to win it"
Christine – I'm so doing i can't pretend to be nice to him
Nicole comes in.
Christine – It's Nicole is that OK"
Victoria – ya
Nicole – I need to talk to you when you're done..
Victoria goes back to telling Christine about her talk with Frankie..
Victoria says she wants a clean slate with Victoria "It sucks that I don't get to play for my life.. I just don't want to be in front of julie on thursday and have all that nervousness.. " Victoria says the pawn goes home sometimes. Christine says they put Frankie and Zach on opposite teams and now both of them are safe it's unbelievable.
Christine brings up Frankie telling her he won the BOB he deserve to sleep in the HOH bed.
Victoria leaves grabs Nicole tpo talk to Christine.
Nicole marches in
Nicole Ok so i'm so f*** pissed at myself.. I should have known better..
Nicole – you know how Frankie made Victoria cry
Nicole says she told Caleb Frankie was saying he has Victoria in his back pocket because she's a fan of his sister.
Nicole – Didn't he say he could manipulate her
Christine – ya
Nicole isn't going to say Christine heard him say it.
Christine thanks her says Frankie told her in the HOH room he had Victoria in his back pocket because she was a fan of his sisters.
Nicole – It makes me sick to look at him in the eyes..
Nicole isn't going to fall into his trap of making her feel this small because he's famous. Good for him. I don't care
Nicole – do yo know what you are doing tomorrow.
CHristine – I just told Victoria..
Nicole – She's not going home
Christine says Derrick is so mad at Frankie .
Victoria comes up Nicole tells her Frankie told her she's a horrible disgusting person for telling Victoria he can manipulate her because of his sister.
Christine – It pisses me off how nice he is to Zach right now..
Nicole – he made me believe i'm horrible person… he's able to make other people think i'm horrible.
Christine – We're getting rid of DOnny he's so useless. .
The agree Caleb is such a idiot for sticking so close toe FRankie.
Nicole tells her
Christine says it doesn't matter how Frankie, Zach and Caleb vote. they have enough votes to get rid of DOnny.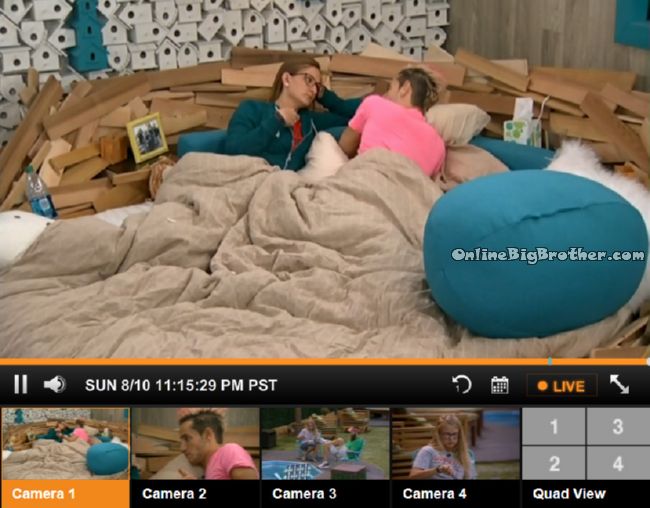 11:13pm Frankie and Christine
Frankie warns Nicole is panicking and she's stalking to the guys saying a lot of sh1t.
Frankie says Caleb has something to tell her he wasn't privy to it. Caleb will explain thieving that happened earlier in the week it involves Christine's relationship in the game and her relationship wit Nicole.
Frankie says Christine was the secondary target
Christine – You're kidding me.. "
Frankie says Nicole was conspiring to get Christine out she wanted Caleb to throw the BOB.
Frankie – She's petrified of me telling you this..
Frankie says all the guys are furious with Nicole.
Frankie says the bomb squad is still b@lls strong.
Christine – Really… Zach isn't coming after me.. you promise ..
Frankie – yes..
Frankie – honestly I have only you Caleb and Derrick in this game.. you know Zach he's f** himself so many times he's go nothing left..
Frankie – If She wins HOH you and I are going on the block..
Zach comes in .. Frankie leaves..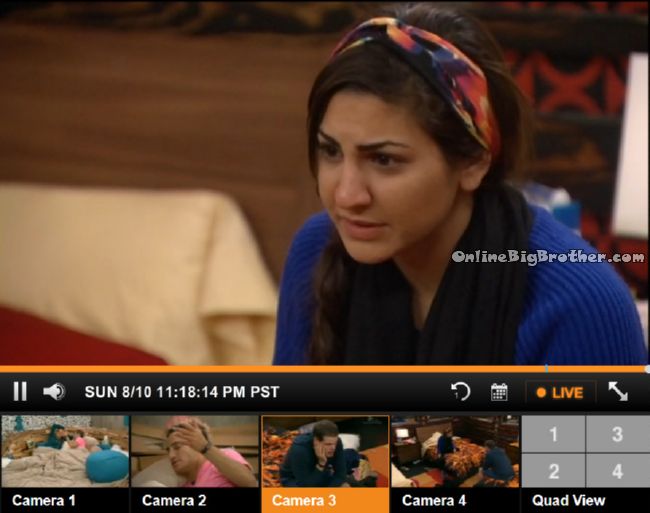 11:18pm FIRE ROOM Derrick and Victoria
Victoria tells him she's going up. Derrick says it's not the worst news something is in the works he's heard rumours and things might be changing..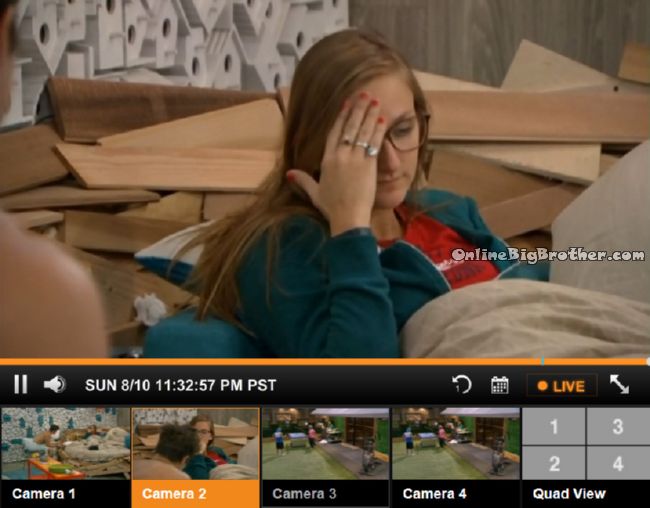 11:27pm Zach and Christine HOH
Christine – I swear on my life I didn't put you up Maliciously..
THey both act like they "had no idea" what happened last week.
Zach – now it's a clean slate.. I don't want you out of the house.
Christine – I don't want you out of the house.. I was so happy you won VEto..
Zach says he's going to find out if Frankie would win the Veto Nicole was going to put Christine up.
Zach – Obviously I was down with it.. The plan was Caleb and Frankie were going to lose.. if Frankie were to win the veto you were going home
Zach – Nicole was DOWN
Zach says they were all down with the plan to, "Nicole is really close with Donny.. i'm not pleading for you to put Nicole up but you were going up if Frankie would win the veto..
Zach – A lot of people want Nicole gone.. Derrick and Cody want Nicole gone.. .
Christine asks him if people will be mad at her is she does't put Nicole up
Zach – Cody and Derick really want Nicole out
Zach – People are speculating you and Nicole are working together..
Christine say she made a deal with Nicole that she wuldn't put her up. She thought all Double HOH's were making the same deal.
Caleb comes in..
Christine – We made up and we're friends again you guys would have to promise me she would go home..
Caleb says nicole asked Zach to throw it the BOB
Zach – I volunteered
Caleb continues,  Zach volunteered to throw it because he was pissed at Frankie.
Nicole didn't trust Zach to do it so she asked Caleb to do it.
Caleb – I tried to throw it
Caleb says Nicole told him Caleb if you throw the competition i'm going to back door Christine..
Zach – The goal was for Frankie to go home and Christine was the backup plan.
Caleb says Nicole ended up saying in front of Derrick and Cody that she promised to backdoor Christine if the veto is played.
Zach – right.. there was no question if Frankie won the veto you were going home 10-0%
Caleb – she was going to do it.. she can lie all she wants to.. look at the tapes .. you can call COdy or Derrick
Zach – Cody wasn't in the room but Derrick was for sure
Caleb – No Cody was there.
Zach – Cody says he wasn't in the room but I think he was.
Zach – Every single person in this house thinks whatever is said to you goes to Nicole.
Christine wishes people would stop pairing her with Nicole and Frankie.
Zach – If you don't put up Nicole it's going to be more believable
Caleb – all of us want Nicole gone
Christine you have to promise me Nicole goes home
Caleb at this stage of the game Nicole will win every other HOH
Zach – she's not with us.
Caleb never said anything to her before he was worried she was going to run off to Nicole and tell her.
Caleb – Nicole has lied to all of us.. she's doing a great job of covering her tracks.
Zach says If Christie doesn't put Nicole up it's gong to confirm that Christine is working with Nicole, "If you keep her you're putting a bigger target on your back"
Caleb starts banging the bomb squad war drum saying they have to get to the final 6
Caleb – All of us guys are sticking together
Zach – no matter what
Christine I feel like i'm on the bottom.
Caleb – there's no bottom in the six.. there's no top.. when we get to that six..
Zach – It's a dog fight
Caleb keeps talking about the reasons they need to get out Nicole..
Caleb – She's like me but a girls version
Zach says during Nicole formulating the plan to get Christine out she told them don't tell Christine or she wasn't going to do it.
Zach – Even then she was covering her tracks.
Christine wants to talk to Derrick, Caleb goes to get him.
Christine –  I don't know what she's going to do when I put her up
Zach says he never talks sh1t about Derrick, Frankie, Christine and Cody.
12:12AM Zach runs down to Cody tells him Nicole is going up 100%.
Cody says he never heard Nicole says she promised to backdroor Christine.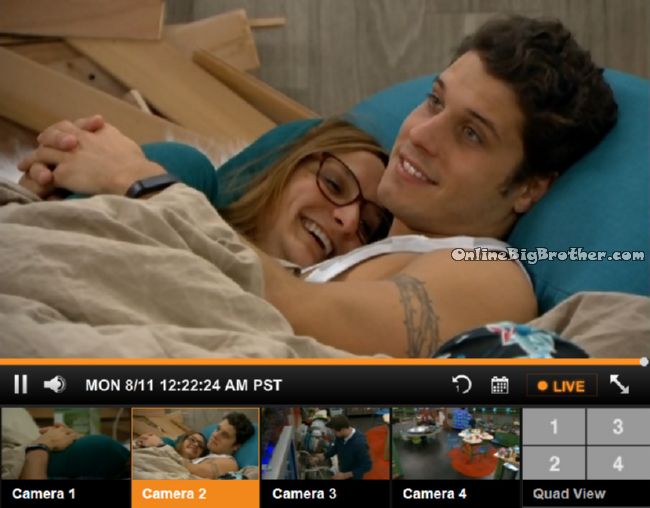 12:18am Christine and Cody HOH
Christine – If I put Nicole up will you vote her out
Cody Do you want me to
Christine – Yes
Cody – OK
Christine – I am going to swear on my wedding ring you have never been a target of mine..
Christine says she promised not to put Nicole up but with everything that happened with her backdooring me if frankie got of the block.. ya so..
Christine – I want the bombsquad to have a clean slate over again.. ok guys lets do this lets make it to the final 6.
Cody says he was never there when Nicole said she was going to backdoor Christine.
CHristine – I didn't want to put her up because I wasn't convinced she wasn't going home but if everyone promises they are voting her out then they are good.
Cody – so you want Nicole out
CHristine – ya.. you gotta do what you gotta do.. it's going to be so awkward.. I legitimately like her as a friend..
Derrick rolls in..
Christine – Caleb just told me everything that happened this week.. I'm going to put Nicole up do you promise to vote her out
Derrick – I've always had your back
Christine .. ok thank you Derrick
Christine – Can we make it to the final 6..
Derrick says he wants to go beyond final 56 with the people in the room.
Christine is concerned about the Frankie situation. Do you guys trust him anymore..
Derrick says Frankie is safe this week if he never won the BOB he would have gone home..
Caleb and Frankie come up tehy start talking about the nomination speech and the football event.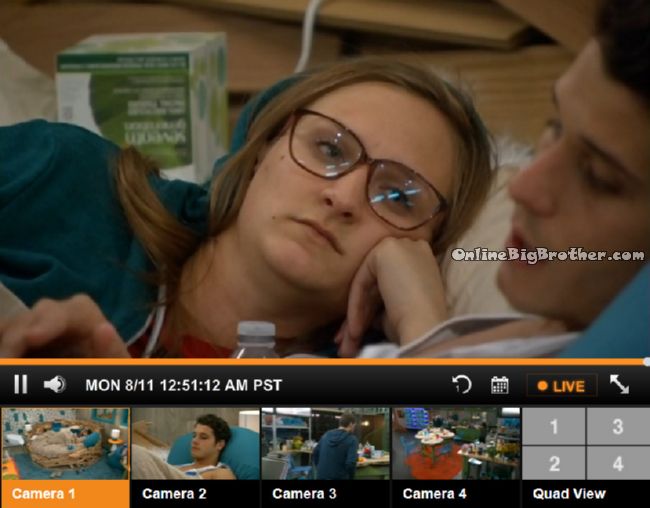 12:39AM HOH Cody and Christine
They agree Frankie and Zach are huge F***g liars.
Cody is ready to snap on someone..
Christine say she especially didn't want to put Nicole up this week because Frankie wants her up so bad and Christine didn't t trust her .
Christine says Zach told her if she doesn't put Nicole up the bombsquad is coming after her.
Cody says that is complete bullsh1t
Christine says she wants Derrick and Cody Final 3 "That is how I feel about you" Christine says Nicole and Frankie can tell her all the crap about them she is not putting them up.
Cody hates the way the game is being played.. he blames it on the BOB.
Christine – I'm Positive we have one more BOB"
Cody -at least
Christine – Do you think putting Nicole up is a good idea
Cody says it doesn't really matter, Cody says Donny is the biggest schemer. Cody blames Hayden and Nicole going home on Donny. Cody is worried that Donny is getting in Zach's ear.
Derrick joins them, says Donny's ankle is f*** up that's why he was so slow in OTEV..
Derrick tells her Frankie has zero trust in the game there is no way he'll make it to the end.
Christine tells them how difficult it was to spend the entire day with Frankie.
Christine – ts' so skeery.. so skeery.. I think because it's a blindside.. Skeery"
12:44AM Pool table Caleb, Derrick and Frankie
Talking about the potential for a jury member by back.. Derrick says if they get rid of Christine and hayden comes back they only have one person to deal with. If they keep Nicole and Hayden come back they are back to dealing with two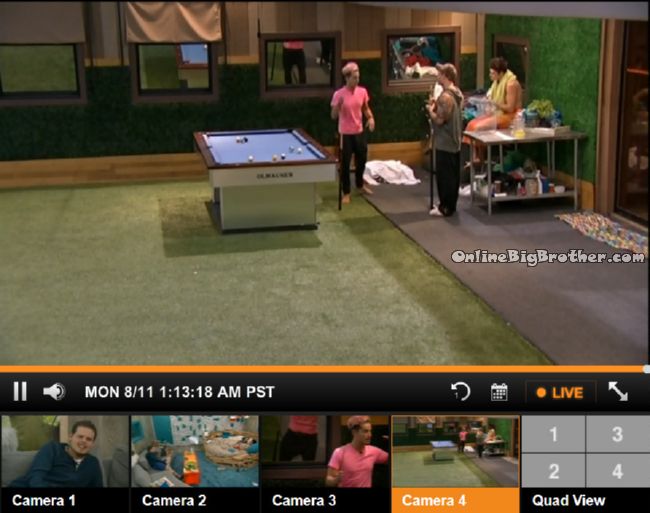 1:13AM Pool table Zach, Frankie and Caleb
Talking about Twitter accounts. Caleb is really excited about tall the followers he's going to gain by being on Big Brother. Frankie being the social media mougal tells them his sister taught him everything about how to use twitter. Zach asks him for a tip Frankie – "Short sweet no @ mentions"
Frankie says his sister controls her own Twitter feed she doesn't have a team when you see a tweet from Ariana Grande it's Ariana Grande on her phone tweeting it.
1:30AM HOH Derrick, Christine, Nicole and Cody
Cody's looking at the "hebrew book" (Zohar/Kabbalah book), Victoria explains the language is written right to left
Victoria – Those are hebrew letters but those are not hebrew words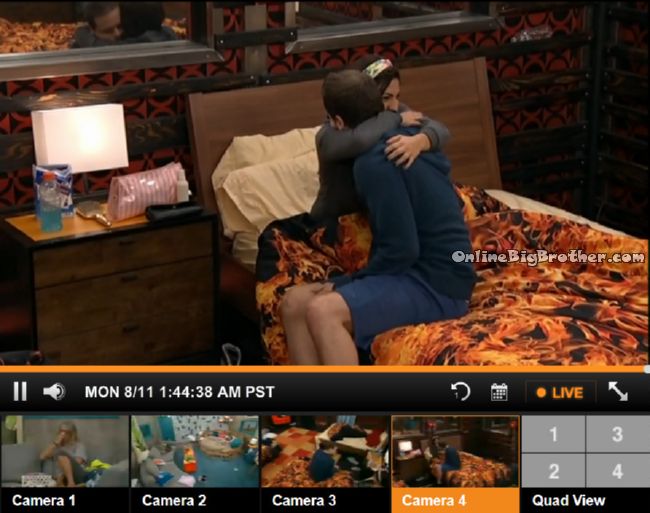 1:45am FIRE ROOM Derrick and Victoria
Derrick says she's not going on the block tomorrow it's going to be Nicole.
Victoria squeals gives Derrick a hug.
Derrick – pretend you are worried and sad.
Victoria everyone want Nicole out of this house..
Derrick says unless something big changes Victoria is safe. He's going to stay up all night to keep an eye on things.
Victoria – I love you so much
Derrick – never doubt me again
Victoria – I know..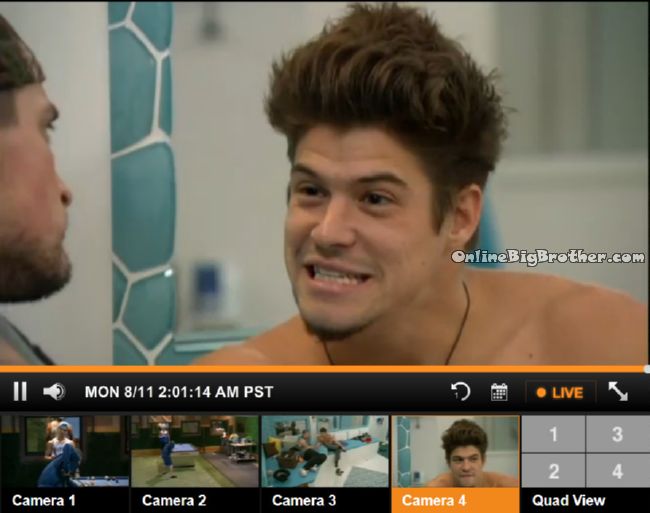 1:53AM Bathroom Zach, Caleb and Derrick
Derrick says they must have done some voodoo mind trick on Christine.
Zach says after Nicole goes they have Donny and Victoria to get out " you know Victoria Isn't going to win HOh unless it's a makeup contest"
Derrick is impressed with them getting Christine to put up Nicole he gives them a clap and leaves..
Zach – I hit the trifecta I was HOH, won the Veto and have nots.. TRIFECTA
Caleb – I won a HOH i won a veto.. i was a have not twice i've been on slop for almost a month , I've won 2 battle on the blocks .. I've won two HOH's"
Zach – Two Battle on the blocks or three.. were you counting the last one
Caleb – Well ya the team I was on won..
Zach – isn't that crazy bro.. it worked out for the better didn't it
Caleb – ya ya
Zach – it did honestly but we can't forget Frankie did that .. he great at spinning words around..
Caleb and Zach agree they trust frankie a little bit. Caleb says he trusts frankie the least out of their group, (Caleb is referring to the bombsquad)
Alliances
The new bomb squad – Caleb, Zach, Derrick, Frankie, Cody, Christine
"The HITMEN" – Cody & Derrick
Team America = Donny, Derrick, Frankie
More polls here https://www.onlinebigbrother.com/big-brother-compendium/big-brother-16-polls/
[polldaddy poll=8233586]