| | | | |
| --- | --- | --- | --- |
| POV Holder: | Cody | | |
| HOH Winner | Derrick | Nominations: | Victoria and Caleb |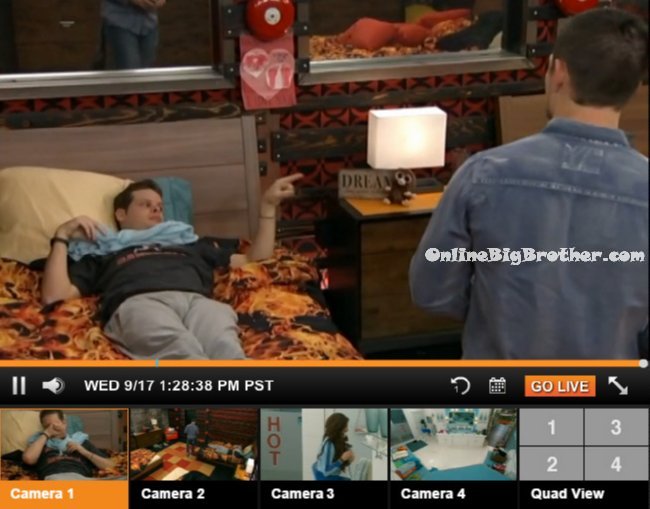 1:30pm The live feeds return. Derrick and Caleb are in the fire room talking. Caleb says I knew when we had Frankie upstairs, I knew he was going to rock the boat with that one. Derrick asks as far as what? Caleb says when he was like I am just going to tell him I'm not voting for him. I was like oh god! Derrick says I'm sure they (production) didn't like that. Caleb asks upstairs? Derrick says in the walls. Caleb says you mean what we told Frankie? Derrick says yeah. Big Brother says you're not allowed to talk about production. Big brother blocks the feeds, when they return Caleb says yeah I trust him. I trust him. Derrick says that's all you can do. Caleb leaves and Derrick takes a nap.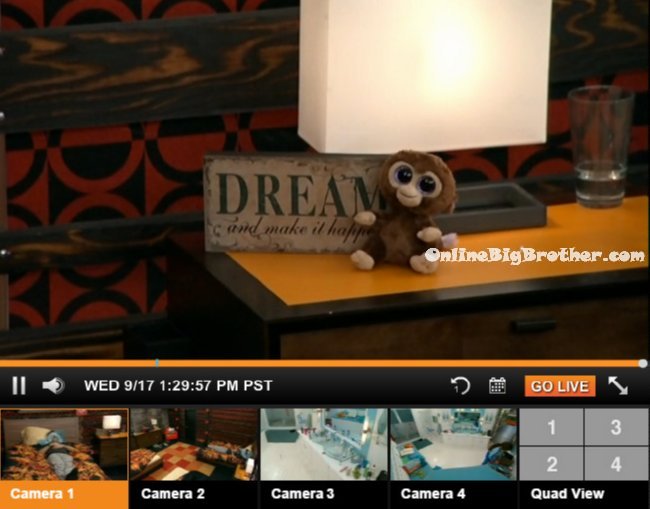 In the bedroom hallway Victoria is look at her clothes and cursing at how she has nothing to wear.
1:45pm In the bathroom – Cody messes up his sideburns and tries to fix them. Caleb watches and laughs. Caleb says in there it looks bad but out here it doesn't look bad. Then head to the fire room to ask Derrick to help him. Derrick says hopefully we can fix it. There's a big line there. The head into the bathroom to fix it. Derrick says its not like we have a live show today or nothing. I told you I would cut it! Cody says I didn't want it cut. We're in play off's! You don't cut your hair in play off's! Cody says that he had a dream last night where the people in the jury were making fun of him. He says especially Zach and Hayden. I started swinging off on Hayden.
2pm In the fire room – Caleb tells Derrick you know what Frankie's words will be if I roll into jury.. "I told you, you should have kept me!" Derrick says yeah but Frankie wasn't rolling with us any ways. If we had kept him he probably would have won this HOH .. but then again he wasn't that good at retaining information. He got murdered in that face morph. Caleb says he got beat by Victoria.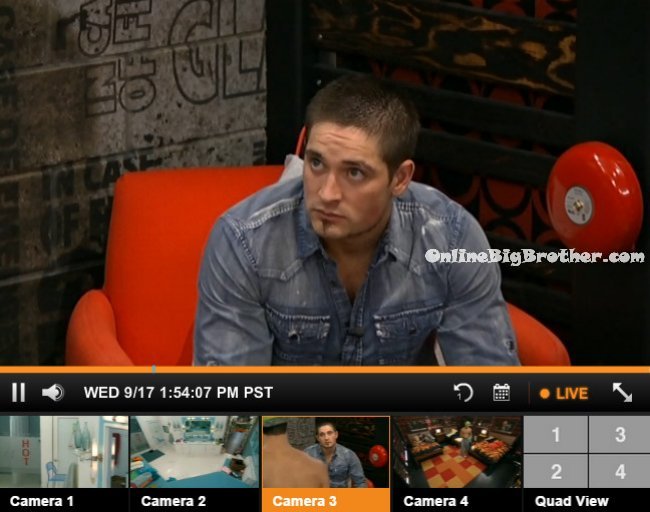 2pm – 2:20pmBig Brother starts showing the live feed highlights again… The feeds return and Derrick is talking to Caleb. Derrick says that Frankie was promoting his sister AGAIN! I guess that's what this was for him a platform for him and his family and I respect it but he didn't deserve to win it for those reasons. Caleb says my speech has to be killer. Derrick says but be you. I like that judi-chop part because that's definitely made the air. You are a brand. You're a product. You haven't been fake or anything like that. That's why people were calling your name over the board.
Caleb says this is a save my life eviction speech.
"First off I'd like to give all the praise and glory to god. I feel like you're the reason I'm here. I want to give a shout out to all my family and fans. Love you guys and hope I've made you proud. I'm going to add that to all my military personal thank you guys freedom is not free. Then I'll jump in to my speech. This has been a long road between the 3 of us we have worked hard, fought hard and won comps. We've kept each other safe and its no doubt that's why we're still here. Loyalty, respect, honour, integrity those are words I've lived my life with especially in the military. They are more than just words. My actions have lived out those words. That being said I am a good game player, I've won comps. You have, so has Derrick. We've kept ourselves safe and I put my self on the block recently so that you wouldn't have to sweat bullets because I trusted you and wanted you here more than the other person. With that being said you can either evict me with the sharpness of your judi or keep my by the loyalty of your actions." All that stuff I'm not going to say but those are just the thoughts in my head. Caleb says I might also add how she's said she's fought hard to be here.. How many times has she kept you safe?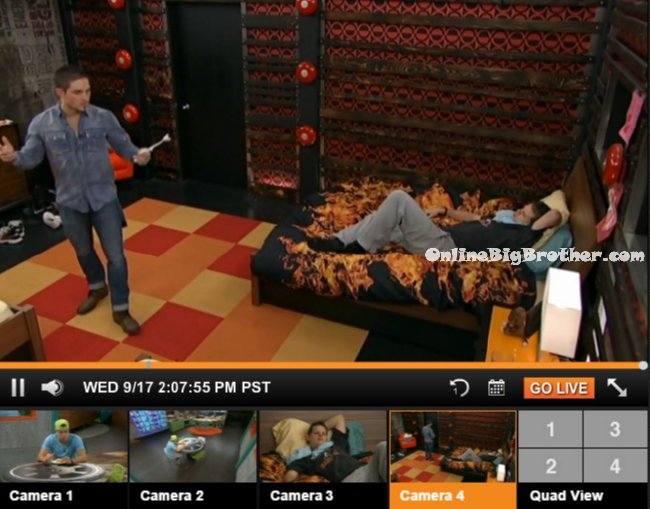 In the kitchen – Caleb, Cody and Derrick talk about how long Victoria takes forever to do her make up and hair. Caleb says a lot of the girls this season took forever. Its not like she looks like beatle juice either. Cody says I get it their on TV and this year its in HD but.. Derrick says look at me I woke up and I got up 4 hours ago. They talk about dressing up tonight for the live show but also having their althletic gear ready. Cody, Derrick and Caleb head into the bathroom. Cody talks about how he was digging Brittany's picture in the veto. She looked good!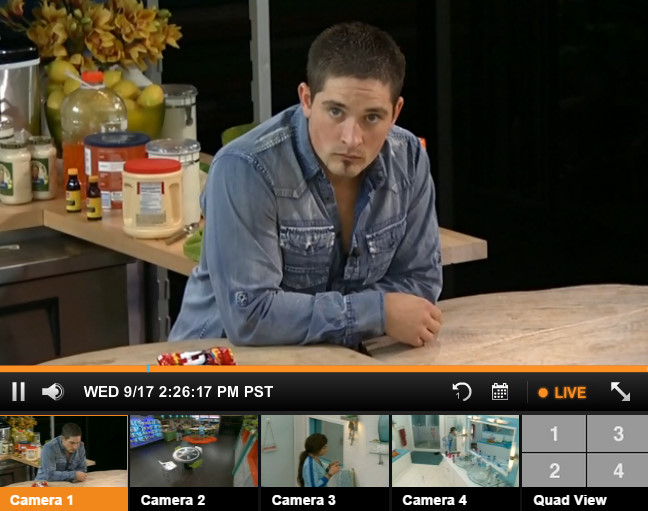 2:45pm Big Brother blocks the feeds again..
If you've enjoyed our live feed updates this season, please consider donating.
Simon and I work 24/7 all season long to keep you updated on everything that happens inside the house. Any amount is greatly appreciated! Your donations go directly to paying the fees required to run this site.
**** I want to personally thank all of our loyal Online Big Brother fans that have once again helped make this another great season. I unfortunately won't be around for much of the remainder of the season as I will be getting married to the most amazing girl this weekend and then we'll be off on our honeymoon. She puts up with me working every day for over 3 months straight and I couldn't be more lucky to have her in my life.
Go easy on Simon as he's juggling a new addition to his family and will be keeping you up to date on how the final week plays out.
[polldaddy poll=8244330]