| | | | |
| --- | --- | --- | --- |
| POV Holder: | Cody | | |
| HOH Winner | Derrick | Nominations: | Victoria and Caleb |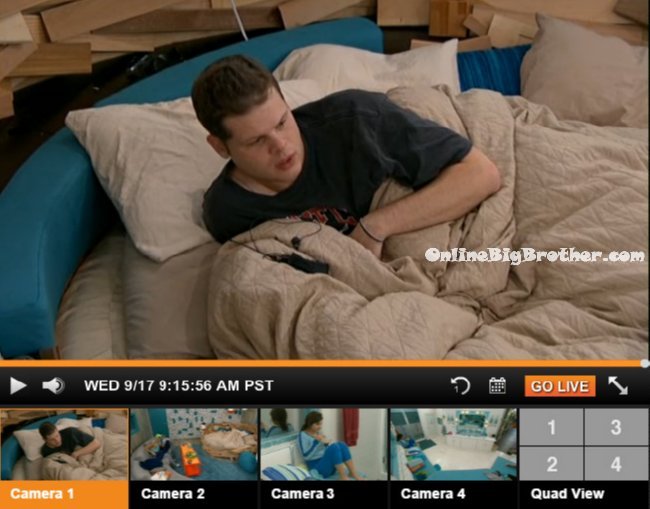 9am – 9:35am Big Brother blocks the live feeds to wake up the house guests. Up in the HOH room – Cody is talking to Derrick about the decision to evict Caleb today. Cody says we've been playing a game of big brother. You've been talking about Amber and yourself for 90% of this game! I'm obviously not going to say that but. Derrick says no, its the truth though. Cody says this move he doesn't.. Derrick says I think he knows its coming ..like he expects it. Cody says but if you know the game you know that if you're in the final 4 and there's someone like her.. I'd be like and I'm sitting on the block. I'd be like I'm f**ked! Derrick says that's why she got brought this far. Cody says she's not even close to being a Britney (BB12) because they had to cut her loose because she actually won HOH's, like she actually won. Derrick says right she got herself here. She always come up here saying she got herself here. The BOB she didn't win that Caleb won it. Cody asks which BOB's? Derrick says the one with Caleb and the one with Brittany. Cody says oh yeah the one that Zach blew. Derrick says come on you know the one in the beginning of the year with Brittany. I think Brittany actually one that one. Cody says and we were helping them along the sidelines. Derrick says I think there is going to be some huge razing for her making it this far from the huge fans outside of here. But that's a strategy. Cody says and what are they really going to say when its You and I sitting in the final two! Derricks says thats the thing its all going to come to fruition. We know she hasn't played the game at all this season. She hasn't been on the in on anything this season. Cody says she sat here at the end with monsters. Derrick says if that girl some how wins that final HOH and ends up winning the 500K. I promise you feedsters I will never .. you'll never see me again. I will never talk about big brother again. the bitter jury would love nothing more. Cody says I don't think so. Derrick says you don't know what could happen he (Caleb) could beat you in the endurance and then one of us has to beat him in the mental. Derrick and Cody go to sleep in the HOH room. Meanwhile Caleb is still sleeping in the earth room and Victoria has also gone back to bed.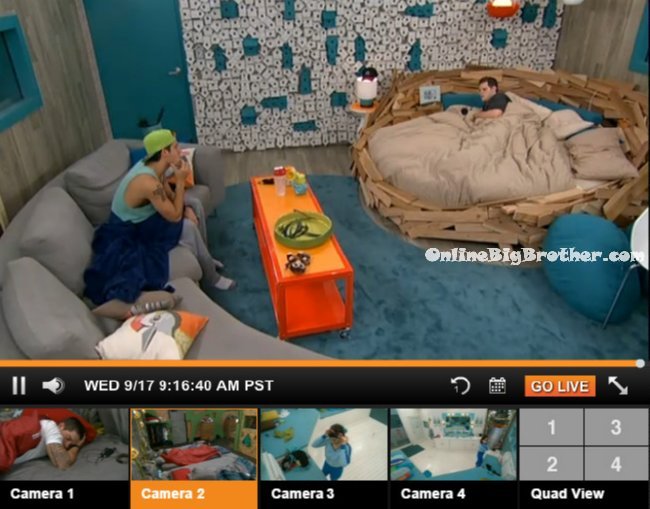 10:40am All the house guests are sleeping. Big Brother blocks the feeds and starts show the live feed highlights.. It's likely time for the HOH lockdown.
If you've enjoyed our live feed updates this season, please consider donating.
Simon and I work 24/7 all season long to keep you updated on everything that happens inside the house. Any amount is greatly appreciated! Your donations go directly to paying the fees required to run this site.
**** I want to personally thank all of our loyal Online Big Brother fans that have once again helped make this another great season. I unfortunately won't be around for much of the remainder of the season as I will be getting married to the most amazing girl this weekend and then we'll be off on our honeymoon. She puts up with me working every day for over 3 months straight and I couldn't be more lucky to have her in my life.
Go easy on Simon as he's juggling a new addition to his family and will be keeping you up to date on how the final week plays out.
[polldaddy poll=8244330]