POV Holder:
?
Next POV
Aug 23rd
POV Used
?
POV Ceremony
Aug 25th
HOH Winner 1:
Cody
Next HOH
Aug 28th
Nominations:
Donny & Nicole
Have Nots
Donny & Nicole
POV Players
Donny, Nicole, Cody, Frankie, Derrick, Christine
Take Advantage of the FREE 2 day Trial to watch all the drama!
2pm Victoria comes back into the house after passing out in the bathroom due to the pain she's been having with her teeth. She talks with Christine. Victoria says the pain that caused this made me pass out but I didn't completely pass out because Nicole woke me up. Christine asks did they give you an IV for dehydration? Victoria says yeah for dehydration and for pain medication. That was horrible it was such a disaster. They told me I can't go to sleep I have to stay up and eat now. Victoria heads to get he clothes. The camera's follow her as she walks and she says don't follow me! Christine says I'm surprised you came back so soon. Victoria says yeah it was hell! Christine asks what do you want to eat? Victoria says they said I have to eat something sweet. Like peanut butter and jelly sandwich. And I have to drink natural sugar like grape juice. That was the scariest thing. I was ligit water swiming Christine says that was so scary because you could tell you were going in and out .. and they had to keep you from going in. Victoria says that was super scary. I've never had anything like that happen in my life. Christine asks that was your first IV! And you had to do that all alone. Victoria says I wish I had you or Derrick to hold. Christine explains how fast Derrick bolted for the bathroom when Nicole called for him. I went to the diary room and pushed the button like 3000 times and then I remembered that Donny was in there. Victoria says I hope they don't show it. Victoria says I feel like I look like a disaster right now. Christine asks so if you get picked to play then only 5 people play? Victoria says yes. That's why I hope I don't get picked to play. Christine goes to make her a sandwich. Victoria starts doing her hair and makeup.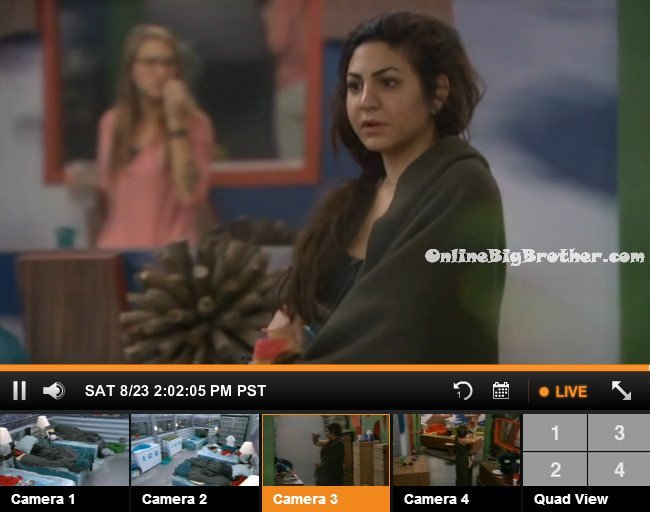 2:15pm Christine brings Victoria her sandwich. She asks her if she's okay to stand. Victoria says probably not. I was scared of the needle but I told myself suck it up Victoria. I knew that I was sick and it was the only way to get better. I look like a monster. Christine says that Nicole was pale white. Victoria asks why?! It's not like I was going to die! Christine says yeah its funny that she's the nurse. Christine says when the doctor asked you how you felt you said I feel horrible and he said I am going to need more detail than that. Victoria laughs. Christine asks was everyone nice though. Victoria says yes very. I was passed out half the time. Christine says thank goodness Nicole opened the door. Nurses intuition I guess. Victoria says I just kept thinking why am I alone right now. They said it wasn't from dehydration. He said this often from the pain. And I was like how does pain make me pass out. I just can't believe I am going through this .. this late in the game. Christine says at least you're safe and you don't have to worry.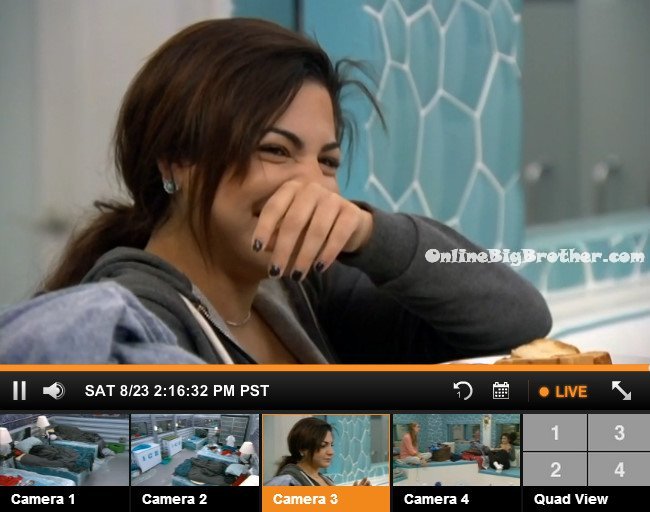 2:25pm Big Brother says Cody please go to the diary room. Victoria says we're going to pick now. Donny, Caleb, Frankie talk to Victoria about how she's feeling. She says they told me I should be better in a day or two. Frankie says I had no idea you should have woken me… well you couldn't have you were passed out on the bathroom floor. Caleb says what did I tell you they would do to her.. Give her an IV. Victoria says they gave me a glucose IV. Caleb asks Nicole when do they give you an IV for glucose? Victoria says my blood pressure was low. Nicole says when you're blood glucose levels are low. Caleb and Donny are in the living room talking about Victoria not playing. Caleb says they'll just take the spot away and there will be 5 people playing for the veto. Caleb says to be in that much pain that you pass out. Christine says that's a lot of pain. They just gave her pain medication, I don't think they really checked it out.
2:40pm – 3pm Big Brother blocks the live feeds for the house guests to pick players for the Power Of Veto competition. When the live feeds come back all the house guests are in the kitchen.
Power of Veto Players Picked: Donny, Nicole, Cody, Frankie, Derrick, Christine
POV Host: Caleb
In the fire room – Derrick asks he told you about team america right? Frankie says no. Derrick and Frankie talk about the team america mission in the fire room. Derrick says that Donny has his plans for it but.. Am I allowed to inform you? Frankie says I don't know. Derrick gets Donny to come into the fire room. Donny tells Frankie about the team america mission. Donny says obviously I would want to have it so that we saved me. Frankie says yeah I'm down with that. Donny says we could even have it where you throw the veto to me .. because it would be to obvious if you used it on me. Frankie says yeah I would be down with that. Donny says we could even do something silly.
Victoria says "I am so happy I didn't get picked!"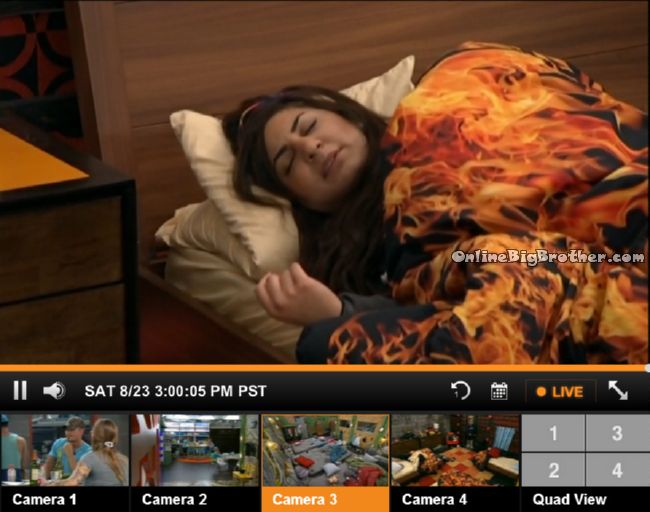 3:00pm FIREROOM Derrick and Victoria
Derrick – I'm glad you're OK you got me nervous.. I'm glad you worked out
Victoria says she has really low blood pressure and she was sweating a lot.
She feels like crap she's not going to watch the POV. Frankie comes in says he's glad Victoria didn't get picked so she can rest. Adds that he was finally picked for a veto and Caleb is hosting it all worked out great.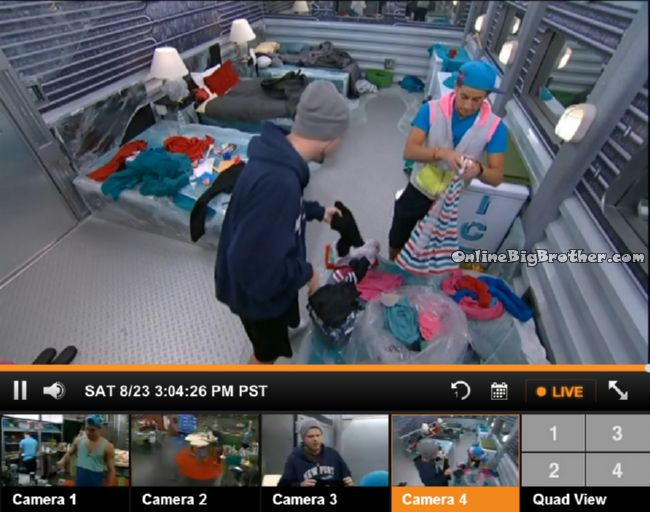 3:01pm Have Nots Frankie and Derrick
Frankie and Derrick talking about Donny's Team America suggestion to let him win the POV or influence the vote this week.
Frankie – I'm not f***ng doing that.. I told him that
Derrick says they could influence the vote.. " I want to do something funny.. they get to vote on it.. America will vote and decide if it's enough.. CMon you're the creative one"
Derrick – If we influence the vote I don't think he would come after us.. Dude he's literally throwing me under the bus with everyone.. THat kids could put us up..
Derrick points out that Donny have gone to every single person in the house telling them to target Derrick.
Frankie – Technically we're doing the same thing
Derrick disagrees says they are not spreading around the house that Donny has to go they are just agreeing with people when it's brought up.
Derrick thinking maybe they should stage a fight, "I'm not as good of a actor though i'll start laughing.. "
Frankie – Start a rumour that a house guest is related to Ariana Grande"
Frankie complains he's freezing if he was Have nots his body would shut down he's happy he wasn't picked.
Derrick thinks this is the last Team America task so they need to pick a good one.
Frankie – we've only had one good one.. we can do a saboteur thing.. we can prank everyone.
Frankie – I know Nicole is coming for me.. I mean she's after us all but she COMING FOR ME
Derrick – coming for all of us .. could she get you out if she puts you up.. I dunno
Derrick – I'm leaning towards the saboteur route.. but if it's something weird and he wins today…. Derrick gets called into the Diary room
Alliances
"The HITMEN" – Cody & Derrick
More polls here https://www.onlinebigbrother.com/big-brother-compendium/big-brother-16-polls/
[polldaddy poll=8260325]
[polldaddy poll=8261457]