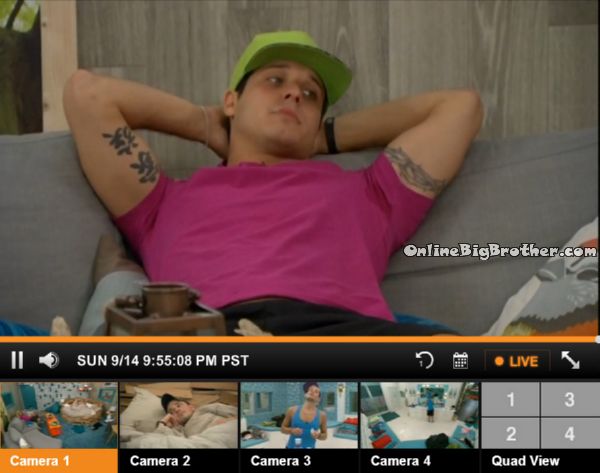 9:54pm HOh Caleb and Cody
Caleb wants to tell Frankie he's going home. Cody says he doesn't care either way. Caleb tells him the reason Frankie is getting evicted it because he was throwing them under the bus earlier in the game. "If had never done anything to me at all this game would have ended up a little different… see ya you screwed me go"
Cody – he played his game and he only cared about himself. .
Cody adds when Frankie knew he couldn't keep playing by himself that is when he started in on the loyalty with the guys.
Cody says he knows Frankie has been talking sh1t about him. Tells Caleb he's voting Frankie out PERIOD he doesn't want to split the vote he's gotta go. "In his eyes i'm at the bottom of the pecking order"
Caleb tells him with Derrick, Cody, Caleb there is no pecking order.
Cody – If he's on the block my vote is going against him
Caleb – he's gotta go
They talk about Victoria getting Evicted next week.
Caleb says Victoria is a great person but a horrible competitor.
Caleb brings up Frankie saying that Derrick is trying to make it look like he has no jury votes. Caleb does think Derrick has more Jury votes than he leads on but Caleb thinks that Cody and him will beat Derrick because of the type of game they played (The beast game)
Derrick joins them Caleb says he wants to tell Frankie he's "Going Home"
Caleb about Frankie – "You go up there and be the pawn .. I just forgot to tell ya the pawns go home in this sort of game"
Derrick – You don't have to convince me we can tell him
Caleb – I'm definitely good with him going home
Derrick – he's going home
Cody – He's going home
Caleb – we're siting beautifully perfect right now.
Derrick – whatever it is we're going to win… that is why he's got to go.. all five of us can't make it to the final 3 and this guy.. this guy has won 5 HOH out of 12.. the guy is not a schmuck.. he's a good player"
Derrick says they will tell Frankie Tuesday night and after they tell him they stick together.
Cody proposes they tell Frankie 15 minutes before the live show
Derrick wants to do that.
Victoria comes up

The Live Feeds are archived. You can go back and watch everything that happens
Try It Free! Subscribe now to the official BB16 Live Feeds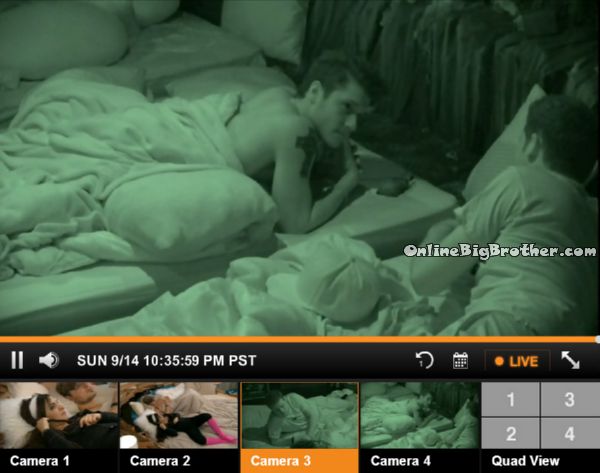 10:26pm Rock Room
Derrick says to Cody Victoria is so annoying even to the jeopardy of his own game he would send her packing.
Derrick tells him if he wins the next HOH he won't put Cody up just on principle.
They start to consider the scenario where Caleb wins the POV. Derrick thinks if they nominate Caleb straight up he might think he's on the outs and if he wins veto he'll take out Derrick. If they keep Caleb off the block he'll still be RAH RAH final 3 with the boys and if he wins POV Victoria will go home.
They fully plan on cutting Caleb if they win the POV.
Frankie joins them..

10:53pm Derrick says the Diary room's are done for the night they can go to bed.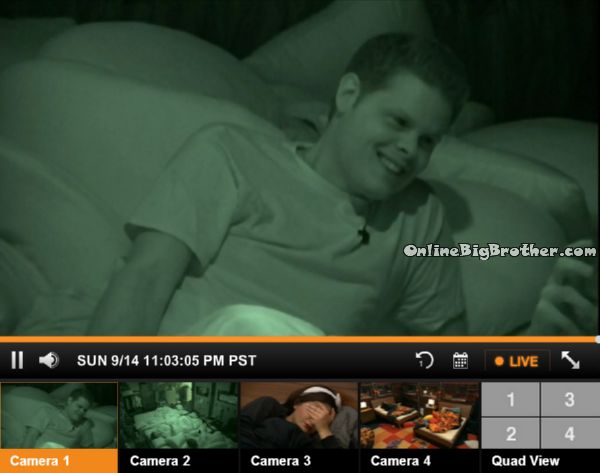 11:01pm Derrick telling Cody Victoria is "Annoying as f***" and he "Crushed her", "She's trying to be a thorn in my side.. I'll f** with her all day it's too easy like a laser pointer with a dog.. "
Derrick says Caleb having Amber's name in his cowboy hat is f***g weird.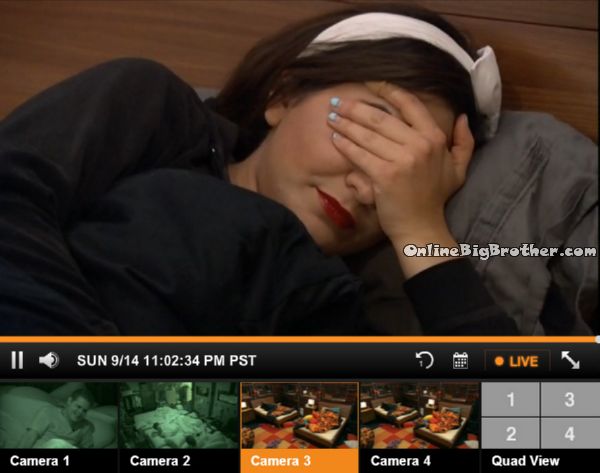 11:09pm Bathroom Derrick and Victoria
Derrick warns her about saying too much to Cody and Caleb. "You can't blame me fore getting nervous when you are getting tipsy"
Derrick says a week ago she was telling him she' can't stand Caleb now she's saying he's a sweet guy
Victoria – he is a sweet guy
Derrick – I don't want you to slip up because if you slip up there is no coming back..
Victoria- Derrick I slipped up once
Derrick – these last three games you were not on your A game.. it's the pressure and paranoia getting to you..
Derrick – If Caleb thinks Cody is more hated than you are he will take Cody to the final 2
Victoria – say it.. say it you hate me
I don't hate you
Derrick – guess what they haven't votes Frankie out yet you can have as many glasses of win you want on finale night
Derrick is very worried about Victoria screwing up their games doesn't want her to drink wine any more.
Derrick – when you are paranoid and you drink a bottle of wine by yourself you get tipsy to be honest i'm worried.
(I think Victoria told Caleb that Hayden didn't like Cody. Derrick goes on and on about Victoria not being on her A game. )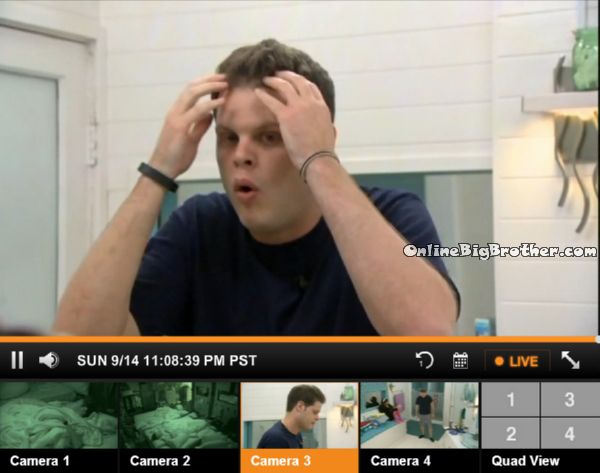 11:23pm Derrick tells Victoria to "LOCK IT IN"
He's going on and on about "Flip flopping" on Caleb, telling Cody Hayden hates him and Drinking a bottle of win..
Victoria is upset says she feel isolated in the house. Derrick points out talks to everyone. Derrick is pissy that she's not spending more time Studying. Victoria points out Derrick was playing with the limes for 5 hours today she was studying then.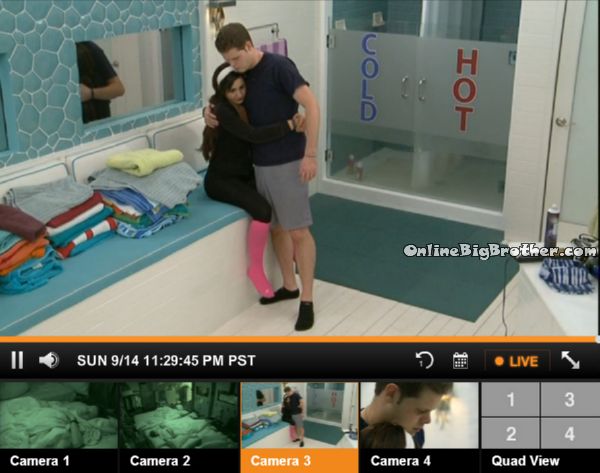 11:31pm they hug Victoria says she feels like she really screwed up last night.
Derrick – "with these last 6 days in here you have to play your best games of Big Brother"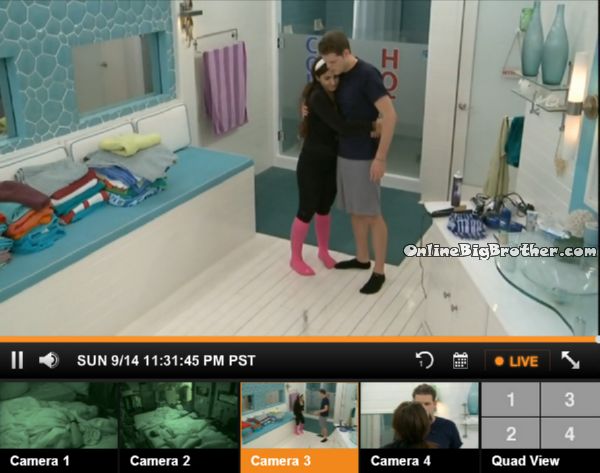 They hug Again
Derrick – It's col you gotta reel it in.. you still smell like booze"
Victoria – whatever"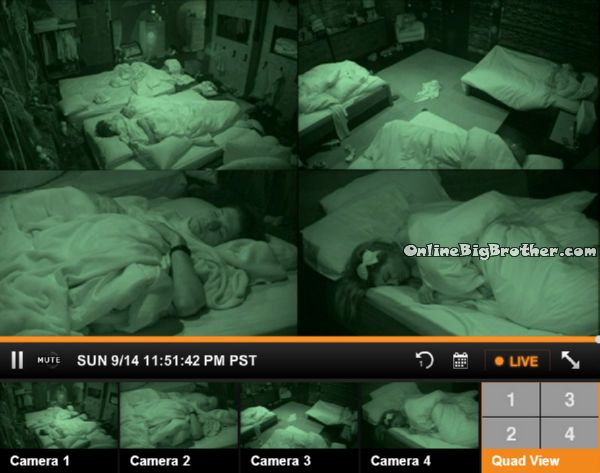 11:53pm First time they have all been in bed this early.. Sleep..
Support this site make your Amazon purchases through the links below.
No extra cost to you. links are valid throughout the year.
Amazon.com Link
, Amazon.ca Link
[polldaddy poll=8244330]
Share it YO!!
Tweet