POV Holder:
Chrisitne
Next POV
Sept 6th
POV Used
Yes
POV Ceremony
Sept 1st
HOH Winner
Caleb
Next HOH
Sept 4th
Nominations:
Nicole and Victoria
Have Nots
Derrick and Nicole
POV Players
Victoria, Nicole, Caleb, Cody, Christine and Derrick
Big Brother 16 Live Feed FREE TRIAL – Use the FLASHBACK feature to watch everything you've missed!
3:50pm – 6:57pm Big Brother blocked the live feeds. When they return all the house guests are huddled around the havenot door. They notice that its been screwed shut. Derrick says there's more to that havenot room than for solitary confinement. They wouldn't remodel it for just one day. Caleb says after all of that?! Cody says big let down! Caleb says they locked us up there for so long for nothing. They coment on how it was nice they got to listen to music during the HOH lockdown. In the kitchen the house guests talk about the possibility of tomorrow being a double eviction. Frankie this they'll also do the endurance wall competition. Cody's acting like a dinosaur and Frankie's playing his Sid character. Cody says nobody play with a dinosaur any more we're extincted. Cody chops on Sid and says sorry. Frankie says no it's okay, I'd be happy to let you eat me. Nicole says I ate myself into a food coma and feel sick. Nicole heads into the diary room to request alcohol. She comes out and they say they've put in the request.
7:15pm In the living room – Derrick says I want to boot that door in! Caleb says those are probably 5 inch screws. Caleb says they locked us up there for 3 hours with nothing to eat or nothing.
Frankie tells Christine that he loves her. She says I love you too. Christine tells Frankie that she's just not in a good mood. Frankie asks am I a part of it? Christine says yeah part of it. I just feel like I'm not part of the boys club. Just because I am nice to someone doesn't mean I am going to align with them. Frankie says yeah I know. Frankie says I think the whole Nicole coming back in really threw me for a big loop. And she kind of stirred the pot with me to you. I apologize for that. Christine says I just feel pissed off for being on the block. Frankie says its a delicate balance with them. I just feel insecure which is normal at this point in the game. All I can do is prove myself to you. I think I just let it get to me and I'm sorry. I made a commitment to find my happy light again.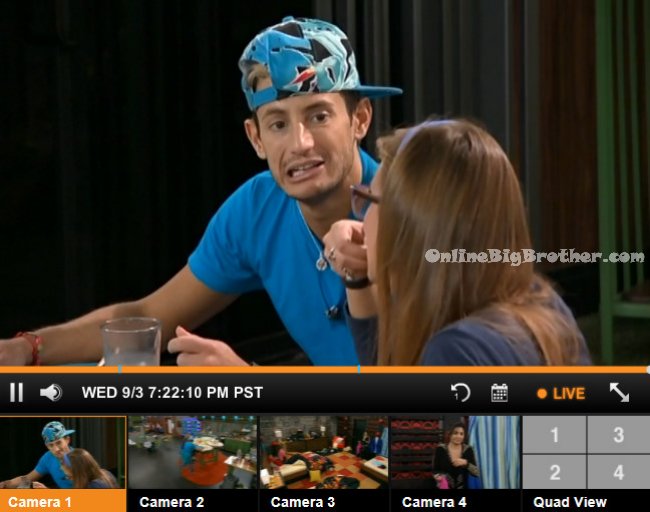 One way to support this site that doesn't cost you anything extra is making your
Amazon purchases through the links Below
For in Canada use the following link:
Amazon.ca
7:30pm – 7:45pm Big Brother gave them alcohol. A bottle of white wine and 3 cans of beer. Nicole says they just gave it to me because I asked. Nicole says I am probably going to tell all you guys how much I love you tonight. She convinces Victoria to have a glass of wine. Caleb and Cody are drinking the beer. In the living room – Christine sits beside Derrick and puts her hand on his knee. Nicole and Victoria go into the fire room. Nicole toasts Victoria to being her best friend and says she's sorry they're on the block together but that they'll hang out when the get out of the house. Nicole starts packing her bag and says this is so freaking sad, I love the big brother house! I belong here. Nicole asks Victoria will you make sure I don't get mouthy tonight. Victoria says yes. In the bathroom while gathering her things. Nicole says to herself I just don't know what good it would do to talk to him. She heads back to the fire room to finish packing.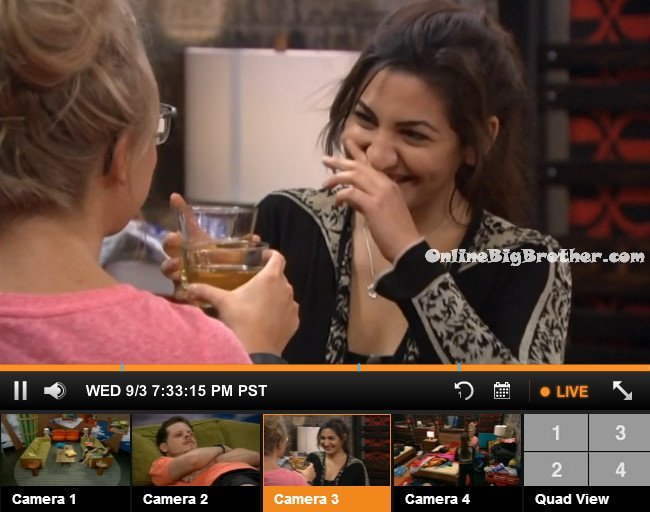 7:50pm – 8:20pm
In the living room – Frankie, Victoria, Christine, Nicole, Caleb, Cody and Derrick are hanging out chatting about random things. Derrick and Frankie head into the kitchen. Frankie tells Derrick about how he apologized to Christine and says that he didn't want to go into the comp with doing it. Derrick says he understands. She's still going to come after you though. Frankie says it doesn't change anything but it makes sitting on the couch easier. Derrick agrees. They finish making their cookies and head back to the living room where the others are hanging out.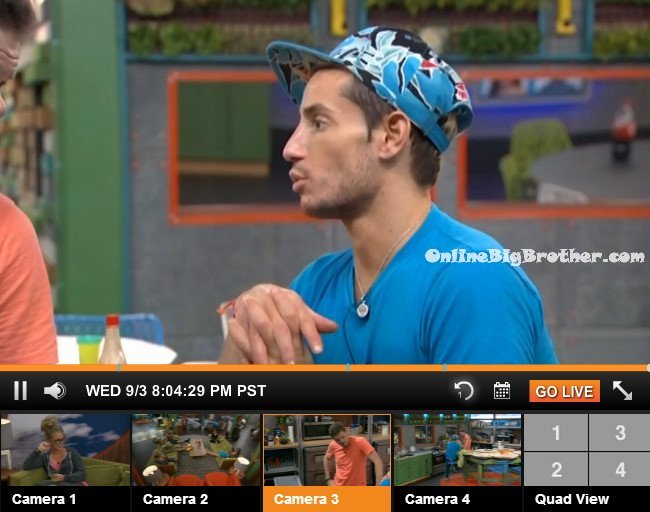 8:20pm Nicole asks can I give you some pick up lines? Derrick says in case you didn't notice I'm a dinosaur and I don't have much time left. Cody says I don't like that because it implies I'm going to die. Nicole tries on Cody dino gloves and finger Derrick. Nicole asks what time is it? Are we on TVGN yet? Christine comments on how Nicole will get to see Hayden. Nicole says he's probably over me by now. Cody then shows Nicole how she avoided kissing Hayden when he was evicted. Cody says she was looking everywhere but at him.
8:33pm – 8:40pm Cody says if Hayden was out with us and hit on any girls I would kick him in the a$$ but only if you're going to get married. Nicole says okay thanks. Caleb says "I would let Hayden sip on that moonshine and he would wake up with 5 or 6 year olds next to him.. saying what happened. Don't tell Nicole!" Everyone says no! Cody says he would never do that. Nicole says if we're official I would trust him 100%. Cody asks would you though!? Christine says you guys are horrible.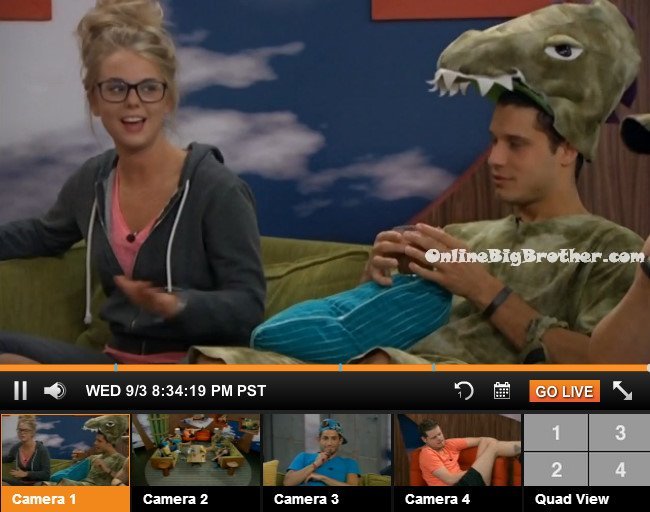 8:45pm – 9:25pm Nicole says come on Caleb put on a show! Nicole spills on her pants. The others tell her that she already got the part started. Caleb asks are you going to practice on your tongue action before you get back to your boyfriend. Frankie says I'll practice with you! Christine says I'll make out with you. Caleb says that's hot. Nicole asks Frankie so is tongue a good thing? Frankie says yes. Nicole says I didn't utilize my tongue that much because I don't have that much experience. Caleb says you and Frankie should make out. Let him show you. It's okay he's gay. Nicole says some times its like fast and I'm like quit protruding into my mouth. Caleb says he can't take Bj's for nothing. Like I've asked doctors before about how I can't handle it for 2 minutes but s*x I can go for ever. Nicole says that Hayden is the best cuddler she has ever encountered. We fit together like a puzzle. Nicole tells Frankie that Hayden said he wanted me to apologize to you for what he said. He knew he was wrong. Frankie tells Nicole that all of their goodbye messages to everyone are available to be viewed. Christine joins them. Nicole, Frankie, Caleb and Cody talk about the band Florida Georgia Line and going to see them.