POV Holder:
Chrisitne
Next POV
Aug 4th
POV Used
?
POV Ceremony
Sept 1st
HOH Winner
Caleb
Next HOH
Sept 4th
Nominations:
Nicole and Christine
Have Nots
Derrick and Nicole
POV Players
Victoria, Nicole, Caleb, Cody, Christine and Derrick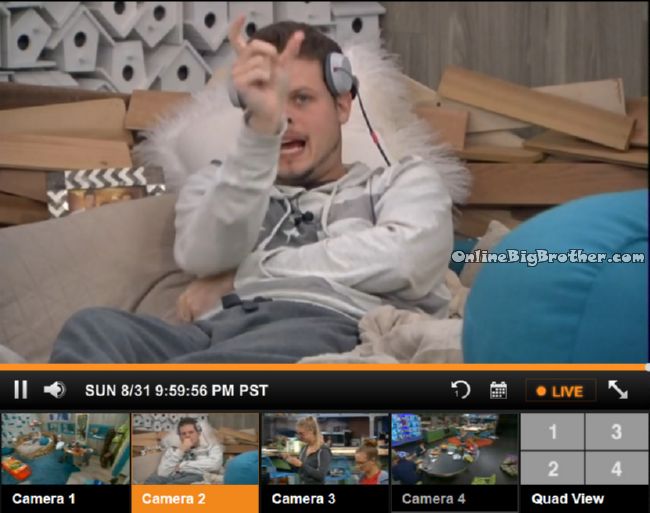 9:55pm HOH Derrick and Caleb
Derrick – so you are pretty set on this..
Derrick points at Nicole painting on Cody in the kitchen and how Christine and Victoria are with them laughing.
Caleb says that doesn't bother him says Frankie is like that to the girls also.
Derrick – I know Nicole said she would never put you on the block before you put her up
Caleb says if he saves her life she will honor that.
Derrick – technically you are not saving her life the people voting are I wonder what sort of deal she's making with them.
Caleb – If Frankie stays he's not putting you up.. because he can beat you
Derrick – does he think he (Frankie) can beat Christine
Caleb – YES, dude really look at the comp wins.. the only people Frankie would go after is me and Cody because he knows he can't beat us
Derrick says that Caleb's is hoping if Nicole wins she will put up Christine and Victoria.
Caleb wants Derrick to find out who Nicole will put up if she says Caleb they know they cannot keep her. They plan to frame the question in a way so Nicole will give them an honest answer..
Caleb says Frankie is three times the beast Nicole is it's as simple as that. Regardless who Nicole or Frankie are going after they send the one home that they can beat them in the next HOH.
Derrick says Christine is a dangerous competitor.. "Security becoming a beast.
Derrick still scared that Nicole will team up with Christine he terrified of Frankie leaving and the girls teaming up and two of the boys going home. Caleb isn't scared at all says Frankie is a bigger threat to his game than Nicole.
Derrick – I know Cody and Christine are tight.. Cody doesn't mind Christine making it far because Christine will never put him up.
Derrick – where's your heart leaning .. I know it's leaning to booting out Frankie
Caleb just like in school you hit them first before they hit you.
Derrick – it's your HOH whatever you do I will support you.. Like told you week 2 i'll support whatever you do… If your gut tells you he's got to go he's got to go.
Derrick – WOW we'll really even up the numbers guys wise..
Derrick says Victoria thinks she's going on the block if Caleb doesn't put her up he'll not be her target.
Derrick – Nicole and Christine are mental beasts
Caleb – Frankie is more of a mental beast than both of those put together
Frankie rolls in.. Caleb leaves and Frankie starts to study dates with Derrick.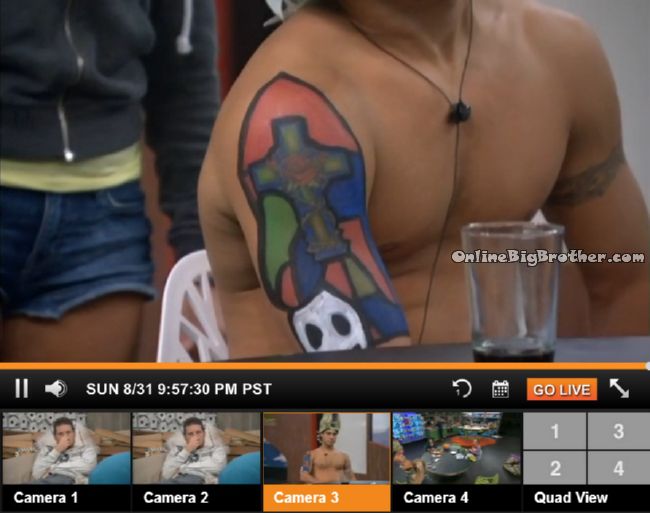 Nicole Finished the alterations to Cody's tattoo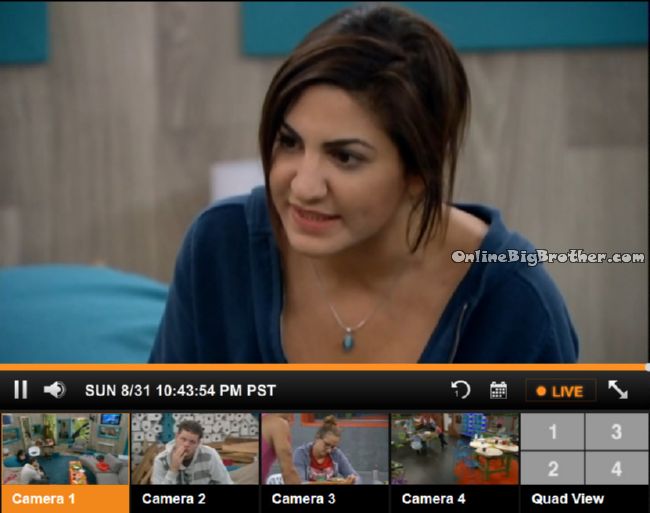 10:33pm HOH Victoria and Derick
Victoria says she thinks Derrick is working with other people it's become apparent since Nicole left.
Derrick denies working with other people asks if Nicole has been putting these idea into her head. "The only reason why you've made it this far is because I had your back"
Victoria – oh thank you
Derrick – it's true and you had my back too
Derick says they have both help each other in the game. He does not to trust Nicole
Victoria – You're Working with Cody and Christine
Derrick – I don't work with Christine.. I like Cody doesn't mean I'm working with him I like him.. I like Caleb to.. People think me and you are working together, 100%
Victoria says Nicole would go after Cody she doesn't like him.
Derrick – I don't think she would what makes you say that
Victoria – she told me, She doesn't like Cody she doesn't trust him.. I don't trust Cody..
Derrick – When did she tells you she would go after Cody today after you b1tch about him.. because she may have been just telling you that.
Victoria brings up her conversation with Nicole in the bathroom.. Victoria thinks it was real Nicole doesn't like Cody. Nicole has been trying to keep Victoria from going up saying this is a huge opprutnity for a back door. Victoria says Nicole had talked to Caleb and was trying to get Cody on the block. She told Victoria that was not going to happen.
Victoria says she knows for a fact that Nicole will not be coming after them both.
Victoria – Nicole cannot stand Cody, Christine or Frankie.. Even Hayden doesn't like Cody
Victoria – I really don't like Cody..
Derrick runs through scenarios of Nicole putting Derrick up. Victoria says if Nicole puts up Derrick she would make Nicole's life a living hell and the person Derrick goes up against will go home.
Derrick thinks if he's up against COdy he'll go home. Victoria disagrees "Cody is going home.. Caleb won't choose Cody over you"
Derrick tells her he's gotta go out there talk to Caleb talk to Nicole and see what he can do "I don't think it will work" Nicole says Cody and Christine are closer than they are.
Derrick says Christine's and Cody's relationship is fake but theirs are real "We're going to see each other in 2 months.. you can't say they are closer than we are if it's fake"
Victoria says Cody is going against her he wants her out of the picture.
Victoria doesn't think Caleb will put Frankie up because he's controlling Caleb. "Did you read his letter put your man pants on.. put your man pants on.. put your man pants on.. because f*** Frankie is controller him I think"
Victoria – I don't trust him for sh1t he's the fakest person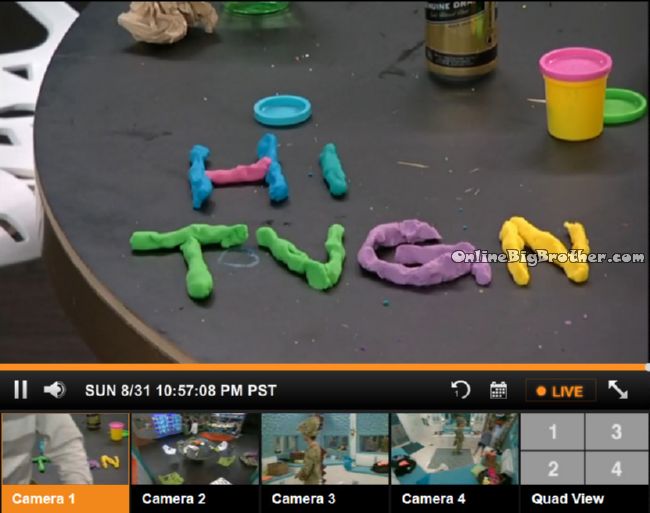 Derrick makes a message for the after dark peeps.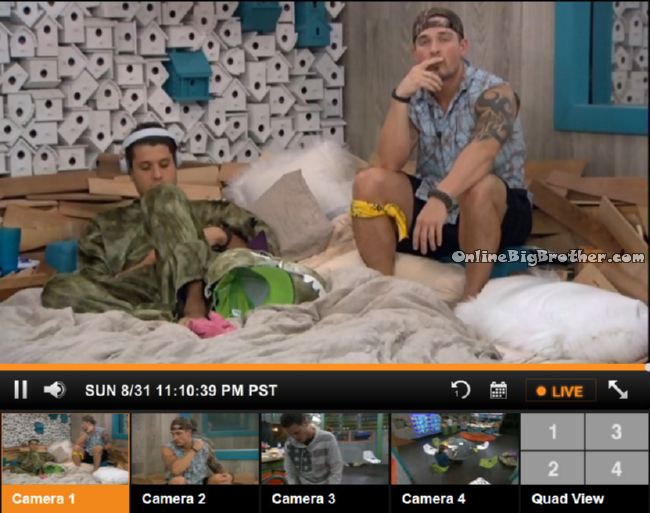 11:07pm HOH Caleb and Cody
Caleb – decisions decision
Cody – what are you feeling
Caleb – I dunno don't want to make the wrong decision it's tough..
Cody says Nicole has a better chance to lose the competition over Frankie.
Caleb says he asked Derrick to find out from Nicole who she will put up because Nicole thinks Caleb and Frankie are really close but Nicole doesn't think Derick and him are close. Caleb thinks this will give them a honest answer from Nicole.
COdy – I'm confident in my ability to inw Frankie is a gamble… Nicole is a gamble.
Caleb says Frankie will probably go after Cody over Caleb.
Cody thinks Frankie would put up COdy with Derrick or Caleb.
Caleb wonders if they can convince someone to throw the HOH comp.
Cody – I don't' think anyone will do that
Frankie rolls in. "Whats up guys" (you can sense the awkwardness in the room, Frankie must know something is up)
Cody is pissed they are locked down because of the person with the mega phone outside.
Cody – I'm going to find that Guy and kick his a$$ (LOL so he's got nothing to worry about)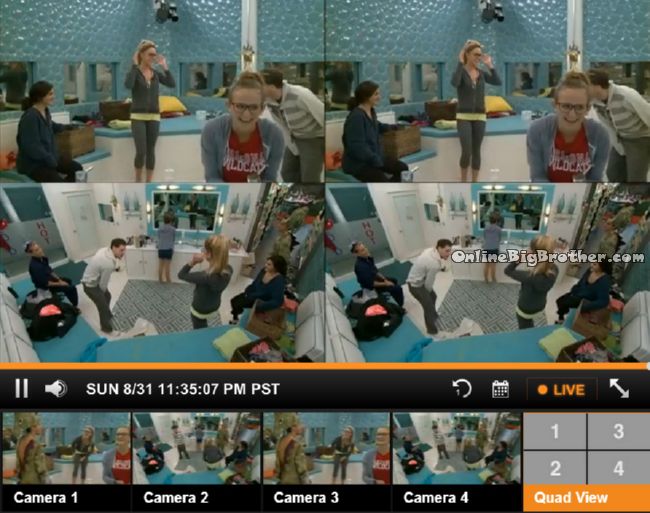 11:30pm Derrick makes Nicole laugh so hard she pees her pants.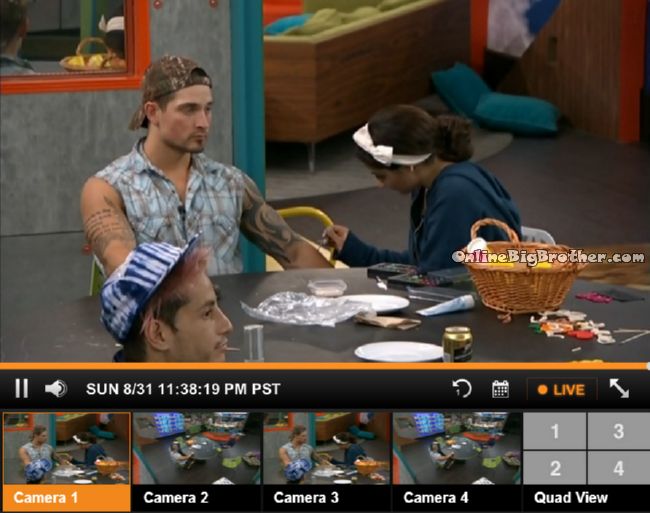 11:40pm Victoria doing Caleb's 'Sleeves"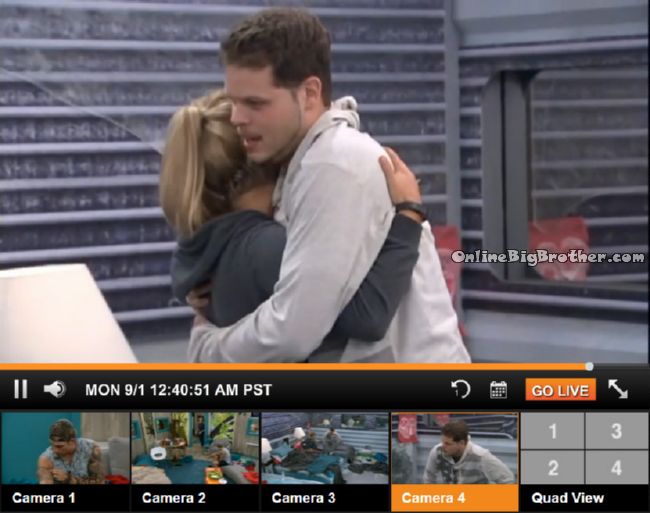 12:22AM Have Nots Derrick and Nicole
Derrick – If Caleb asks me who is going up who are you putting up
Nicole – Franke
Derrick – what if he goes this week
Nicole – Obviously Christine would my target.. We would have to get the votes.. Christine would be my target.. what else.. is that bad for your game.
Derrick – If I don't win I want someone nice to win and we're running out of those.. I want to clear my conscious .
Derrick says he made a mistake sending Donny out.
Derrick – I gotta win I gotta get it at least second place.
Nicole says if she gets to stay she's a very committed person I would be very dedicated to you I wouldn't make is obvious
Derrick – I'm not asking for you to say that
Nicole says she's only told that to Hayden, "If CAleb hadn't put me on the block I would work with him"
Derrick says it will hurt his game if he starts planting the seeds but he's already done it
Derrick and I trusting someone I shouldn't trust
Nicole – Umm.. I honestly don't think you are I think you are fine. you're playing ..
Derrick asks if he should watch what he says in front of Cody and Christine
Derrick says COdy has always been nice to him but he's nice to everyone
Nicole is confused where COdy stands..
Nicole – I swear on my parents life I will not send you home
Derrick – you have my word that I will try.
Derrick warns her if Victoria goes up Nicole is going home.
Nicole – Derrick if I Stayed because of you
Derrick says he's doing his best trying not to end up on the block with Nicole.
Nicole says she will not put Victoria up she wants Christine gone, "I will not put you up, I will not put Victoria up and I won't put Caleb up"
Derrick says there isn't many more possibilities.
Derricks says they have to protect Victoria from herself because she can't play the game.
Derrick – Would you be comfortable if they asked me who you would put up and I say Christine and Victoria
Nicole is fine with this.
Derrick brings up Donny breaking him down. Nicole says Donny was targeting Derrick
12:40AM Derrick leaves says he's got to get to work.
The Live Feeds are archived. You can go back and watch everything that happens
Try It Free! Subscribe now to the official BB16 Live Feeds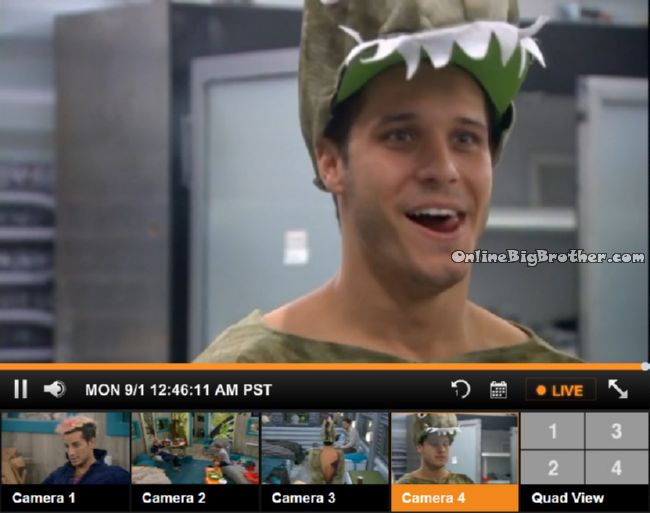 12:45AM Have Nots Room Derrick and Cody
Cody and Derrick agree Frankie needs to go this week..
Cody – I'm telling you right now if Frankie wins HOH the move he's going to make is me and you
Derrick says he's believing Cody on this move because he cannot decide either way. He thinks they are both dangerous, Nicole/Frankie.
Derrick – I don't know about his one but I got you.. we're a team..
They plan to both work on caleb tonight to get Frankie nominated. Cody goes first then Derrick. Derrick is confident Caleb will put Frankie up. Derrick is unsure and scared about this move but he's going to trust Cody because Cody trusted him earlier in the game when Derrick wanted to keep Caleb.
Derrick – Just don't let that F*****g b1tch Christine get me out of this house..
Derrick says if Caleb takes out Frankie he's mad the biggest move in the game he'll win the in the end. Cody – He won't make it to the end.. plus this week was all hitman
Derrick – if we're in the jury house together i'm punching you in the nuts.
COdy says once Frankie is gone he owns Christine
Derrick – that is what I'm banking on
Derrick about Frankie going up.. "He's going to f*** snap.. make good TV though.. f****g f*** snap"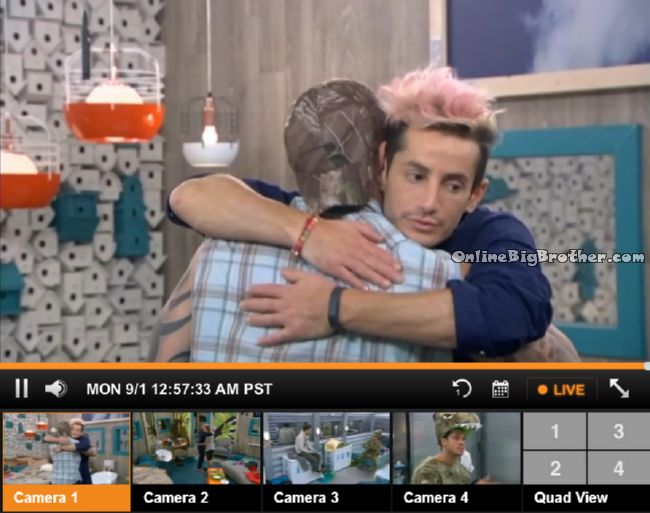 12:57AM Frankie and Caleb conclude their talk
Frankie said he wants to go to the end with Caleb. Pointed out that Derrick has never been on the block yet imagine making it to the end and never going on the block. Frankie says he's always been loyal to their alliance and wants them to stick it out. Frankie says he can see it on Caleb's face he's been thinking. Caleb says only 2 of them can win the game. They are all friends and he hopes they stay friends out side this house but at the end of the day they they to put the friends stuff aside and competed. Frankie promises to never backdoor him. Caleb says he's at the point of his where he needs to do thing for his game. Caleb tries to explain no matter who goes up next week Caleb is scared.
If you're enjoying the live feed updates this season, please consider donating.
Dawg and I work 24/7 all season long to keep you updated on everything that happens inside the BB US house. Any amount is greatly appreciated! Your donations go directly to paying the server and bandwidth fees required to run this site.
[polldaddy poll=8274218]