POV Holder:
Godfrey
Next POV
May 29th
POV Used
Yes
POV Ceremony
April 26
HOH Winner
Pili
Next HOH
April 29th
Nominations:
Sindy and Brittnee Godfrey
Have Nots
Brittnee, Sarah, Kevin, Godfrey
POV Players
Godfrey, Pilar, Sindy, Willow, Bobby, Kevin.
Host is Sarah
If you are outside Canada and want to watch the FREE Big Brother Canada Live feeds sign up for a VPN service here https://www.hidemyass.com/vpn/r16399/. It's safe to use, easy to set up, and cheap. Need to know more check out this post explaining how to set it up.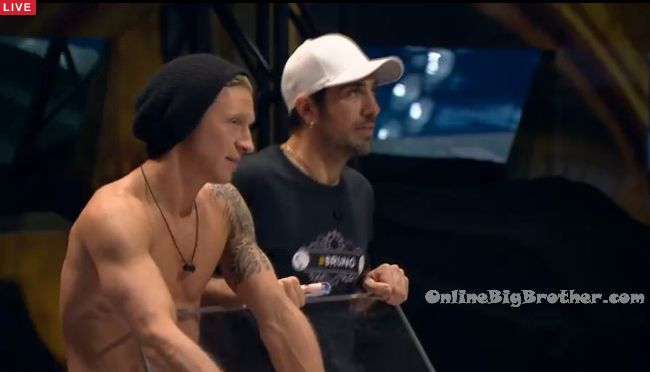 ** YouTube is messing up and taking hours to process our videos

1:50pm Bobby and Bruno are driving. Bruno says its a no brainer.. and she needs our votes. Bobby agrees. Bruno says if I win HOH … I am going to crush that speech. The first time I was nice but not this time. I am going to go balls to the walls. Bobby tells Bruno he's got him. Bruno says I am going to need you because when I put them up they're going to know I'm coming for them. Ashleigh comes to take over for Bobby. Bruno says that he wants to stay on till they're out of Ottawa. Ashleigh says that the obvious thing to do would be to put up B and Sarah but that puts more light on the chop shop. She says what if I was to put up Bobby and say chop shop shmop shop! Bruno says no you don't want to do that. That would get so messy. Right now we have the numbers we shouldn't be worried. Ash asks how long does Bobby have to use his thing? Bruno says Umm.. 3 more. Ash says so this one on Wednesday and then two more. Bruno says this is a crucial part of the game. We just can't step on each other. Ash says its going to get nuts real fast. Bruno says then when it gets down to it we put our hands in and go at each other. We just have to trust in each other. Bruno says I just can't believe how co*ky JP was. He screwed up. Bruno and Ash make it to Montreal!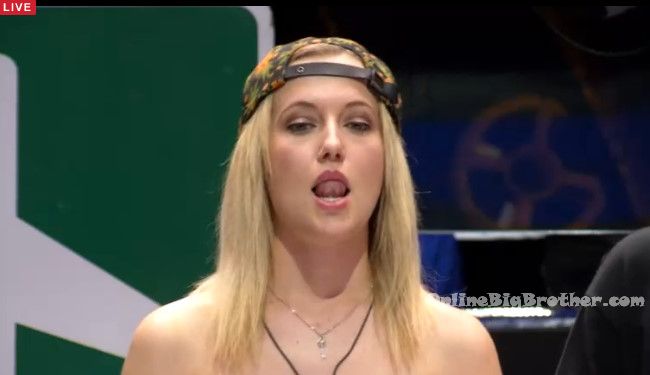 2:10pm Zach and Brittnee take over driving. Zach says this week is going to be a double. Britt asks really? Zach says 11 people and day 40. Zach says I'll tell you about where I'm at. Obviously I want Godfrey gone. I don't know how I feel about Bobby and Bruno. I don't know if Bobby is throwing the comps because he has that veto and feels safe or what. Brittnee says I think its just that its half way and he feels safe about it. I think he has it. Zach says if he does have it .. it has to get flushed. Britt says its going to take time. I don't know where you're at with it. With JP he wasn't being straight up with us. Zach agrees. Britt says I want you to get that was not planned. We said this is a one time deal. Zach and Britt agree that Graig was a sinking ship. Zach says the night he went off on Willow I was out. Zach says I was in with those guys .. thats what I was trying to tell you guys. Britt says you should have told me. Brittnee says if he is really sitting with that veto.. Zach says it has to get used or he will literally walk. Britt says I can't figure out why he's throwing these comps because he could win them. He feels too comfortable. No one should feel that comfortable. I don't, you don't .. he shouldn't. Zach says we have to get that veto used. Britt asks so you would put up God and Bobby right? Zach says yeah on a double or maybe wait till the veto played then throw him up, otherwise he could just win the veto. Britt says there are too many details to the story for it not to be legit. Zach says exactly. Zach talks about the chop shop. Zach says I never once went into the diary room and did the chop. Not even once. Britt says Willow is floater number 1 and everyone knows it. Zach agrees.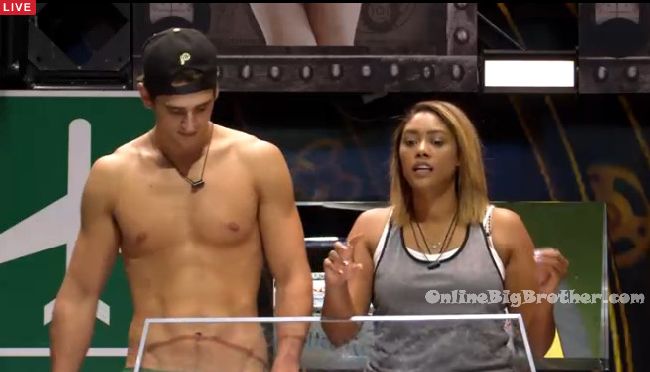 Big Brother Canada 3 Britt and Zach talk game by obblivefeeders

Big Brother Canada 3 Hot Tub talk by obblivefeeders
2:35pm Bruno tells Godfrey in the kitchen this is going to be a good week. I've got you bud! I want to win this one so bad. I'm not afraid to show my cards. Bruno says there is no way I can trust Sindy after she tried to throw me under the bus. You know that right? Godfrey agrees.
The camera switch to Kevin and Pili in the bathroom. He is bugging her about not knowing what beef is. She says she knows she just wasn't thinking. Pili says now Canada is going to think I'm dumb. Bruno and Ash enter the bathroom. Kevin tells them how Pili and him were in the HOH room and I asked her what her favorite animal is to eat. She said Tuna and then asked me what mine was I said Cow. And she says she's never eaten cow before. I asked her you've eaten cow before? For five minutes she tried to convince me that she hasn't eaten cow before. I told her when we get out we'll go to an expensive restaurant and eat cow. Ash says it was just a brain fart. Kevin keeps bugging her and she embarrassed. Kevin goes around the house and tells the others.
3pm Brittnee and Zach make it to Fredricton. The other house guests come out to see. Meanwhile out in the hot tub – Bruno and Bobby talk about his secret fake veto and how the people he tells about it he is saying that he lied about it to see if Sindy would spread it around the house. Ash joins them. She tells Bobby about how she came up with a dumb idea to throw up Godfrey and a member of the chop shop to take the light off it. She says because you have the secret veto.. Bobby says no I understand but obviously I want to keep the veto as long as possible. They agree they have the numbers and don't need to do that.
3:15pm – 3:25pm In the bedroom – Sarah explains to Sindy that she just can't vote for her over Brittnee. If you had been here the whole time and not gone for those two weeks it might have been different. Sarah sasy I hate this circumstance. If those people told you they would vote for you .. but I just don't know. Sindy says for me to follow through with with I've been saying I need you and Willow to vote for me. Sarah says if I were to do that, no one would ever work with me going forward. Sarah tells Sindy that she loves her .. since day 1 you were my favorite person. Sarah leaves for the hot tub. Sindy says to herself What to do, what to do?!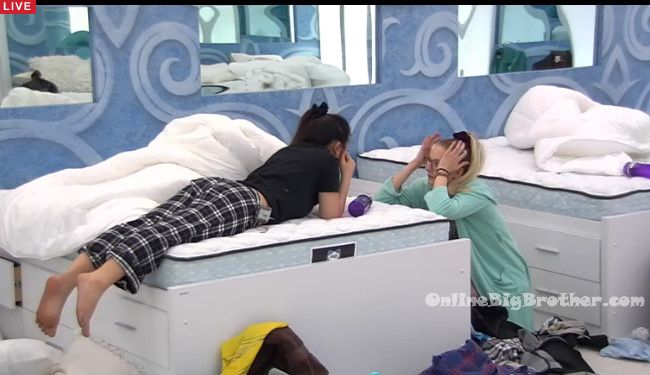 3:30pm – 3:50pm Out in the backyard – Kevin and Pilar are driving. Zach comes through and jokes that last night he found a veto on the car. He says it was in the muffler. We have a muffler veto .. we're safe now guys. UP in the bedroom – Bruno and Sindy are having the same conversation they've had a number of times already about how she threw him under the bus by exposing the chop shop and now he can't trust working with her.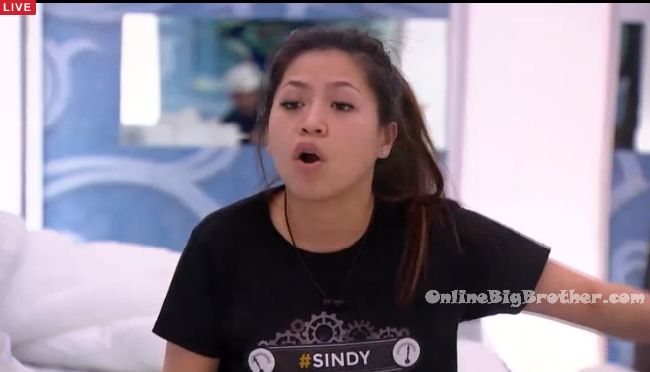 ALLIANCES IN THE HOUSE
There are always a lot of Alliance but we've tried to make sense of it all.. Read our alliance help guide
[polldaddy poll=8819718]