POV Holder:
Godfrey
Next POV
May 29th
POV Used
Yes
POV Ceremony
April 26
HOH Winner
Pili
Next HOH
April 29th
Nominations:
Sindy and Brittnee Godfrey
Have Nots
Brittnee, Sarah, Kevin, Godfrey
POV Players
Godfrey, Pilar, Sindy, Willow, Bobby, Kevin.
Host is Sarah
If you are outside Canada and want to watch the FREE Big Brother Canada Live feeds sign up for a VPN service here https://www.hidemyass.com/vpn/r16399/. It's safe to use, easy to set up, and cheap. Need to know more check out this post explaining how to set it up.
** YouTube is messing up and taking hours to process our videos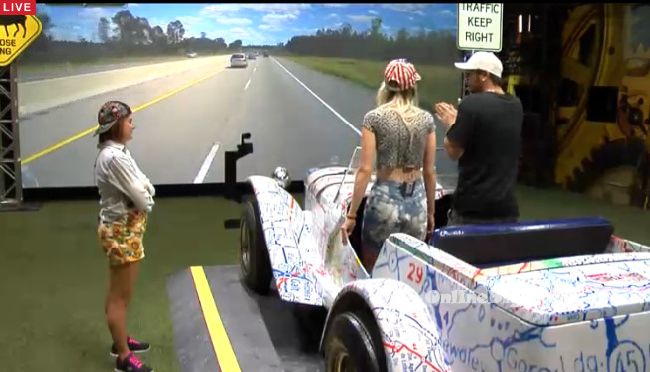 11:50am Bruno says if I win I'm going for them. Sarah says if I win I'm going to say good for you if one of you win the veto because one of your girlfriends is going up. Bruno says that Zach is freaking out because he's lied to everyone. Sarah says that Canada doesn't cheer when someone's closest goes up there you know. Bruno agrees. Willow joins them. Bruno tells them we just really need to try for the HOH. Sarah says if its a knockout one, I don't care I'll show my cards. Sarah says there are only 2 people we need to worry about and then we're good. Kevin takes over for Sarah.


Out in the hot tub room – Willow tells Sarah that Bruno said he is going to talk to Kevin. Willow says that Bruno told me that when he was in the vault with that double veto he was this close to using it to put up Zach.. but he didn't because he didn't know if he had the votes. Sarah says I wish he would have. Sarah says that Zach would joke about putting you on the block. Willow talks about the way Zach talks to her and treats her. It was like I was in an abusive relationship. Sarah talks to Willow about her theory that there aren't any good looking people with low self esteem. Zach has been given everything.. with a face and body like that. Willow says that's why I have low self esteem because no ones ever given me that. Willow says he doesn't deserve to win this game. Sarah says she thinks he will apologize when they get out. The conversation turns to talking about Jordan. Sarah tells them about how Jordan and her called themselves "Jason & Danielle" (from BB3). Sarah says it was because they would tell each other everything but says that Jordan wouldn't tell her anything.
Sarah says the only people that can't win on Wednesday are Zach, Kevin and Ashleigh. Brittnee and Willow agree.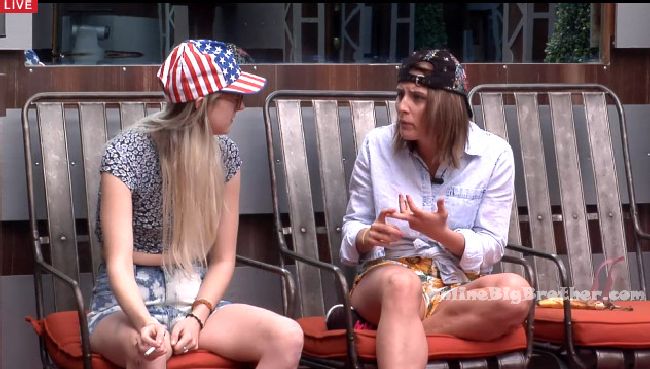 Big Brother Canada 3 Sarah & Willow talk by OnlineBigBrother
12:10pm – 12:30pm Godfrey takes over for Kevin. Kevin and Godfrey hope that they get something good for completing this task. Godfrey says yeah like food. Big Brother doesn't start the treadmill. Kevin says all right we'll just sit here on the side of the road. Sindy and Godfrey take the next shift.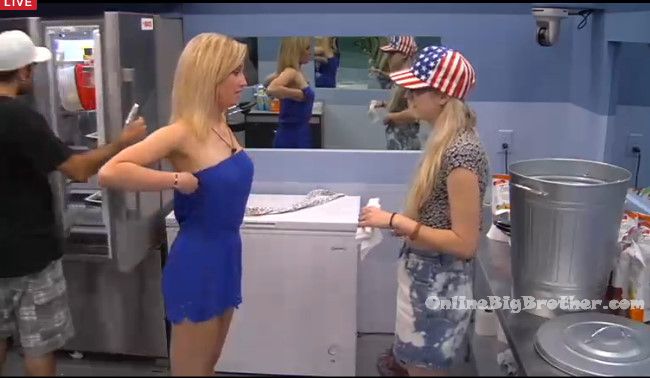 1pm Godfrey and Sindy make it to Ottawa and Bruno comes running out and says get out of the car its my turn!! Godfrey tells Bruno that Sindy said if she stays she's not going to come after Bobby. Bruno says don't trust her! She's poison. She tried to get me and Bobby up on the block. Don't trust her! I don't trust her for a second! She is going out that door. Godfrey says oh yeah she is throwing us under the bus then. That's not good. Bruno says I am telling you right now she has to go .. she is saying whatever she has to. She's going after Bobby. Godfrey says yeah its weird she is trying to talk to us now. Bruno tells Godfrey I trust you. I put my whole game at risk to safe you. Godfrey tells Bruno I would take that risk for you too man. Godfrey says you know my targets. Bruno says we have the exact same targets. Bruno says last night I couldn't sleep I stayed up all night thinking about my speech. I am going to shred them man!!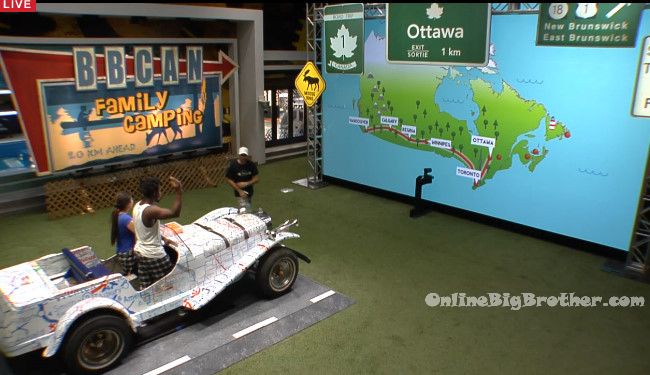 1:20pm – 1:30pm Up in the HOH room – Zach and Kevin are talking. Zach says we need to take a strike at Bruno and Bobby. They are feeling more comfortable than they've ever felt. I know Godfrey isn't going to go after them. Zach says after this week .. I know now there are 4 to send home.. after this week its 3. If we can get Bruno and Bobby up on the block… I know no one else is going to do it. Kevin says if its a double (eviction) and I go home its going to eat at me for life. Zach says if they took a shot at us it would be stupid for them because there's 6 of us. There are 4 of them, that's why we need to take a shot at them. Kevin says the way I started this game was as the biggest dog f**ker. When I accidentally won that HOH that I purposefully tried to throw I said in the DR that this is the worst start I ever could have had. Kevin says one of the four of us could win 100K. If I won the double I would take a shot at Bobby & Bruno… but if they won maybe we could convince them to take out Sarah because Bruno hates her.

Big Brother Canada 3 Zach and Kevin game talk by OnlineBigBrother

Big Brother Canada 3 Zach and Kevin HOH by obblivefeeders
ALLIANCES IN THE HOUSE
There are always a lot of Alliance but we've tried to make sense of it all.. Read our alliance help guide
[polldaddy poll=8819718]