POV Holder:
Paul
POV Competition
June, 24th
POV Used
Yes
POV Ceremony
June, 26th
HOH
Nicole
Next HOH
June, 30
Roadkill Competition Winner:
Frank
Original Nominations:
Paulie, Jozea, and Paul
After POV Nominations:
Paulie, Jozea and Bridgette
Have Nots
?
Watch the 1st WEEK of the live feeds for FREE:
Big Brother 18 Alliances Help Guide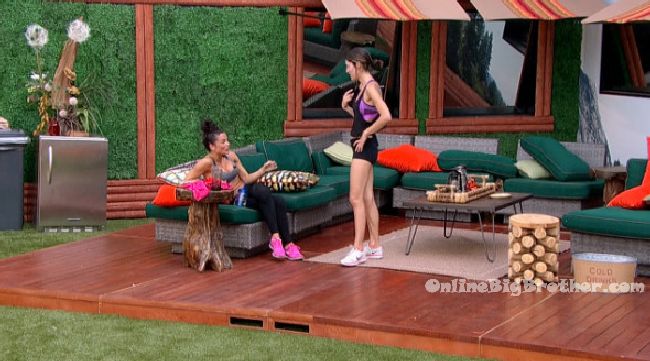 5pm – 5:15pm Cam 3-4 Backyard – Natalie and Bronte are talking. Bronte says I think Victor is one of the biggest threats. Natalie says I don't want him to go home. He's strong and he's in our group. Natalie says Tiff was saying that James is really good at comps. I love James to death. He's someone I would hangout with. Natalie says we've got to stay strong. Bronte says Paulie is the target. Nalalie says this is such a fun game. Bronte says I know. They think James is the mastermind. Natalie says he could be. Bronte says Paul was talking my ear off .. he was saying how him, Jozea and Victor .. and you and I … he wants to be the final 5. When he said Victor, Jozea and Myself are the strongest.. and we think the strongest girls are you and Natalie. And what he stopped himself from saying was will be the last to go. He stopped himself at will be … and said good, good. Natalie says that's why I came in here wanting an all girls alliance. I still don't fully trust Bridgette. Bronte says I don't play dirty .. but when those guys go to pick us a part .. I will lie and make sh*t up. I will turn Jozea against Victor. Natalie says I have your back. I want to show America two girls can stick together and have each others backs. Bronte says at the end of the day I want a girl to win. I feel like they cast a lot of emotional boys. Bronte asks who should we give HOH if we win? I don't think we should give it to James, just in case. I want to put up Corey and blonde (Nicole).
5:20pm – 5:40pm In the backyard – Victor is acting as Natalie & Bronte's personal trainer. Meanwhile in the kitchen – Nicole and Michelle are cooking. Michelle comes up and starts massaging Corey's back. James says DAMN Corey you're always getting massages from all the ladies. I'm jealous. Michelle says because his back is so nice. I suck up to hot guys. I'm never around hot guys. Corey says you're ridiculous.
6:10pm – 6:20pm Cam 3-4 Backyard – Paul talks about how Michelle said she doesn't like historical movies when they asked her if she liked Lord of the Rings. She actually though that happened?! Victor says she actually thinks there were trees walking around talking to hobbits. Jozea says it could have hobbits are midgets now a days. DaVonne says she's not even getting involved in the conversation.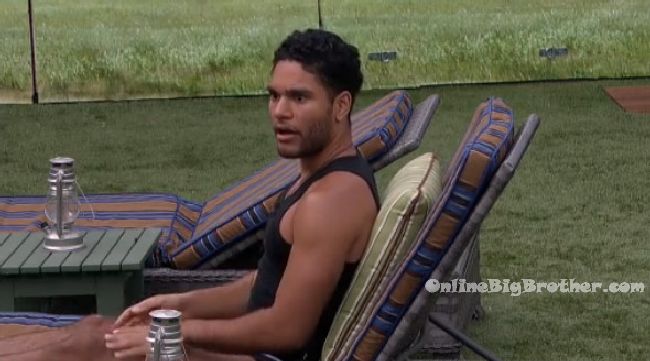 6:20pm – 6:40pm Jozea, Paul, Bronte and Victor are hanging out by the hammock. They're talking about seeing each other after the show. Jozea explains how if he wins HOH he will ask people to volunteer. I think that's fair. I'm not picking people. I don't think people will be like I'm not doing it. Paul says I like it, I'm down with it. Paul says I hate that b***h Tiffany so much! Jozea says just wait she'll be on the hot seat. Jozea says I'm confident I am staying.
Meanwhile in the kitchen… Corey watches Jozea..
Corey watching Jozea@bigbspoilers #bb18 pic.twitter.com/xc5FUIkpkz

— Dawg (@DawgsBigBrother) June 28, 2016
6:50pm HOH room – James and DaVonne are talking. James says bring out your true colours. (They're talking about what Paul & Bridgette were saying last night.) DaVonne says you shouldn't even have to be careful .. that stuff just shouldn't come out. Michelle hasn't even done anything to them. James says I'll tell you what I wouldn't even know what 500K looks like. DaVonne says she couldn't either. I heard after taxes its only 3 something.
7pm James picks up the phone in the HOH room and you can hear it ringing. Down in the bedrooms – Frank hears the phone booth phone ringing and goes to answer it but James hangs up before he gets to it. Frank says I didn't get there in time.
The HOH phone rings in the phone booth https://t.co/iS7BSBNzgP@bigbspoilers #bb18 pic.twitter.com/TQ2OjUmOC0

— Dawg (@DawgsBigBrother) June 28, 2016
7:10pm Paulie says for me, I just saw his true colours. It just made me feel like he never really had my back. Pual says that's one thing I was scared about coming in here ..putting too much faith in people because this game is about lying and manipulation. Paul asks if it were to go to a tie, how do you think Nicole would… have you gauged that? Paulie says I don't know.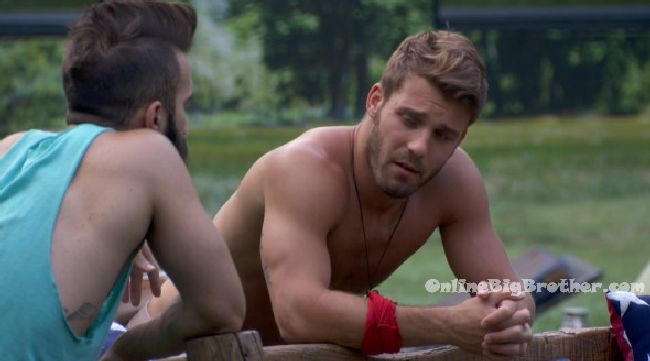 FLASHBACK and watch everything you missed: Live Feed 7 day FREE Trial!