POV Holder:
?
Next POV
April 10
POV Used
?
POV Ceremony
April 12
HOH Winner
Bruno
Next HOH
April 15th
Nominations:
?
Have Nots
?
POV Players
?
If you are outside Canada and want to watch the FREE Big Brother Canada Live feeds sign up for a VPN service here https://www.hidemyass.com/vpn/r16399/. It's safe to use, easy to set up, and cheap. Need to know more check out this post explaining how to set it up.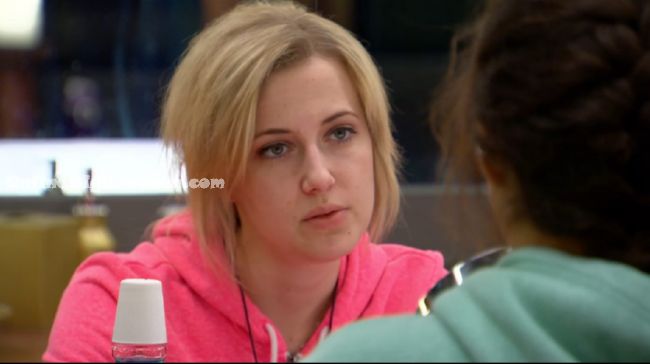 12:20am Bathroom Ashleigh and Pilar
Ashleigh says Graig and bruno were kinda working together so Graig's targets might transfer to Bruno.. She thinks Johnny and Sarah are going up.
AShleigh adds Brittnee could go up because she put up Graig.. Mentions that even Kevin or ach could go up.
AShleigh says there will come a time where they won't have a choice they have to win. Right Now if they win HOH they will reveal who they are with.
PIlar asks if Nominations are tomorrow.
Ashleigh isn't sure "I'm really bad with knowing what time"
Pilar – Me to
Sarah joins them
Ashleigh – are nominations tomorrow
Sarah – no have not is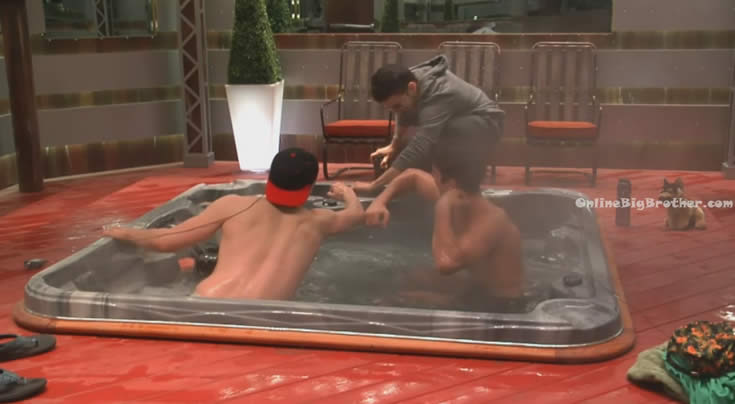 12:32am Kevin and Zach Hot Tub
Kevin mentions how stupid Bobby is
Zach says Bobby is scared of him, "He's gotta go next week"
Zach calls Bobby a idiot says he wants to nominate him just because of his speech today.
Zach tells him they may have to win the POV this week just to keep them safe and to make sure the Nominations stay the same.
Kevin thinks it will be Johnny and Sarah and Sarah wins the Veto he might put him up.
Zach whispers "I'm pretty sure Johnny is the target.. lets let that happen"
Zach adds he hasn't heard Kevin's name for anyone except for Bobby who said he didn't know where Kevin's head is at.
Zach says if Brittnee and Sarah win next HOH Bobby is out the door, "It'll be metal anything can happen"
Sarah comes in tells them Bobby's speech makes her so emotional and pissed off.
Johnny rolls in.. they start complaining about people helping Bruno during the HOH. Zach says he would have won it if Bruno didn't have help.
Zach – fair playing field I would have won that competition
Johnny – such a disrespect for the game.. and I'm going home and watching it from home
Johnny gets called into the Diary room.
Sarah – Big Brother we need a Diamond power of Veto.. or a Canada veto PLEASE
Zach tells her they want johnny out of this game they will be gunning for him.
Jordan joins them. Says he doesn't know what Bruno is going to do for all he knows he'll go after Zach and him.
Again they start talking about Bobby's speech.
Sarah – Bobby the sheep
Zach – I think a sheep is a little more decisive than Bobby
Jordan and Sarah head to bed
Kevin – so operation multitask is OK.. what do you recommend I strengthen things with Bobby?
Zach tells him that Bobby was worried if Kevin wins the POV he would use it on Johnny but Zach explained to them Johnny used the POV to backdoor Graig.
Jordan comes back says Johnny leaving is perfect it weakens Sarh and Brittnee. the following week if it's a double they get rid of Bobby.
Zach says if they can get rid of Johnny and Bobby it'll create two groups of two Godfrey/Bruno and Brittnee/Sarah. THey can finish those 4 off "Free ride to final 5"
Jordan keeps telling them how much of a threat Bruno is "Everybody loves him"
Warns them the one thing that can mess this all up is if Johnny goes to Bruno and sells them all out they cannot let that happen.
Jordan – B and Sarah will never sell us out Johnny will he's playing his own game
Kevin and Jordan agree they will get in good with Bruno and Bobby.
Jordan leaves.. Kevin and Zach talk about the 5 of them, AShleigh, Pilar, Jordan Zach and Kevin can "ROLL"
Kevin – If God and Bobby win the POV .. Perfect
Zach – They'll keep it the same
Zach – the second you feel comfortable though..
Kevin – it's a day by day process
Zach – We control every situation in this house
Zach – operation double date
Kevin – Operation multitask
Kevin – we're playing both sides really hard
Zach – its OK though
Kevin – we have to be cautious
Zach – I never wanted to be in this many alliances
Zach points out you either play the way they are or you win a ton of competition and Knock people out.
They go back to talking about how 'Stupid' they think Bobby is.
Johnny, Pilar, Willow and Ashleigh joins them in the hot tub.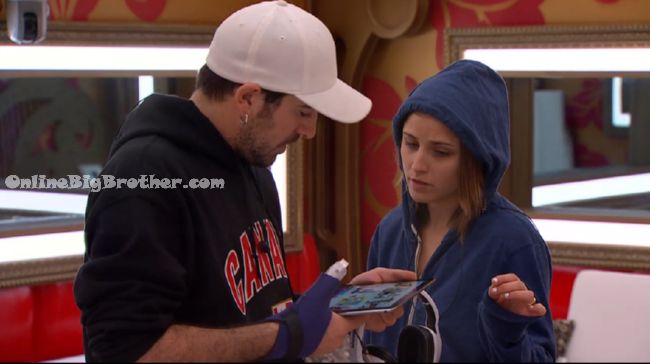 12:50AM HOH Willow and Bruno
Willow explains to Bruno how the shomi works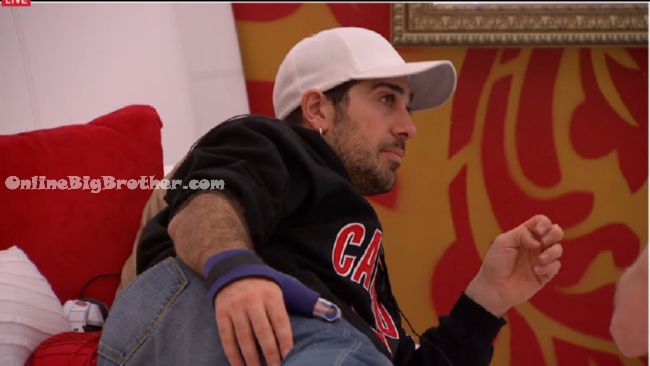 12:58am HOH Bruno and Bobby
Talking about getting Kevin closer to them than with Zach.
Bobby thinks it will be hard
Bruno is going to try "This week I can make deals"
Bobby says don't think they will honour any deals "cause I don't"
Bruno says Jordan and Zach are 100% together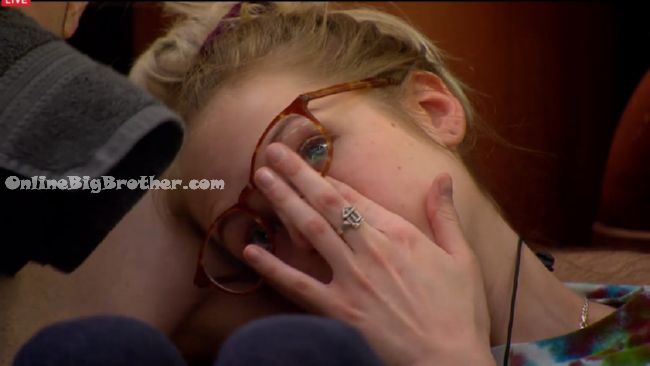 1:14am Sarah and Jordan
Jordan tells her they have the votes she's fine.
Sarah talks about he Veto not being played because Johnny is the target.
Sarah – I don't want one of you guys going up
Jordan tells her in the Veto draw To not pick Zach pick AShleigh Zach will tell Ashleigh to throw it to you she does everything he says.
1:47am brushing teeth getting ready for bed..
2:02am Ashleigh and Zach

Ashleigh is telling him Bruno and Bobby are targeting Kevin.
Zach heard that when he was in the HOH and he shot it down.
Zach says Bruno is after Sarah but bobby wants to take out Kevin, It's a bit of game and a bit personal. Zach says he's going to win the HOH and get rid of Bobby.
Ashleigh say Bruno will be pissed he'll have to do some damage control.
Ashleigh – Were you going for the HOh today
Zach – nope
Ashleigh – you gave up the 5 g's
Zach – I was so happy to see that Comp it was soo easy to throw
Zach – you were dog f***g it you threw that competition
Ashleigh says she got 3 letter and Willow gave her a G
Zach – it was crazy we could help each other i'm really surprised by that
Ashleigh – Even Godfrey was trying to help me
Ashleigh – I thought I didn't think before I speak but he really doesn't think before he speaks..
Zach says kevin, Asheligh, Pilar and him are going to go deep together and he thinks Bobby is the one person on the other side that will figure that out.
Zach – Kevin wants to get Bobby out to
Ashleigh – asks what happens if POV is used
Zach – put up a floater
Ashleigh – Godfrey
Zach – no, maybe Pilar
AShleigh is really scared of Johnny because he's so good at competitions, "The last competition he was a BEAST"
Zach – I f***g love Johnny I want to see him in this game but he's so smart.. He's one of only players that's capable of figuring out what's going on inside and exposing us all blowing it all up.
Support the site and purchase your Amazon goods through our link below. It doesn't cost you anything and we get a percentage of what you buy.
Amazon Canada
Amazon USA
[polldaddy poll=8786423]