POV Holder:
Zach
Next POV
April 24
POV Used
No
POV Ceremony
April 19
HOH Winner
Zach
Next HOH
April 22nd
Nominations:
Godfrey and Jordan
Have Nots
Godfrey, Sarah, Jordan, Bruno
POV Players
Zach, Jordan, Godfrey, Sarah, Ashleigh, Pilar
If you are outside Canada and want to watch the FREE Big Brother Canada Live feeds sign up for a VPN service here https://www.hidemyass.com/vpn/r16399/. It's safe to use, easy to set up, and cheap. Need to know more check out this post explaining how to set it up.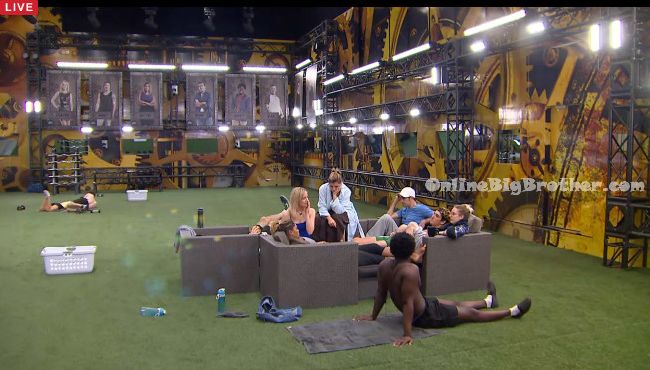 1:10pm The live feeds return. When the feeds come back .. The house guests are on a backyard lock down. Willow asks what did they say? Brittnee says "It should not be taken lightly!" Bruno says something is up! Sarah says maybe it was referring to the fact that it was way more intense than we thought it was going to be. Brittnee says yeah. Willow says like its not as fun and whimsical. Sarah says like maybe don't pick the birthday girl! She laughs. Brittnee says "Or maybe they (Cindy & Bobby) have some big decisions that are going to affect all of us!!"

1:40pm – 2pm The feeds return with cameras 3 & 4 showing Bobby and Cindy in the vault. Cindy yells the Sabrina Abbate saying "Do you want good tv!!!" She complains that its too hot and that her shirt is see through. Bobby says I'll be a gentleman and not look. Cindy says its not you I'm worried about its everyone else watching. Cindy says that JP is probably trying to kiss Willow. Cindy and Bobby play thumb wars and then she gets him to braid her hair. Bobby and Cindy start napping. Big Brother ends the lock down. Brittnee sits by the vault door and asks "Bobby have you lost your V-Card? Cindy be gentle with him! Be gentle!"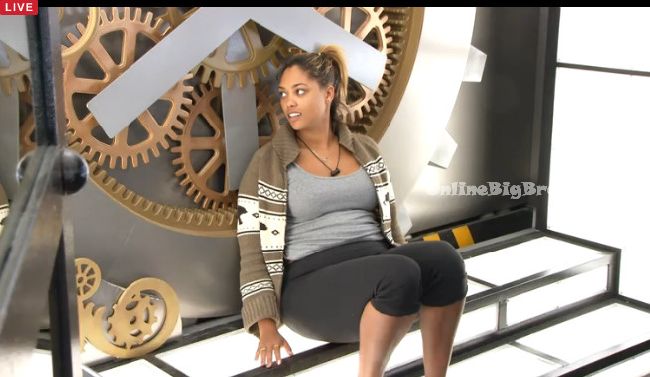 2pm – 2:20pm Zach Kevin and Jordan are in the backyard. Zach says I'm so curious what's going on in there (the vault). WIllow joins them. Kevin asks Willow to tell Pili that I like her for me. Willow asks you haven't told her yet? Kevin says no I have I just thought it would be cute to say. Willow goes and tells Pili. Pili then comes running out and joins Kevin on the backyard couches. Pilar heads inside to get polysporin to apply on her back so her scrap doesn't scar. Jordan comments that he's worried Sarah will say something. Kevin says that Sarah is very careful with her conversations. I wouldn't worry about her. Jordan says we just need to stick together.

2:35pm Jordan and Godfrey are out in the backyard chatting. Jordan asks him if he is going to try to do acting when he gets out. Godfrey says he wants to but that its hard to get into. Jordan says you have a very unique look, you're a good looking dude. Godfrey says this is true. Meanwhile in the kitchen – Zach, Bruno, Ashleigh, Pilar, Willow and Brittnee are eating pasta and talking about the war room twist from last year. Bruno and Zach both thought Scott was going to enter the house. Bruno brings up how Scott was bad mouthing past BB players and that's why he didn't get the votes. The conversation turns to talking about Big Brother Canada 1 and how Emmitt should have taken Talla. Willow says if they had done that they would have been the first couple to make it to the final 2. Bruno says I hope when this is done the whole house gets something. Ash thinks they'll get offered something th
3pm – 3:20pm Kevin talks to Bruno in the storage room. Kevin tells Bruno that Sarah let it slip that she wasn't into it (Putting up Cindy) Bruno says yeah she's not putting Cindy up (if she gets HOH). Bruno tells he knew that and then tells "I'm a straight forward guy I am not coming for you. You're not on my radar. I am not gunning for you! I wanted to look you straight in the eye. I want to work with you. Sarah's my target. I hope you guys aren't working together. I'm just going to be straight up with you." Kevin says Sarah and I am not that close. Bruno asks she let it slip that she's coming for me? Kevin says no she let it slipped that shes not on board with getting Cindy out. Bruno says I can't work with the girl. I cannot work with her. I put her up last time and I would do it again. I will tell you if I hear your name. I think everyone is going for Britt and Sarah. They hug it out. Bruno tells Kevin he loves him. Kevin says you too. They leave the storage room. In the kitchen – Jordan, Kevin and Bruno are talking. Kevin comments that they (Cindy and Bobby) could be watching us.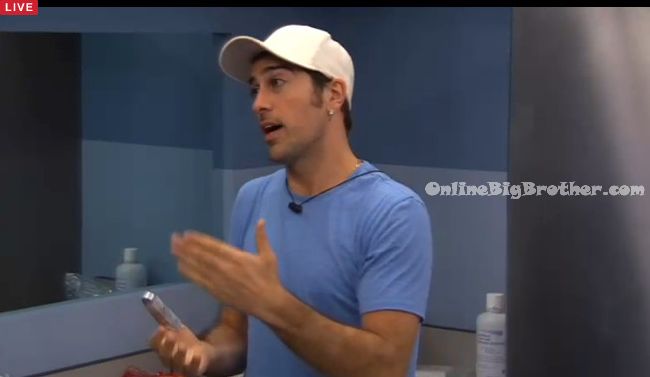 3:40pm – 4pm
Sarah and Willow are out in the hot tub. Sarah says she think Zach had it right that they (Cindy & Bobby) will have to choose between something for themselves and something for the house. Jordan joins them. Jordan asks did Bobby go into the vault shirtless? Willow says yeah. Jordan wonders how they go to the bathroom? Sarah says I think that's why we were locked down. Willow says I'm kind of offended that Godfrey hasn't campaigned to me. Jordan says I haven't campaigned to anyone. Willow says you don't have to give me a spiel .. I will vote to keep you. Sarah starts crying when she starts talking about her Dad and how her siblings blamed their dad for everything that ever happened to her family. It starts pouring and they head inside.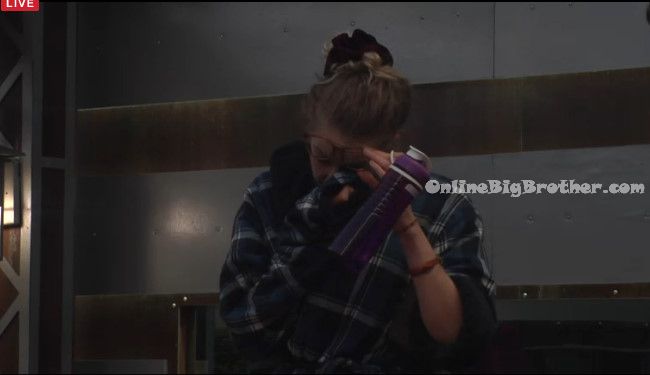 4pm Kevin and Pilar go out to the hot tub room to run / dance in the rain. The kiss in the down pour and then head back inside.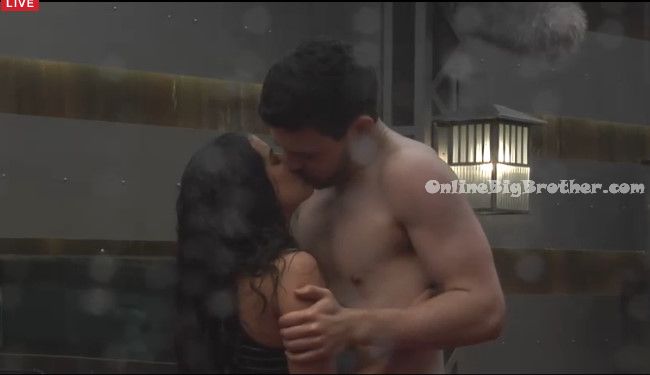 4:30pm In the backyard – Godfrey talks about how his ex-girlfriend would expect to have s*x every time she would see him. He says that he would see her 3 times a week and that was too much. Brittnee thinks its weird he thinks 3 times a week was too much. Godfrey comments that hanging out with the girl was like working a shift. Bruno says she's not the right girl if it feels like working a shift. Bruno says from what I'm hearing you're either going after the wrong girls or not meeting the right girls. Godfrey says he likes Italian girls "Italian women are hot Yo! Bruno says you date an Italian girl you date the entire family. Godfrey says obviously black women are the best. Britt says Godfrey every black woman would love to hear that.
ALLIANCES IN THE HOUSE
There are always a lot of Alliance but we've tried to make sense of it all.. Read our alliance help guide
[polldaddy poll=8810064]