Quick Big Brother Spoilers
Head of Household:  Monte
Nominees: Brittany & Alyssa
POV Players: Monte, Brittany, Alyssa, Turner, Taylor
POV Winner: Brittany
Veto Ceremony:
Havenots: 
Lock your ranks in before midnight
Monte did not compete in the Power Of Veto apparently he took too long getting ready.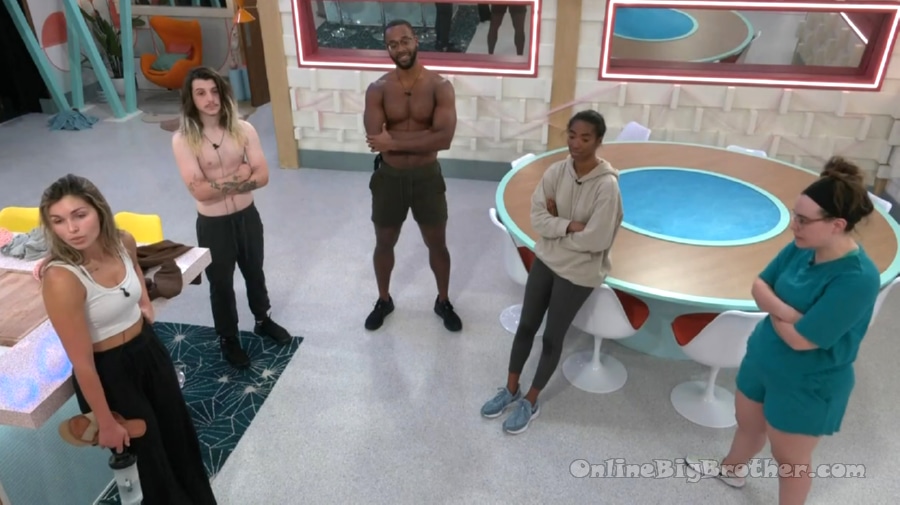 6:13 am Feeds return after being off. Sounds like they did the veto this morning!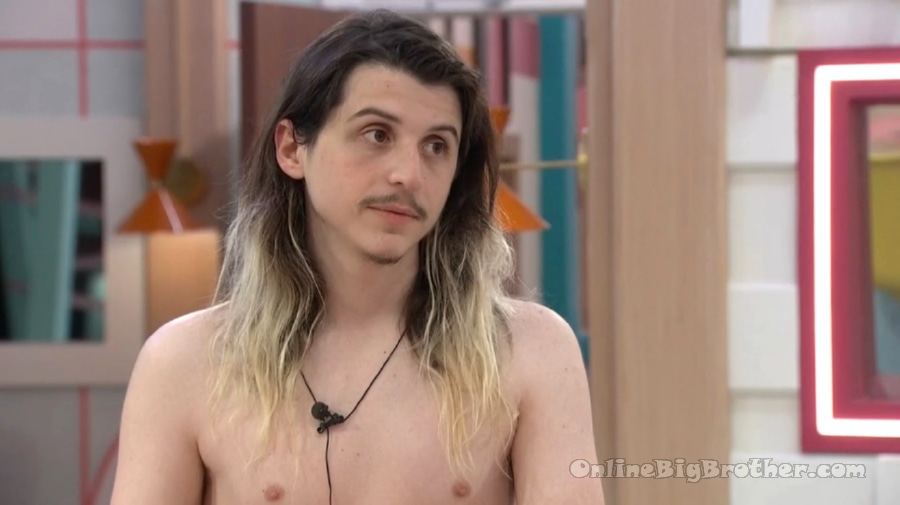 6:18 am Turner and Alyssa
Turner – YIKES
Alyssa – what do you think he's going to do?
Turner – Put Taylor up then it's me and Brittany that vote. I have no Idea where he will vote but I know where I will. I'm goign to try and figure that out today
Turner – you are not as big of a threat
Alyssa – this sucks..
Turner – I choked that so hard.. I was right there..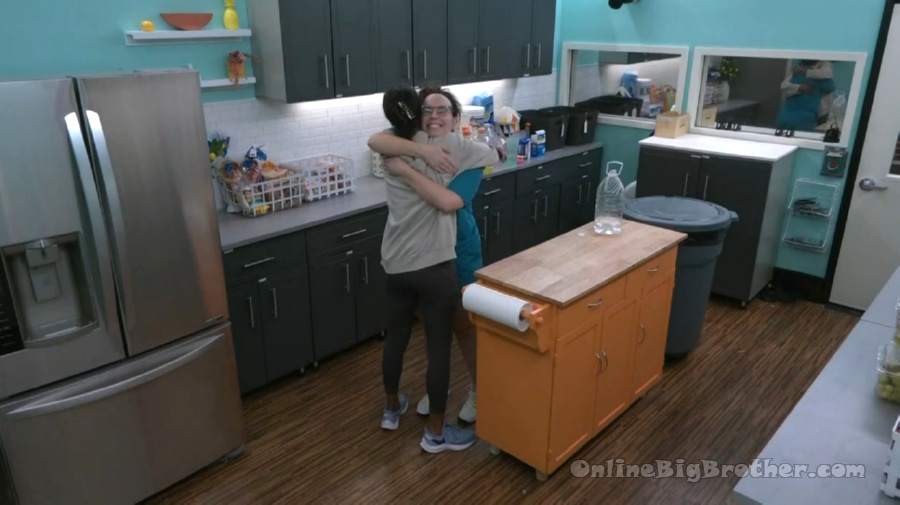 6:19 am Brittany and Taylor
Taylor – You had be really scared all week.. you know why
Britt – it's hard when he left it was like everybody distances themselves from me I don't know hat to think I feel like I need to talk to everybody
T – Everybody was telling me you were throwing me under the bus
B – why didn't you bring that to me?
T – The things they were saying where things that only you.. things I told you
B – Like what?
T – like being in the HOH, Taylor was the one getting's the girls together. Taylor was the one doing this Brittany is saying this
B – You weren't the one getting the girls together. I wouldn't say that
Brittany wishes Taylor came to her once she heard it. "Now it's convenient because I won"
B – it was Alyssa that tried to bring us all together
Brittany says those were all lies "I've been working with you since the beginning"
B – I'm not mad I just want to know what was heard..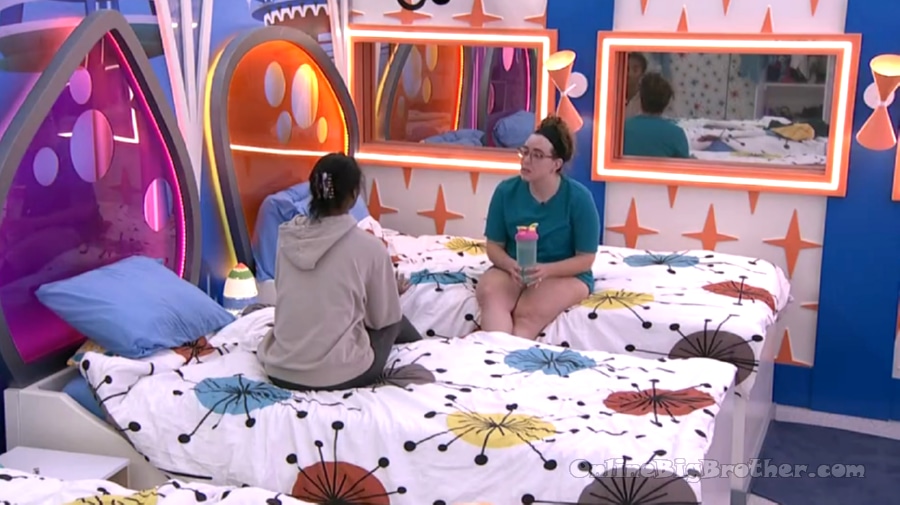 6:23 am Taylor and Brittany
They being rehashing all the crazy things Brittany has been saying.
Taylor says it was Turner that came to her and said she tried to make a final 2 with Turner because she can beat him.
Brittany denies this "Turner? the person that won three HOH's.. lets recall who he has put up" (At 5am Sept 3 https://www.onlinebigbrother.com/michael-won-the-veto-again-bb-fking-comics/)
Taylor – I said to his face how does this make any sense
B – he's won the most things out of the people here.
T – he told me about the all girls alliance and he said you were the one that told him that the all girls alliance existed.
B – NO Alyssa is going telling Monte..
Taylor adds that turner told her that Brittany is saying because of how chaotic Taylor's HOH was she doesn't want to work with her.
B – Are you kidding me? It's lies.. it's fine. If you choose to believe them.. I don't even talk to Turner I don't even understand why that would be a thing. We all know he is easily influenced and chaotic. Why would anyone think they could tell him anything is beyond me.. (She did say that to Turner)
B – First of all I would never say that second I would never say that to TURNER. He's put me on the block 3 times.. Every single thing he's ever said to me has been a lie.. he is a liar.. (ZOMG)
Brittany starts to cry.
T – did you think you were going home this week?
B – I don't know nobody would talk to me this week
B – what made you believe him?
T – I felt like there was distance between us
Taylor says that Alyssa is telling her that Turner is saying Brittany is throwing her under the bus.
T – you understand why I have been scared
B – nobody is talking to me because everyone is spinning up this bullshit to put a target on me. You know how that feels?
T – YES
B – then WHY?
B – everyone wanted me to go away but I just won and won't be going away
B – Turner was targeting you Taylor.. He wanted you out. I don't understands how something he says holds more weight than what I say.
T – which is why I told Michael after he was told everything and Michael knows we were told the same stuff.
B – So our trust was broken because of one conversations Turner said we had.. Turner has been targeting me the entire game and I haven't talk to him ever. When do you see Turner and I hang out?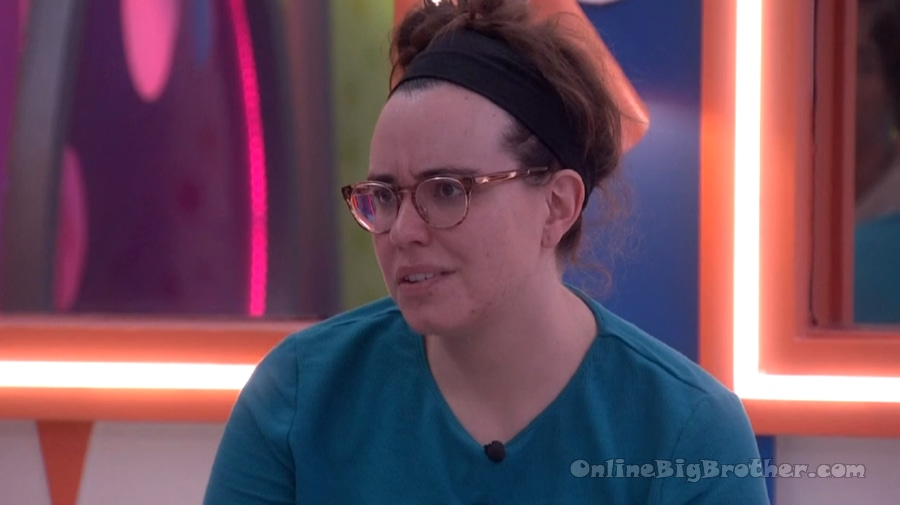 Brittany says if she didn't win the veto she would never have known this and would have been walking out the door.
T – That's not true
Brittany continues to deny talking to Turner at 5am says she never stays up that late. She has nothing in Common with Turner. Goes on about their age difference.
Brittany starts crying about losing Michael "he was a good friend he was here when no one else was"
Brittany goes on about Turner lying, "I just assumed that everybody was seeing the utter nonsense that I was seeing I guess that's not the case because they haven't been targeted by him like I have been targeted by him."
Brittany – I am realizing I'm one of the few people that f***ing keep their mouths closed in this house. I'm keeping spam out and not propagating things as lies (That's classic)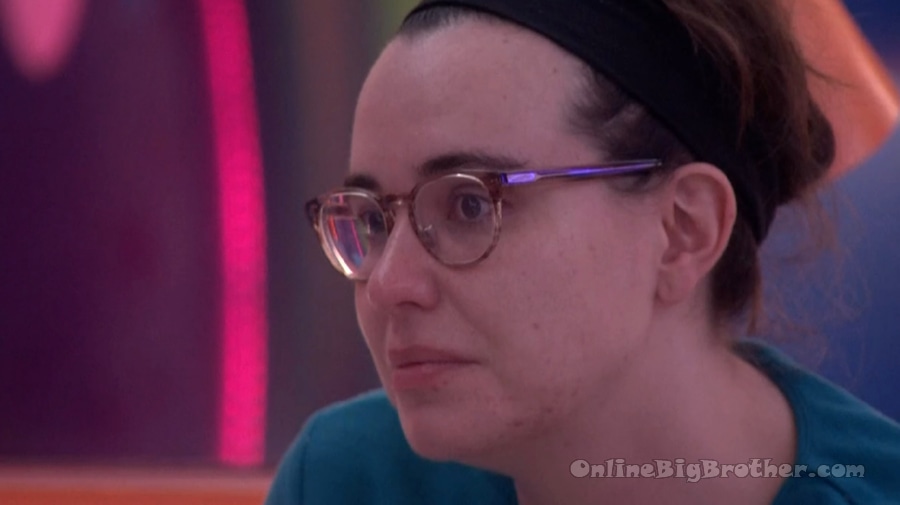 Sounds like Taylor is buying what Brittany is saying.
Taylor – I feel like I am going up.. because you give me these warnings about Monte and Turner working together.
Taylor – I'm scared.. there's only 5 people
Britt – is there a way we can clear this up. I won't hold is against you you don't hold it against me. Done.. Monte is smart. I cannot go home this week.
Britt – who would prevent him from winning things the most?
T – Turner has been talking alot about how Xavier should have taken Kyland to the end and note BIG D
B – why would he be talking a lot like that.. hmm I wonder why
Brittany now talking about Jury management and how important. She says Turner has horrible jury management "He's playing a Paul game" (More Classic)
B – You can't pull the shit he is pulling and not expect people to be mad at you
T – I never saw Paul's seasons
B – I'm taking myself down it'll be you or Turner. Monte is going to have to show who he's with
Brittany says if Monte put Taylor up he's pissing off two Jury votes over putting Turner up.
B – if he puts you up I can't save you.. If he puts you up he's saying that us three are done. That would be so illogical.. It would be setting up Turner's entire game he would have him and Alyssa and Me alone on and Island.
They talk about the HOH next week with Turner gone it would be the two of them against Alyssa.
Taylor asks her if she has any other final twos. Brittany says no.
Brittany – I've played a pretty clean game. I've kept my mouth shut. I don't say things unless they are fact checked a strategy attached to them.
(Brittany will likely talk for the next 3 hours 12 hours)
Without reader support this site and these spoilers wouldn't be possible.
Please consider a donation to keep the madness going.
Any amount is greatly appreciated!