Quick Big Brother Spoilers
Head of Household: 
Nominees:
POV Players:
POV Winner:
Veto Ceremony:
Havenots: 
Lock your ranks in before midnight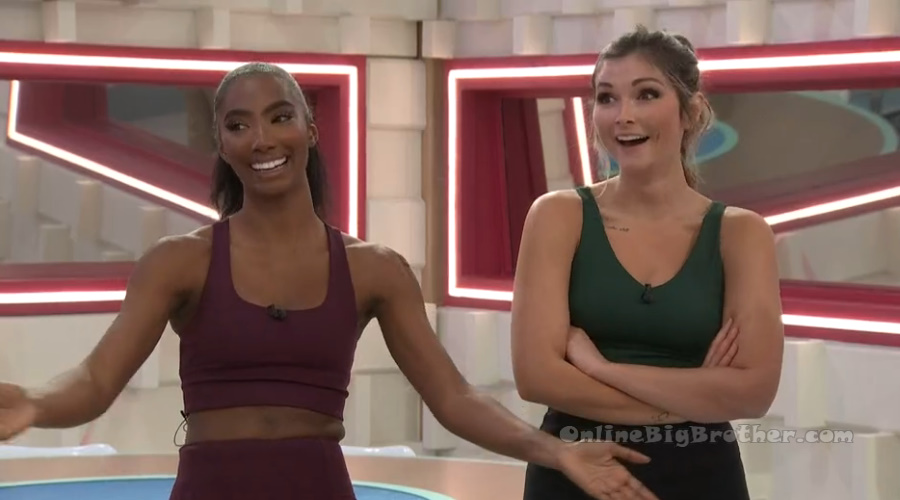 \
8:10pm Kitchen – Alyssa, Taylor, Brittany, Monte
Alyssa – Michael went from HOH to evicted in the same night. Its probably happened in doubles before but that was so crazy. What do you think the jury house is going to say? Taylor – they're going to be shocked. Turner – and Terrance was going to go manipulate the thing.. and now Michael is going to go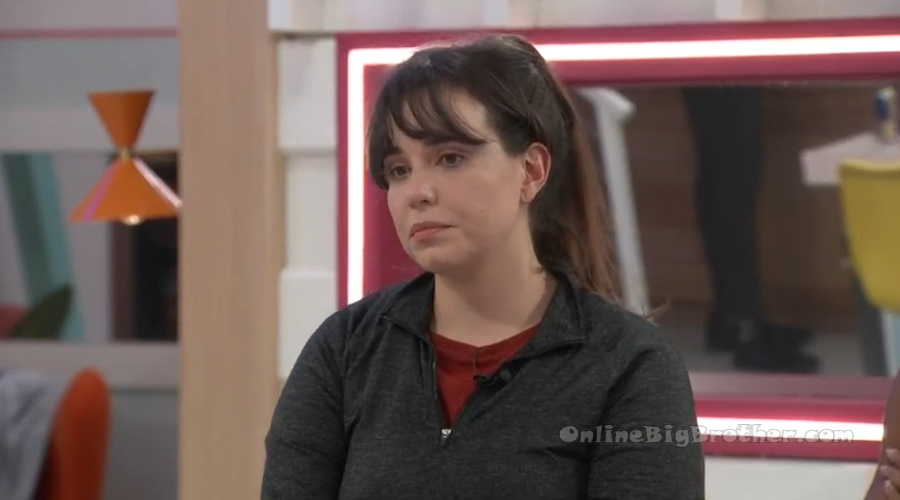 Bedroom – Brittany and Taylor.
Brittany – sorry my head is not all here. Taylor – at least you didn't have to do the vote. Brittany – yeah. I know it was what needed to happen. Taylor – I know that the pitch was hard to hear. Brittany – yeah. Taylor – and its the way he went out more than anything. Brittany – he just didn't understand that people were after him. He just didn't get it. Taylor – interesting. Brittany – I know. I am like dude your only strategy is to win. I was just thrown by what he said and I don't know what to think. Taylor – think about what? Brittany – like what the rest of this game looks like.. I don't know .. my brain is really jumbled. Taylor – we'll figure it out… and I am not going to spout game at you after your brain is like this. I know you guys were closer that me and him were. So I know you're hurting more that I am. And the exit was iconic but mean. Brittany – I should have gotten off the Michael train awhile ago but.. Taylor – he was your friend. My friend too but you were closer. Brittany – I don't want you to think that my friendship with him negated how I feel about you and wanting to work with you. I knew that had to happen. I hope you know that that is truth. I never thought he would campaign against me. I guess I just thought when we found ourselves in that situation that there was nothing he could do. Taylor – he didn't campaign against you. Brittany – but what is all the .. leaking information .. like what is that mean!? I don't even know.. it just hurts. Turner joins them and says sorry. Brittany – its okay, I knew this was supposed to happen at some time. I actually genuinely appreciate you not putting me in that position (to have to vote out Michael).. because obviously I was thinking too much of him as a friend and he was thinking of me as a pawn. And I probably would have been stupid and voted sympathy or something and it would have ruined everything so it was actually kind of better because he was obviously not viewing me that way. Turner – even with what was said.. I love you as a person and we're going to be friends forever. Like I am sorry. Good luck tonight. I am glad you're both still here. Turner leaves. Taylor – the only campaign was in that speech .. like he didn't pull me aside. Brittany – what do we even do now? Taylor – We WIN.. that's what we do now. I don't have time for game talk now. I'll be damned if I let Turner and Monte railroad us to the end. And Turner can't play. Brittany – I can't even shake the feeling that I am going to be next. Taylor – you won't be next.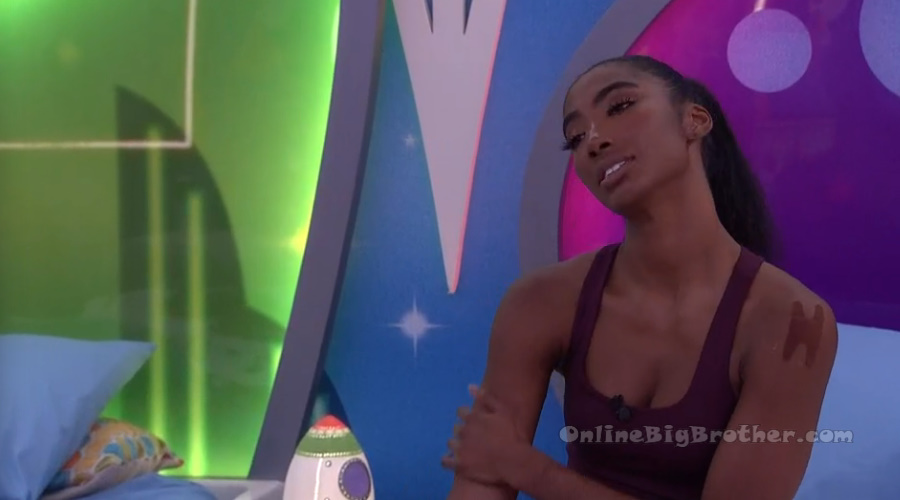 8:18pm Kitchen – Monte and Turner
Turner and Monte hug. Turner – we can f**king win this bro! We can win this f**king game ..EASILY! Monte – yeah.. so this comp .. this HOH comp I am going CRAZY! I got to hold on tight. Taylor is the only one that I think could outlast me because she is so small. Turner – do you think honestly that she would put up Brittany and Alyssa? Monte – I would hope that is the case .. but she could be telling me one thing and then put you up. It could be you and Alyssa. Turner – then its one / one (Monte and Brittany voting) and she picks. Monte – yeah but I can play in the… we all play in the veto. You can play in the veto .. I win .. I take you down and she puts up someone else and then we go from there and then me and you are the two votes and we control everything. Turner – you've got to win that HOH. Even Alyssa .. I don't think she would put us up. Monte – I hope not .. I just saved her. Hopefully I just established some trust with her. Turner – exactly. Monte – I'm proud of us. Turner – dude we f**king crushed it! That could not have went better dude! That was PERFECT!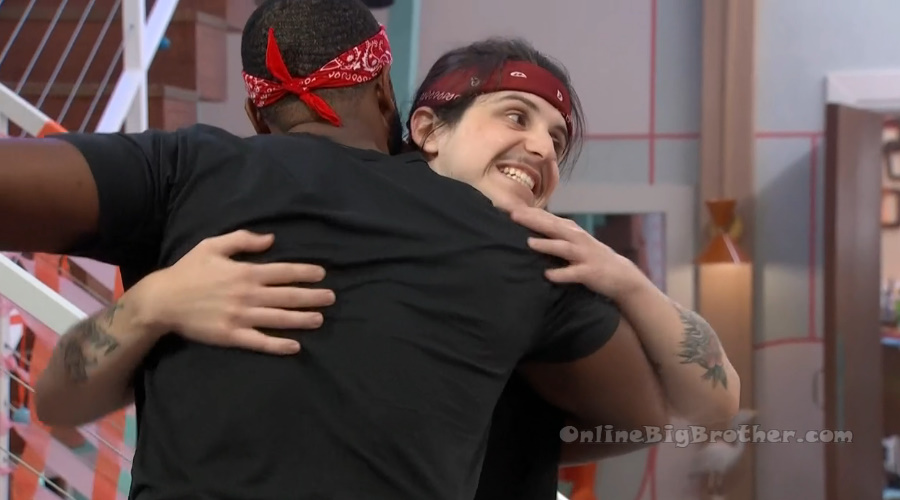 8:30pm Bathroom – Taylor talking to the camera.
Taylor – that's Turners third HOH. Michael had three HOH's. Turner's got to go! Turner has to go up. I have to win.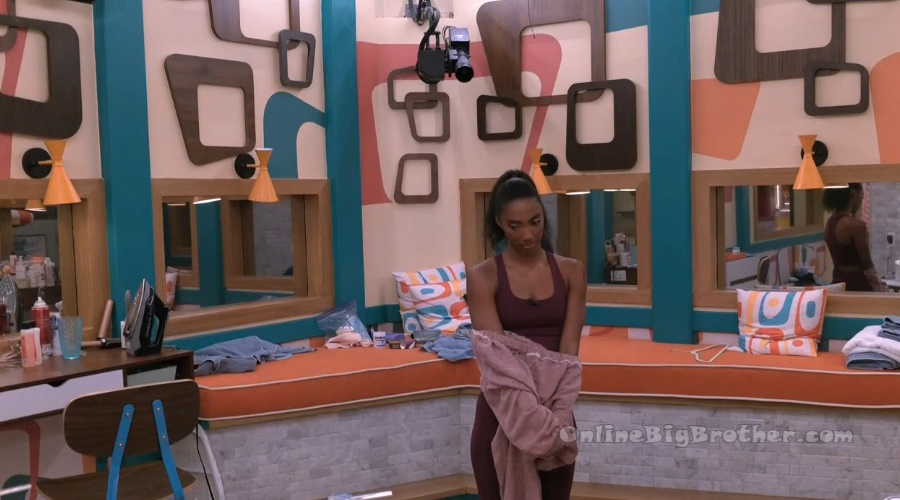 Bathroom – Turner and Brittany.
Turner – I heard what was said. I do not hold anything against you. I get it. It does not change my perspective on you. Literally you're one of my favourite people. You were one of the first people to come to me early on. You were not a target. I hope we're good. Brittany – Turner, I don't have much of a game right now. I know I am probably next. It just kind of sucks. Turner – well you have me. I obviously can't play. I honestly thought that you next to him was the best option so that you weren't in that position … its going to be a lot harder and I know I have put you up consistently but I hope you know .. There was the reason when the leftover started I had to use you as a pawn. I feel bad about it. I clearly have a pattern of putting you up but there is always a reason to it. Brittany – no I was telling the girls I knew it needed to happen. Turner – regardless no one thinks any differently of you. Brittany – I know its just a game. I let friendship blind me .. and his part I am angry at him.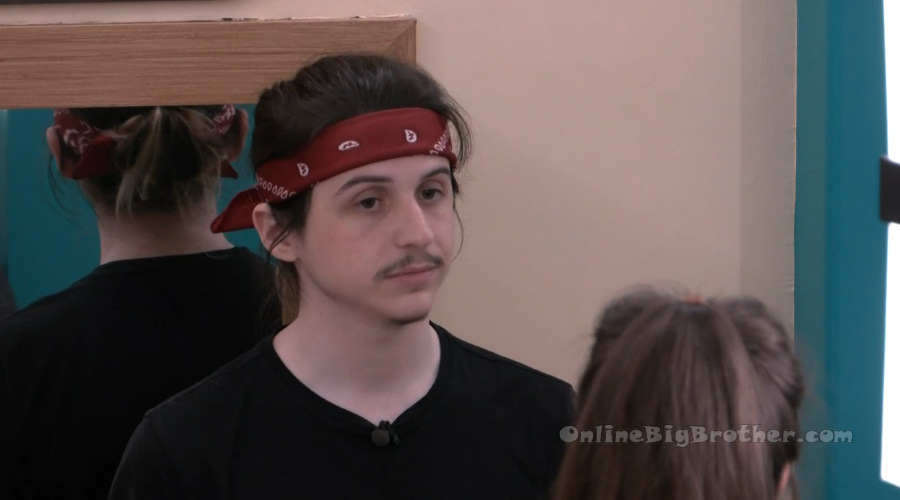 9pm Bedroom – Monte and Turner.
Turner – its going to be a good episode! Monte – it is going to be a worthwhile episode. Turner – I did swear on tv. Monte – what did you say. Turner – when Michael said that I said that is so f**ked up that you would say that. Monte – that was dude. It just amazes me that he was able to think through all this.. like that is just how smart this dude is. This dude is so smart that he was able to put together comprehendible thoughts and communicate them effectively and just lay everything out. Like I was like WOW?! Turner – he could have f**ked us over. Monte – what do you mean? Turner – like me, you and him. He didn't say anything about that. Taylor joins them. They talk about Michael. Taylor – he was so good. SO good! Monte – I think he is literally the best big brother player I have ever seen. Monte and Taylor – same. Taylor – Dr. Will WHO? Sorry. Turner – and we got to witness it and get my a$$ beat by it.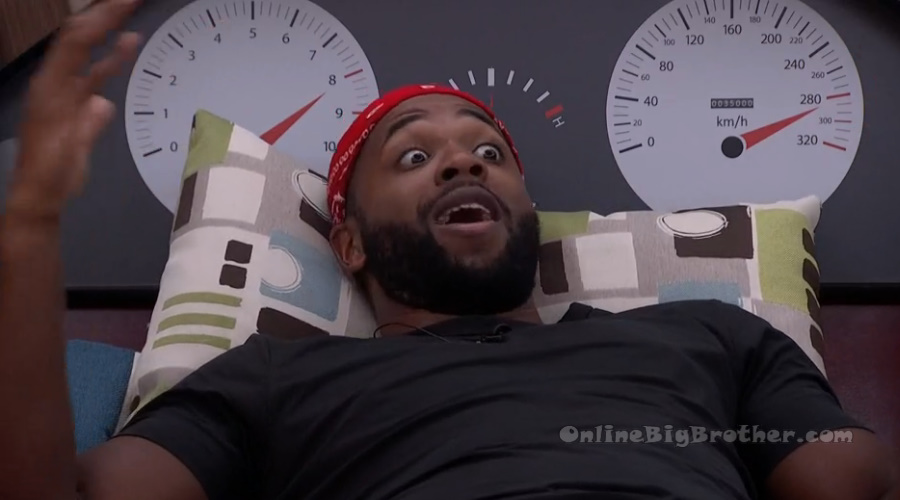 9:05pm Bedroom – Brittany, Alyssa and Taylor.
Brittany – I am going to have major regrets! Alyssa – no you're not. Brittany – I already do. Alyssa – in reference to him.. or the game? Brittany – to him.. I think I was too loyal to him. Shot myself in the foot. I know I am still here but…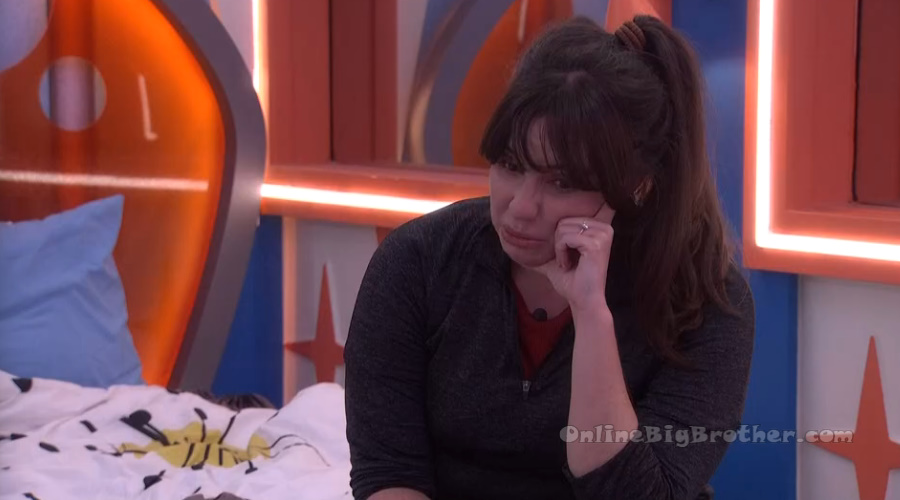 9:14pm The feeds switch to the kitten cams… The HOH competition is starting now..
11:08pm Still blocked.
12:16pm Nothing yet..
1:02am Not back yet..
Without reader support this site and these spoilers wouldn't be possible.
Please consider a donation to keep the madness going.
Any amount is greatly appreciated!