Quick Big Brother Spoilers
Head of Household: Jasmine
Nominees: POOCH and Taylor
POV Players: POOCH, Jasmine, Taylor, Ameerah, Terrance, Michael (Host Daniel)
POV Winner: Michael
Veto Ceremony: Veto was not used
Havenots: Terrance, Nicole, Pooch, Daniel
Lock your ranks in before midnight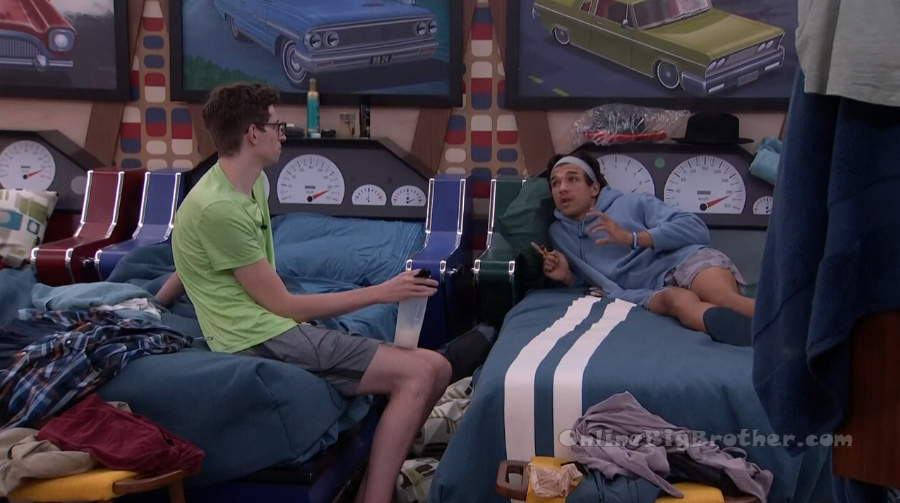 7:45pm Bedroom. Michael, Pooch
Pooch – I don't want people to think that I am not campaigning and not that I think its too early but asking people around the house.. I still think I'm in a good spot. Hopefully!? Knock on wood. Its always a bad thing to say. Michael – no from what I hear everything is still the same. The only thing that I worry about is last week Taylor kind of ..like on Wednesday is when she kind of went hard! Pooch – yeah I've been checking in with the guys because I feel like Turner and Kyle wouldn't bullsh*t me. And Joe and Monte .. not that we talk a lot of game but we're friendly enough to where I still think its too early where they wouldn't take that shot .. I hope! Alyssa and Ameerah I feel good with.. who I make sure I talk with every night to make sure that relationship is strong. Michael – and I think they're close with Jasmine. Pooch – and I hope at the end of the day they're just like damn for him to just like try and help the house in the process of making sure nobody else has to go up .. and hopefully made the head of household easier. Its tough at this part in the game where everyone likes everyone.. unless I am just out of it. Michael – no, you're spot on everyone likes everyone. I think about that like if I won, who would I put up. I have no personal things with anyone so.. Pooch – it would be more who is clicking pairwise and stuff like that. Michael – I think when you're HOH you get a lot of information so I would just have to wait and see what people have to say.. or if people want to cut a deal or stuff like that.

7:50pm HOH room. Indy, Jasmine and Brittany.
Jasmine – how was the workout? Brittany – it was funny … have you been missing Justin at all? Jasmine – yeah. Brittany – I figured you would understand. Brittany starts to cry. Usually I work out with Steven. God I just don't even let myself go there.. and then you know that mind, body connection? I haven't really moved my body that much and then just being on the bike. I was just holding it in. Its tough! Its almost like I'm not letting myself think about it because when I do this happens. Jasmine – we just have to release those emotions when we can.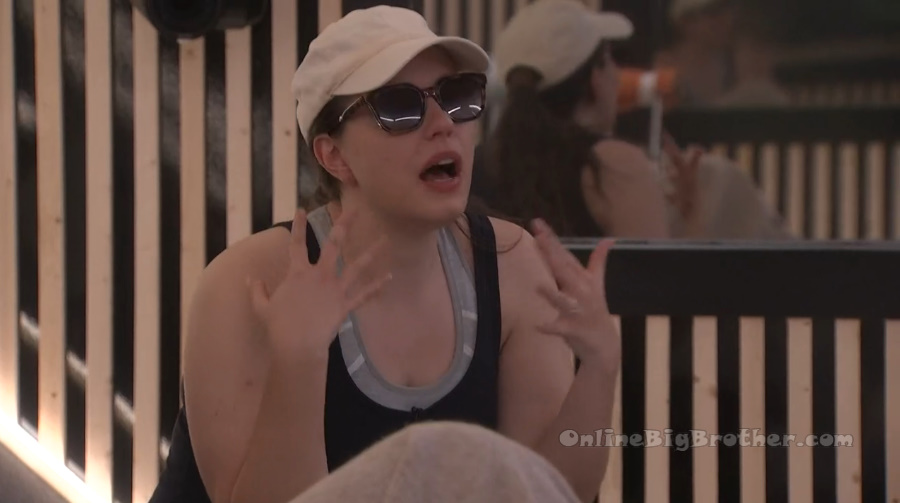 8:10pm HOH room. Jasmine and Brittany.
Brittany – are you still feeling good about everything? Jasmine – honestly yeah, I just hope people aren't lying, that's all. Brittany – god I hope so too. Jasmine – I think we're solid. We only 7 right? And I think we have eight. I mean you're voting him out right? Brittany – oh my god! 1000%! I swear on Steven! I swear on anything! Like he (Pooch) literally would be gunning for me if he stayed. Jasmine – I think he would be gunning for any girl if he stayed. I think we're good. I am gonna act dumb though. Like I don't want y'all to be surprised. I am going to be upset for awhile and act like I need my alone time. Brittany – me too. Just so that the guys be like f**k! Brittany – me too. I just hope that we can direct the narrative to pin it on Taylor. You know?! Jasmine – yeah, yeah, yeah. Brittany – I ran in to Joseph in the storage room… he is campaigning for Pooch. I don't know if Pooch got him to do that? He didn't campaign to me once. Jasmine – I didn't tell him, I didn't tell Turner.. Kyle might just vote with the house. Monte said he was not. I said well its up to the house. I wish you would. I said, I just want to be upfront and transparent with you. I know we have eight but I just don't know if we have nine. Brittany – I feel like it would be smart for Kyle. Jasmine – he should, he (Pooch) put a target on his back. Brittany – and to vote with the majority.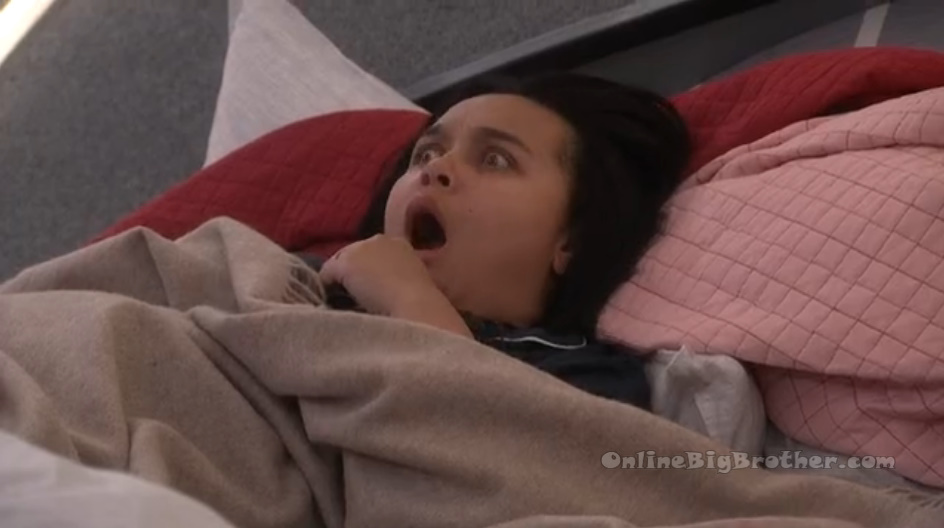 9pm Half of the house guests are hanging out chatting in the back bedroom and the other half are hanging out in the HOH room.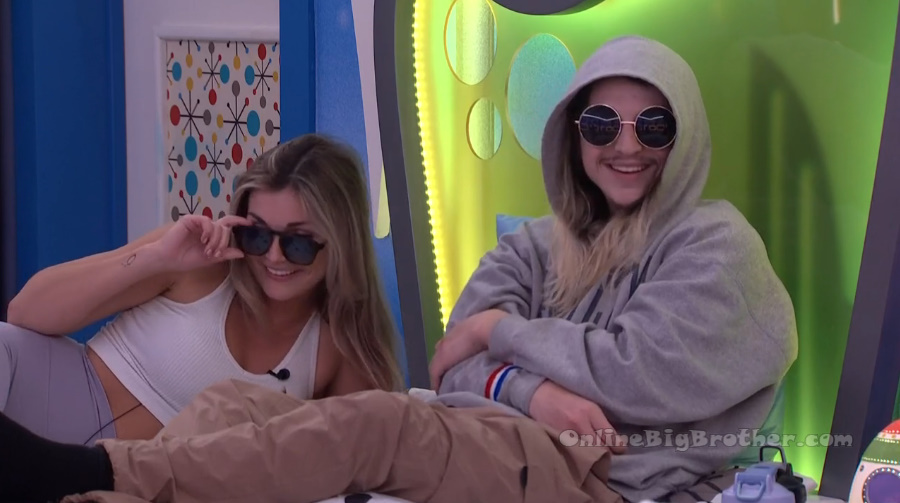 9:10pm HOH room. Nicole, Terrance, Ameerah and Jasmine.
Jasmine – so Brittany came in here and she was crying and she was talking about her husband and stuff like that. Then Monte came in and … how do you not know the social cues to get out?! So I couldn't tell Brittany to just leave. You could clearly see that Monte wanted to talk to me. She would not leave! Terrance – So Brittany was crying over her husband after she literally said that she doesn't allow herself to miss anything or miss anybody? Jasmine – she said she had a breakdown. She was crying. I went to Indy how are you today? She said I was back there talking to Joseph and Monte ..and she was like oh I told Joseph that I don't trust him and I said it right in front of Monte. Ameerah – she said that again today!? Jasmine – yes she did. Ameerah – she needs to stop! She needs to stop doing that. Nicole – I am at the point now if you're telling me something .. now I know its the opposite. You're telling me because you're trying to miss direct me. And guess what suck my big toe! Because that's bullsh*t. Jasmine – she says that she doesn't trust Joseph but she trust Monte! Baby that's backwards!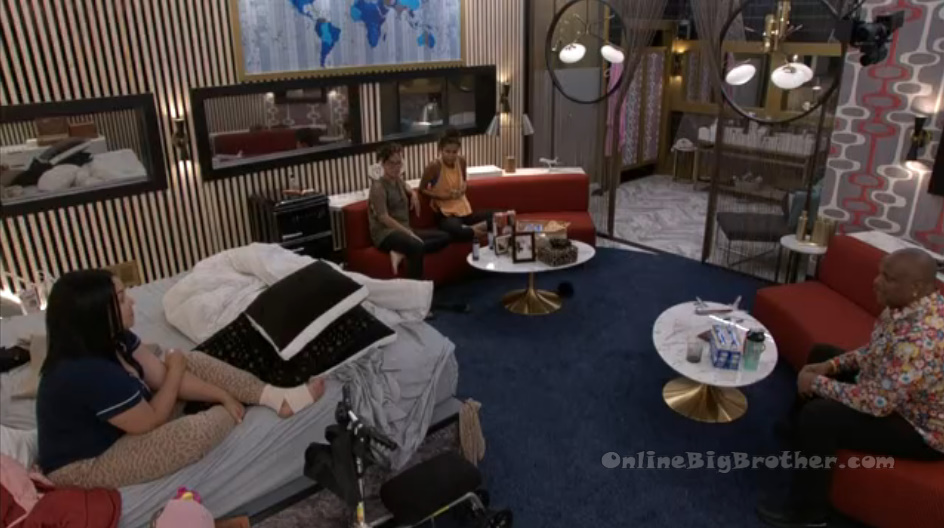 10pm – 10:13pm Bedroom. Alyssa, Indy, Taylor, Ameerah
Talking about goodbye messages they'll give to Pooch. Taylor – I'm going to say … this is so stupid. You forgot this was a game of chess and in the game of chess pawns always go home before the queen. Alyssa – that's perfect! Number one rule! Never put yourself on the block and volunteer. I just want it to be Thursday already. Taylor – I know! I just want to get through it. We have the votes! Solid. Alyssa – I know! The only people that are going to be blindsided are Joseph and Turner. Taylor – by how big the split is with the votes. That's what's going to blindside them. Alyssa – yeah. Taylor – not the fact that he's gone. Alyssa – yeah. Taylor – by the way they keep banging in the backyard .. it can't be a memory comp. Ameerah – yeah you're right. Taylor – I just do not, do not, do not want Joseph, Monte or Kyle to win it. Ameerah – I don't want Turner to win it either because of Pooch. Those are the ones I'm afraid of. Taylor – I still think we can count on Monte and Terrance. Ameerah – yeah.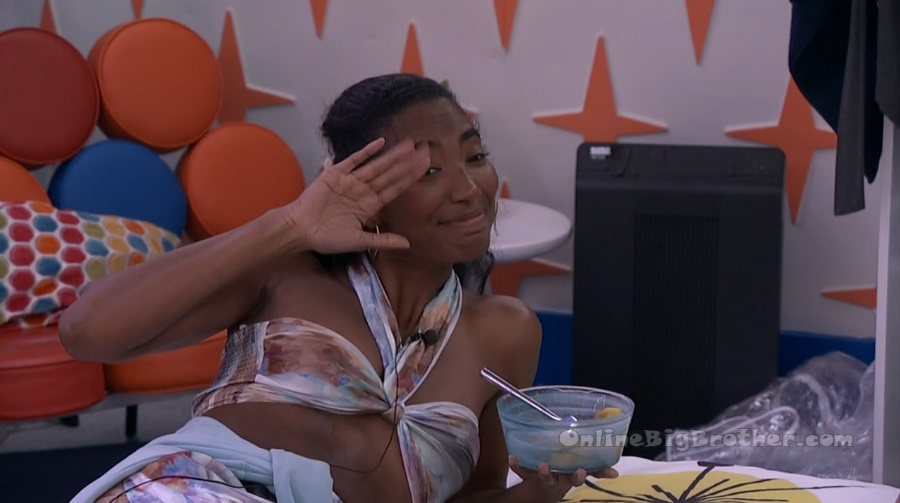 Storage room. Alyssa and Monte.
Alyssa – neither one of them are in my alliance so I am down for whatever you guys want. Most people want Pooch out because they figure he would come for us more than Taylor .. but I don't trust her either. Monte – me and Kyle are really tight with Pooch and also Pooch tells everyone what he is going to do. He's like a little locomotive train that you can see coming a mile away. Taylor – on the other hand could put up me and you, or Me and Kyle on the block.. there is no telling what she is going to do. On top of that I feel like she is willing to say and do anything to make sure she stays in good standing with the house. Taylor has openly communicated that she is going to make a big move. And I don't think it helps anyone's game if she puts up me and Kyle, or Michael and Me. I am not trying to flip the house. If everyone was Pooch out I am not going to go against that. But we all wanted Taylor out last week.. there is not telling what she might do. She's already said that she wants to backdoor me. I am not feeling great about that.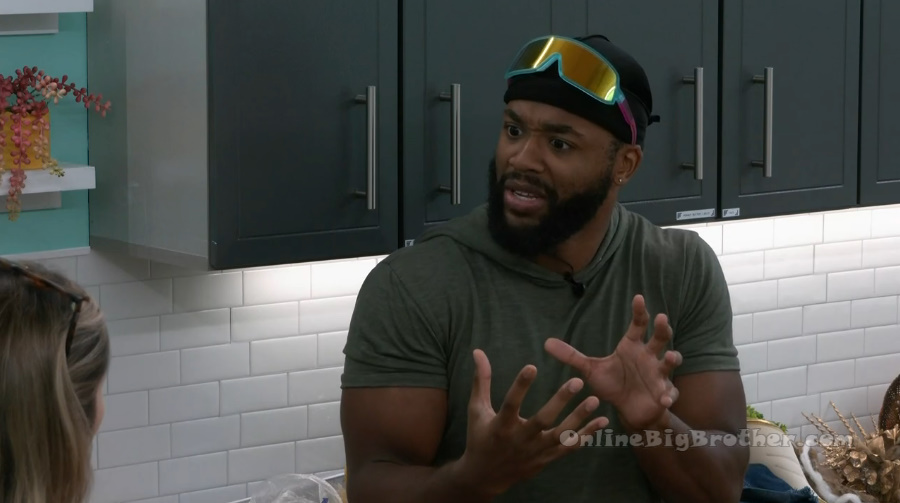 10:50pm HOH room. Daniel, Jasmine and Alyssa.
Jasmine – I literally just asked her (Alyssa) do you think I should talk to Kyle tomorrow? But she said that Monte is freaking out everywhere. Alyssa – I talked to Monte and he thinks that Taylor is coming for him. So he is like I just think that she has to go and I was like she can go next week. Daniel – but that is his game.. Alyssa – yeah that's where I am at too. Jasmine – you can wait to do that on your own f**king HOH! Why are you trying to mess with mine!? Alyssa – Pooch was telling me today that Monte and Joseph that I'm a female threat and.. Jasmine – that he is going to protect Indy. Daniel – he is going to protect Indy? Jasmine to Alyssa – Joseph and Monte said that they're only to protect Indy? Did Pooch tell you that? Alyssa – yeah, but he twists everything and is a liar so I don't.. Daniel – they're going to protect Indy? Alyssa – yeah, that they trust her more.
Daniel – there you go, she is really with them. Jasmine – and Taylor came in here and said that she was sleeping in that little room down there and the guys came in and they were like we're going to have to get those queens out of their palace because they've been up there a lot. And like they're basically going to take them out next week. How f**king dare you!? First of all I am injured, second of all you put yourself up as a pawn. Third of all its not a queens palace, you've been in here all day. Terrance has been in here all day. Like I don't know how to do damage control with Monte if he is HOH next week. I don't want to go up. Daniel – all he has told me is.. he is fine with whatever happens. He just wants to be on the right side of the vote. I said once I know, I'll let you know. Jasmine – that is bullsh*t. Daniel – I can tell him, I am so sorry but the vote is flipping. I am going to vote him (Pooch) out, sorry! Just make it last minute, holy sh*t kind of thing. Alyssa – that's what you told him or what you're going to tell him? Daniel – what I'll tell him on Thursday before the vote. And I'll put Terrance in there and maybe Turner. Alyssa – I like it.
11:40pm Bathroom. Monte and Kyle.
Monte – I am at the point where I could try to push the girls to vote for Taylor but now I am just like… Kyle – I don't think it will happen. Monte – I don't think it will happen. And I think it is more evident that Pooch is such a wildcard. He is so unstable, like if he were to win HOH .. god knows what would happen. I think ..even though Taylor is a great competitor and all that sh*t .. I think we can lay a boxing one on her. Kyle – just make sure she doesn't win. Monte – make sure she doesn't win. The only thing is now.. I might be fine with voting Pooch out.. because its at a point where he is just so unstable. Kyle – yeah. Monte – he's said some wild sh*t. I had a conversation with Ameerah and we said we just need to have better communication around this stuff. I think everyone is just trying to appease Jasmine but they could have gone about it a better way. At least with the six we have the best chance of riding through together.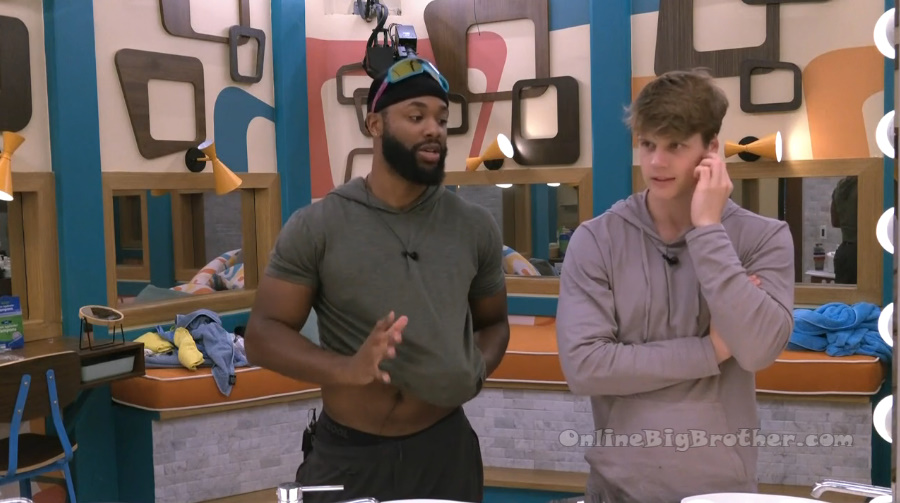 12:30am – 12:40am Havenot room. Daniel, Nicole and Terrance.
Daniel – Indy is not going to do good on slop, I can tell you that right now! Nicole – Indy is not going to do good when she gets backdoored! They all laugh. Terrance – na, its going to hit different. Nicole – no, its going to be bad. We will have to mentally prepare ourselves for that sh*t. Daniel – who cares?! Ultimately who gives a sh*t! Nicole – I don't care! Daniel – I am cool with her because I am cool with her. I don't give a f**k dude. Nicole – but literally what she is doing to Pooch right now is going to happen to her. Daniel – what is she doing to Pooch? Nicole – I mean she is part of the plan to get rid of Pooch. I see Jasmine or Ameerah taking a shot at her (Indy). Daniel – dope! They're working tonight? Nicole – either that or Turner or someone else needs to take a shot at her. Daniel – who is Michael going to take a shot at? Nicole – he will take a shot at one of us.. and I would respect it. Daniel – right away? Nicole – not right away but I think he would take a shot at us. Daniel – oh yeah I would have to take him out before he does that. Terrance – before that courage builds up in his little heart. Nicole – its already built, I told him to embarrass Pooch and he did it. Daniel – he's a fighter. It might have to be a backdoor.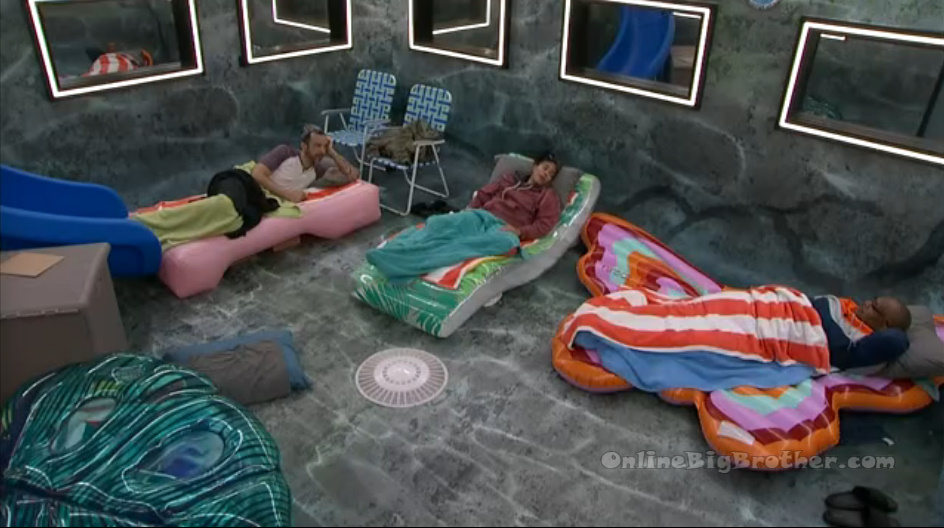 1:15pm Havenot room. Terrance, Daniel, Joe, Ameerah, Nicole, Turner and Pooch. They're chatting about havenots and possible comps for the HOH since BB is building in the backyard already.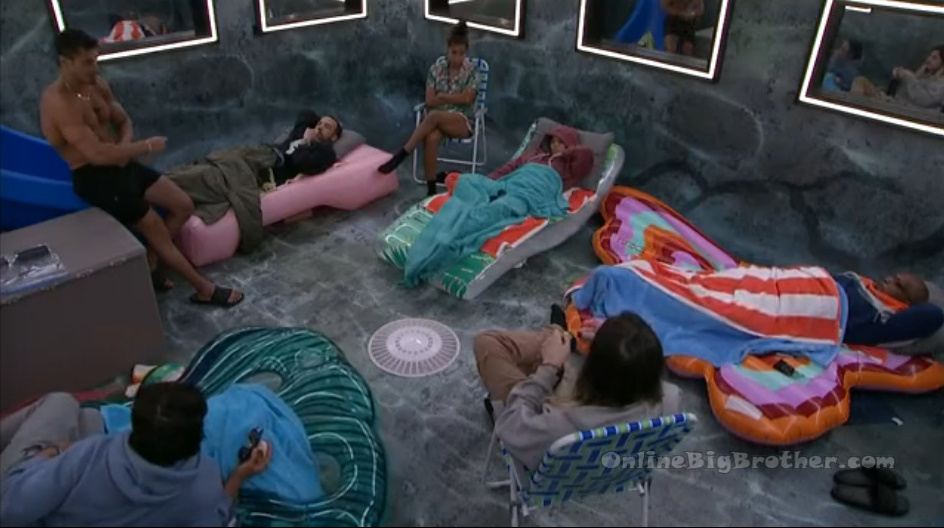 1:20pm – 1:30am Bathroom. Taylor and Michael.
Taylor – a lot of season left to play. It will be a good ride for awhile as long as we get out who we want before jury. Michael – yeah, can you imagine if he went out before jury? Taylor – Monte? Michael – yeah. That would be crazy. Michael – like that doesn't happen. Taylor – oh my god that would be crazy. Lets say I am HOH.. oh my god! I have just fought for so long in this game. Michael – I hope you get it. Taylor – if I get it and I backdoor Monte and get him out.. The guys will come for BLOOD the next week. But if we have the same numbers that we have this week.. that week. Michael – yeah, you get out one of their strongest competitors. Taylor – and no matter what happens I am chilling. God that would be crazy! What was your biggest move? B***H I got Monte out! I heard Indy was freaking out the other day because she doesn't have a final two solidified. Michael – neither do I! Taylor – no one does! Except maybe Monte and Kyle!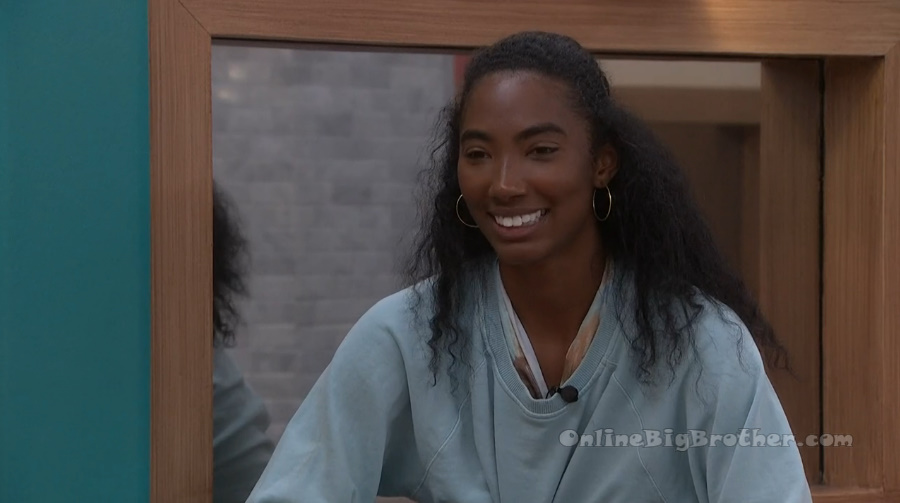 1:35pm – 1:40am Bathroom. Taylor and Terrance.
Terrance – how you feeling? Taylor – I'm good. I'm good. Terrance – I want you to stay in that space. Just make sure your girl is who she is. Taylor – don't worry about her. Terrance – I got you. I'm a take your word. I trust you. Taylor – I would not lead you astray. Terrance – I know you won't. I got you. You got me so.. Taylor – always. Terrance – we locked in. Taylor – hell yeah. Terrance – I just want you here because I need you because without each other its slim pickin's in this b***h! Taylor – Listen! We're going to make our move next week! Its going to be so good too! Get Monte out! Terrance – that'll put your a$$ ______. Taylor – anyone who does it.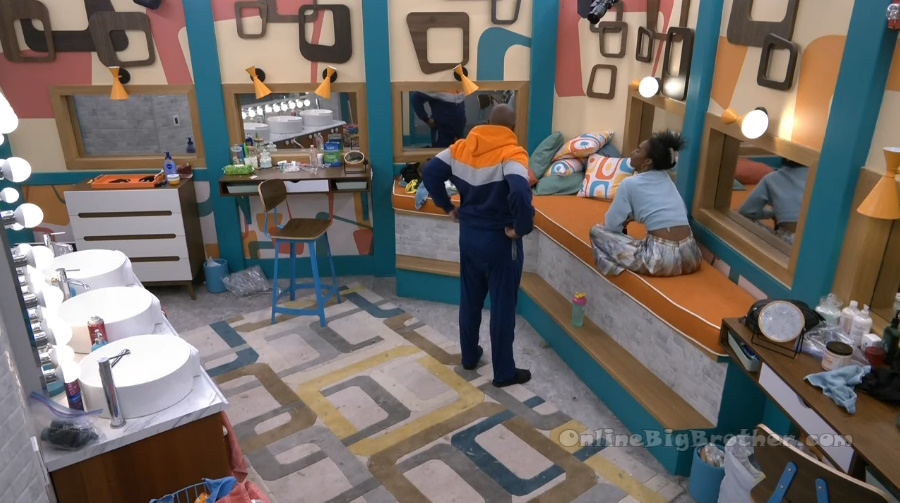 1:42am The havenots are asleep.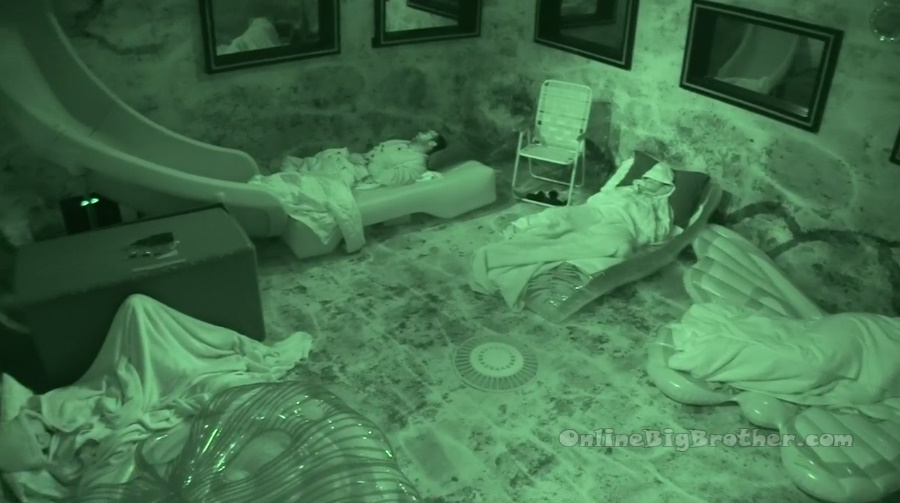 2am Bedroom. Joe, Ameerah, Turner, Taylor and Michael. They're talking about big brother alumni and past seasons of big brother.