POV Holder:
Victoria
Next POV
July 26th
POV Used
Yes
POV Ceremony
July 28th
HOH Winner 1:
Frankie
HOH Winner 2:
 Cody
Battle of the Block Winner
Jocasta/Amber
Next HOH/ Next BOB
July 24/July 25
Original Nominations:
Brittany/Victoria(Cody) Jocasta/Amber (Frankie)
Final Nominations:
Brittany & Donny
Have Nots
?
POV Players
Cody, Brittany, Victoria, Caleb, Nicole, Zach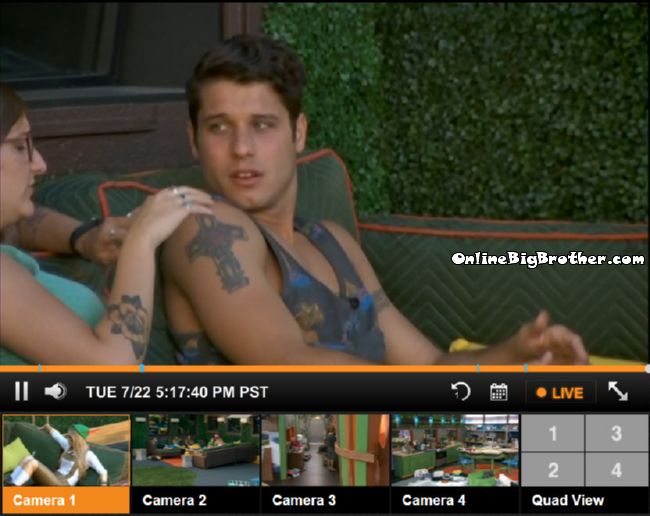 5:14pm Cody, Nicole, Hayden, Zach and Christine
Cody says he's pissed off at them for leaving him upstairs along with Caleb.. "HE talked about Meal prep.. it was fu**d up"
Christine says she left the room because Caleb and Amber were going after the weeks and they were so horrible they asked her questions so she left.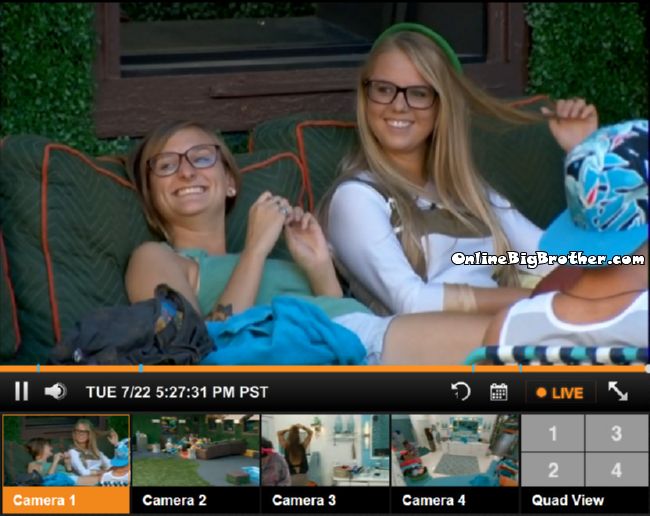 5:27pm Backyard Zach, Donny, Christine and Nicole
Cody and Hayden running
Christine and nicole keep saying how good of a show it's going to be seeing them run.
Caleb starts talking at them about competing in bodybuilding.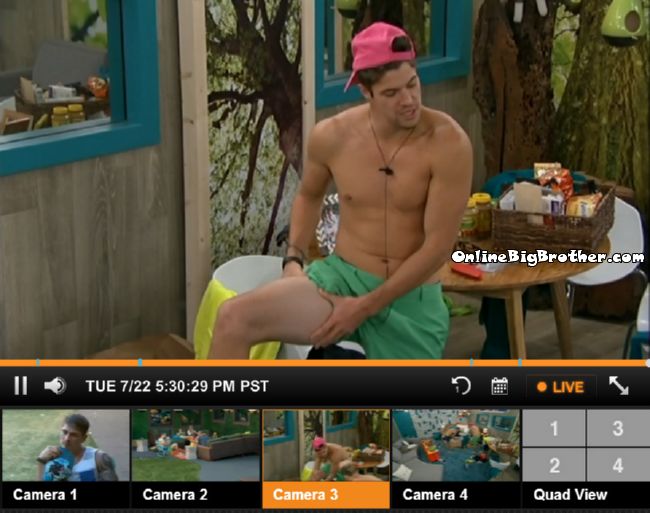 5:30pm HOH Zach and Frankie
Zach talking about how hard it is listening to Caleb talking about himself, "I compete in muscle shows, If I was skinny like Cody I would be shredded, 4% body fat, food prep"
Zach – "F***ing Amber dude she follows us around"
Frankie – She's coming up 5 minutes you just wait
Zach cannot stand Caleb says he's gotta go next week. Frankie says he's agreeing with him more and more each day.
Zach – Caleb has no idea all he does is talk about himself. he has no idea
Frankie – nope … no clue hashtag clueless
They say their plan is to stay up until 88am and sleep all day tomorrow.
Zach – It's going to be 10 to zero
Frankie agrees asks if Caleb is still talking about the vote
Zach hasn't heard anything but he's been sleeping most of the day. Zach is sure Caeb will bring it up tonight.
Zach and Frank start talking about how good they are doing, Zach says next week Caleb goes home then Amber and Jocasta. After that they're down to 9 people and they have their alliance of 5 Derrick, Frankie, Zach Cody, Christine against 4 Victoria, Nicole, Donny and Hayden
Zach – "If that is the case one of us is winning 500 hundred thousand dollars"
Frankie isn't acting as cocky as Zach just gives him a muted reply.
Frankie says as long as they get Brittany out this week he's down for getting Caleb out next week.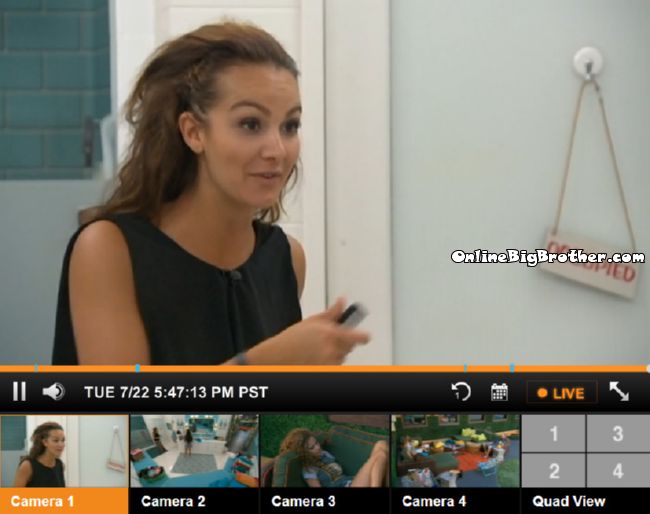 5:44pm Bathroom Victoria and Brittany getting ready for girls night out tonight. Production told them they are getting alcohol.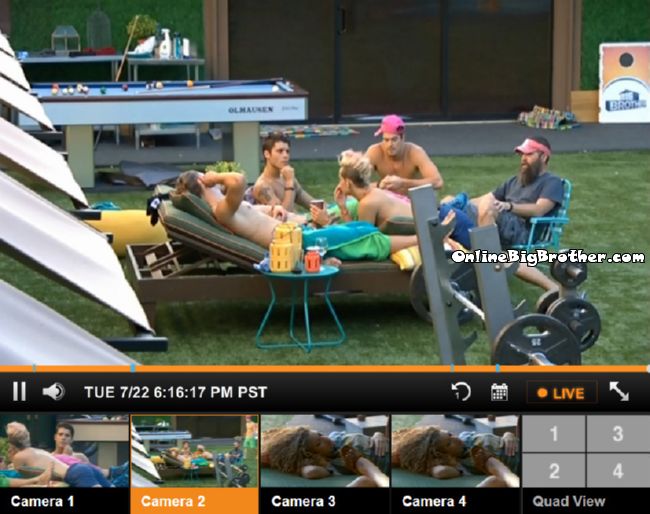 6:14pm Caleb, Frankie, Donny, Cody and Hayden
Caleb saying he hurt his knee while running, "When stuff like this happens the army mentality kicks in.."
Hayden – yaya you don't want to stop"
Caleb says he doesn't take medicine never have
Caleb thinks he might have "Pinched" a nerve
Donny thinks he may have stretched a ligament he's done that before to his knee
Cody agrees says he must have hyperextended it
Donny says the first 48 hours Ice after that you use heat.
Zach joins them..
Brittany walks out the guys start giving her "Cat Calls" They comment how fantastic she looks.
The guys agree production is giving them alcohol to spice things up.
They start joking about getting drunk tonight. Cody tells them he can guarantee they will not get enough to get guys drunk only some of the girls will be.
Hayden joking around tells them he's a free spirit he'll leave the girls to them he'll have Frankie.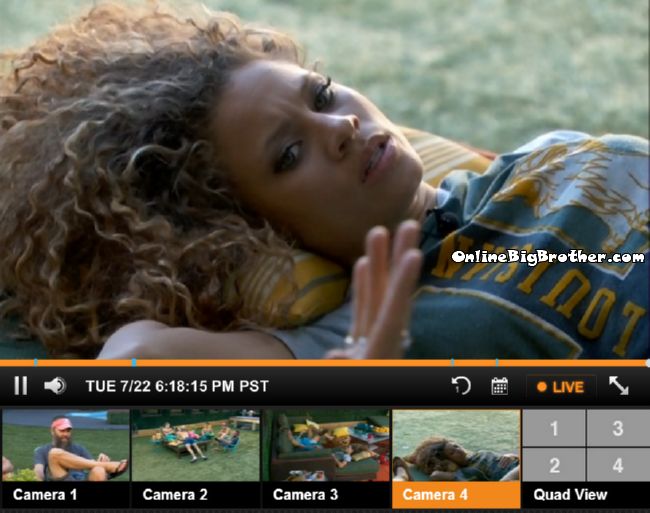 6:18pm Christine and Amber
Christine says Donny makes fun of everyone behind their backs.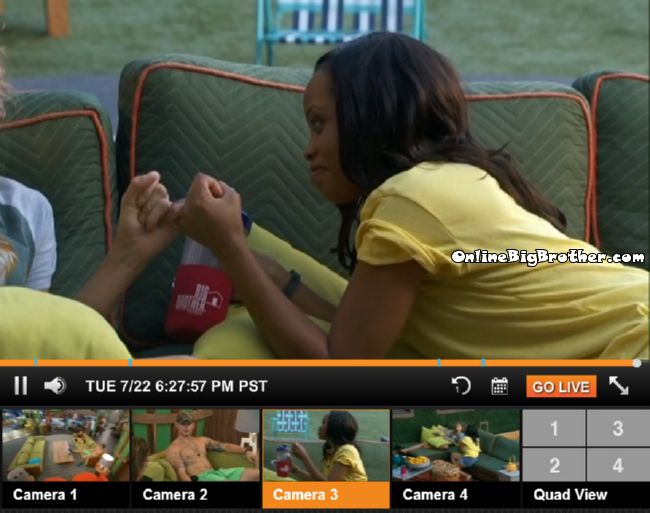 6:27pm Amber and Jocasta
Amber – "what up Moma J"
Jocasta – "why didn't you check up on your bestie" (Caleb)
Jocasta – "He laid there and laid there and I knew he wasn't really hurt he got up with the leg that was hurt thats how I knew he really wasn't hurt .. He was waiting to see if you'll come to him.
Amber ahh momma J stopped making me feel bad
Jcoasta laughs "i'm not making you feel bad i'm telling you wants coming i'm trying to warn you before it comes. "
Jocasta says he'll come to her and say "Dang it took you that long to come see me.. hey amber you didn't check on me"
Amber doesn't think he will, Jocasta is certain they make a bet winner cooks the other one a full course meal. (see image)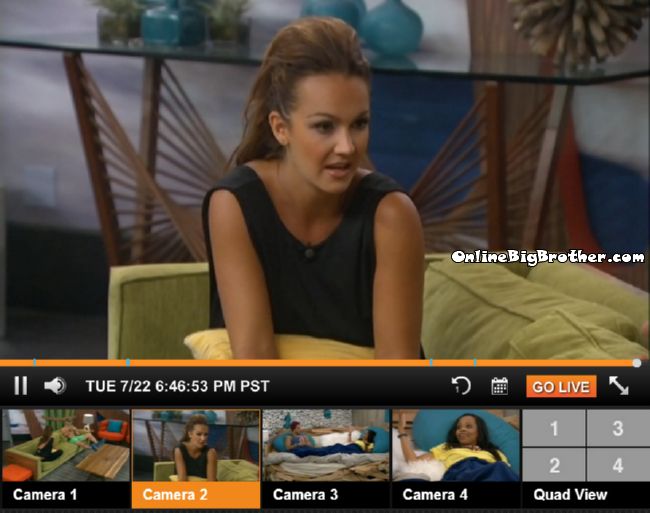 6:28pm Caleb and Brittany
Brittany says if she gets HOH she just wants to see her kids hey can run her HOH she doesn't care. "I don't know what I have to say or do to convince you guys"
Caleb – "Me and Amber talked we would much rather see you here but they will single us out"
Amber says Derrick will vote for her he told her to her face.
She just doesn't know about Nicole, Christine and Frankie but she thinks she has a shot with everyone else.
Brittany wishes one of the guys would just speak up and say they will vote to keep her.
Brittany says Devin told Donny a lot of information he knows everything that is going on he's called every move for the past 2 weeks
Brittany "I've been working so hard and I don't understand why i'm singled out"
Caleb says he's tried to convince people he would rather her stay. Brittany doesn't feel like a threat, she's kept her word and she hasn't stirred sh1t up. She's willing to work with people and is loyal.
Caleb says the people she needs to talk to is Zach, Frankie, Derrick…"what's Cody saying.."
Brittany – Cody is upset with the situation
Caleb – Me and Amber had a huge campaign to keep you here before.."
Brittany asks her if Amber and him are still keeping her.
Caleb isn't sure where her head is at after the POV Ceremony. He's unsure himself tells her they cannot be the singled out vote. Caleb wants people to tell him the truth about who they are voting.
Brittany asks him to talk Nicole, Christine , Hayden and tell them about the direction he's taking, "They fear you"
Caleb – DOnny is more a threat"
Brittany – "If Donny wins HOH he's putting you and Christine up
Caleb says Donny is smart.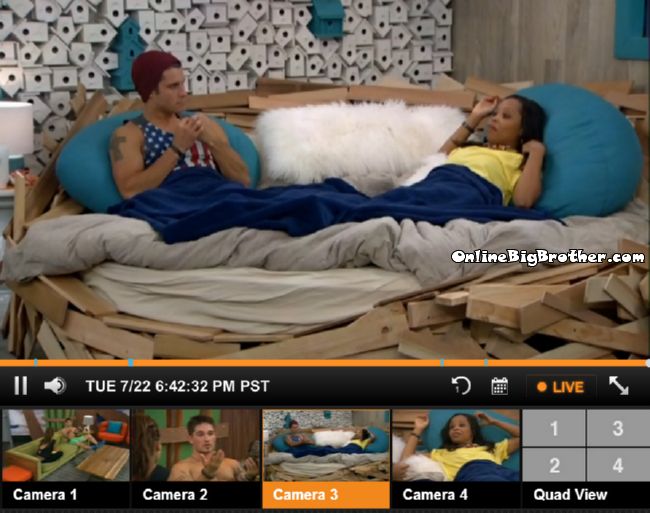 6:43pm JOcasta and Cody
Cody tells her he was thinking about putting Caleb up but he didn't have the votes. He hopes she keeps that to herself because if Caleb finds out he's going to be coming after him.
Jocasta talking about how cocky Caleb was after the veto talking cocky saying he didn't need the veto because He's safe and He's good.
Jocasta tells him Amber and Caleb are not as tight as he thinks/. Cody mention Devin saying that Amber and Caleb have a final 2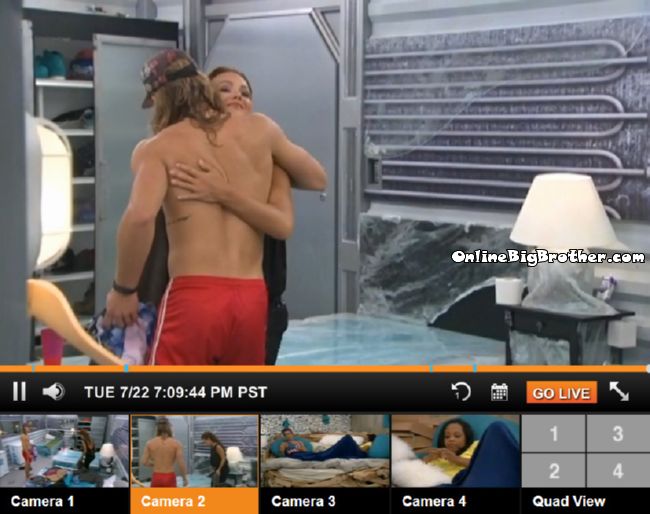 7:04pm have nots Room Brittany and HAyden
(This is her standard campaign speech)
She tells him if she wins HOH she's going after people that don't deserve to be here.
She kicked the soccer ball because she wanted to prove to them all that she wants to be in the game, "I almost broke my ankles and toes".
Hayden – That was amazing that was unreal
Brittany wants him to tell her what she can do for his vote "Dude I'm not doing blow j*bs"
Hayden asks her who she would be going after after. Brittany say Victoria because she brings nothing to the table. Brittany adds all she wants to do is see her kids if she wins HOH they can control it.
I swear to you HAyden all i have is my word.. Donny is a bigger threat than I she is. Donny knows every move in this game he's smart and dangerous.
Brittany doesn't want to talk bad about donny because he's a good man.
She doesn't' think she's a threat compared to Donny.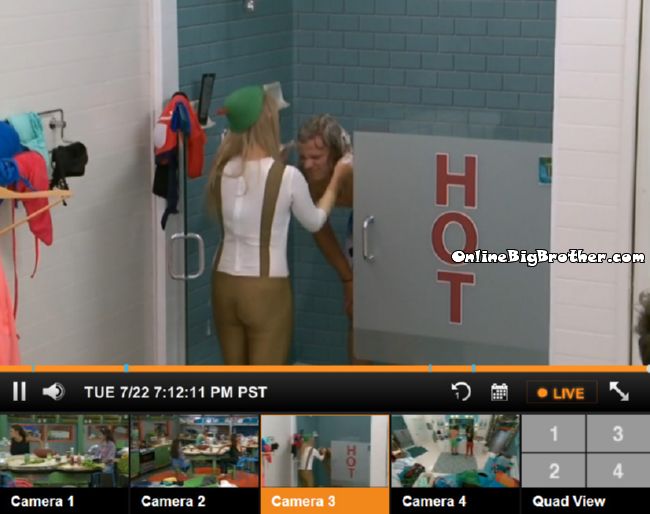 7:11pm German exchange student washes death metal star hair because apparently he's been told it's getting greasy.
One way to support this site that doesn't cost you anything extra is making your Amazon purchases through the links provided bnelow Amazon.com OnlineBigBrother Link
For Canada use link Amazon Canada OnlineBigBrother
Alliances (Some Of these are dead)
Zankie = Frankie/Zach
Bomb squad = Caleb, Amber, Frankie, Derrick, Cody, Christine, Zach, Hayden
Team America = Donny, Derrick, Frankie
Nicotine = Christine/Nicole
Not a showmance= Hayden/Nicole
Los Tres Amigos = Derrick, Cody, Zach
The bottom Feeders = Derrick/Nicole
We hate Devin = Christine and Zach
Outsiders = Brittany, Victoria, Jocasta, Donny
Old timers = Jocasta/Donny
Stalker = Caleb/Amber
Quad Kings = Derrick, Zach, Cody and Hayden (still being built)
Trilogy = Nicole, Christine & Hayden
The Detonators = Derrick, Frankie, Zach, Christine, Cody
Final 2 Deal "The HITMEN" – Cody & Derrick
More polls here https://www.onlinebigbrother.com/big-brother-compendium/big-brother-16-polls/
[polldaddy poll=8198814]
[polldaddy poll=8194643]