POV Holder:
Victoria
Next POV
July 19th
POV Used
Yes
POV Ceremony
July 26th
HOH Winner 1:
Frankie
HOH Winner 2:
 Cody
Battle of the Block Winner
Jocasta/Amber
Next HOH/ Next BOB
July 24/July 25
Original Nominations:
Brittany/Victoria(Cody) Jocasta/Amber (Frankie)
Final Nominations:
Brittany & Donny
Have Nots
?
POV Players
Cody, Brittany, Victoria, Caleb, Nicole, Zach

2:53pm Kitchen Caleb, Derrick , Nicole and Victoria
It's Derrick's moms birthday he says Happy Birthday to the camera "Happy Birthday Suzanne"
Caleb mentions how weird it is that his mom's birthday is the day after Derrick's mom. Derrick asks Caleb if his moms birthday is the 23rd. Caleb says no it's the 22. Caleb says his mom's birthday is today. He goes to the camera a.. "you're not old at all you're 57 and as beautiful as every..love you mom"
Derrick mentions he told Caleb yesterday it was his moms birthday today the 22nd. Caleb mentions he has a twitter hunting account maybe the "Feedsters" will find out about it and send it stuff. Derrick say no doubt they have found out everything out about Caleb, "Don't underestimate the power of the feedsters"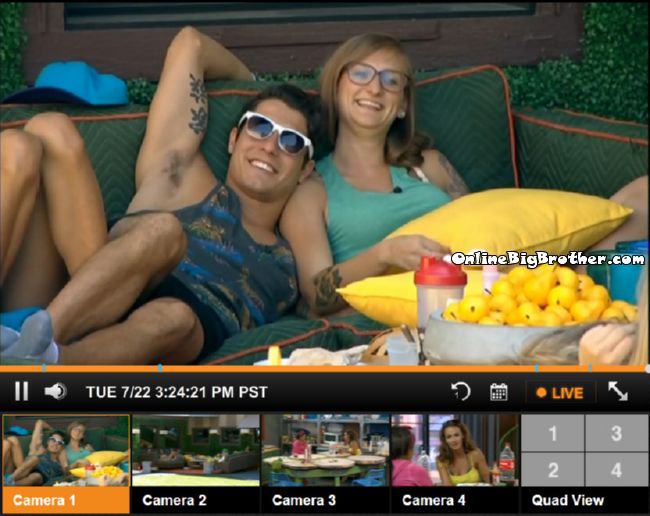 3:07pm Backyard Derrick, Cody, Amber, Christne, Brittany
Cody telling them when he's in family's homes he sits when he pees when it's friends and public he stands. He doesn't want to leave any pee on the seat.
Cody – "Hashtag sit when you pee"
Cody – "hashtag respect the bowl"
Hayden say he's like a sniper he hits "Centre Bowl" every single time
Talking about how much Devin sweated when doing cardio. Christine says her two brothers sweat profusely it's hilarious what the one does to control it.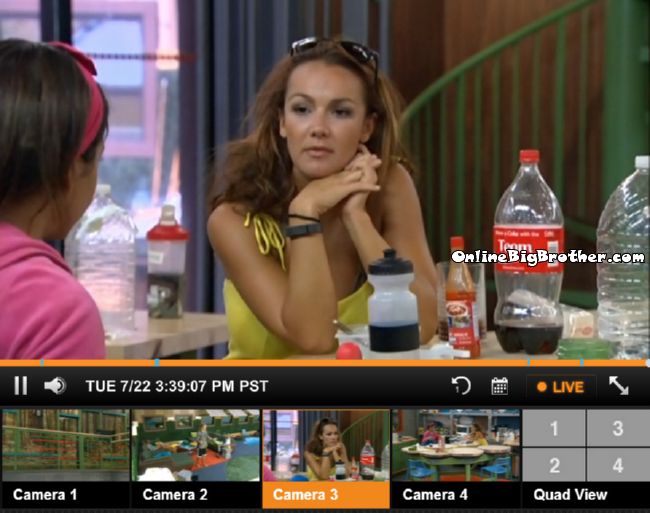 3:21pm Cam 3-4 Brittany and Victoria
Brittany is saying how dangerous Zach is "He stirs sh1t up.. that is why I told Devin to put him up.. all he does is sleep"
Brittany points out that a lot of 'those' people on the other side of the house won't put Zach up they all have a deal to make it to jury. She guarantees they are going to get picked off each week, it's very clear if you look how the things have gone.
Brittany says she wants to work with someone so she can help them out not have them help her out. Brittany adds that Donny will continue to play his own game she;s looking to work with people. Victoria says she never talks game with donny, "I think a lot of people carry him"
Brittnay – THe only way to get rid of him is to backdoor him.. I don't understand why this is a question"
Brittany says she has 3 for sure votes, she just needs two more to make it a tie
Brittany is not talking to Jocasta about any of this because Donny just gave her the veto and saved her she has to give him her vote. She doesn't want to give her that pressure.
Britany now says she has 4 for sure, "I don't know about Frankie I don't know about Nicole.. Frankie really doesn't talk to me much anymore.. I don't know if people are in his ear""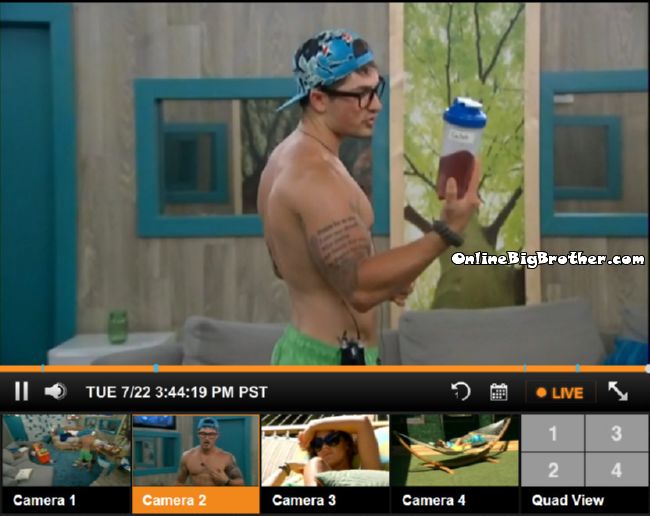 3:40pm HOH Cody and Caleb
Waiting for the sun to come down to work out. They both agree they don't want to be staying up late again. Caleb – "I'm going to lose 5 pounds from now until the comp"
Caleb starts talking about when he had 4% body fat. Cody plays along like he hasn't heard the story 12 times already.
Caleb starts talking about training and his food intake 6 weeks before a competition.
Caleb says the perfect meal is a protein shake and a banana, "have that in the morning.. You're golden till 12 or 1oclock"
Caleb says he drinks 2-3 white can Monster drinks a day, "Aspartame is the only thing in them that can really harm you"
Cody – What's that"
Caleb explains its an artificial sweetener
Cody – "I drink the white rockstart 2 of them a day"
Caleb – "You know they have bull sp*rm in them.. all energy drinks do.. the MOnster sure do I read an article about them"
Cody – "I heard about that on red bull but I heard it is false"
Caleb -" Nope it's true.. none of that is going to harm you I would rather drink 5 monsters a day than smoke one cigarette"
Caleb says as a bodybuilder you have to prep your food for the week it takes 6 hours on Sunday. He say unless your girlfriend likes the bodybuilding lifestyle like food prepping on Sundays you are going to get into fights and it's not going to work, Caleb mentions how Amber said she likes prepping food caleb says she's perfect.
Caleb still wants to maintain a good sculpted body even after he gets his record deal.
Caleb says Devin had a good body "Had some nice Cuts"
Cody agrees. Mentions a guy he knows that is MASSIVE
Caleb – He's probably roided out.. at that age it's impossible to get that amount of muscle growth.. he probably takes pill form stuff not syringe stuff..
Caleb – If I looked at him I could tell you.. I Would say Devin took something before.. I don't quite know for sure
Caleb adds it's hard to tell with Black guys because they are naturally HUGE
Caleb says black guys were bred to be 'beasts' back in the slave days that is why there's a lot of HUGE black guys that are naturally big. Caleb – "Generations and generation they are bread like that they have the best Genes".
Caleb adds black guys have superior slow twitch muscle fibres.
Caleb says he's normally two of him when he gets home he's going to be the smallest guy our of his friends it's going to be horrible. Caleb says he's going to start eating better because all the gluten is swelling up his glands.
4:11pm Frankie and Zach
Frankie says in his regular life his schedule is sleep until 4 stay up until 5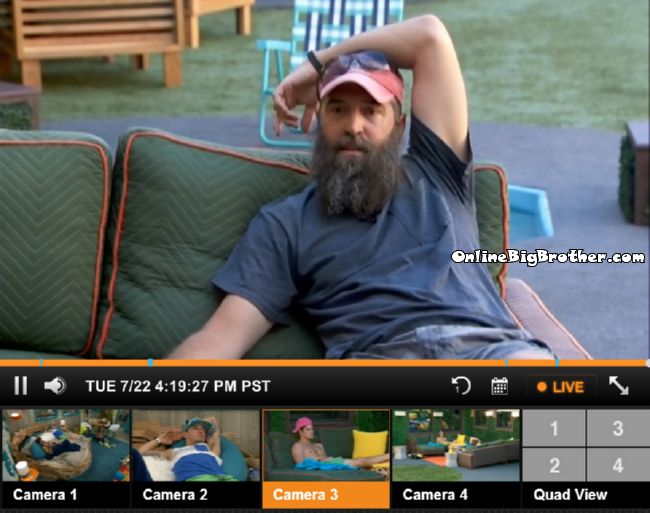 4:18pm Backyard Donny and Zach
Zach asks him if he's campaigning because there is no need it's going to be 10 to zero
Donny asks if he's campaigning.
Zach doesn't know for sure he's always sleeping but he thinks she is. Mentions that apparently Brittany was out in the backyard crying saying she feels like she's just starting to play the game "It's day 36"
Zach gave her a little hope cause you have to.
Donny know they all say he's safe but in the back of his head he's a bit worried,.
Donny says they have heard very little building in the backyard so he's thinking the competition will be done before the show is over. Donny thinks it will be mental.
Zach – "Next thursday we'll be half way done"
Donny – "Thats a long time"
Nicole joins them they start talking about types of competitions.
Nicole wants it to be endurance. Donny says if they gave him a seat he could sit for 6 to 8 hours.
Amber joins them. They talk about there being only 5 girls and 7 boys. The HOH competition has 5 girls against 6 boys.
Zach – "They can't keep doing this double head of household bullsh1t"
Nicole thinks it will end soon otherwise ½ the house will be on the block.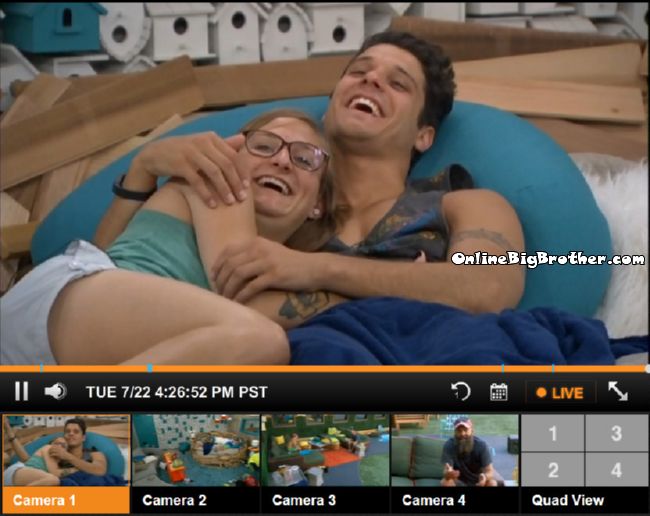 4:25pm HOH Frankie, Cody, Christine, and Caleb
Cody rubbing Christine's arm.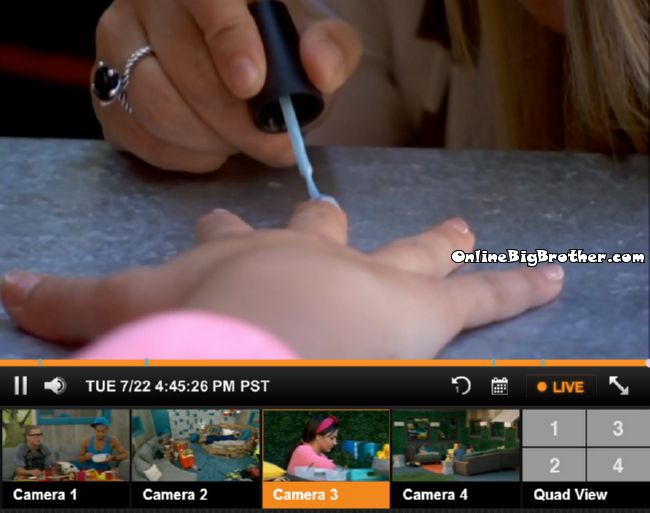 4:46pm Backyard Nicole is doing Victoria's Nails
(Just Chit chat and it's not even funny)
One way to support this site that doesn't cost you anything extra is making your Amazon purchases through the links provided bnelow Amazon.com OnlineBigBrother Link
For Canada use link Amazon Canada OnlineBigBrother
Alliances (Some Of these are dead)
Zankie = Frankie/Zach
Bomb squad = Caleb, Amber, Frankie, Derrick, Cody, Christine, Zach, Hayden
Team America = Donny, Derrick, Frankie
Nicotine = Christine/Nicole
Not a showmance= Hayden/Nicole
Los Tres Amigos = Derrick, Cody, Zach
The bottom Feeders = Derrick/Nicole
We hate Devin = Christine and Zach
Outsiders = Brittany, Victoria, Jocasta, Donny
Old timers = Jocasta/Donny
Stalker = Caleb/Amber
Quad Kings = Derrick, Zach, Cody and Hayden (still being built)
Trilogy = Nicole, Christine & Hayden
The Detonators = Derrick, Frankie, Zach, Christine, Cody
Final 2 Deal "The HITMEN" – Cody & Derrick
More polls here https://www.onlinebigbrother.com/big-brother-compendium/big-brother-16-polls/
[polldaddy poll=8198814]
[polldaddy poll=8194643]