POV Holder:
Bruno
Next POV
April 10
POV Used
NO
POV Ceremony
April 12
HOH Winner
Bruno
Next HOH
April 15th
Nominations:
Johnny and Sarah
Have Nots
Brittnee, Pilar, Willow (Pickled Eggs & Chicken Feet)
POV Players
Bruno, Sarah, Johnny, Bobby, Brittnee and Kevin
Zach is the POV host

3:50pm Living room – Bruno brings up Brittnee and Johnny making out last night. Johnny says hey I had a lot of fun! Bruno says do what you got to do. Brittnee says we're friends! It was a friendly exchange of kisses. Don't have to worry about you getting weird on me! Johnny says NOPE! Johnny says you don't have to worry about getting poked. No awkward morning afters. Brittnee says I don't have to text you, you don't need to text me. They talk about Jordan trying to make out with Brittnee. Brittnee says he was close. Jordan says no if it was close it would have happened.
4:20pm They talk about and remind Godfrey of all the things he said last night. Jordan says you also said that Johnny wanted you really bad. And Johnny said even if he was offered a million dollars he still wouldn't make out with you and you were like what what!? Willow says You also said since Sarah kissed you, you could be evicted next week. You didn't care. Godfrey says I take that back, I take it back. Willow says when Sarah and I were kissing Godfrey was so close he was almost with us. You just like watching people kiss. Godfrey says I like seeing people in love. Johnny says Godfrey told me he was evicting me and I still came to check to see if you were still breathing. Godfrey says thank you. Bruno says Godfrey you probably shouldn't drink in here any more. Godfrey says good thing I wasn't on the block YO! Jordan says if you're watching on the feeds right now .. you should go back and watch last night! (Sadly it was all blocked on the live feeds.)
4:40pm Godfrey says I got roofied! You're the new Talla Godfrey! Godfrey says no man. I got drugged. They tell him no, he just drank too much. Godfrey says I was making final 2 deals with everyone. Godfrey says Willow I was impressed with that kiss yo! Willow says I didn't kiss you. Godfrey says no, that kiss with Sarah. You took initiative.
4:40pm – 4:55pm Big Brother says "PLEASE WAKE UP OR BE PREPARED TO FACE THE CONSEQUENCES!" Jordan starts telling them the story of what happened last night. Jordan says Godfrey got white girl wasted even though he's black. Willow reminds Jordan that she kissed him and Jordan says no you didn't, I would have remembered that. You're thinking of the wrong JP. Sarah kissed me and you kissed me the other night. Willow says no I kissed you last night. I did it to get over Sarah kissing everyone else. Jordan talks about how Godfrey was puking in the toilet. They thought he was puking blood but it was just because he had just eaten a strawberry rhubarb pie. Jordan says that while they were sleeping if the stopped dry humping for just a minute they could hear Godfrey puking into the slop bucket. Brittnee says thanks Jordan but your facts are a little off. Jordan says well I was drinking too. Big Brother opens up the backyard. Jordan and Bruno head outside to throw the football with Zack. Bruno asks Jordan if he's going to crush the HOH? Jordan says he would like to.
Sarah talks to Zach about Johnny saying things about her. Zach says that's why he needs to go. Sarah says at least make up something believable. And the thing is I wasn't about to say anything about him. Sarah heads inside and talks to Willow. Sarah says I've seen him 3 times stop talking when I come in the room. Willow says don't worry about it. Sarah says I know. Willow says I talked to Bruno today and he said that he really likes you. He said that he thinks he could trust you. Sarah says I trust him. Sarah says that Bobby asked me if you and I had fun under the covers last night. Sarah says first of all you were too far away to hear anything and second we didn't do anything. Bruno joins them. Willow tells him that next time the 7 of us will slip away and have an adult party. Willow says I asked Sarah to marry me and she said no.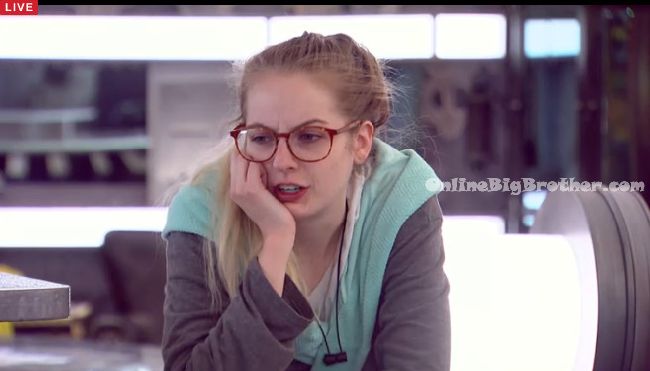 5:30pm – 6pm Jordan talks to Brittnee out in the hot tub room. Jordan says that Johnny is going around talking sh*t about everybody and that's why he's going home. Jordan says just win HOH, put up a couple pawns and then stick to the plan of backdooring Bobby. Brittnee says the thing is pawns are different for everyone because we all have different relationships. Brittnee says she wouldn't put up Ashleigh. She says she would put up Godfrey and not sure who else. Jordan says one of the girls? Brittnee says the girls are just so emotional. Jordan says that Kevin wouldn't be mad if you put up Pili because he know the plan is to backdoor Bobby. At some point everyone is going to have to get nominated. Brittnee says putting up Ash isn't even an option until the end because she gets so bit*hy. Jordan says agrees and says he understands. Jordan tells Britt that he trusts Zach and Kevin. Brittnee says she is more scared of Bobby than Bruno. I feel like these girls are easily persuaded. Kevin joins them and they continue to talk about the backdoor Bobby plan. Kevin says positive energy.. if it doesn't work out then we focus on that on Thursday.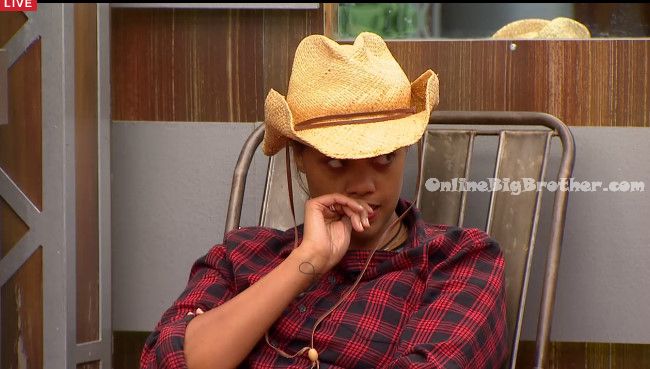 6pm In the bedroom – Sarah talks to Zach. I still love him (Johnny) as a person and I get that he is doing what anyone would be doing. He is so kissy kissy with me, ugh just leave me alone. When I talked to him that night I knew he was fishing for me to say something. He is pissed at you guys because you guys didn't do anything to help. He is really pissed at Kevin. Brittnee says that Pilar is the only option to put up as a pawn.

6:15pm Out in the hot tub –
Johnny makes his pitch to Kevin.
Johnny says "Here I am with a knife in my hand ready to gut a pig and smear blood on my face just like Willow did yesterday!"