POV Holder:
Bruno
Next POV
April 10
POV Used
NO
POV Ceremony
April 12
HOH Winner
Bruno
Next HOH
April 15th
Nominations:
Johnny and Sarah
Have Nots
Brittnee, Pilar, Willow (Pickled Eggs & Chicken Feet)
POV Players
Bruno, Sarah, Johnny, Bobby, Brittnee and Kevin
Zach is the POV host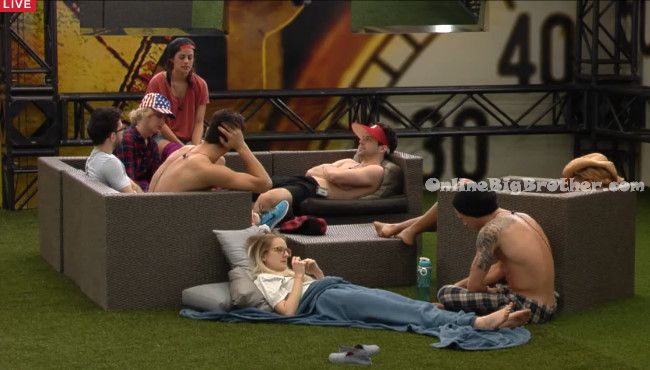 2pm Out in the backyard – Jordan brings up watching poker on tv. Kevin says he turned it on and wondered why are people playing cards on my televsion?! Jordan says poker is huge. Zach says Graig has lost a ton of money playing poker. Kevin says I can believe it. Jordan says Kevin, I think if you took the time to sit down and study poker you would love it! (Kevin plays poker professionally and has been lying about it / not knowing how to play.) Because you love chess and stuff. Zach starts to explain counting cards and know what's going to come up next. Kevin says I don't even know what you're talking about right now. I know you get two cards.. Zach says oh you don't even know the rules? Kevin says well I play with friends and stuff.
Willow says that listening to you guys last night was hilarious. Brittnee asks what? Willow says JP trying to get with you. Brittnee says JP no, no JP. She says he said no one will ever know. He was trying to hustle but it wasn't happening.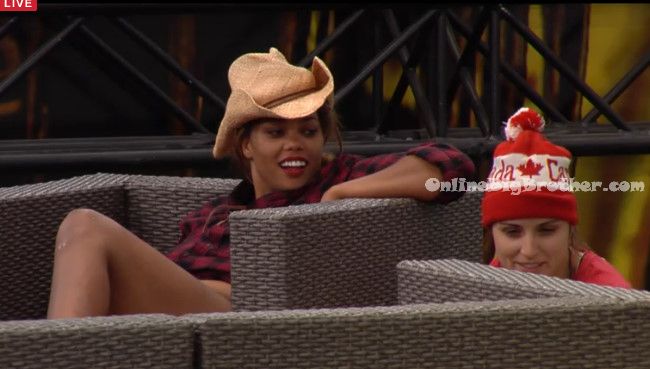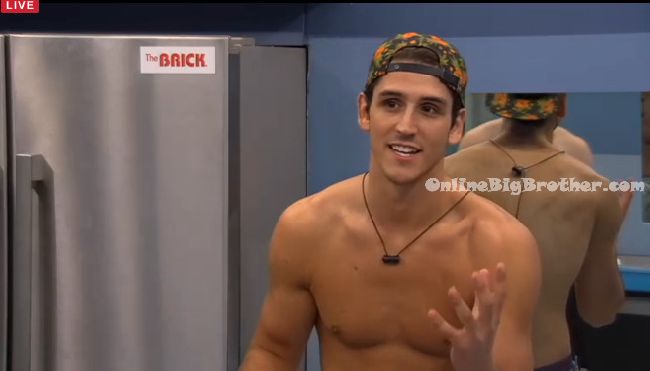 2:20pm – 2:30pm In the storage room – If I win, you win we need to blow up Bobby. If I don't go after Bobby this week they're going to know I'm lying. We need to talk about whos with us. I think I could get Brittnee to take out Willow. Kevin says that he will drop out to make sure Zach wins it. Zach says don't drop out though unless you know we've got it. I don't want Bobby or someone else winning it because of a fluke game. Zach says I want to do this move but if someone else does it that's fine. People are going to start seeing the couples as threats. Brittnee and Sarah are going to flip flop. If we can get out Bobby out and then JP or You take out Godfrey or Bruno. Its imparative that we win the next two HOHs. Kevin says this one is key. Zach says the next two are key. Zach says I have a hard time blowing smoke in Bobby's ear but I have to start making him feel safe today. Zach says we can't be seen together.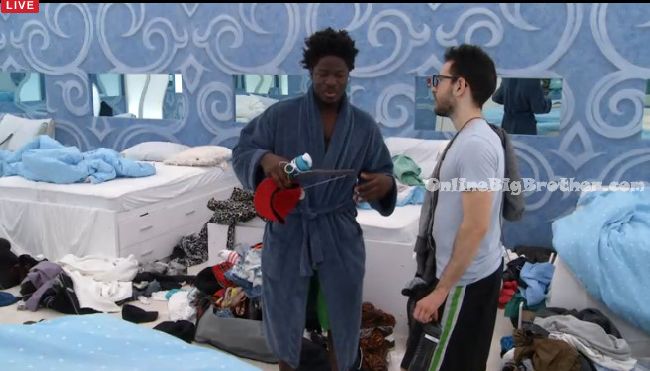 2:30pm – 3:15pm Godfrey says the reason I don't want to get rid of Kevin is because we are doing their work for them. Jordan agrees. Godfrey leaves. Jordan says unnecessary but I'll do what it takes. Jordan leaves the room. Ashleigh and Kevin are in the bedroom. Kevin asks do you think Britt really said those things? Ashleigh says yeah and apparently so did Bobby. She also said that Zach just wants to swipe that V card. Kevin and Ash both don't like the things Britt and Bobby were saying. Ash says you give people alcohol and people start saying things.
Kevin and Pilar are out in the hot tub room kissing. Kevin "Isn't it weird to think thousands of people are watching us kiss" Pilar "I don't think about anything when we're kissing!" Kevin says oh thanks. She says you know what I mean.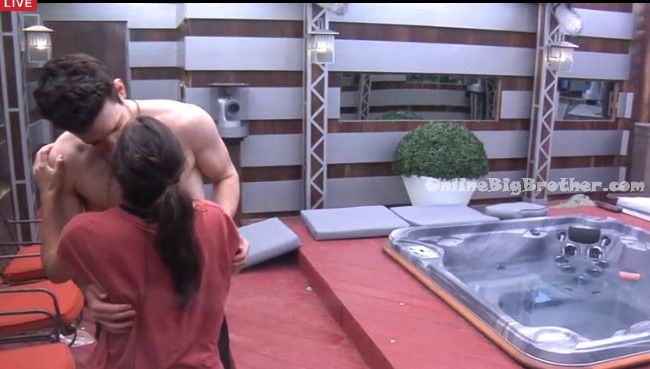 3:25pm – 3:40pm All the house guests are at the kitchen table / bar eating lunch. They ask Godfrey if he's ever been that drunk? Godfrey says no. Brittnee says and you wanted more. Brittnee reminds Godfrey how last night he was trying to get her drinks. She says you called me a snake and then said I you would put me up for eviction. Godfrey doesn't remember saying that and says what?! Jordan asks Godfrey you said that?!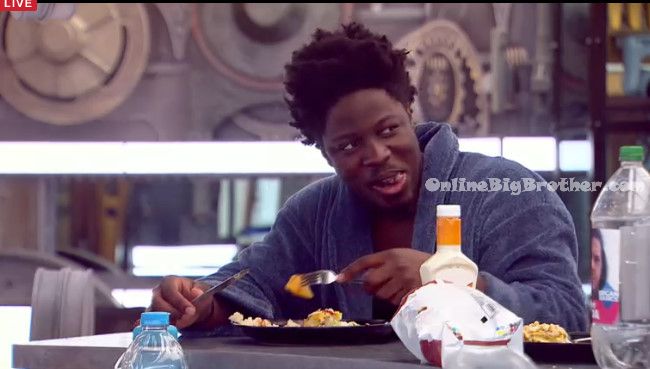 ALLIANCES IN THE HOUSE
Week One there's a lot of Alliance but we've tried to make sense of it all.. Read our alliance help guide
[polldaddy poll=8797487]
[polldaddy poll=8794961]