POV Holder:
Bruno
Next POV
April 17
POV Used
NO
POV Ceremony
April 19
HOH Winner
Bruno
Next HOH
April 15th
Nominations:
Johnny and Sarah
Have Nots
Brittnee, Pilar, Willow (Pickled Eggs & Chicken Feet)
POV Players
Bruno, Sarah, Johnny, Bobby, Brittnee and Kevin
Zach is the POV host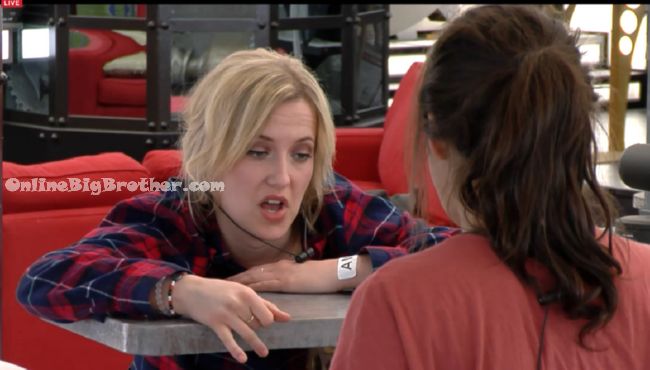 7:25pm Bathroom AShleigh and Pilar
Pillar wonders why the backyard is open still. She thinks this means it will be questions because if it was an endurance competition they would be setting up the Competition equipment.
Ashleigh doesn't seem worried about he HOH tomorrow Says they will have to wait and see.
The girls saunter downstairs into the kitchen.
Pilar asks her about the "B thing"
Ashleigh – I'm not bugged about her kissing, I'm bugged by the things she says
Ashleigh – I honestly don't care I don't own Zach.. the thing she said after though.. ohh AShleigh isn't going to be a virgin for long
Ashleigh – Zach just wants to swipe her V card.. That's rude to say about Zach.. we're snuggling and kissing big whoop.. I'm over it.. like who are you.
(Johnny told ashleigh brittnee said these things)
AShleigh – Johnny has no reason to lie about that he's not on the block against her… that's what happens when people have alcohol.
They talk about which guy they would want to have a showmance, Kiss and evict, apparently they played this game last night .. Pilar said Kevin, Kevin and johnny. Ashleigh says Zach, Pilar and Johnny.
Bobby joins them.. They talk about what they thought when they first entered the house.
Pilar and Bobby hit it off right away. Bobby – The last girl I was into looked a lot like you
Pilar says Graig was fine but not her type at all. adds that his personality was great he's such a nice guy and he means well. (Near the end of the video she says this)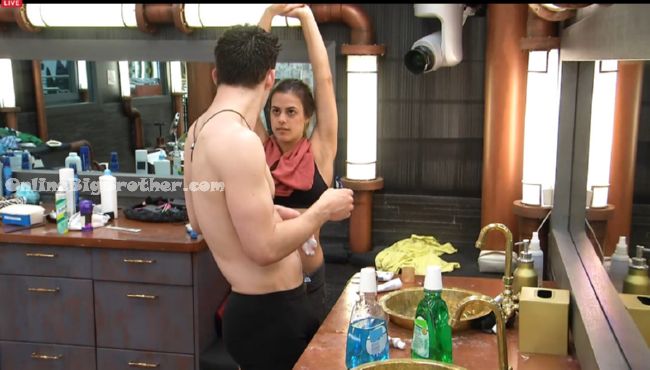 8:07pm Lots of laying around chit chat. Pilar shaves her arm pits asks Kevin to check them out.
In the bedroom Sarah is telling them a story about getting "Bombed" and going to an aquarium, "We were acting like children" mentions how they saw a guy who was "Definitely selling cocaine.. the whole time we were tripping balls"
Bobby asks her what she was on. Sarah says she only does weed and Alcohol and tried mushrooms once.. Feeds cut.
(Check out Bobby's sunburn in the gallery below)
9:30pm Past Big Brother season discussion in the kitchen. Pilar shaving Kevin's neck in the bathroom..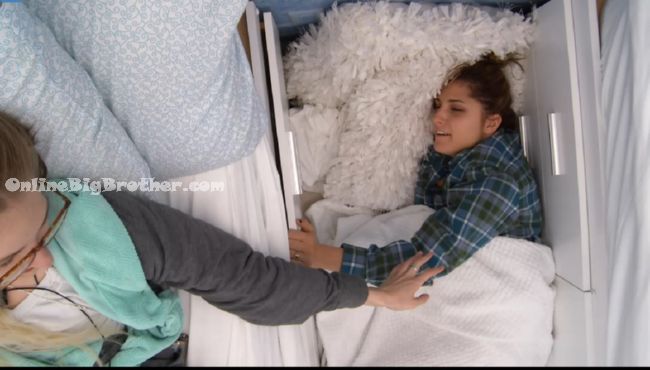 9:42pm Bedroom Sarah, Brittnee, Kevin and Willow
Willow and Sarah bantering back in forth about their "relationship" they talk about have the conversation about leading the other on. Kevin says he had that one with johnny. Willow jokes that Sarah was the one that led her on.
Willow – you took my Virginity of womanhood
Sarah – I heard you mad 50 bucks kissing someone in high school
Willow – wasn't 50 bucks was 25
Sarah – they had to split the 50
Sarah thought it should have been 60/40
Willow – why can you accept my love
Sarah – I accept it fully why can't you accept mine
Willow – you said you have your guard up
Kevin – you guys are joking around but there's a lot of truth
(They are joking.. I think ;) )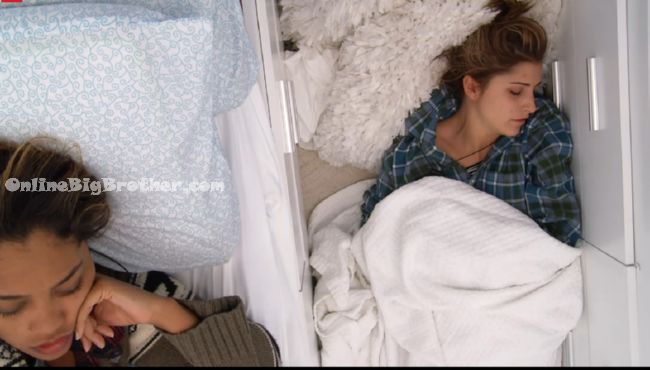 9:50pm Willow and Brittnee
Talking about Johnny campaigning. He told her if she comes back in the house he'll remember who help him.
Willow mentions how Sarah is worried Johnny is going to get votes him him pushing the girls alliance.
Willow – I just don't know what will happen this next HOH I trust Sarah and I trust you
Brittnee – I don;t know who is a big target
Willow – who is working with who.. are the couples working together
Brittnee – the couple are strong
Willow brings up that the young kids are strong and the last 4 that went home are over 25.
Willow says Godfrey might be the next target.
They agree they both like Bruno "He's good people.. Such a nice guy.. genuine"
Brittnee – nice to be around someone like that"
Brittnee – if I was sitting next to him final 2 I wouldn't win (LOL don't worry about final 2 yet )
Willow – hard to say now
Asheligh and Pilar come in for a minute to change.. After they leave.
Brittnee – I'm so unhappy right now.. I just want to sleep
Brittnee says Godfrey is next they are just glad it's not them. Willow says she really needs to win it.
9:05pm Kitchen … you still hear Jordan talking about reality shows.. this time it's Russell and Survivor.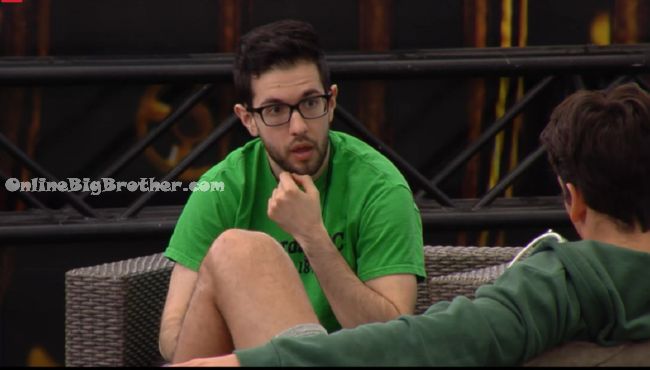 9:08pm Jordan and Zach backyard
Talking about Brittnee being an emotional player.
Jordan – this is freaking high school.. she's ready to go with Bruno
Jordan – we have to be very very concerned
Jordan thinks Zach should throw the HOH to him "I know it's going to be trivia"
Jordan – "based on something that happened today I think it'll be trivia/luck sort of thing.. A or B
Zach – interesting you are right
Jordan – we can talk about production but we need you for the physical.. if we can get rid of Bobby this week you can beat everybody next week.
Jordan says Bobby, Willow Godfrey are out Zach should throw it.
Zach says the Chop shop is 100% with them right now.
Godfrey and Bruno come out to play some "God Ball" (Yes he see them hunch over talking to each other)
Zach – I'm not going to blow up that entire side of the house.
Zach – we don't have to worry about Sarah right away
Jordan – I have her on lock
Zach – she's not a backstabber she's loyal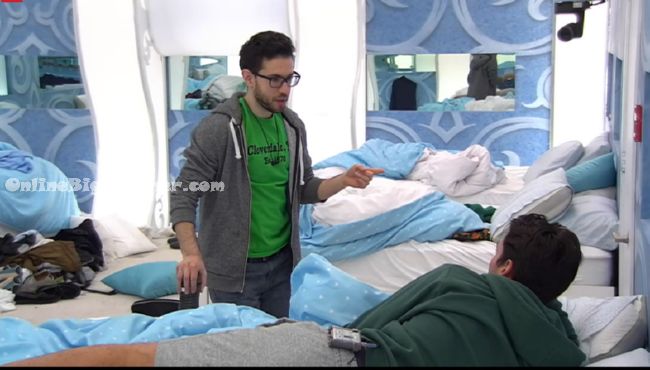 9:15pm Jordan and Zach
Jordan – f*** that.. that is why this game is so hard people are so emotional
Jordan – She HATES AShleigh.. she won't admit it but she does
They mention how Brittnee called AShleigh a b1tch.
Jordan – Ashleigh knows more that you B.. That's why I love ashleigh she's not emotional… she's the nicest girl
Zach – B pisses me off.
Jordan – Bobby has to go Bruno has to go.. Brittnee SUCKS at competition.
Jordan isn't worried about Brittnee coming after them cause she's sucks he's also got Sarah on lock.
Zach thinks Bruno will go after Kevin if he wins the HOH after next.
Jordan the 5 of us can take Godfrey, Britnee, Willow and Sarah
Jordan – Pilar is a great asset to have for endurance
Brittnee comes in tells them she was puking from slop. After she leaves Zach and Jordan laugh says she won't be able to make this season.
Zach says he's only wanted to kiss her to keep her close
Jordan – "She thinks she's more attractive than she really is (It's at 5:20 where Zach and Jordan make their Brittnee comments)

9:19pm Brittnee puking from rotten slop
ALLIANCES IN THE HOUSE
Week One there's a lot of Alliance but we've tried to make sense of it all.. Read our alliance help guide
[polldaddy poll=8797487]
[polldaddy poll=8794961]
Share it YO!!
Tweet