POV Holder:
Jenn
Next POV:
Sept 1 (Saturday)
POV Used
YES
POV Ceremony
Aug 27 (Monday)
HOH Winner:
Frank
Next HOH:
Aug 30 (Thursday)
Original Nominations:
Dan And Danielle
Current Nominations:
Danielle And Britney
Have Nots
Dan
Last Evicted Houseguest
Boogie and Ashley
Pandora's Box POwer
Ian did NOT use his veto power
6:54pm Cam 1-2 Everyone but Ian and Joe
They are talking about the Jodi, She recently got married , has 5 kids between her and her husband. None of them can figure out what her last name is. Frank wonders if the Diary Room will tell him. Dan doesn't think so because it's isn't relevant.. Frank: 'What if the final question is What is Jodi's last name.. and the person with the most letter correct wins" (LOL)
Dan brings up how much it sucks seeing her on press day. (Press day was the day after the first comp where Jodi got evicted by Dan) Dan: "I'll never forget seeing jump on that mattress and land face first"
7:07pm Cam 1-2 Bathroom Britney and Danielle

Britney points out that they cannot hear the competition being built make her question what is going on tomorrow. Danielle says that this morning there was heavy duty construction.
Britney: "I'm sort of in a bad mood.. just because of the situation"
Britney: "Who are you going to put up next week.. "
Daniele: "Who do you think"
Britney: 'You disagreed with me this morning… so who are you putting up"
Danielle: "F and D"
Britney: 'you sure.. cause you are sure getting close to him"
Danielle: "I hate Frank i'm just playing it safe"
Danielle tells her not to get bummed out because she'll probably win America's favorite.
Britney highly doubts it, "could be frank"
Danielle: "Over my dead body"
Britney: "Danielle… do you have any spare morphine"
Danielle: "I don't have any morphine otherwise I would have taken some long ago"
Danielle: "Take a Xanax"
**Feeds cut***
Danielle says Ian was a terror last night
Britney knows.. she feels bad for him.. Ian was crying to her today saying that he's worried people are going to think of him differently he didn't mean for things to come out that way.
Danielle: "I know he made people cry but I also know he was drunk.. I won't hold anything against him"
britney tells her that she's scared to death that Danielle will go back to Dan because he's so good. Danielle tells her she won't guys have screwed her over so much in this game and in live she won't trust them.
Britney: "I liked it better earlier in the week when Frank knew he didn't have friends and he hung out upstairs in his lair"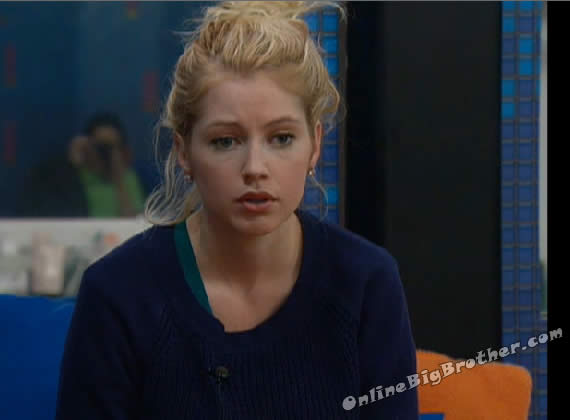 Danielle: "He's so cocky"
Britney: "But look he's friends with everyone"
Danielle tells her people are just being nice they don't want to make any enemies right now. Britney:"you know who should feel like a mega idiot right now"
Danielle: "Who me.."
Britney: "Jenn.. She should have not even buzzed in because Dan would have then just won it at that point and had taken the slop"
Dan comes in.. Britney tells him about what Jenn did in the Veto Competition.
Britney: "She should have not buzzed for Slop in and you would have taken the punishment and the Veto"
Britney impersonates Jenn "I didn't go on slop for no reason.".. .
Britney: "well ya.. actually you did.. I'm going to take the slop and use it on the person that I didn't want to win it"
Dan laughs pretty hard.. "That showed aired tonight"
Feeds cut in an out…
Danielle: "I know how much y'all were making"
Britney: "Ya.. Janelle told you before she left.. Mike boogie got 36G's and he's at home with Brady.. guess who's the jokes on"
Superpass Live Feeds FREE 3 Day Trial then:
Watch the last month of Big Brother 14 for ONLY 50 Cents a DAY!
7:40pm cam 1-2 Bathroom Danielle and Britney
Britney: "What's your plan… what are you gonna do next.. You going to try and win HOH?"
Dan: "ya.. I have to try it's my only way otherwise it'll be me out next week.. I think I pissed Shane off.. and Danielle is obviously pissed"
Britney tells Dan that Ian wants to work with Dan.. Dan does as well but dan doesn't think the rest of the quack pack will.
7:50pm Kitchen
Rocking back and forth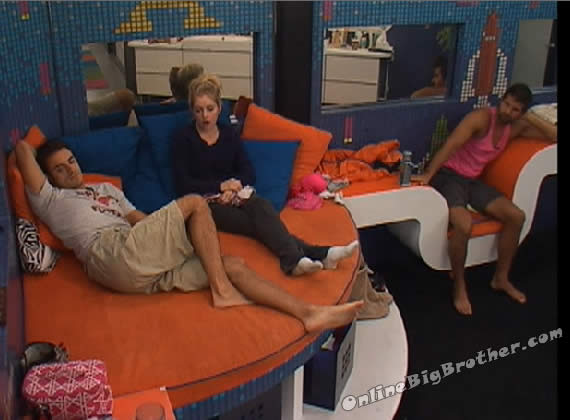 8:13pm cam 1-2 Bathroom Ian, Dan and Britney **Update Starts
They talk about who had the most cheers when they were evicted and they all agree it was Janelle. Britney says that really bothered Boogie to see Janelle go out with so much Fan support.
Shane wonders if Janelle will come back on the show. Britney says Janelle told her she wouldn't come on the show if her baby was older than 18 months old because she had talked to some doctors and they said leaving it after that can be damaging.
They start chatting about babies and they agree that Britney is going to be a good mom. Britney can't wait to have a baby.
Dan: "You going to pass on the stink eye"
Britney: "No"
Share it YO!!
Tweet