POV Holder:
Donny
Next POV
?
POV Used
YES
POV Ceremony
June 29th
HOH Winner Team 1:
Frankie
HOH Winner Team 2:
Caleb (current HOH)
Battle of the Block Winner
Brittany, Victoria
Next HOH/ Next BOB
?
Original Nominations:
Caleb noms (Donny, Paola) Frankie noms (Brittany, Victoria)
Current Nominations:
Joey, Paola
Have Nots
Cody, Hayden, Joey, Brittany
POV Players
Donny, Paola, Cody, Zach, Caleb, Victoria (HOST = Jocasta)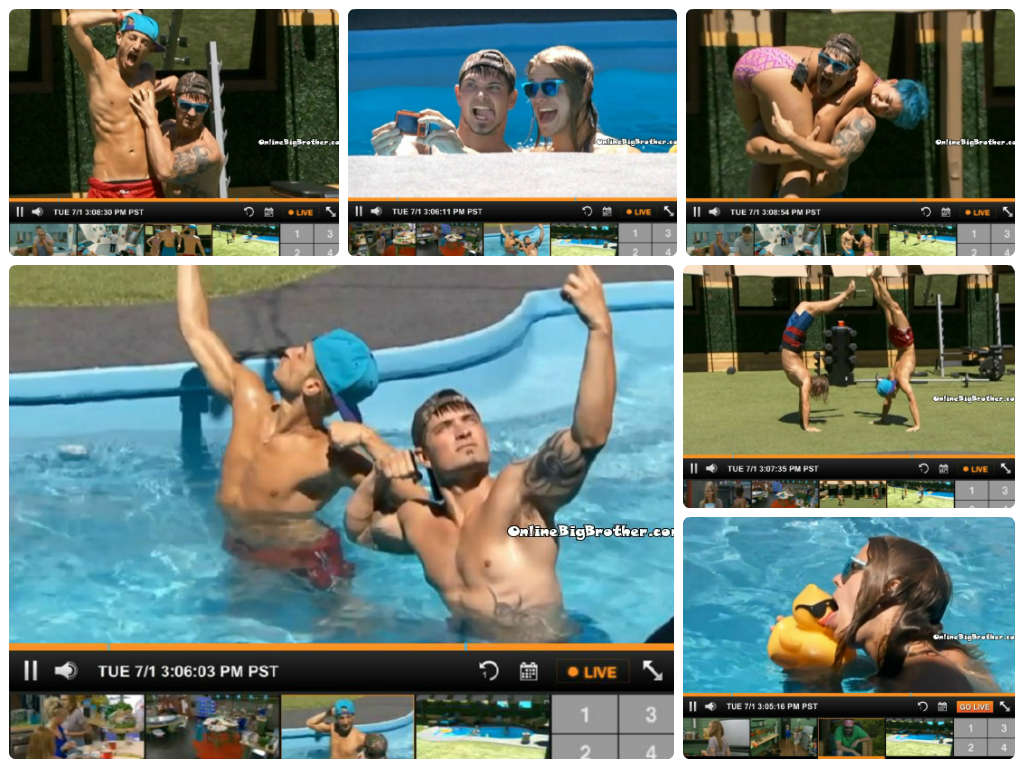 3:00pm Backyard Caleb taking his HOH pictures..
Big Brother 16 Live Feeds Subscriptions, Free 2 day trial. $26.99 for the season pass or $9.99 for the monthly pass Try It Free! Subscribe now to the official BB16 Live Feeds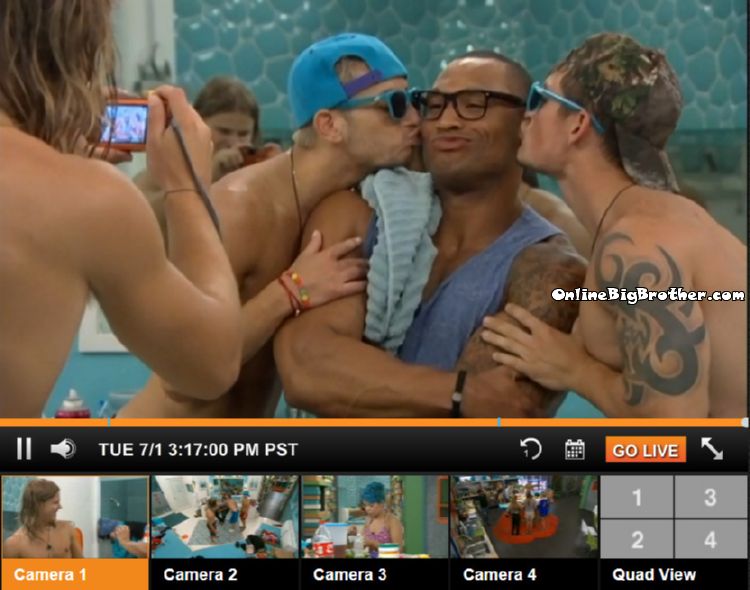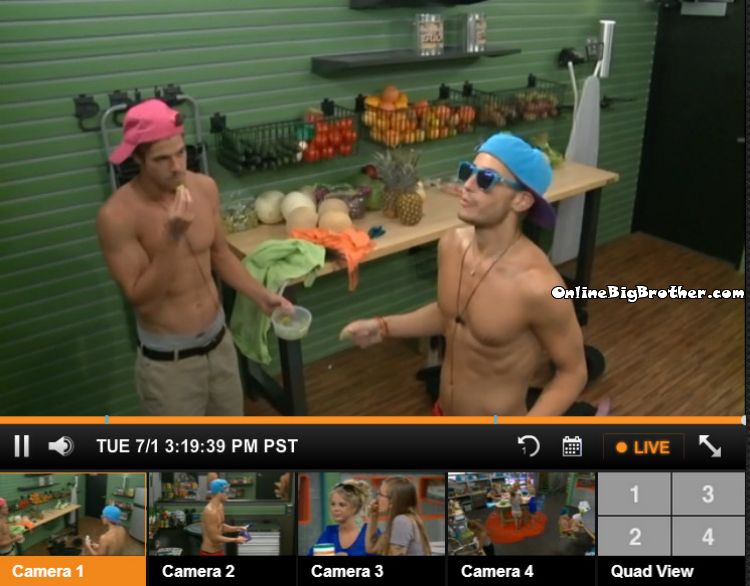 3:20pm Storage room Frankie and Zach
Zach saying he had a talk with Derrick and Cody last night "Bomb Squad is over we're in an alliance of 5"
They both "Hate" one of the guys (Not sure who they are talking about Devin or Caleb could be both) and want to get him out during double eviction. Zach thinks they should try and get them out next week. Frankie thinks it's too early.
Frankie – "He's cocky and it's epic"
Zach – "What the hell is he thinking"
POW POW join them, They tell her she's safe this week but there's two days and that is a long time in the Big Brother House.
Zach – "Everyone I've talked to say Joey is out"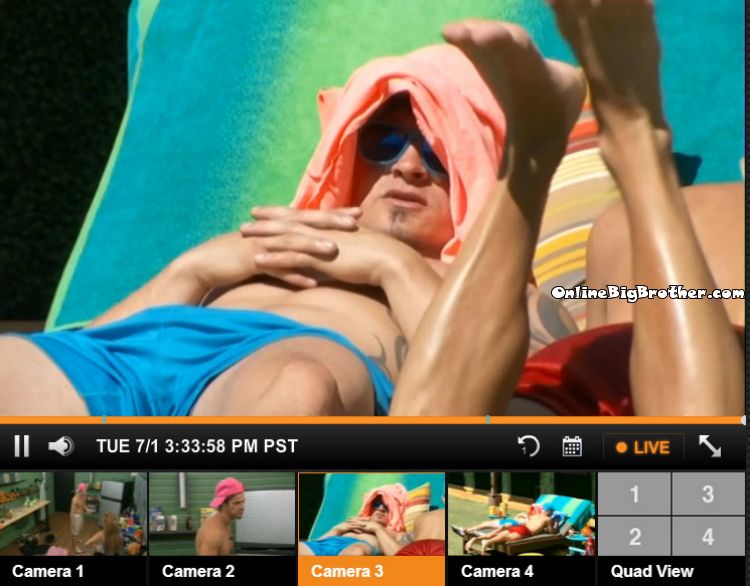 3:29pm Caleb and Nicole
Caleb is saying Amber is saying he's about himself and she doesn't like him in a relationship way.
Caleb – I don't think i'm all about myself
Nicole agrees
Caleb – "She's just hasn't taken the time to get to know me.
Frankie joins them takes a couple picture with the HOH camera. Nicole takes this chance to get away from Caleb. Caleb starts talking about Amber. "I'm just over it I don't care anymore if I win again I'll put her up.. The only reason I brought her in is because I liked her"
Frankie – "Devin brought her in because Devin liked her"
Caleb – "She's using me"
Caleb – "I don't get it I just don't get it last night she was talking all this crap to me and this morning she was talking to Devin telling him she wants to take me to the final 2"
Caleb – "I don't know if her period jacking her up"
Frankie – "it's sometimes hard getting information through other people"
Frankie asks him what his gut tells him
Caleb says his gut is telling him to walk into that group of people and confronting AMber asking her why she was using him and asking everyone to give him a show of hands if they think all he cares about is himself.
Caleb – "The sucky thing is now she is in my alliance and I can't say anything or she'll blow it up"
Caleb says all he got out of Amber was a date to a fake prom and her running her mouth
"Caleb's here it play a game and I don't care about any showmance"
Frankie says he's cooking in the heat runs for his life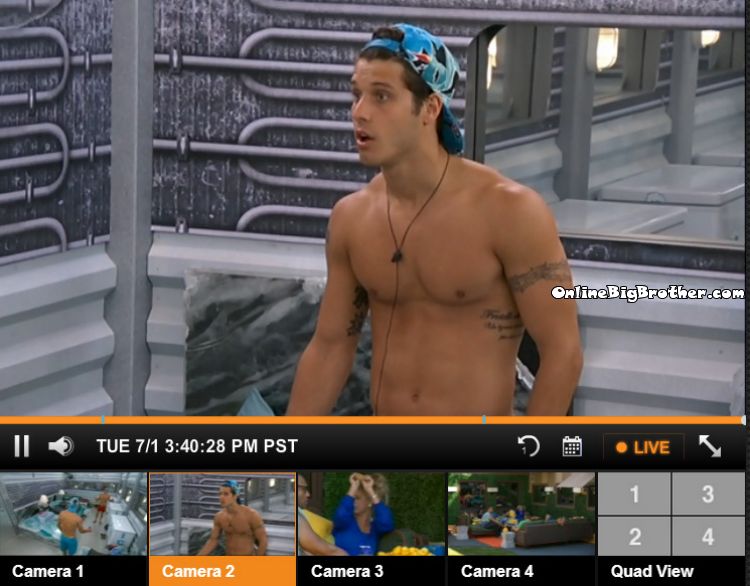 3:41pm Have Nots Frankie and Cody
Comparing notes about the collapse of the bomb squad and Devin/Caleb going crazy.
Cody wants to know what happened to Amber and Caleb. Frankie explains…Devion told Caleb Amber likes Devin
Cody – "wait What  I'm sorry Amber what.(image above)
Frankie – Amber Told Devin that Devin is Amber's type not Caleb and Devine told Caleb that AMber told him he's her type not Caleb
Cody – is she into Devin or his type
Frankie I don't know.. Caleb is on a rampage
Cody says Caleb's ego has been a much "I think he's lost me"
frankie – "He's been awful for 48 hours"
Frankie – Devin is determined to explode why would he do that
Cody – "Caleb just doesn't seem ok.. and it worries me a little bit"
Frankie – "Caleb's not good"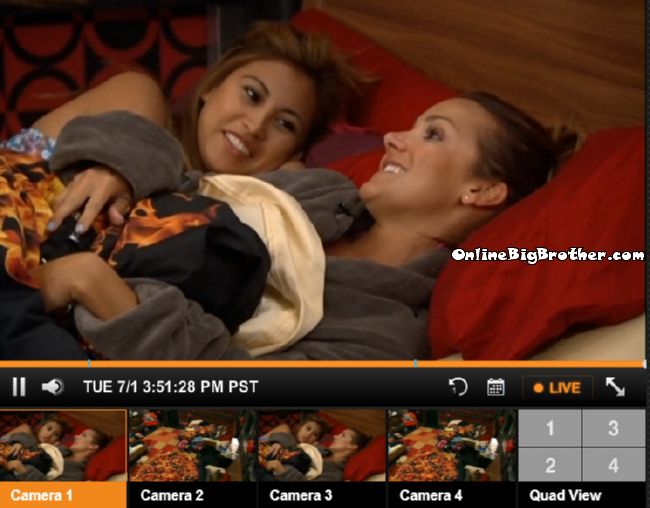 3:54pm FireRoom Brittany and POWPOW
Brittany tells POWPOW she's safe
Brittnay – " I saw a hummingbird when the sun came up I was so excited.. I have hummingbirds near my bathroom window all the time .. I always feel like it's my grandma and grandpa" (#MOM)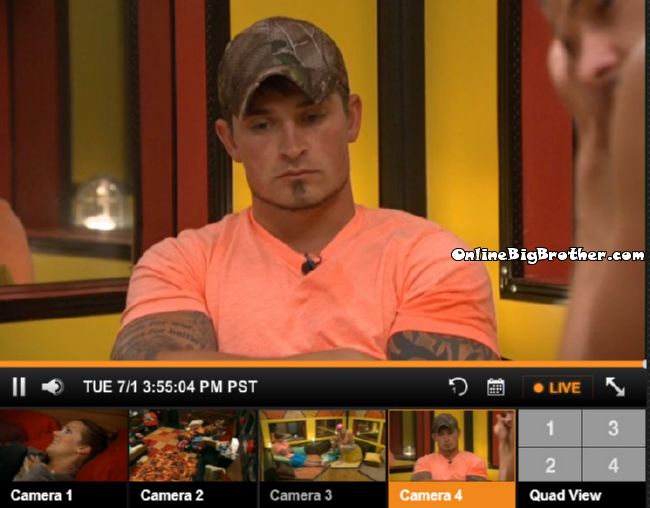 3:56pm Honeycomb room Caleb and Zach
Talking about Joey going home and how there might be one vote to keep Joey. Caleb seems really worried about this one vote that potentially Brittany will cast. Zach says it really doesn't really matter Brittany is going home next regardless.
Caleb – "If you go against the house you will be next and that is what I told Brittany"
Caleb – "Everyone in the alliance deserves to know Amber is using me to get her to the end.. that's why she's been acting all HAHAHA"
Caleb says him and Devin are both pissed off at Amber
Caleb thinks Amber will be the first one to "Bounce OUt' of their alliance.., "I've come here to win and I have my head wrapped around Amber"
Zach asks if Amber is still in their alliance. Caleb says yes she has to be.
Christine comes in feeds go to fish. When the feeds are back Zach is telling Caleb that none of the girls like Devin. Zach says if he wins HOH he's putting up Brittany and POW because he wants Brittany gone.
Joey storms in start acting like a "Guy" Starts "Campaigning" saying "I got big b@lls vote for me" (See tweet)
Joey Campaigns Zach – "if that doesn't make the TV I don't know" Caleb – "If that doesn't go home I don't know" pic.twitter.com/2qEQTHIZwi

— OnlineBigBrother.com (@bigbspoilers) July 1, 2014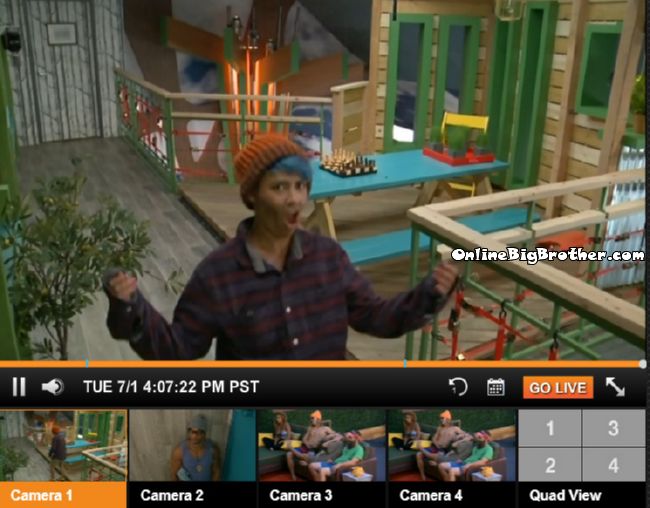 Joey – "Now I got B@lls YA I want to talk.. I like to work on cars to.. F*** love Cars.. Love Beer love sh!t love Women.. POWPOW you are a sick as shit.. Got big B@lls like weight lifting Amber's a$$ is so tight..I need a god damn beer or something.. I haven't lost it I just found it baby.. F*** ya Vote for me"
Joey is at the HOH door bangin on it Devin is hiding.
Alliances 
Bomb Squad = Frankie, Caleb, Devin, Cody, Derrick, Zach, Amber, Christine
Fragment of bomb squad no name  = Christine, Frankie, Cody, Derrick Zach
Sub alliance of the Bomb Squad = Derrick, Cody, Zach
Double Ds = Devin, Donny
Bed buddies = Nicole, Christine
Final 2 Deal Zankie= Frankie, Zach
Old defunct alliances
TheCrazy8s = Frankie, Donny, Joey, Paola, Devin, Amber, Nicole, Cody
El Cuatro = Paola, Amber, Joey, Nicole
Where the vote is 
As of now Joey is going home..