POV Holder:
Jon
Next POV
April 12th
POV Used
Yes
POV Ceremony
April 14th
HOH Winner:
Jon
Next HOH:
April 17th
Original Nominations:
Sabrina & Rachelle
Current Nominations:
ADEL & Arlie
Have Nots
Neda, Arlie, Rachelle and Heather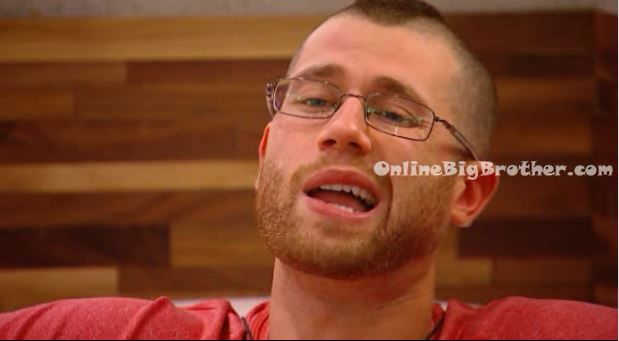 8am Arlie is awake and showering. After he finishes showering comes out n@ked covering himself and walks out of the bathroom. He heads down the stairs, past the living room, through the kitchen and out into the backyard where he gets dressed by the pool. He then starts practicing his speech "Sitting on the block next to your brother is something you never want to do. Been a fan of this show since I was a little kid and I can't believe I got the opportunity to be on it. This has been the most coolest experience of my life. It has been the most emotional roller coaster I could ever describe. Just want to say thank you to all the fans for making this experience what it is. Thank you Arisa for looking so gorgeous every night we get to see you! Big Jon you screwed up your game royally, I'll see you in the jury soon bud! I guess I'll leaves you with this.. Canada save me from the block, I'm not ready to go home yet I want to fight more!!"

8:50am – 9:10am Arlie heads downstairs and sits on the couch by the kitchen. He then goes over to the living room couch and falls asleep for a few minutes. He wakes up does a few laps around the backyard and then heads upstairs to the bathroom.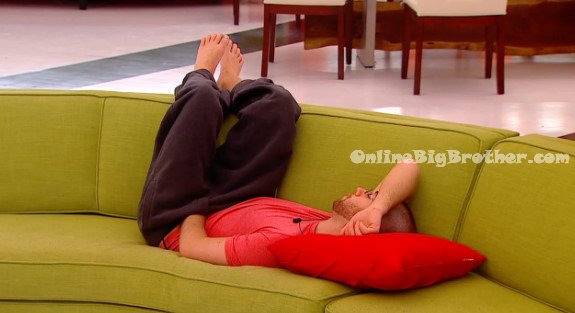 9:15am – 9:50am
Big Brother wakes up the other house guests. Arlie heads into the bedroom and says good morning. I snuck in my second all nighter of the season. I may try and sneak in a nap right now though. Heather goes to check if the tv screens are displaying the Eviction Day sign. She says that it isn't. Jon comments that there has never been a morning when it hasn't been on the screen. Neda says oh no! If there is some kind of twist that is f**king stupid. Neda goes to the bathroom and tells them it doesn't say live eviction. Neda asks Adel you didn't self evict did you. She asks him if anything weird happened last night? Adel says no. Neda heads back to the bathroom. Rachelle says if he stays I am going to f**king freak. Neda returns and says that she feels a lot better now that the sign in on the tvs.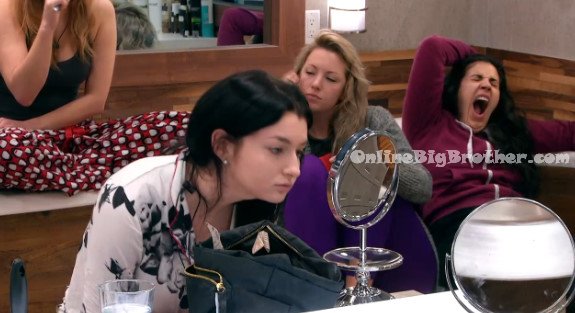 In the living room – Allison, Jon, Rachelle are talking. Rachelle says I can't wait to find out why you came in 2 weeks later. They talk about how they thought she was Canada's player. Allison says I am not Canada's player, I make my own decisions. They comment on how its not fair that Big Brother is letting Arlie sleep right now but that they can't. Adel comes inside and he says he is so tired. Sabrina asks why did you stay up so late? There's HOH tonight! Jon says it was Arlie's last plan to keep you up. Sabrina asks Rachelle and Heather if Arlie did that for them. He thinks Neda is useless. Why would he try to f**k him (Adel) from winning HOH? Sabrina tells Rachelle to go in the havenot and try and sleep too. Rachelle goes in and lays down. Not long after big brother wakes them up.


10:30am – 10:45am IN the bedroom – Neda talks to Adel. She tells him oh my gosh don't do that. Don't do anything! Everyone is already decided. Everyone was so fired up about Arlie last night. Everyone is voting him out. Neda says we were all talking last night about all the things he's done. He was the one that was coming to tell Sabrina that we were all mean people. Neda leaves. Sabrina joins Adel and she tells that Arlie kept him up all night so he would lose HOH. Adel asks I don't know why he told me to pack all my bags. Adel says what the f**k is he doing. Why did he tell me to pack everything. Sabrina says don't pack all your things, you're fine. Adel tells her that the if he wins HOH he will put up JOn and Neda. Sabrina says you do whatever you want to do. Arlie joins them and says he doesn't understand why then want him to be exhausted. He says I think they think me being exhausted will make me do something crazy.. Big Brother blocks the live feeds. When the feeds come back Arlie is talking to Adel about how he honestly thought BB would let him get in a couple hour nap. Adel says I've never been so exhausted. Adel says I got an idea .. hot tub .. its sunny out we could sun tan .. we need sunglasses. They start to get ready to go and big brother blocks the feeds again.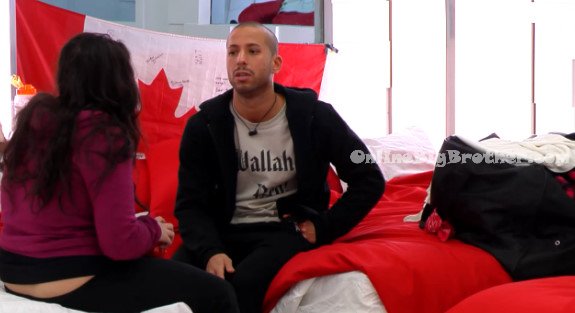 10:55am In the bedroom – Neda tells Jon that Adel told her this morning that he was going to blow up Jon's game during the eviction. Neda tells JOn that she told him not to do it. Jon says that he's going to talk to Adel. Neda tells him not to because I wasn't supposed to tell you this. Jon says I don't care. Neda tells him to talk to him in a bit. Sabrina joins them and asks Neda who she would put up if she won HOH. Neda says Heather and Adel. Sabrina asks so you wouldn't use the veto. Neda says no. Neda says that Adel is sketching me the f**k out. Sabrina leaves. Neda says I am never getting their votes (Sabrina/Rachelle) in the end. Jon says me neither. Lets just make it so we're both at the end so that they have to vote for one of us. Neda asks if I win HOH and have to pick whos on slop who should I pick? Jon says pick the people that haven't been on it… Me, Heather and Adel. Neda asks you? Jon says that's the best decision for the game.
11:15am – 12pm Allison, Sabrina, Heather and Neda are in the main bathroom talking about random things. Jon heads to the bedroom with Neda and he tells her what he could say to Adel. He says he would say why would you think of throwing me under the bus when it's going to be a 5-0 vote. Neda tells him to be nice when he talks to him. Jon says I will, I'm not going to yell at him. Neda says I thought Adel was smart but he's not. Jon says he is so dumb. The girls continue to get ready in the bathroom and Jon moves out of the HOH room. Sabrina is so happy that Arlie is going home today and that she is the last of the first five.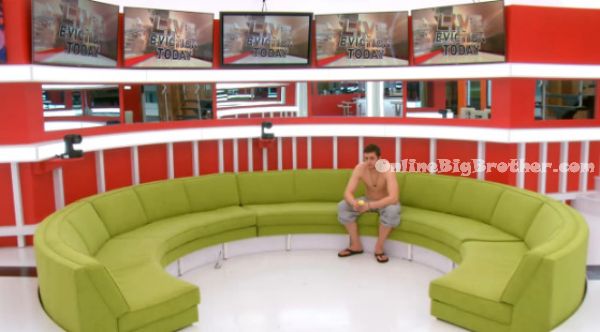 12:10pm Big Brother gives the house guests the 4 hour warning till the rehearsal for the live show tonight.
[polldaddy poll=7968822]
[polldaddy poll=7964297]
If you're enjoying the live feed updates this season, please consider donating. Simon and I work 24/7 all season long to keep you updated on everything that happens inside the Big Brother Canada house. Any amount is greatly appreciated! Your donations go directly to paying the fees required to run this site.
Share it YO!!
Tweet