POV Holder:
Victor
POV Competition
Aug 13th
POV Used
NO
POV Ceremony
Aug 15th
HOH
Victor
Next HOH
Aug 11th
Original Nomi1nations:
Paulie AND Corey
After POV Nominations:
Paulie AND Corey
Have Nots
Michelle AND Nicole
Watch the next week of the feeds for FREE – 1 week Trial!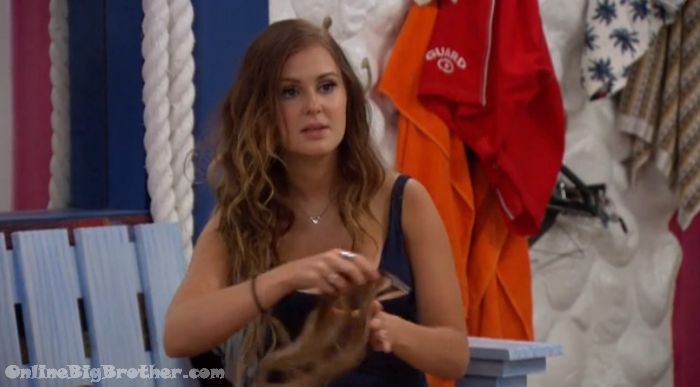 8:01pm Feeds back after 4 hours down for a Ziggy Marley concert including carnival games. The have nots were selected for next week as part of the carnival game. There was also prizes like TV, Dog visit, money. (feeds are cutting in and out to fish every time they talk about it so it's hard to figure out what is going on with this party)
Nicole – I wonder how many corn dogs I can fit in my stomach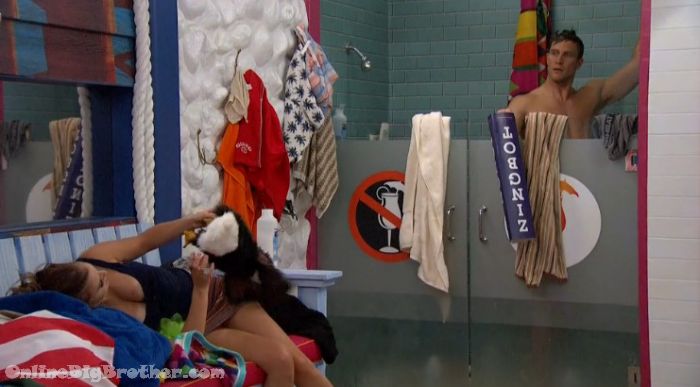 Corey has to shower still having to hold the zingbot sign.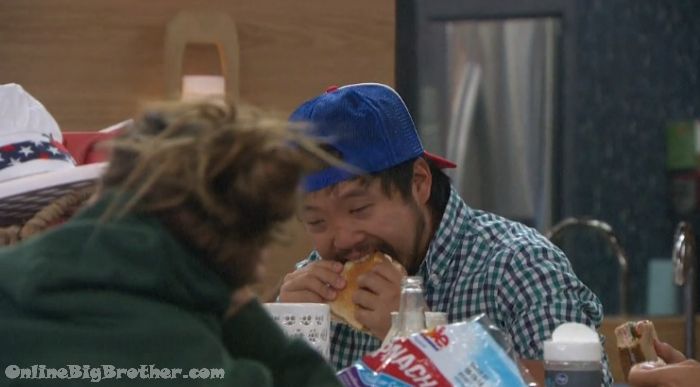 James – when will we find out who picked the right number
Natalie – They'll announce it
(everyone chose a number. Big Brother will announce the number)
James – is everyone going to know.. hey number.. congratulations
Natalie – ya sure I don't know
Michelle – Me you and James are the ultimate losers..
Michelle – 25 cents, didn't get TV and am a have not
James – ya
James – I'm just happy I won 5 K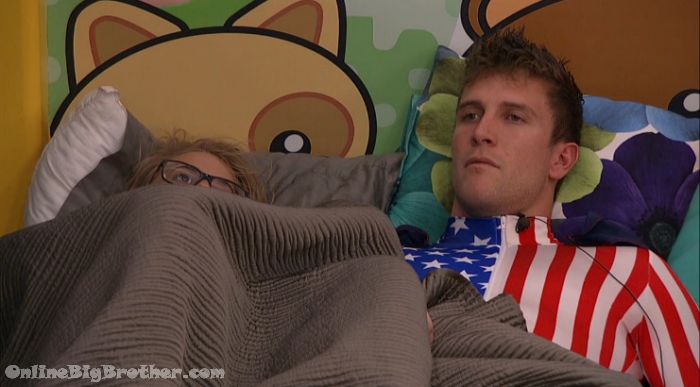 8:20pm Nicole and Corey
They are starting to get paranoid about Corey going home. Nicole really doesn't think there is a plan like that in the works. They agree it would be dumb
Nicole – i'm just ready to play.. Feeds cut to Natalie and Michelle in the kitchen.
Nicole thinks Paulie will try hard to stay and she'll lose repect for him. Corey is starting to lose respect for Paulie and his aunt dying of cancer story.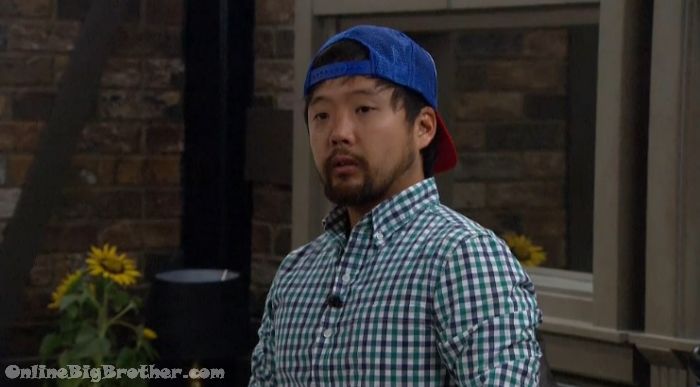 8:31pm Paulie and James in the London room
Paulie is saying it's weird that he's having the same type of conversation with natalie and Paul so he's wondering where James's head is at, "From a player perspective"
James- it's a game.. If you see us on the street it's not like you're going to sh1t on us or beat us up..
James – when you back a dog into a corner it might bite you
Paulie – what is that.. Kinda like what I say about a wounded animal.. Oh am I the one backed into a corner right now
James – there's no secret Victor initially wants you out
Paulie – what's Paul is saying what's best for his game may not be best for other people
Jaems – this is a game you shouldn't roll over and die.. Campaign in a positive light I'm pretty sure he'll respect that.. But if yo campaign a different way.. I don't know about that that's something you have to live with personally
Paulie says he hasn't started to campaign yet, he's not sure if he will
Paulie – my social aspect is done.. I don't want to me in the Jury for XX amount of time.. I don't want to roll over and die but when it's my time to go.. I'll glady lay my self up use me as the nom ..
Paulie – Like Natalie is saying the majority doesn't matter anymore it's about personal games.
Paulie says Victor could have at least pulled Corey off the block so that Paulie would "have a chance" to campaign
Paulie – I'm sure I'll talk to you guys if I decide to campaign for myself.. Takes three votes to stay.. I would want to pick your brains about how you would utilize a deal for me to stay.
Natalie joins them plans to go to bed early.
Natalie asks what the stain is on her shirt ..
James- it's a poop stain..
Smell it.
Natalie says it's not poop it's rust from the "Hook" on one HOH competitions
James- I'm down for whatever is best for my game..
Paulie – what do you want for me to stay.. Whatever you want it stay between us.. At the end of the day you are only 2 votes I'll need to talk to Paul and Michelle.
Paulie – if I do stay whoever helped save me that's were it wold go to, you are the first people I am coming to and being like wheres your brain at.. it's the smarted thing I can do..
Paulie images if JAmes and Natalie decide to keep him they will help him get the other vote he needs.
James – I'll be honest with you Natalie is the shot caller in the relationship
James – whatever the old lady wants I'm fine with it..
Paulie says he's not looking for a answer right now but if they want more details to the deal just ask and he can give it to them.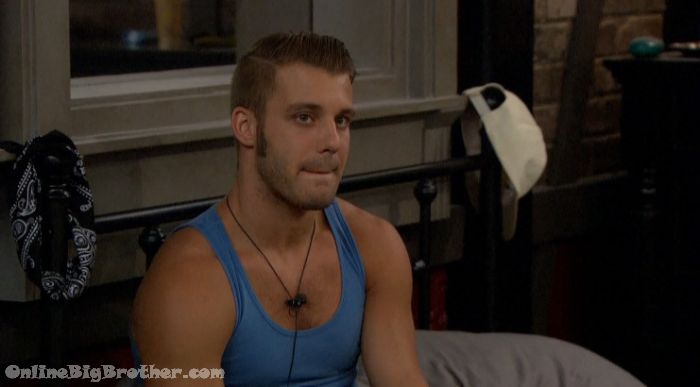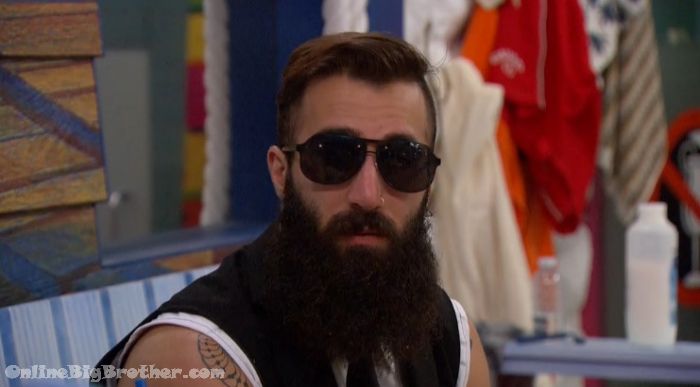 8:50pm Paul and Michelle
Paul – Corey 100% threw that he was the pitcher college .. he was a pitcher for a D1 baseball team…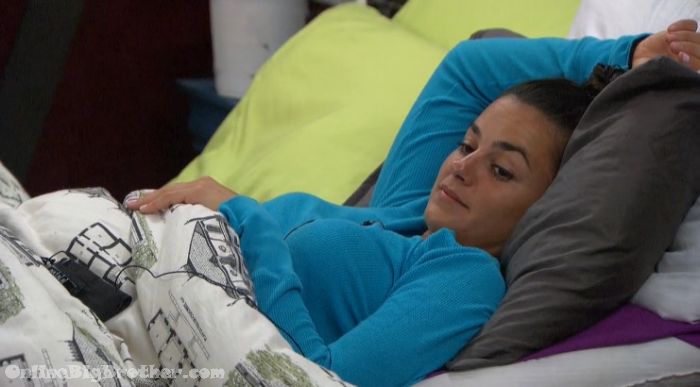 9:01pm London room Paul, James and Natalie
joking that Natalie and James are a old couple they don't even sleep in the same bed. They all have noticed Nicole and Corey kiss under the covers but never on the camera. Paul mentions everyone knows whats going on.
Paul says Paulie and Zakiyah had a "Home run" 5 times
Paul – "One of them in the bumper cars.. I can't even fit in a bumper car and these people are boning"
James – if it was 5 times they (Feed watchers) at least caught 2 of them
Paul says Paulie didn't wear protection.. "Full comes out has a BB baby"
Natalie – 5 times shut the front door
Paul – the back door too
Natalie – wait what.. is this a porno
Paul – it's very interesting
Natalie – that's why emotions are so high with him
Paul – fool breaks the door down when he finds his Girlfriend is going..
James – oh my god if they go to Jury that 5 will turn into 25
Paul says Corey/Nicole and Paulei/Zakiyah won't continue outside the house
Paul- Corey will be boning anything with legs.. never cared.. Paulie is going back to his ex wife.. (Sarcastically saying ex wife)
Paul – I just really want them on the block together (Nicole and Corey)
Natalie now they are being so nice to everyone.. now Corey has to bite his tongue he can't be mean to people
They talk about how the other side was goign to take out Victor, James and Paul. They find it funny that now they want to "legit" work with them.
They agree if Paulie stays he would stick with Nicole and try to pull in Meech.
9:34pm Security check
Security Check #BB18 @DawgsBigBrother pic.twitter.com/zW7CuxEyo0

— OnlineBigBrother.com (@bigbspoilers) August 16, 2016