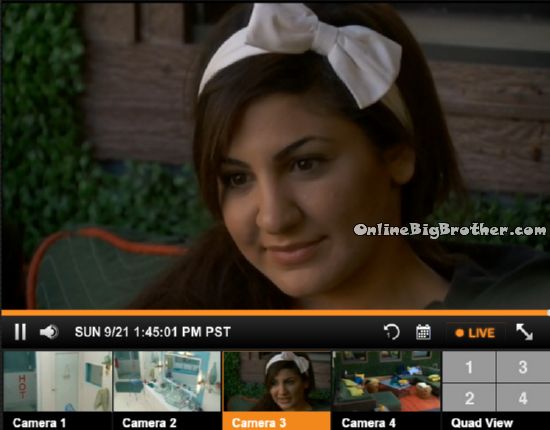 1:49pm Derrick and Victoria
Derrick will not be surprised if his daughter isn't there on Finale night because of her ear problems. Tells the camera if their is any risk involved to please not take her he can survive another week.
Victoria – what if Julie doesn't like me
Derrick – she will
Victoria – you sure
Derrick – positive
Victoria – how many times was Donny nominated
Derick – 7 times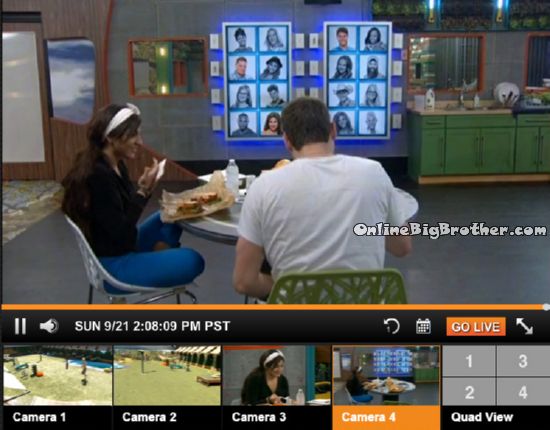 2:08pm Victoria and Derrick
(Eating Panera bread)
Victoria says this is the best day in big brother so far.. it's day 94 i'm going crazy.. can you tell
Derrick – ya
Victoria – we get to do photo booth in a hour together
Victoria – Big Brother you are so nice
Derrick – relax its a fucking sandwich
Victoria – we've dinned three days in a row it's amazing
Derrick – it's awesome it's ridiculous real food..
Victoria – I don't want to know anything about jury because I am not going to Jury
Derrick – that's correct
2:58pm Derick tells Cody in the backyard "Knock on wood.. she's been completely different today"
Victoria joins them. Derrick says him and COdy are going to play as many games of Pool as they can for the next 4 days and at the end find out who is the better player.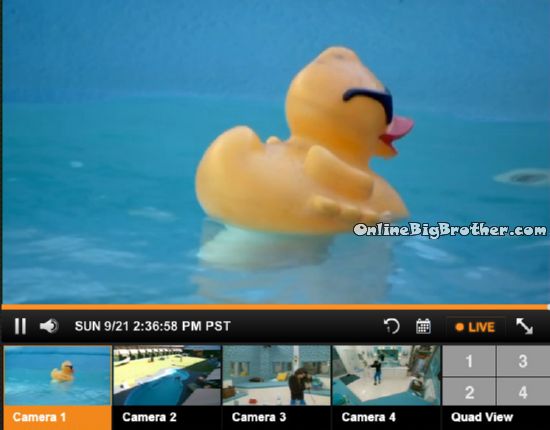 3:10pm Pool
The guys got goggles they are swimming around the pool with Victoria watching.
"Big Brother" Tells them "Remember house guests to swim 1 mile you only have to swim 440 laps in the Big Brother Pool"
Derrick is a certified diver tells them all the things Caleb would tell them about his diving in the military was BS.
Cody trying to do laps underwater makes it to 3 says he had to stop because his pants were falling off.
After some practice Cody makes it to 5
3:44pm Backyard Derrick and Cody talking about Student loans. In the bathroom Victoria is putting on deodorant.
The guys start talking about the hitmen.
Derrick hopes they have built up the "ReP" to be as popular as the renegades.
Cody is so glad they made it to the end with an named alliance.
They start talking about Caleb's "game" Cody calls Caleb a idiot and a clown. Derrick is certain when they get out of the house and watch the season they will see in the Diary Room that Caleb was helping Frankie in the BOB competition the week Frankie did it alone while they wanted him evicted (NFL Bob).
They agree it would be best if Zach was nominated that week he would have prevented Frankie from winning.
Cody says they really burned Caleb especially Derrick. Points out Derrick saying all their families will be coming out because they are final 3.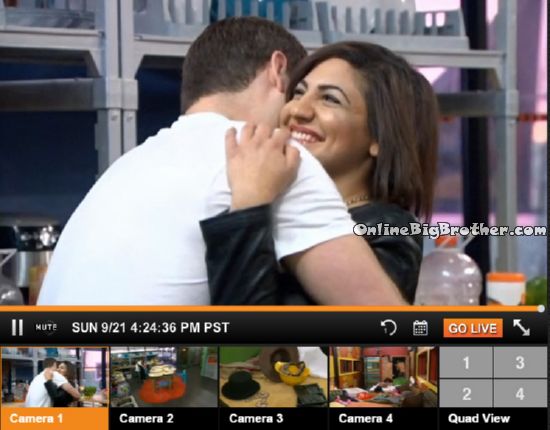 4:31pm Kitchen Victoria and Derrick
Victoria – Obviously you are my older protective brother" Says he should want to take her.
Victoria says she would never expect my her protective brother to leave me alone.. "who would protect me"
Derrick – Your real brother
Victoria – he's not older.
Derrick – I'll never let something happen to you and I never did"
Victoria says they should walk out the main door together.
Derrick – I agree.. you mean the red carpet together..
Victoria corrects she means the final 2.
Derrick – Victoria Victoria
Derrick tells her the only for sure vote they have is each other.
tells her it doesn't matter who he's up against he's not getting Jocasta's vote.
Victoria says Nicole was a horrible liar.
Victoria says she hates the name the hitmen. "I'm not giving you any props for that"
Victoria – Derrick what do I have to do I will do anything..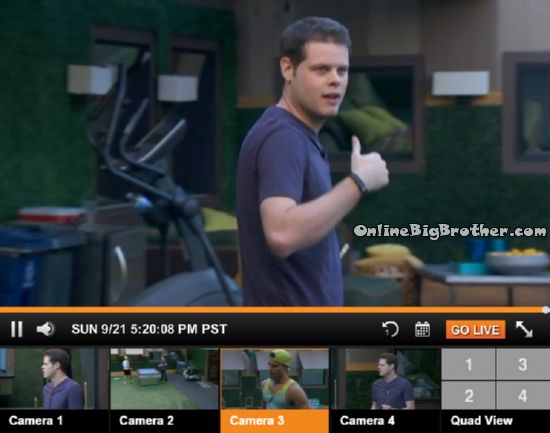 5:20pm Derrick and Cody
Derrick – Let me ask you a honest question , Do you have any doubt I wouldn't take you
Cody – no no not even close
Derrick says there is nothing that can be done he's told production it's done, "No NO Rose mark it down"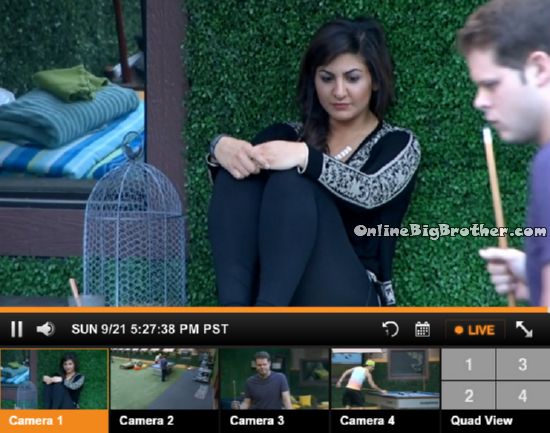 Victoria hangs out with the guys for a bit then leaves. Prior to this she made a comment about hoping for a Miracle to happen that lets her get to final 2. Derrick told her "You can dream"
Derrick says when Victoria makes comments like that it pisses him off. Derrick says they are both trying to be nice and respectful to her, "She just lost a lot of money we're being respectful and we're downplaying our excitement for her well being.
Derrick says she thinks there is a glimmer of hope with Derrick.
Cody – She knows there is no doubt I'm not taking her
(If you enjoyed the spoilers Please consider a donation through PayPal)
Make your Amazon purchases through the links below it Supports this site
[polldaddy poll=8244330]