How does the final HOH work
All three players compete in part 1. (Cody wins part 1 )
The two losers of part 1 compete in part 2. (Derrick wins part 2 )
Derrick and Cody compete in part 3. The winner of part 3 gets to decide Who to take to the finale.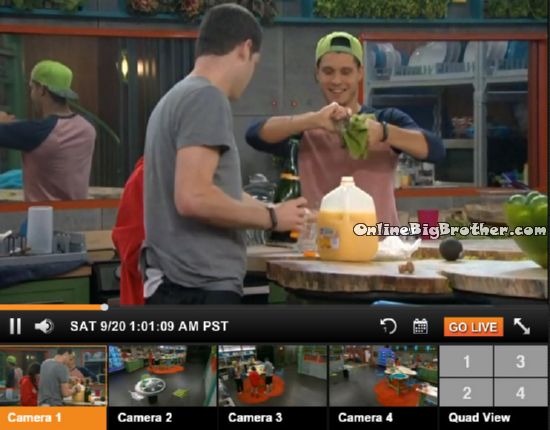 1:00AM Derrick, Victoria and Cody
Derrick – Mimosa's at 12:30
Derrick goes to get them a chug of orange juice.
Cody – Why don't you cheer up.. you did the best you could
Victoria – My best wasn't good enough it sucks.
Derrick comes back tells Victoria "You did good kid the best you can"
Derrick – no regrets
Victoria – they asked me if I had any regrets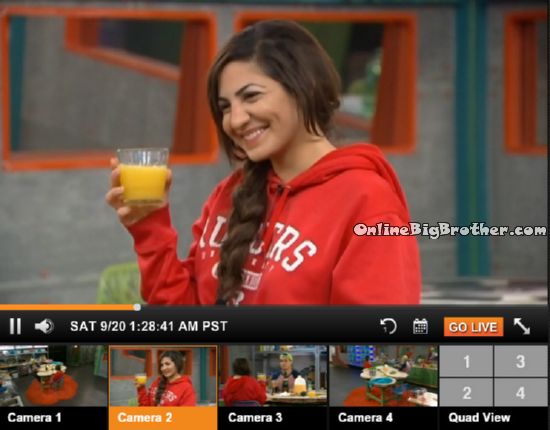 1:16AM Cody and Victoria
Cody – It took him a 3rd of the time to get over the wall that it took you because of his size of his arms.. The reach that he has also factors in drastically..
Cody explains that Derrick had a big advantage in the competition because he was larger and took go from the bottom right hand corner and the top right hand corner then the top Left hand corner.
Cody – for a small girl it can be tough.. which sucks because you had a competition
Cody – "it's tougher for someone that's shorter.. someone that's taller it helps"
Victoria – I could barley reach it..
Cody – there is a lot of stuff don't beat yourself up you did do your best.
Victoria says she knew the HOH competition by heart "I never had to stop and question myself"
Cody – that makes it tougher you knew all the answer
Victoria says she never mad a mistake or dropped anything
Cody – you can't beat yourself up in a situation where you gave it all you could.. You did all you could that is all you can ask for
Victoria – that's it there is no other cop there's nothing
Victoria – I went against my best friend in the house.. i'm happy for him but..
Cody knows how she feels say he felt the same way with the before and after.
Victoria – I like truly gave it my all I don't want to be down these next couple days..
Victoria wants to see how Derrick was able to reach during the last HOH competitions. She wants to know if he was on the bottom he could reach the "the one from the bottom one.. I want to see the difference.. I was flying I was jumping across .. I wasn't taking my sweet time"
They have a toast "Even though I lost today we will have a very fun couple of days in the Big Brother house cheers to making it to final 3 and cheers to final and let the best person win
Cody – love it I'll drink to that every time crush it repeat after me … here's to the breezes,.. that blows through the treezes.. blah blah blah.. (this seems to be Derrick/COdy's go to toast)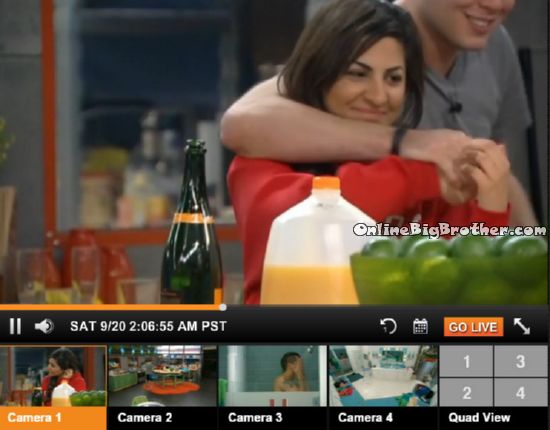 2:06am Derrick and Victoria
Derrick telling her they have 4 days of boredom followed by 5 to 6 days of it being "Nuts"
Derrick says they are going to be texting the entire time "Can you believe that just happened"
Derrick – "We'll be attached at the hip"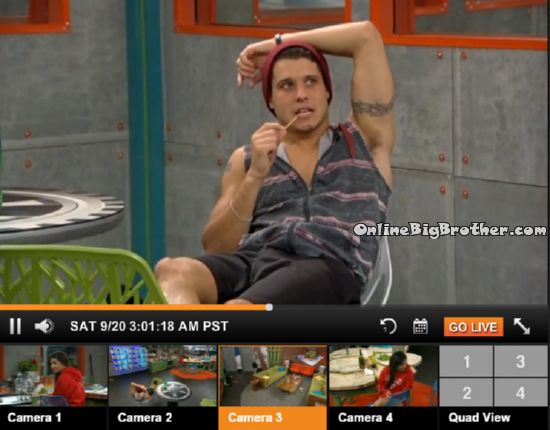 3:00AM
Derrick gets called into the Diary room
Cody – Crush it
Victoria and Cody start going through the memory wall saying one nice thing about every person.
Victoria calls Hayden a sweetheart.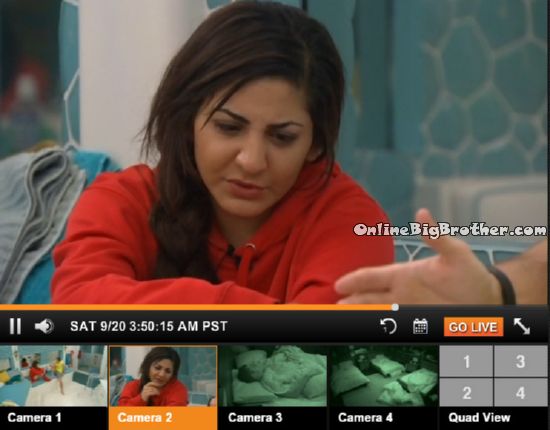 3:50AM Victoria and Derrick
Victoria crying "you told me the other night he's your friend in this game but "
Hints that he calls her family sister and brother
Victoria – I feel defeated Derrick I can't do anything
Derrick – what do you want me to say to make you feel better
Victoria – Sob Sob
Victoria says she must sound so stupid in the diary room talking about them having a fianl 2 " I feel so stupid like I'm in my own little world"
Derrick – I don't talk game with you I talke life ..
Derrick – I don't care about the game.. I care about the game because it helps my family but I don't care how I am perceived..
Derrick – Why are you crying
Victoria – I feel so defeated..
Derrick – you are crying for the comp
Victoria – EVERYTHING ..how do you expect me to feel .. how would you feel wouldn't you feel defeated
Derrick says if she's crying about the final 2 that is stupid "I haven't said anything yet.. you are making your own conclusions again.
Victoria says "Someone" has been putting it in her head
Derrick gets up says he's going to go talk to production and find out who is putting that in her head.
Victoria backtracks says they have only been asking her questions.
Victoria – I just don't want ot be surprised in a bad way
She's worried how she is going to be portrayed.
Derrick – It's 3am in the morning we've both had a couple drinks is this the best time to talk about it we'll be in the backyard for 3 days
Victoria – I'm just so sad
Derrick – Relax we have 4 f****g days to talk about everything
THey hug, Derrick tickles her "Were you tickleious.. "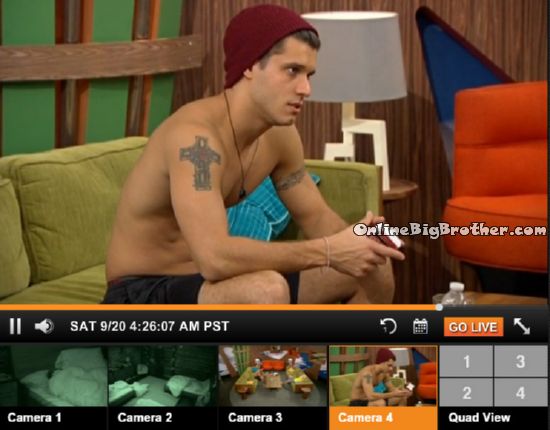 4:29am Living Room Derrick and Cody
Derrick says they are guaranteed money and guaranteed "things" They both cannot wait for the finale night. They are thinking about carving "HITMEN" in the bathroom stall.
Derrick – lets do it
Cody – Deep.. bigger than beast mode cowboy to.. maybe in bubble letters
Derrick – the legacy.. hopefully it's a legacy we'll see how we're being portrayed out of here it will be interesting.
Cody starts talking about his weight gain and how he's going to lose the extra pounds. He blames it on the quesadillas and the cookies
Cody saying the cookies were really bad to "Zach ate cookies every night he was fat as f***"
Derrick – he did gain some weight
Cody – Yeah some weight
Derrick – I'm shocked I ate the same as you guys I never gained weight.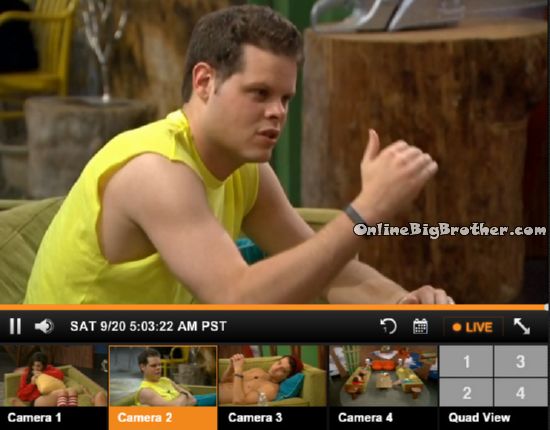 5:02Am talk about the game and the final HOH competition
5:46AM They are finally sleeping
7:43am ZZZZzzzzz
8:36am ZZZZzzz
*** Where's the updates? ***
There will be no live feed update until Sunday evening. Dawg is getting married tonight out of town and I'll be attending. I'll be back on Sunday night to update again. There really isn't much happening Lots of "HITMEN" and "CRUSH IT" so I'm not expecting us to miss a lot. I'll still be accessing the comments still so feel free to discuss.
Thanks for understanding you all have been fantastic this season!
(If you enjoyed the spoilers Please consider a donation through PayPal)
Make your Amazon purchases through the links below it Supports this site
[polldaddy poll=8244330]