POV Holder:
?
Next POV
Aug 16th
POV Used
?
POV Ceremony
Aug 18th
HOH Winner 1:
Derrick
HOH Winner 2:
Frankie
Battle of the Block Winner
 ?/?
Next HOH
Aug 21st
Original Nominations:
Derrick's Noms (Donny & Christine) Frankie's Noms (Caleb & Cody)
Final Nominations:
?& ?
Have Nots
?and ?
POV Players
?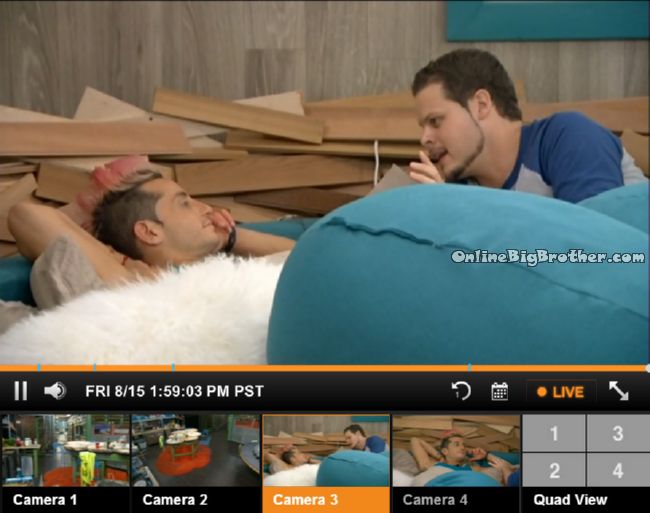 1:58pm Derrick and Frankie HOH
Derrick is giving the Team America task. THey got mission A
"Create a distraction by hiding a favorite piece of clothing from each Houseguest then organize a neighborhood watch program to keep it from happening again."
The neighborhood watch has to be consistent for 24 hours. Derrick says they have to steal a personal item something they wear a lot. He thinks they should hide the clothing and write a message on the mirror.
Caleb joins them they start talking about "Googling beast Mode Cowboy"
2:08pm Derrick comes back
Derrick – Caleb is following me around the house.. this is what i'm thinking we take an item from them it has to be all three of us participating
Derrick explains they will put the items in a garbage bag and at the bottom of the can in the storage room. One of them writes a message on the mirror, "better watch your stuff for the next 24 hours"
Derrick – It can't look like it a saboteur or production the message has to show them someone is f***G with their stuff..
Derrick wants to get flash lights and have them patrol around 'It's got to be consecutive for 24 hours.. it's going to be fun.. won't impact the game"
Derrick says they all have to get together and decide as team america which item they are taking and why.
Caleb's Bunnies slippers.. something that makes Frankie warm so he can b!tch about it, Derrick beanie.. Christine's glasses they
They start laughing at taking Christine's glasses..
Derrick – We have to do it we have to take her glasses..
Cody's Hat or rutgers sweater..
Zach's gator shirt
Donny's visor
Derrick – the main things is convincing them to go on patrol. THey have to notice the clothes missing and put it together and say Lets do a watch..
Derrick says the message on the mirror should be "Time to keep a closer eye on your stuff.."
Derrick – not the easiest thing in the world but fun..
Frankie – it's doable..
Derrick – Christine is going to be walking around without glasses.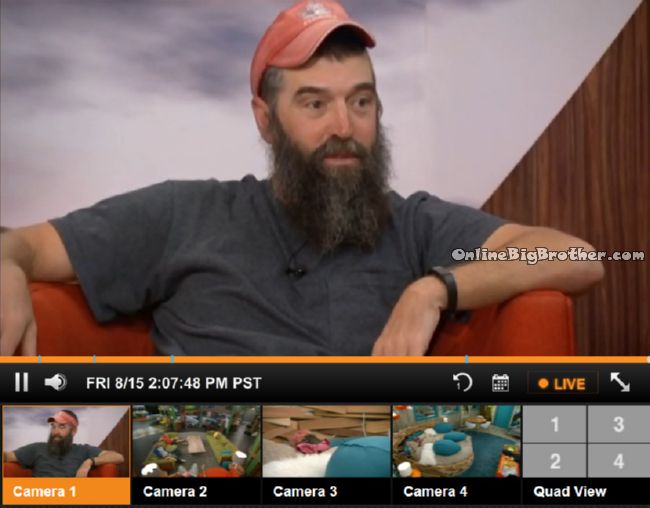 2:06pm Derrick and Donny
Derrick telling him about the team america task. Caleb joins them has a beer "popping a coors"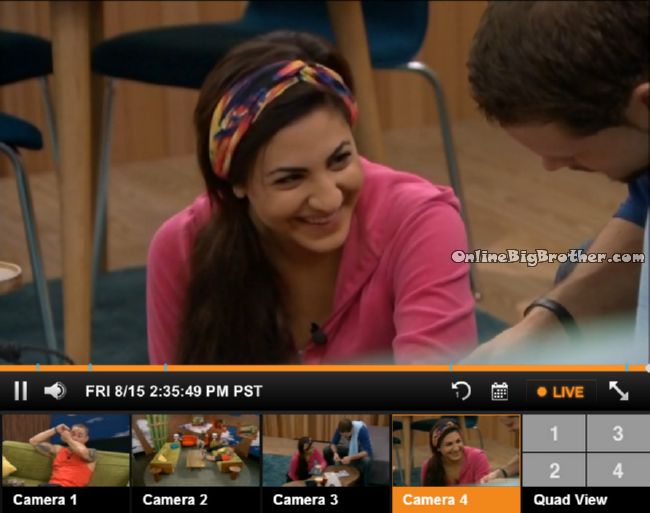 2:22pm HOH Victoria and Derrick
Victoria says people won't even look her in the eye after the meeting they all had last night in the HOH.
Derrick tells her nobody want to be on the block at this point everyone is pissed.
Victoria says she doesn't want to be a target next week. Derrick tells her she's fine.
THey start doing origami together.. Victoria is happy..
Victoria says Frankie told her he's not putting her up as a replacement nominee. Derrick explains it was him that told Frankie he wasn't going to nominate Victoria and he shouldn't either. Derrick adds that Frankie is covering his bases with her.
Derrick says he never lies he knows people all talk.
Victoria – Nicole was so sketch
Derrick is hoping if he stays HOH this week it will be Pandora's box
Victoria doesn't think they will do Pandora's box until they go down to single HOH's
Victoria – this week is double eviction.
Derrick – you think so
Derrick thinks it will be endurance this week.
Victoria would love to have seen Hayden and Nicole's face today when the were reunited in the HOH, "She was so sketchy man"
Derrick tells her going forward it all comes down to winning comps, "To get to this point you have to be a good player.. all the weak players are gone"
Derrick says Caleb and Cody are going to smash Christine and Donny.
Victoria says when Julie asked her that question during the Thursday show she was thinking about the fight between Derrick and her she wasn't thinking about Frankie's sister.
The Live Feeds are archived. You can go back and watch everything that happens
Try It Free! Subscribe now to the official BB16 Live Feeds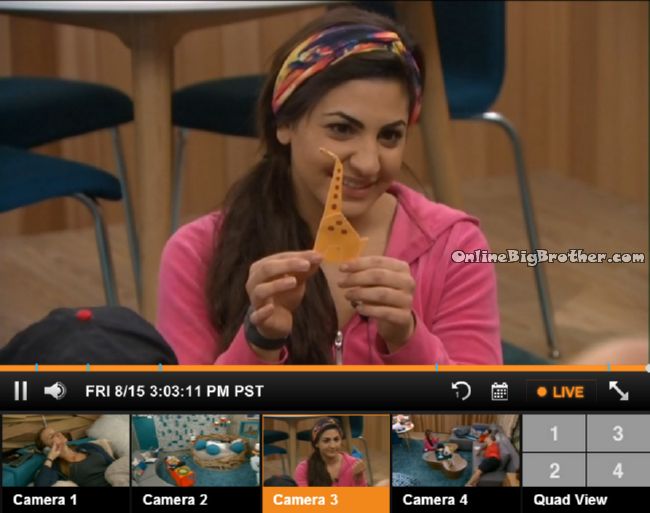 3:02pm HOh Victoria, Caleb and Derrick
They are showing Caleb their origami animals.
Bubbly the blue lion
Yolo the Yellow giraffe
Oliver the orange giraffe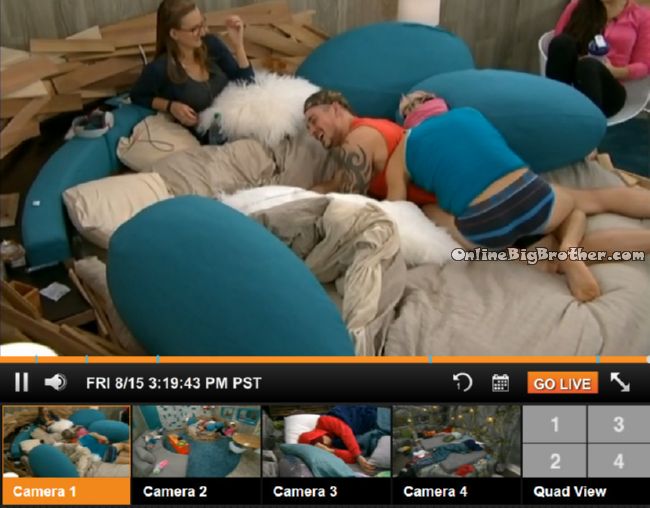 3:20pm HOH Room CHit chat Looks like Frankie is h*mping Caleb's leg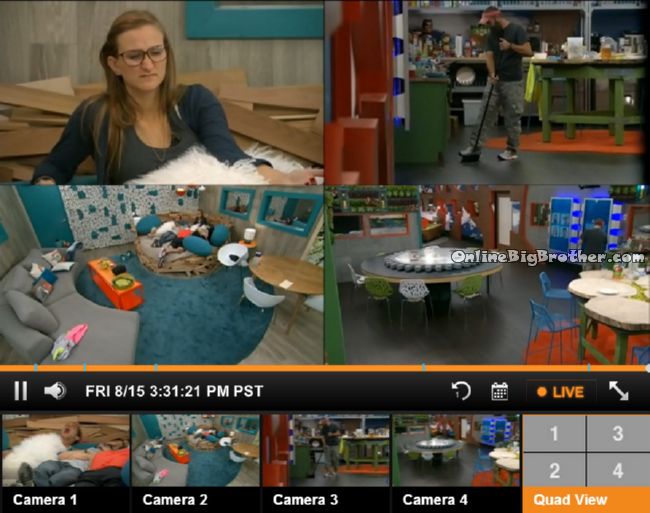 3:31pm Donny sweeping, HOH conversation has Frankie and Christine talking about how beautiful Frankie's family is..
4:00pm Kitchen CHristine and Victoria
Christine thinks if there is a buy back it will be this week followed by double eviction the week after .
Victoria says one good thing is coming out of this week donny is leaving. Christine " I hate his guts" Victoria says she's getting mean like Christine.. Christine is glad says he like the spicy Victoria.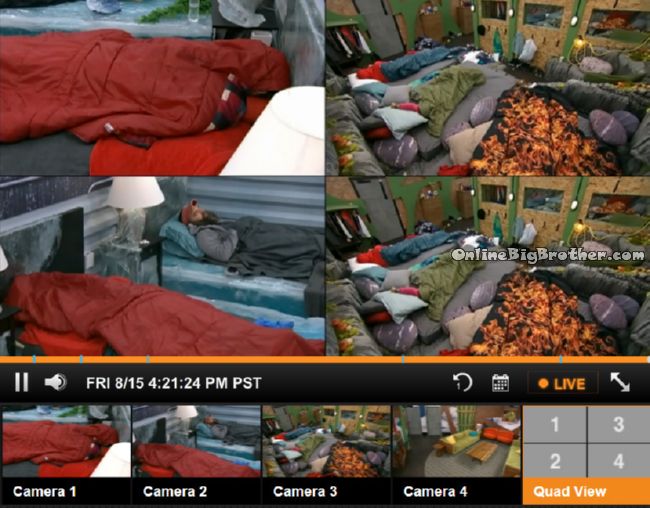 4:23pm Everyone sleeping
5:00PM Still sleeping..
Caleb and Frankie were up shortly they think the BOB will start at 6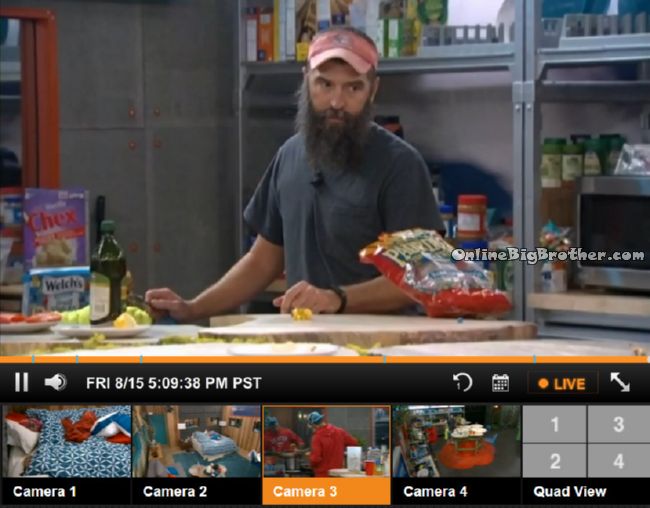 5:08pm Kitchen Donny and Cody
Donny asks about the Skittles why did they do it.
Cody – I guess it was fair
Donny – what colour was my skittle
Cody =- Orange
Donny – Orange make me angry i like yellow
Donny – am I the next target
Cody – they said Victoria.. I guess we all went up to play and win .. At this point there's no secrets.
Donny – just keep your ears open for yourself and know I will help you if you needed it.
Cody says after everything that has gone he won't be surprised by anything.
Christine joins them.. They start talking about the feeds being better to watch at 3am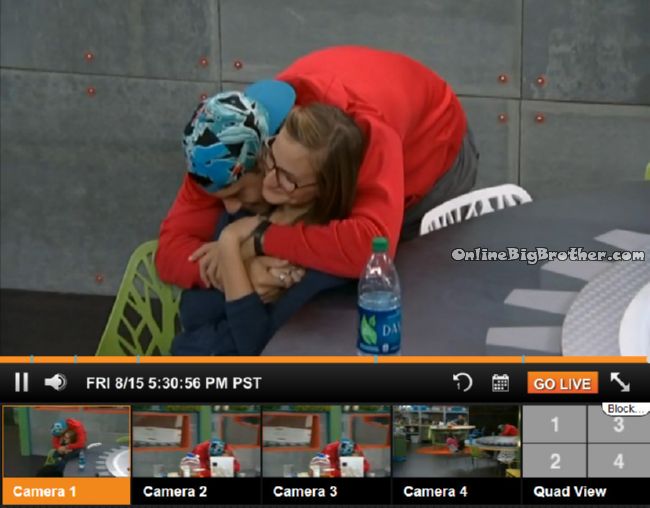 5:30pm – 5:45pm Kitchen Christine, Cody, Victoria , Donny
Christine says she's not feeling well. (SHe's planning on throwing the BOB and is using the excuse that she is sick)
Cody goes to hug Christine She says "I'm scared Cody"
Christine asks Derrick I wonder what they're going to pour on you. Derrick says yeah, I'm not looking forward to that. Maybe if I have an elaborate costume it won't be that bad. Derrick then says never mind it probably would be. Christine says maybe it will be a coffee making contest. Donny asks a what?!
Zach then yells from the other side of the house "Time for the battle of the block! Get dressed and meet me in the backyard!" Christine asks if they have costumes. Zach says not for me. Big Brother cuts the feeds.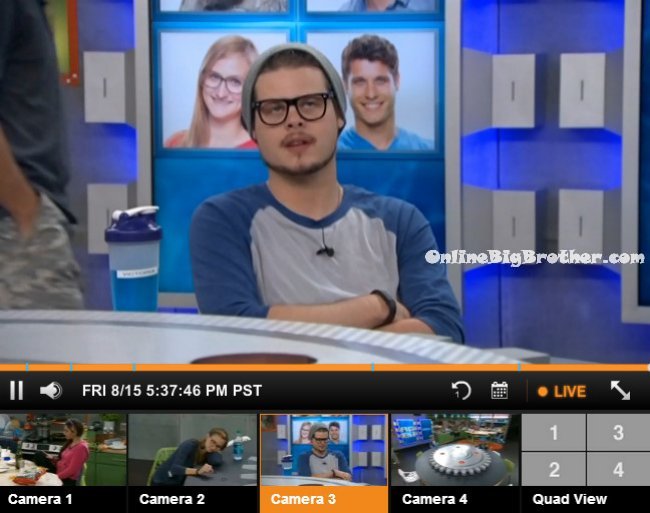 5:45pm Big Brother blocks the live feeds for the battle of the block competition…
Who do you want to win the BOB Donny/Christine or beast mode/ Cody ?
Alliances
The new bomb squad – Caleb, Zach, Derrick, Frankie, Cody, Christine
"The HITMEN" – Cody & Derrick
Team America = Donny, Derrick, Frankie
More polls here https://www.onlinebigbrother.com/big-brother-compendium/big-brother-16-polls/
[polldaddy poll=8244330]
[polldaddy poll=8248683]