POV Holder:
?
Next POV
Aug 16th
POV Used
?
POV Ceremony
Aug 18th
HOH Winner 1:
FRANKIE
HOH Winner 2:
Frankie
Battle of the Block Winner
Donny & Christine
Next HOH
Aug 21st
Original Nominations:
Derrick's Noms (Donny & Christine) Frankie's Noms (Caleb & Cody)
Final Nominations:
?
Have Nots
?
POV Players
Cody, Caleb, Frankie, Victoria, Donny, Christine
See what they can't show you on TV! -Try the Big Brother 16 live feeds for FREE!
5:45pm – 7:10pm Big Brother blocks the live feeds for the Battle of the Block competition. During the nominations this morning Frankie nominated Donny & Christine. As the other head of household Derrick nominated Caleb & Cody. The night before Frankie & Derrick devised a plan to remove the guilt of their nominations by drawing skittles out of a hat the night before. The plan included Christine throwing the competition to ensure Donny stays on the block.
Battle of the Block Results:
Donny and Christine WON!
Derrick has been dethroned as HOH
Frankie remains the Head of Household!

In the kitchen – Frankie talks to Zach about how he's excited he gets to play in the Power of Veto Competition. In the bathroom – Caleb is showering and says "Old DON the competition BEAST MONSTER!" Derrick comments on how he hopes they get to see Zing-Bot tomorrow! (Zing-Bot is entering the house tomorrow to ZING the house guests and host the POV competition.)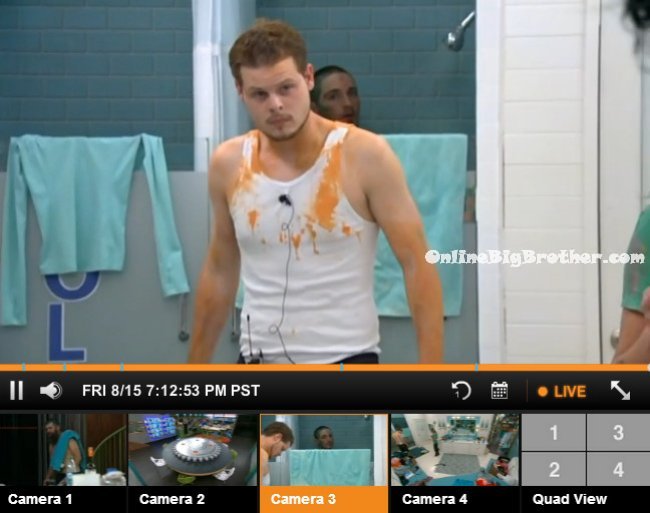 7:20pm – 7:30pm In the kitchen – Frankie says I can't believe Christine didn't even find one!! (Christine was supposed to throw it and it sounds like she did.) Caleb says I yanked one out of her hand. Frankie asks really!! He laughs! Caleb says yeah I was playing dirty! Caleb says well just got to win the veto tomorrow! Caleb goes to the bathroom and comments to Cody… well you and me on the chopping block. Cody says just got to win the veto. Caleb talks about finding bones during the competition. Caleb says it seemed way bigger than it was. You had to crawl in and it entered up into two rooms. I felt like the size of a large house. Caleb heads to the kitchen and says when they turned the lights on the whole thing was like the size of the bathroom. Caleb says he got in trouble for using the light off his activity tracker. They told me I couldn't. Yanked a bone from Christine, got in trouble! Zach says you would! Caleb says beast mode got to do something!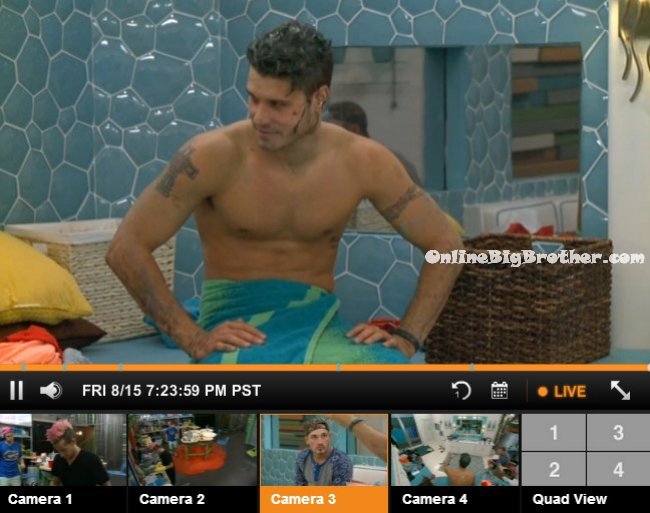 7:30pm In the fire room – Caleb says that Donny knows Victoria is the target right? Derrick says yeah. Caleb says in my defense I didn't put any of them in. I couldn't figure it out. I just handed them to Cody. Caleb and Caleb leave the room. Derrick and Donny go back into the fire room. Derrick congratulates Donny. You're safe for another week! Now we'll get Victoria out. Derrick says I hope I will play in the veto to keep myself safe. Derrick asks if Victoria would have done well in that one. Donny says it definitely wasn't a muscle competition. Derrick goes to leave and says I'm not going to act too excited. Donny says sure.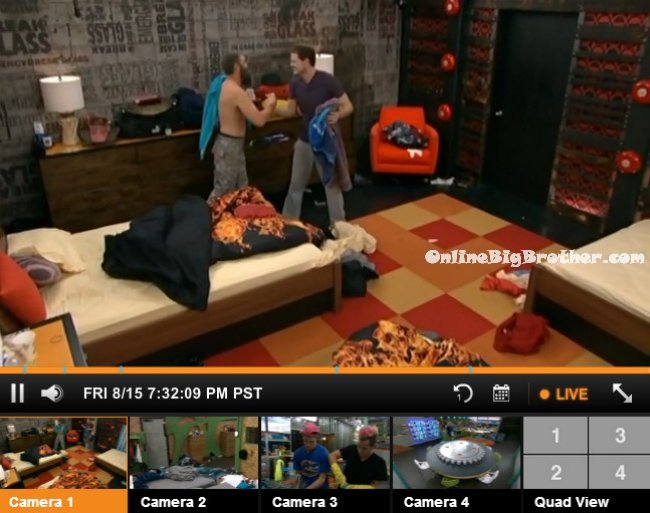 Alone in the fire room – Donny cries ..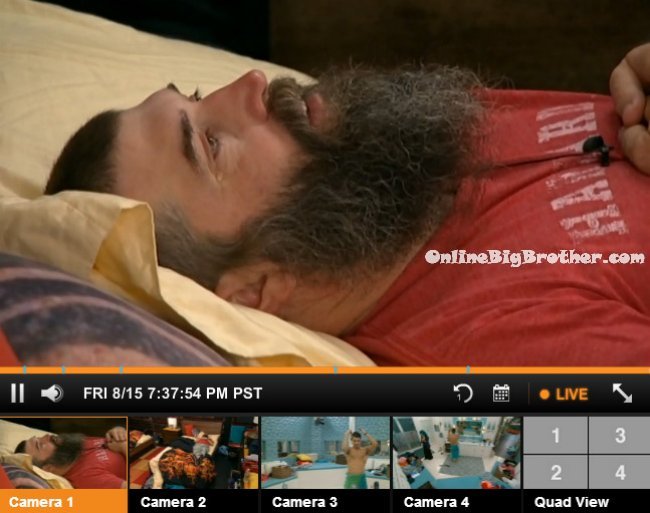 In the bathroom – Christine hugs Cody and tells her that she tried! She laughs about Caleb grabbing one of the bones from her. She whispers America hates me… I'm so screwed. Christine talks to Zach about how she thinks she's screwed. Donny knows I threw it. Zach says I think you're fine. Frankie and Caleb joins them. Christine says he knows I threw it. I found 6 bones but told Donny I couldn't find any more. Caleb says they're not letting us play team BOB's. Zach asks was it hard? Christine says no! I would have had it if I tried.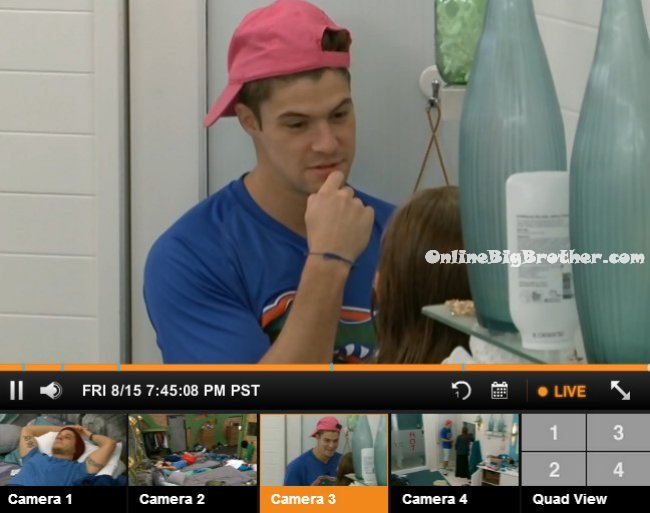 7:50pm In the HOH room – Derrick tells Frankie he (Donny) doesn't trust us. Frankie says he has no one else but us. Derrick says ultimately I want to work with the guy. I've wanted to since the team america thing. Derrick says my feeling is if he trusted us he would tell us that he knows Christine threw that competition. Frankie says he kind of told me. Derrick asks what did he say? Frankie say he says now I know how you felt when Caleb threw it. Frankie says when he comes to talk to me I will tell him that there are definitely people in the house that want him out but not me or Derrick. Derrick says its such a waste of an HOH to get Victoria out. Derrick says if Donny gets me out he deserves to win the money. Derrick says I would love to see Cody, Caleb or you win the veto. We've got to win it and take one of those bad boys down. Frankie asks would you use it on Caleb? Derrick says yes. I am close with both of them and would rather not have to make the decision ..but I would still rather have the veto.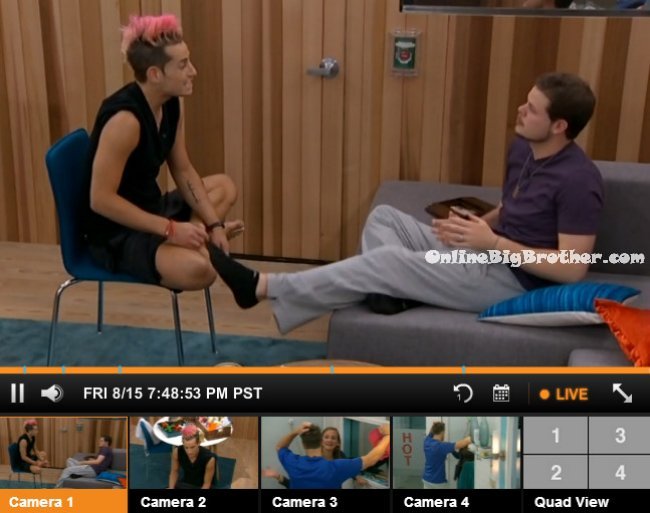 7:54pm In the storage room – Zach tells Caleb Victoria is going home. Caleb says I feel like Donny had a device in his ear telling him which way to go. Zach says Donny won the BOB by himself DUDE! Caleb says Donny wins competitions in the light and the dark .. I don't believe he's just a janitor. Zach says he is such a beast!
Big Brother 16 Live Feed FREE TRIAL – Use the FLASHBACK feature to watch everything you've missed!