Watch the Big Brother 13 live feeds on your Android and iOS devices. Sign-up for the 3 Day Free Trial
If you like this site and want to help us keep it running please consider donating, Your donations go directly to paying the server and bandwidth fees. Donate Link
10:40am When the live feeds come back, Adam and Shelly are sitting in the backyard in silence. Adam says that he wonders what they will do for Dani later? (For her birthday) Shelly starts to say they said… Big Brother cuts the live feeds. When the feeds come back, Shelly and Adam are talking about him and Fara getting a place together and that she should be all moved in by the time he gets out of the house. Jordan joins them outside. Adam asks if Jeff went back to sleep. Jordan says that he's listening to the Bob Marley cd. Rachel joins them. Shelly says that it's a good day to lay out. Jordan tells Adam that he can go up and talk to Jeff if her wants. Adam says yeah …and then heads up to talk to Jeff.
24/7 UNCENSORED Big Brother 13 Live Feeds!
Click here for your: FREE 3 Day TRIAL!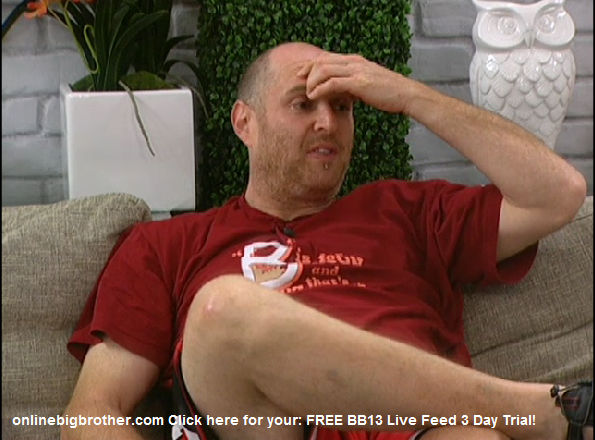 Up in the HOH room, Adam starts talking to Jeff telling him everything that Dani said last night and what he told her. Adam says that there are advantages to keeping Dani …but that it would be definitely be better to have her out. Adam tells Jeff that he will vote her out if that's what Jeff wants. Jeff asks if Shelly will too.. Adam says that all they need are three votes and they have that … but from what Shelly was saying this morning she would vote to evict Dani. Adam says that he wanted to tell Jeff what he told Dani first so that he heard it from him first and not from Dani coming up here and telling him that I would work with her. Jeff says that he is definitely sticking to the plan and that if Dani won HOH this week during the fast forward she would definitely get me out. Adam says oh yeah. Jeff talks about how they will need to keep Rachel till final five. Jeff says lets just get through this week and take it as it comes. Adam agrees and says yeah lets just get there and be ready for the kill. Adam says that Dani is already trying to throw Kalia under the bus… Jeff says yeah. Adam says that's why they need to get rid of her because she will use you until she no longer needs you. Adam says that he just really wanted to tell Jeff everything. Jeff says that this week will get even worse with Dani trying to get your vote so if you hear anything about us or anything .. Jeff says if she says anything about how I said this or that ..then tell her okay lets go to Jeff and talk about this. Adam and Jeff talk about Porsche and Kalia. Adam says Kalia is looking long term and Porsche isn't. Jeff says that Porsche scares him and he needs to talk to her. They finish up their conversation and Adam leaves the HOH room.
Sign-up NOW and watch the houseguests live!
Click here for your: SUPERPASS – 3 DAY Trial!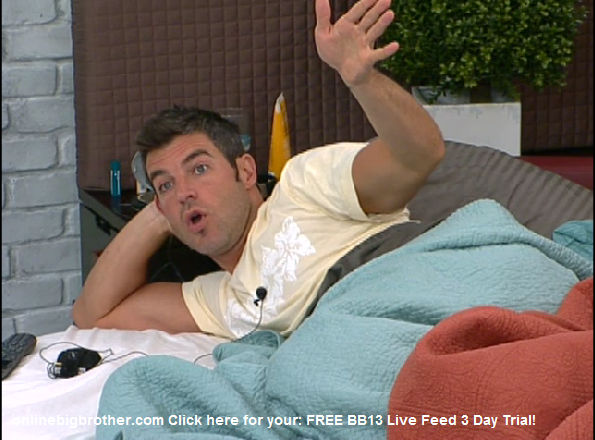 11:15am – 11:40am Jordan, Dani and Porsche are sitting on the backyard couch talking about liposuction. Jordan asks if they suck fat out of your tummy do they do it to your butt too …to even it out? Dani and Porsche say no. Rachel says that her friend got butt implants. Adam joins them outside and soon after so does Jeff. They talk about getting colonic's and cosmetic surgery. The conversation then changes to talking about the documentary Super Size Me. Adam heads inside to ask if he can shave. Shelly joins them outside. Rachel starts talking about how she can't wait to get married. Shelly starts telling Rachel about the benefits of marrying in January so that they can file taxes separately this year. They continue to talk about taxes and stocks. Porsche comments that Jeff has had a good couple years with Big Brother, Amazing Race, Around the World and Big Brother again. Porsche heads inside. Rachel asks Jeff if he knows what he is thinking. Jeff says yeah his mind is pretty made up. Rachel asks if she can talk to him later. Jeff asks why …you're good! Rachel says just to that we are all on the same page moving forward … I can tell you what I think about what I have observed around the house. Jeff says that's kind of the opposite of what people normally do ..when you open your mouth people end up using it against you. Jeff says that yeah if you wanna talk we can talk.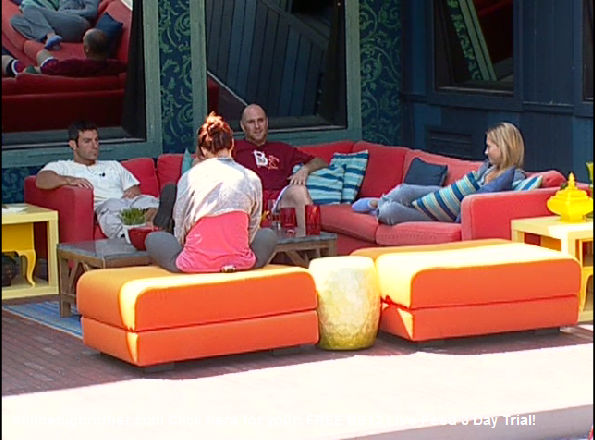 11:45 – 12am Shelly and Jordan are across the yard ..Shelly is telling Jordan that its odd that Adam is now inside talking to Dani. Shelly says that it is weird that he wants her out and he's in there talking to her. Jordan says that it is going to be hell for four weeks once Dani goes up. Shelly asks four weeks? You mean four day? Jordan says yeah yeah … and the thing is ..is that Dani doesn't have anything to use against us. Shelly then brings up how Adam told her that he zing'd her last night … she says that he said that Shelly has losing competitions down. Shelly says that it kind of hurt her. Jordan says he hasn't won anything either. Shelly says he's won one competition. Shelly goes back to the couch with Jeff, Rachel and Adam. They talk about how they have been studying the events of the house and how they have been counting items in the house. Adam says that he is going to go listen to Jeff's cd. Jeff says okay ..my new rule is that you when you go up there you have to take a snack… its a thanks for coming prize…
WATCH all DRAMA unfold LIVE on SuperPass! FREE 3 Day TRIAL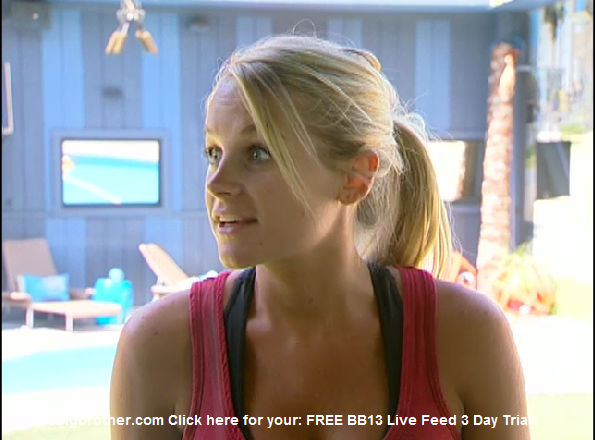 Big Brother 13 Live Feed Image Gallery
Follow: @BigBspoilers and @Dawgsbigbrother on Twitter for recent crazed out spoilers. Theres also our Facebook page.
Big Brother 13 Spoilers POLL CAST your VOTE!


Share it YO!!
Tweet