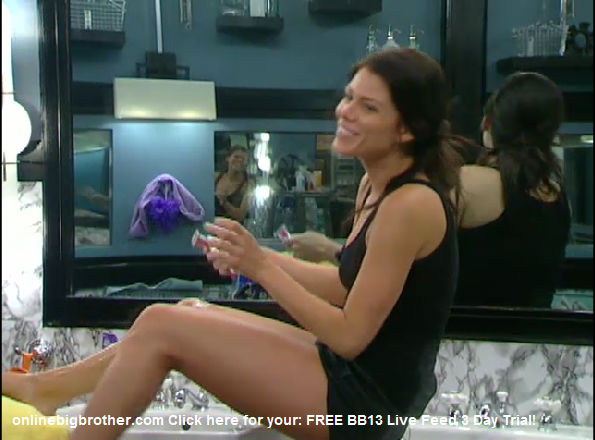 Watch the Big Brother 13 live feeds on your Android and iOS devices. Sign-up for the 3 Day Free Trial
12pm Porsche and Dani are in the bathroom talking. Dani is sitting on the sinks shaving. Porsche is telling Dani that she wants to talk to Jeff. Porsche starts going over what she will say to Jeff. Porsche says that she will tell Jeff that he isn't a main target of hers. Dani says don't say main target …just say he's not a target of hers. Jeff finds out that she's shaving on the sink and says that pretty soon Porsche and the others are going to do that too. Dani says that she doing it for the warm water. Dani says that she won't tell Kalia about doing it … because she will be up here shaving her vagina. Dani tells Porsche that the cameras will zoom in on their privates. Porsche doesn't believe it at first and says that now she is all paranoid. Dani says obviously you haven't seen all the pictures online. Porsche and Dani talk about the last HOH competition. Porsche then heads to the bedroom to get her bathing suit.
WATCH the houseguests LIVE on SuperPass!
Click here for your: FREE 3 Day TRIAL!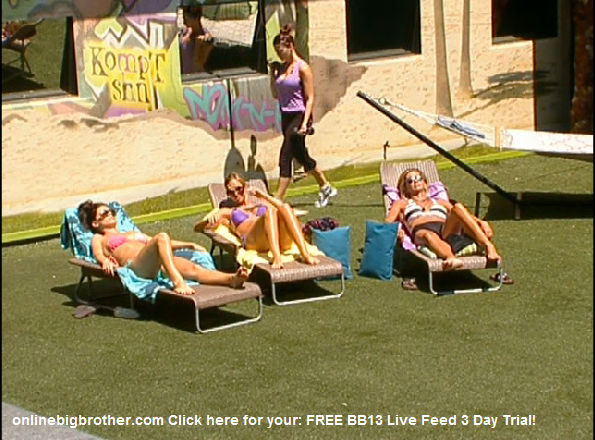 12:15pm – 1pm All four camera switch to Shelly and Jeff in the backyard talking about a taxidermy guy she knows. Jeff then gets called to the diary room. Shelly is sitting on the couch by herself. Dani comes out and lays on the backyard lounger. Jordan is working out. Dani runs inside for chap stick and Shelly pulls a lounger over next to Dani's lounger. Porsche comes out and sits near Shelly. They talk about Dani's birthday party being tonight between 4 and 5pm. Rachel start working out, walking around the yard lifting weights. Big Brother tells the houseguests that it take 19 and a quarter laps around the backyard to equal one mile. Big Brother says that it is common knowledge that the former Soviet Union has 15 republics. Jeff and Adam are now relaxing on the backyard couches. Jordan is doing laps around the backyard. Rachel is working out on the elliptical. Shelly, Porsche and Dani are suntanning talking about random stuff. Jeff and Adam head inside to make lunch. Dani heads to the storage room to check for mitol. Dani starts to say that he was going to get it for her.. Dani leaves. Shelly tells Porsche that she thinks Dani has two crushes in here now. Dani come out and they talk about buying stuff on ebay.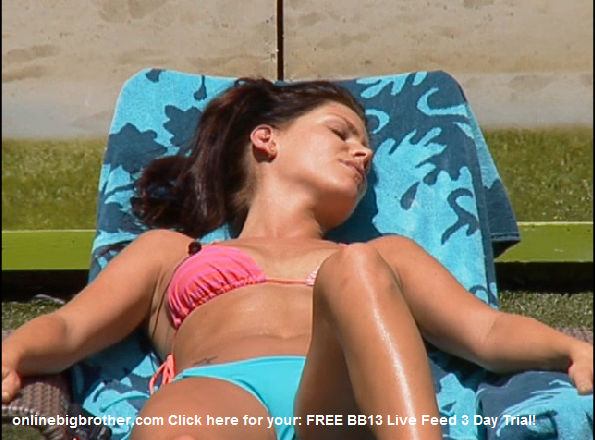 1:20pm – 1:30pm Shelly tells Porsche and Dani that if her husband plays his cards right he will have a lot coming his way. Dani says what like experimental? Shelly says no like time or whatever he needs. Kalia finally wakes up and joins then in the backyard. Adam, Jeff and Jordan are in the kitchen making lunch and eating. Shelly, Kalia, Dani, and Porsche are suntanning talking about random stuff.
Sign-up NOW and watch the houseguests live!
Click here for your: SUPERPASS – 3 DAY Trial!
If you like this site and want to help us keep it running please consider donating, Your donations go directly to paying the server and bandwidth fees. Donate Link

Big Brother 13 Live Feed Image Gallery
Follow: @BigBspoilers and @Dawgsbigbrother on Twitter for recent crazed out spoilers. Theres also our Facebook page.
Big Brother 13 Spoilers POLL CAST your VOTE!


Share it YO!!
Tweet