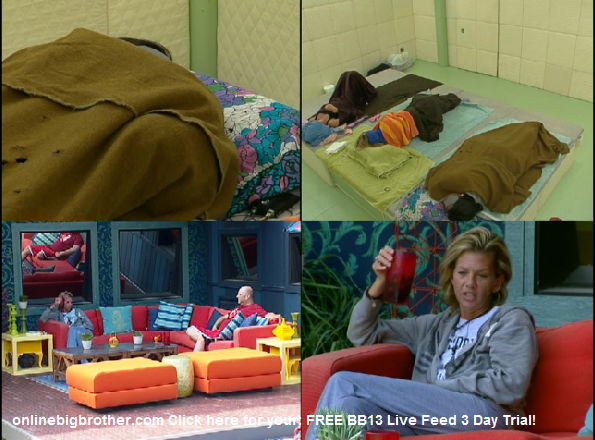 Watch the Big Brother 13 live feeds on your Android and iOS devices. Sign-up for the 3 Day Free Trial
8am Shelly is wake and heads into the kitchen. She gets a glass of diet coke and heads out into the backyard for a smoke. Shelly is studying the events of the house. After awhile she gets up and starts cleaning the house. 9:35am Adam wakes up and joins Shelly out in the backyard. Adam talks about his dream. Adam says that Dani cornered him out here and he tried to not answer questions. Adam says that he knows Dani is worried. Adam says that even Kalia was trying to see if I knew what Jeff was going to do. Shelly says even Jordan won't know what Jeff is going to do. Adam says that he was feeding Dani a little bit of bullshit. Adam says that Dani says Rachel has become what Rachel hates …a floater. Shelly says yeah anyone would like to be at the end with Rachel ..she will only get one vote… but she won't make it to the end. Adam says that Dani was saying Rachel isn't a target anymore.
WATCH all DRAMA unfold LIVE on SuperPass! FREE 3 Day TRIAL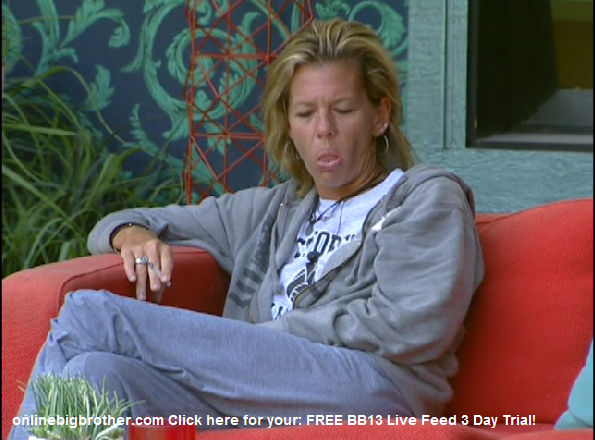 10am Shelly says that's what's dangerous about Dani she is all over the place. Adam says that Dani was pretty much throwing Kalia under the bus… that if nominations stay the same she wants her out. Shelly says wait till that gets back to Kalia… that she finds out her best friend is doing that. Adam talks about how Dani said that Dominic threw the first HOH competition. Adam says that he told Dani that if she was up ..he would need to seriously think about keeping her… at least that's what I feed her… Shelly and Adam talk about Brendon and Rachel. Shelly says that she won't violate the trust with Jeff, Jordan and Adam … unless she hears something different. Shelly says that either Kalia or Dani gone is good for our game. Shelly says that she likes Dani but that she is good at this game and she is a manipulator. Adam says that he will talk to Jeff today just in case Dani goes to him and uses what he said against him .. just so he knows from me what I said, why I said it and how… Adam says that he knows the target on him is getting bigger. Shelly doesn't agree. Shelly says that she will do well in question and memory competitions and that she knows she will do well in the face morphing comp too. Shelly says that she thinks its interesting that Porsche thinks she'll get picked as America's player. Shelly thinks it will go to any of four people and she will be happy ..but that it won't go to Porsche. Shelly says that she always forgets that Jeff has already won $15,000. Shelly says that she needs to start winning something ..because my stipend money isn't going to me … Big Brother cuts the live feeds. When they come back Shelly and Adam talk about the jury votes. Shelly asks if Adam would come back into the house. Adam says probably not.
WATCH the houseguests LIVE on SuperPass!
Click here for your: FREE 3 Day TRIAL!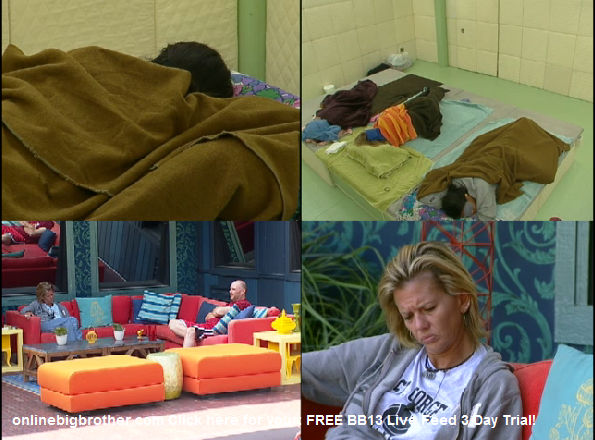 10:10am – 10:20am Adam talks about how last night Dani made a sarcastic comment to Kalia that made her mad. Adam says that Kalia commented wait till Lawon finds out Kalia was a traitor. Shelly says Dani has a real sarcastic humor that sticks barbs into people… its just a matter of time before those to fight. Shelly says that Dani is here to prove something and wants to win so bad …she is willing to say and do anything to get further. Adam says that there are way more benefits to keeping Kalia than Dani. Shelly says that once Dani leaves she is going to be a wreck .. and just wait until she finds out Dani has been throwing her under the bus since the nominations. Shelly sasy that Kalia is going to be really hurt. Adam says that he doesn't know if Kalia has the fortitude to stay after finding that out. They talk about being able to understand that its just a game and how some people can't do that. Shelly says that the only person that will be mad at her for what she's said in the diary room …is Rachel. Big Brother cuts the live feeds to wake up the other houseguests…
FLASHBACK – Don't miss all the drama!
Superpass – 3 Day FREE Trial
If you like this site and want to help us keep it running please consider donating, Your donations go directly to paying the server and bandwidth fees. Donate Link
Big Brother 13 Spoilers POLL CAST your VOTE!

Big Brother 13 Live Feed Image Gallery
Follow: @BigBspoilers and @Dawgsbigbrother on Twitter for recent crazed out spoilers. Theres also our Facebook page.
Share it YO!!
Tweet