Watch the Big Brother 13 live feeds on your Android and iOS devices. Sign-up for the 3 Day Free Trial
11:15am – 11:40am Dani, Shelly and Kalia are in the kitchen. Dani sing punch me in the ovaries. Shelly says punch you 25 times for your 25 b-day! Dani says punch me 25 times for the 25 unborn babies. Dani says that she hopes its a competition where you have to give up your soul because I am ready! Dani then says I hope it is a competition to eat babies … JUDAS! Dani leaves the kitchen.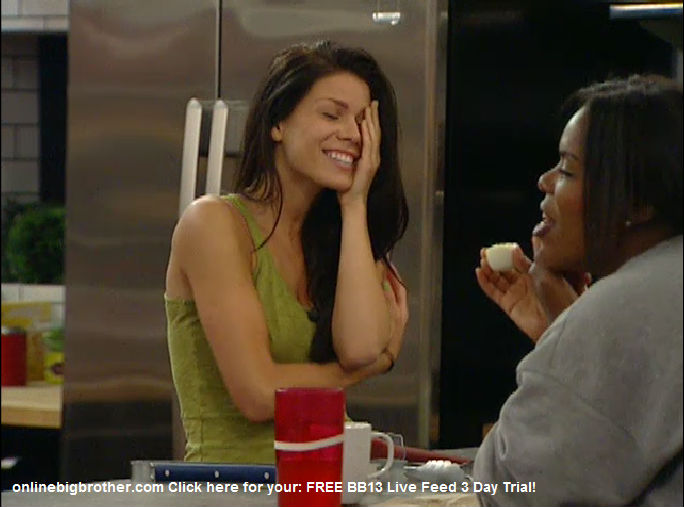 WATCH all DRAMA unfold LIVE on SuperPass! FREE 3 Day TRIAL
Kalia starts talking to Shelly. Shelly and Kalia talk about how they are done with Rachel. Kalia says that if it looks like she is leaving …she is going to give Rachel a mouth full. Shelly says that she can't wait for her chance to tell Rachel what she really thinks. Kalia says that come Thursday she is going to destroy her. Kalia says that Rachel wins the vote for the person no one likes. Shelly says I know ..and she thinks people do. Kalia starts talking about how Porsche was asking her for her vote… Kalia is like ..I am on the block too! Kalia says that she wonders if she is really the target. Shelly says yeah she has no idea either ..but that we will know today.. They talk about today being the most important day. They talk about what the competition will be like. Kalia and Shelly both say that if it's a spelling competition neither Jeff or Jordan will be good at it. Kalia says that worst case is if Porsche wins it. Shelly says that if it involves any kind of common sense …Porsche won't win it… she is good at math though.
If you like this site and want to help us keep it running please consider donating, Your donations go directly to paying the server and bandwidth fees. Donate Link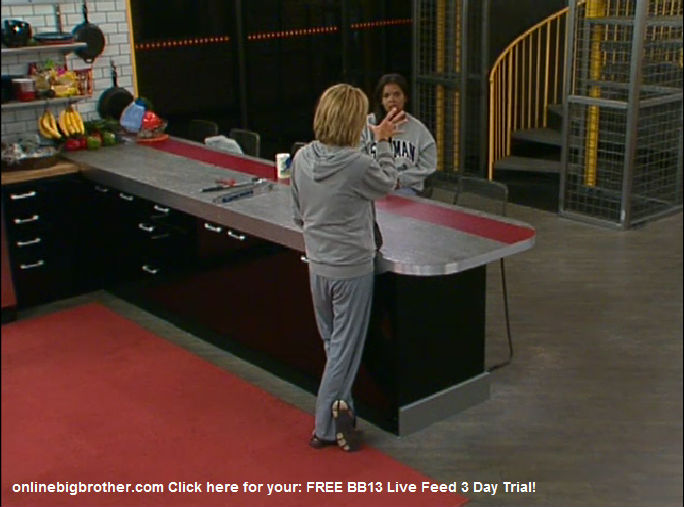 11:45am Shelly goes to lay down. All the houseguests except for Kalia are laying down waiting for the power of veto to start… Kalia goes to take a shower..
Sign-up NOW and watch the houseguests live!
Click here for your: SUPERPASS – 3 DAY Trial!
12pm Kalia is sitting at the kitchen counter alone. Up in the HOH room, Jordan got ready in the bathroom, did some stretches and then got back into bed.
12:20pm – 12:45pm Dani and Kalia are in the bathroom talking. Kalia telling Dani about Porsche saying that Porsche wants Dani to win POV and take Porsche off. Dani tells Kalia that she thinks that Kalia and Shelly on block is better a better scenario than Porsche and Shelly on block. Dani says that she thanks god it isn't going to be anything active ..because she feels horrible. Kalia says that there is no way she is walking back into the house not being saved by either her winning it or Dani winning it. Dani says that she has to win today …she has no other choice. Kalia asks ..do you think people would keep you if you were up. Dani says no. Kalia says thats weird. Dani says that if she goes up ..she is going home 100%. Kalia asks do you think I would stay over Porsche. Dani says I don't know.. you two both have valid reasons for stay but both on different playing levels. Kalia says that if she leaves this game before some people …I am going to be furious. Kalia says that Porsche doesn't have a valid argument to stay. Dani says that everyone has a valid argument to stay ..I didn't say it was better than your reasons. Kalia talks about how Shelly is married with children has a company and is afraid of a 33 year old (Jeff). Dani says that she literally wants to rip out her insides. Porsche joins them in the bathroom. They decide to go into the purple room. They talk about random stuff ..all waiting to play the POV.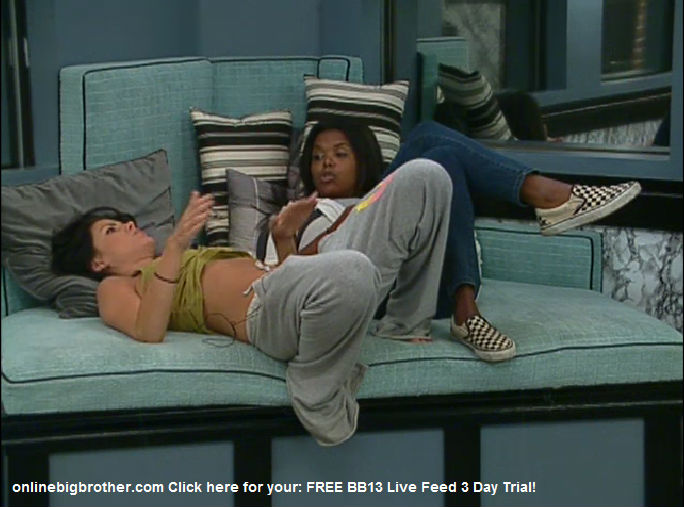 12:50pm Up in the HOH room Jordan and Jeff are awake. Jeff says to be honest if she doesn't win the Veto …I don't even care. Right then Big Brother cuts the live feeds to the TRIVIA screen… looks like the Power of Veto competition is finally happening…
WATCH all DRAMA unfold LIVE on SuperPass! FREE 3 Day TRIAL
1:45pm Still TRIVIA..
2:30pm TRIVIA continues..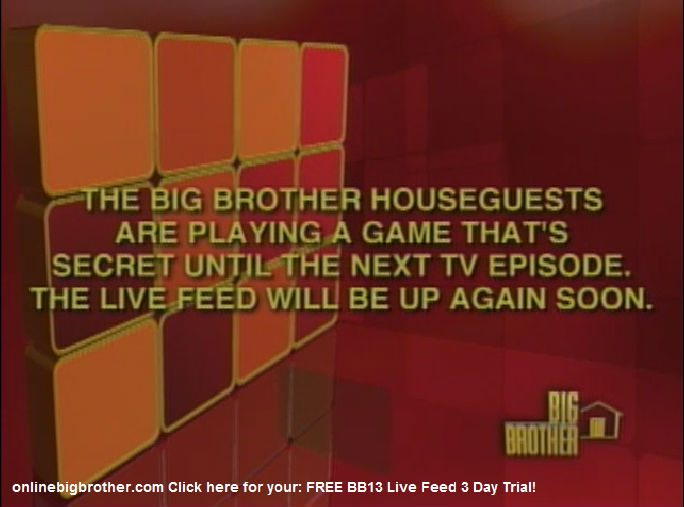 Big Brother 13 Spoilers POLL CAST your VOTE!

Big Brother 13 Live Feed Image Gallery
Follow: @BigBspoilers and @Dawgsbigbrother on Twitter for recent crazed out spoilers. Theres also our Facebook page.
Share it YO!!
Tweet