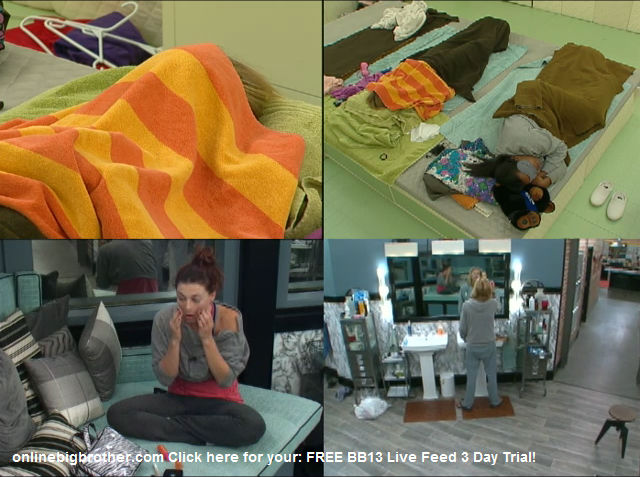 Watch the Big Brother 13 live feeds on your Android and iOS devices. Sign-up for the 3 Day Free Trial
7:30am Shelly wakes up and does her morning routine. 8:20am Big Brother wakes up the houseguests. When the live feeds come back, Porsche and Shelly are in the bathroom, Porsche is talking about how anxious she is about the POV competition. Shelly tells Porsche that there is nothing she can do but save herself. Rachel joins them and says don't worry ..I'll do a good job hosting for you! Meanwhile in the havenot room Dani and Kalia are talking about how uncomfortable the havenot room is to sleep in. Back in the bathroom, Rachel asks Shelly if she is excited about playing in the POV. Shelly says yeah! Dani joins them. Shelly says once again …my prediction was right … the veto was not at night like I predicted. Dani laughs. Rachel says that she thought it would be a night veto until they gave us wine. Diary room leak: Rachel goes into the diary room yelling hey hey hey!! Production asks her how she is doing? Rachel says Oh you know ..just hanging out in the big brother house! Shelly and Dani are still in the bathroom talking about how horrible Rachel behaves and how she will learn once again once she gets out. Shelly says good luck getting a job (Rachel) because it ain't going to happen.
Sign-up NOW and watch the houseguests live!
Click here for your: SUPERPASS – 3 DAY Trial!

9:10am All four camera switch to the HaveNot room where Kalia and Porsche are talking. Kalia says that Shelly and Adam aren't in Jeff and Jordan's camp as much as they think they are… Kalia says that Dani thinks she is going to get back doored. Porsche says that she would have felt really bad if Dani had been nominated right away because she is on her period, its her birthday … Kalia says that it's even worse to be back doored. Porsche says yeah. Kalia says unless you or I are the targets and that it's the same either way. Porsche says best case scenario … Dani wins the veto …takes me off … Adam is put up next to you ..and you have me, Dani, and Shelly to vote for you..
9:20am – 9:45am Dani and Shelly are in the kitchen talking. Dani tells Shelly how Adam told her that he flicks his buggers on the ground. Shelly says that is disgusting! Dani says that she checked her swiffer pants and told him he was lucky that she didn't find any of his buggers on them. Dani says that your best friend (Rachel) is pissed that she isn't playing in the veto. Dani says that Adam said that he wishes he wasn't even playing. Dani says that Porsche ate 12 eggs yesterday.. and that Kalia had 5. Shelly says that it's bad for Porsche because she is so used to eating and snacking all the time. Dani says that this is only day one ..and she already hates slop. Rachel joins them in the kitchen. Rachel asks Shelly if she wants to play cards? Shelly says oh god no…I'm not even awake yet. Shelly asks if she thinks the POV will be early? Rachel says yeah ..otherwise they wouldn't have woken us up early. Shelly leaves. Rachel asks Dani …do you think we could talk later this week? Dani says yeah. Porsche joins them in the kitchen ..she talks about beating her 12 egg record… Porsche says she is going for the gold! Adam comes into the kitchen and Shelly says we need to talk …we got a problem bugger boy. Adam says what?! ..what are you telling them! Adam says you heard it wrong ..in the morning I wake up with dry buggies and rub them off ..then go into the bathroom and really dig with the toilet paper. Adam gets after Dani for telling stories. Dani says she is number 6 on Adams list of things he likes now.
TRY the Live Feeds for FREE!
Click here for your: SUPERPASS – 3 DAY Trial!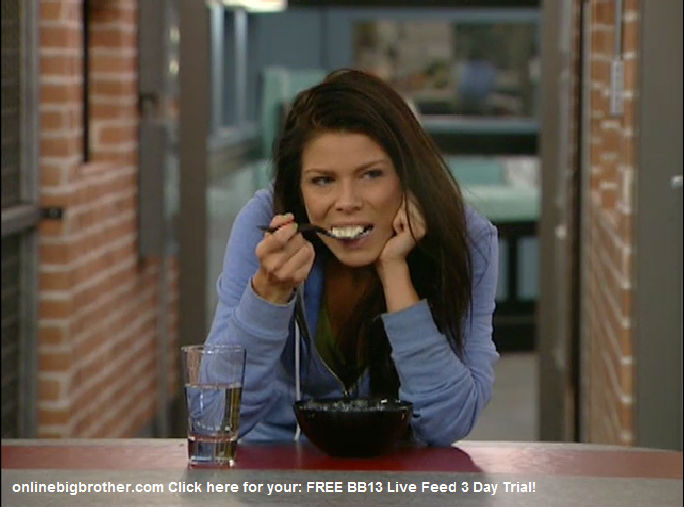 10am – 10:45am Shelly says that Rachel reminds her of the little girl at school that no one wants to play with. Jeff joins them in the kitchen. Adam talking about how Rachel wanted him to play card … Adam asks Jeff if he wants to play cards. Jeff asks who are you talking about… Jeff says oh never mind I know. Jeff gets annoyed with Shelly and Adam thinking they have been targets before .. Jeff says there is a difference between being a pawn and being a target. Jeff heads back up stairs. Shelly and Adam discuss what type of POV competition it might be .. Shelly says that they have been building it for 9 hours now. Adam heads back to bed. All four cameras switch to the candy room where Adam and Rachel are talking about what the POV competition might be. Porsche joins them and talks about how she played in the re-enactment of a America's most wanted video trying to catch a rapist. Rachel tells Adam and she swore last night when Jordan got to take off her humilitard and we picked players that… big brother cuts the feeds. When they come back …Rachel is saying that she just wishes she could play …she like to play in everything. Adam says that it was a little messed up that Jeff got to pick the havenots and they didn't get to fight for it. Rachel says thats part of the game mixing things up. Rachel says that Dani and Porsche had to expect they would be havenots. Adam says okay big brother ..either call me into the diary room or lets get this show on the road before it gets too hot out there. Adam and Rachel lay in silence.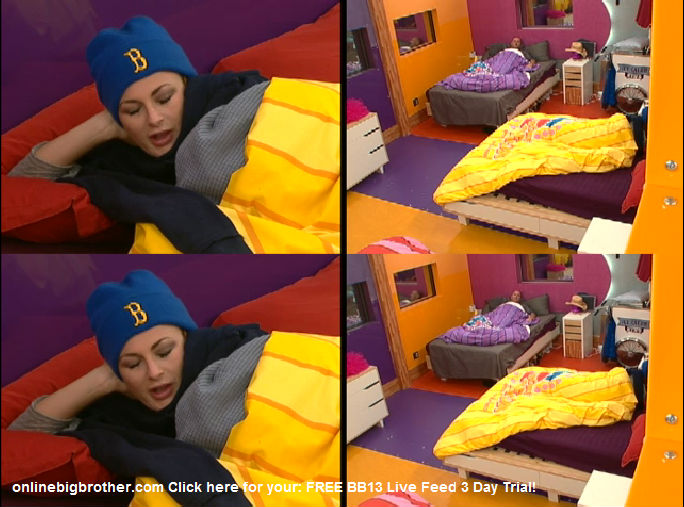 10:45am – 11:15amShelly, Dani and Porsche are in the kitchen talking about random things. Porsche and Dani tell Shelly that they appreciate her cleaning the house. Shelly says that she though Dani should have a clean shitter while she is down here with the peasants. They talk about someone peeing all over the seat and finding a puddle on the floor. Porsche goes to the sliding door to listen and Big Brother yells at her to knock it off!! Dani and Porsche go into the havenot room to lay down. Dani says rip off my vagina ..it hurts!!! Dani starts whispering with out her mic about winning the veto. Dani says if she wins veto and takes off Porsche or Kalia off Jeff might put up Adam. Dani says that she doesn't think they would put up Shelly ..they would put up Adam. Porsche says that she doesn't think Jeff would get rid of the only other guy. Dani says yeah because he thinks he could beat all of us girls. Porsche says if it gets down to the end of the veto competition and she throws it to Dani then Dani should take her off of the block. Porsche says but if Kalia throws it to Dani then Dani should take her off the block. Dani says she has a really strong feeling it would be Adam going up as the replacement.. Jeff wouldn't want to break what they have with Shelly. Porsche says that she is trying to ass kiss .. but that her body doesn't allow it.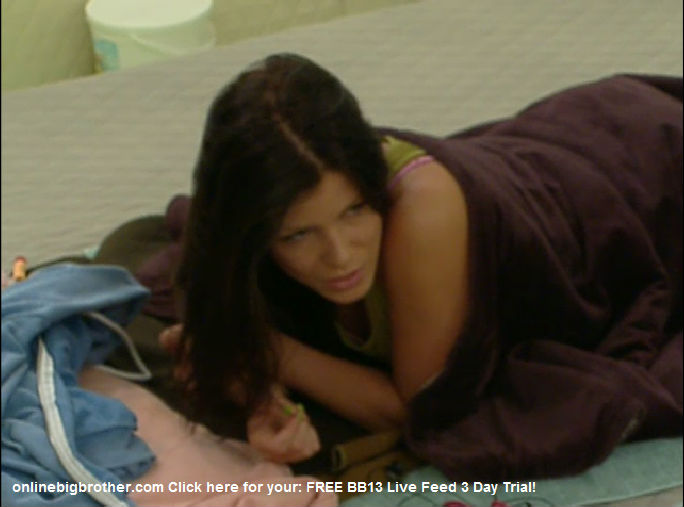 If you like this site and want to help us keep it running please consider donating, Your donations go directly to paying the server and bandwidth fees. Donate Link
WATCH the houseguests LIVE on SuperPass!
Click here for your: FREE 3 Day TRIAL!
Big Brother 13 Spoilers POLL CAST your VOTE!

Big Brother 13 Live Feed Image Gallery
Follow: @BigBspoilers and @Dawgsbigbrother on Twitter for recent crazed out spoilers. Theres also our Facebook page.
Share it YO!!
Tweet