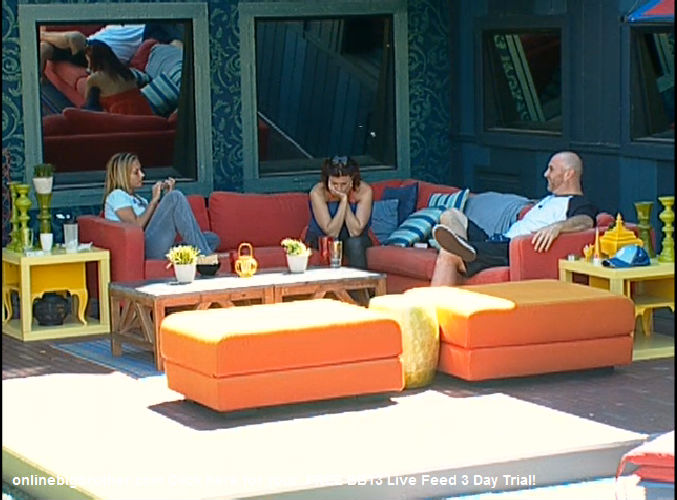 Watch the Big Brother 13 live feeds on your Android and iOS devices. Sign-up for the 3 Day Free Trial
1:50am – 2:15pm Out in the backyard, Adam, Rachel and Porsche are talking how many weeks are left. Adam says that there are 23/24 days left… or three weeks and few days. Adam says that he is going to need to set up cameras in his bedroom …just to feel normal when he gets out. Adam says that he is so used to changing his batteries in the morning now. They talk about the wake up songs. They talk about how they are excited about Vegas. Adam says that he is just really excited to meet other people ..other houseguests. Porsche says she hopes there will be a party here. Adam says that he was trying to set something up from inside. Adam jokes that he will be on the do not let in list. Porsche says did you vote to evict my daughter… you are not allowed in. Adam says now thats a good argument. This hole time Rachel has been sitting in silence with her head in her hands. Rachel leaves. Porsche says there is definitely a cast party after here… and she (Rachel) is never going to be invited. Porsche tells Adam that Jordan and Kalia will never put each other. Adam says that he hates when people do that. Porsche says that he and Rachel have a no put up deal too. Rachel comes back outside. Rachel asks if Adam and Porsche this experience is what they thought it would be. Rachel gets called to the diary room.
WATCH all DRAMA unfold LIVE on SuperPass! FREE 3 Day TRIAL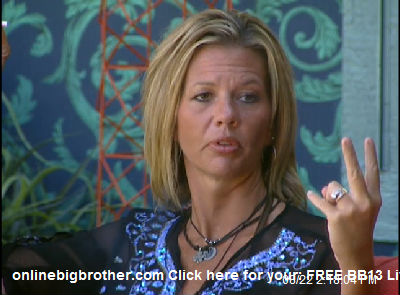 2:20pm – 2:30pm Porsche says that I am not a floater… I was on one ship and I jumped to another. Adam says that he wasn't saying she was. Shelly comes out and joins them. Adam gets Shelly to go spray the hammock because it stinks. Shelly says that Lawon used to sweat on it all the time. Adam says that Kalia is playing week to week ..and Dani is playing to win. Adam tells Porsche that he told Jeff to not put up Porsche and you weren't the target. Porsche says that she plays dumb because it works for her… she says that she came into the house and saw all the aggressive people and didn't want to jump in that pond. Shelly comes back out. Shelly asks what side Porsche is on. Porsche says that she is with the newbies. Shelly asks Adam and Porsche who they are voting out this week. Adam says Dani. Porshce says Kalia. Shelly says that she thinks they need to keep Dani and here is why ….this conversation doesn't go anywhere …or I WILL BLOW UP… Shelly says that she loves and adores Jeff and Jordan but this is a game. Shelly says that if Jeff and Jordan make it all the way to the end and they win. Porsche says that she knows Jeff and Jordan won't vote out Rachel. Shelly says they won't vote her out until 4 or 5 people are left. Shelly says if we vote to keep Dani then we flip the house and we have the numbers. Shelly tells them that they need to think about what their chances are with Dani vs Kalia. Jeff comes outside and the conversation ends. They talk about random stuff. Shelly then heads out into the yard to lay out. Jeff goes back inside.
FLASHBACK – Don't miss all the drama!
Superpass – 3 Day FREE Trial
If you like this site and want to help us keep it running please consider donating, Your donations go directly to paying the server and bandwidth fees. Donate Link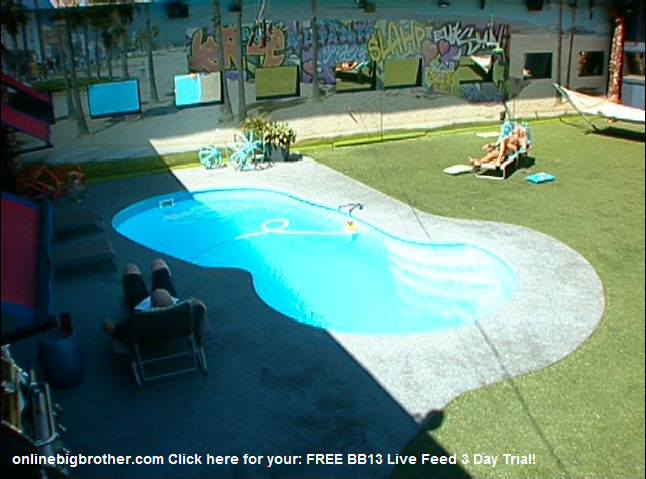 2:30pm Adam and Shelly are sitting on opposite sides of the pool in lounge chairs. Shelly tells Adam that they really need to think about what they are going to do. Adam says yeah. Shelly says that she really wishes she knew we were going to win HOH this week …that would make things a lot easier. Adam says it sure would. Shelly then starts counting the votes to herself..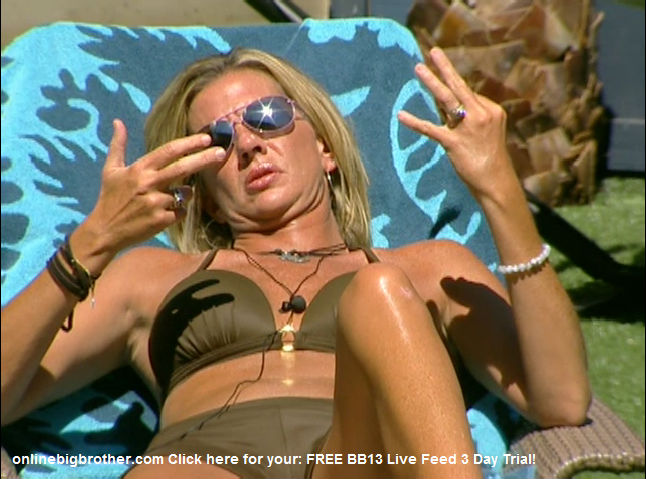 2:35pm – 2:45pm Shelly then comes over to Adam and tells him not to stress about things. Shelly says that we can't win against Jeff and Jordan …we need to break them up. In a perfect world I want Dani out too … however if we make a deal with Dani ..that she wont ever put us up ..she wins competitions. Adam says that he just doesn't think he can trust Dani. Shelly says she loves you a lot. Adam says that for a number of reasons why he doesn't trust Dani … that she tells partial truths ..and that Jeff and Jordan tell him the truth straight up. Shelly questions how it plays out then if they keep Kalia. Adam says that then this week is the only week to get out Jeff. Shelly says that Rachel, Jeff and Jordan are already concerned that you have flipped. Adam says that all we need are three votes. Adam and Shelly go through the votes. Shelly tells Adam that everyone in the house plans on getting Adam out before the questions competition. Shelly asks if Adam would be willing to sit down all three of us ..you, me and Dani …to see what deal she can offer us. Adam says no ..he is really nervous and will talk to her himself. Shelly asks so when do we split up Jeff and Jordan? Adam says he doesn't know. Adam says that he knows this is the time …and that he has been thinking about it. Adam says that if we keep Kalia ..she will go after Rachel and Jeff next week. Shelly says that we still have more number if we go the other way. Shelly says that Rachel won't protect us.
FLASHBACK – Don't miss all the drama!
Superpass – 3 Day FREE Trial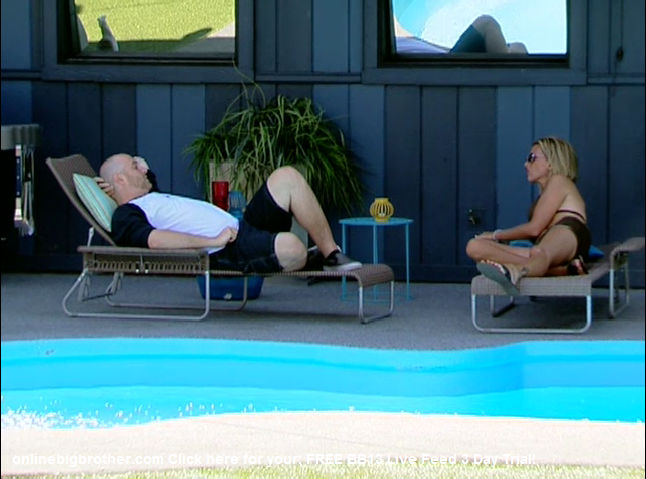 Big Brother 13 Live Feed Image Gallery
Follow: @BigBspoilers and @Dawgsbigbrother on Twitter for recent crazed out spoilers. Theres also our Facebook page.
Big Brother 13 Spoilers POLL CAST your VOTE!


Share it YO!!
Tweet