If you like this site and want to help us keep it running please consider donating, Your donations go directly to paying the server and bandwidth fees. Donate Link
3:00pm Adam and Jeff Pool Adam saying that Dani is not going to go without a fight. Jeff just doesn't see how it will help her int he game. Adam asks if Dani has talked to Jeff yet. Jeff says he hasn't talked since the POV ceremony. Adam attaches lips to Jeff's butt says that Jeff's Speeches are some of the best of the season, Adam likes how JEff mixes humour when he's making big game moves.
Jeff says that Dani is going to start one big fight this week and it'll include everybody. Adam says he's objective this week is to avoid the bitch fest that is coming. Adam mentions the shit dani has been telling him about how he was the target when him and Dom were up. Jeff says Dani talks so much shit to everyone right now he doesn't think Adam should bother listening to her. Adam reassures him he's not listening to Dani. He doesn't trust her, nor does he think he staying in the game is a good thing for him.
3:38pm Kitchen Shelly and Kalia Kalia saying that Jeff wants Dani gone this week so Jordan and Rachel will be voting dani out. Shelly jokes about there being another women going into the Jury house to fool around with Brendon. Shelly says that Prosche has been saying it in front of Rachel and Rachel is starting to get pissed.
Kalia offers Shelly final 4 (KPAS) She points out that if they stick together they can make it. On Thursday they will have 4 people against Jordan and Rachel. Kalia thinks it'll be questions which basically mean Jordan won't win it.
Shelly says she talked to Adam about that already today but he's really attached to the way he's playing . (Surgically attached)
They head into the purple room.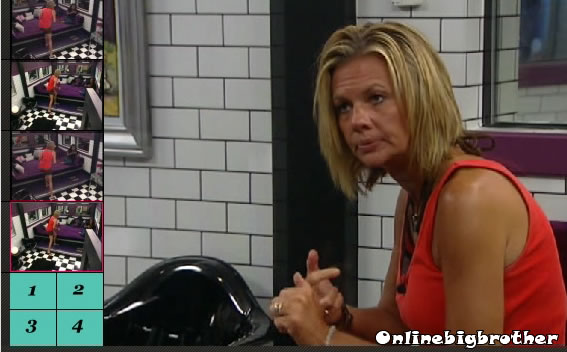 Shelly asks her where porsche is at. Kalia says that her and porsche are going to be together if Dani leaves. Shelly wants to know where Prosche is going to vote. Kalia doesn't know she will probably vote with the house. neither Dani nor Kalia will try and get a vote from Porsche.
Shelly says nobody is really talking right now.. it's still early she thinks in a day there will be more news.
Kalia says that they have to start thinking about the end game because if they are up against the vets they will not win the money. Shelly totally agrees, says Adam is enamored by JJ he probably doesn't care about winning. Shelly needs to approach Adam in a different way, but she also know that he's a super fan of the Vets. Kalia reiterates that if their 4 get together then they can win the Next HOH and take one Vet out.
Shelly: "all JJR have to do is make final 3 and they win the game". Kalia says right now they (JJRA) have the numbers but KPS have a very good chance to win the HOH.. Shelly mentions how good adam is at questions and dates. She adds they(JJ) want Adam out before they start hitting questions.. She needs to talk to him from another angle.
Shelly "I agree 1billion percent I really do.. what do we have to lose.. it's time to make a move"
Shelly get up to leave "Kalia we really can't let anyone know about this.. "
4:10pm Dani making a bowl of slop to eat.. Porsche and Rachel playing cards.
4:16pm Kalia and teddy Bear Kalia is talking game with Teddy they are going over their numbers if Dani goes home this week. Kalia starts thinking about try to cut a deal with Rachel or JJ if she has to later in the game. Teddy thinks her chances of slim unless she wins HOH. Kalia mutter something about having to get Jeff out this coming week and maybe Rachel can be talked to.
4:23pm Havenots Porches and Kalia Kalia asks her how close is she with adam. Porsche: "kinda close.. he's acting really weird today though… talking a lot to Rachel. kalia says Jeff is running around the house saying how good his word is but Dani followed threw on 2 of her deals and he never followed threw with his.
Kalia: "every week i feel like i'm trying to flip a house but all these people want to just ride .. It's the house of Jeff".
Porsche: "it'll be funny when I win HOH.. Rachel Jeff you are up.. Kalia told me to"
Kalia was was originally thinking we need to break JJ up. Now she's thinking that Jordan is useless at comps and if she gets to double eviction she won't be that big of a threat.. Kalia says if Adam doesn't commit to a side by Thursday and she wins HOH she's putting up Jeff and Adam and if POV is played then Jordan goes up. POrsche asks who goes home. Kalia: "Adam should go home". (Kalia talks back and worth about splitting up JJ up and getting Adam out). Porsche thinks that Rachel and JEff should go up and if POV is played Jordan goes up. Kalia says the thing with Adam is he cannot win final 3 with Jeff and Jordan. They have to drill that into his head.
Check out the Big Brother 13 Polls
Share it YO!!
Tweet