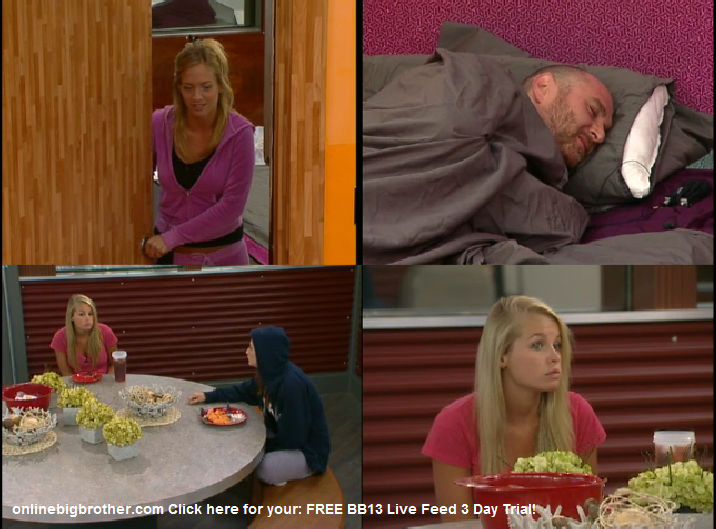 Watch the Big Brother 13 live feeds on your Android and iOS devices.
Sign-up for the 3 Day Free Trial
10:50am Jordan tells Rachel that you know what I just figured out .. if you and I leave … you, me , Jeff and Brendon decide the votes and no one else matters. Rachel says oh I know.. I thought about that a bunch. Jordan says that at least its not going to someone who sleeps all day. Right then Porsche comes down from the HOH room. Porsche asks if they are ready for picture day. Rachel says yay! Rachel asks if Porsche is still going to crave sexy back into Adam's back hair. Porsche goes to wake up Adam to tell him to come to the bathroom so she can shave his back. Adam says no. Meanwhile in the kitchen, Rachel and Jordan talk about how they are by themselves. They continue to study the memory wall photos. Jordan says at this point ..if you don't think Adam is good ..or with us ..then we will do what you want to do. Jordan says that if Shelly is up there with you … it is like asking you to get evicted. Rachel and Jordan go out to talk to Shelly and says if you were to stay .. you need to swear to god that you wouldn't go against us. Rachel explains that we don't trust you and we are just afraid you would come after me. Shelly says that she will swear in front of god and America as my witness that I will not evict you or go against you … I would be the BIGGEST ******* LOSER … and if I did that I deserve to lose my job. Porsche comes out and interrupts the conversation.
TRY the Live Feeds for FREE!
Click here for your: SUPERPASS – 3 DAY Trial!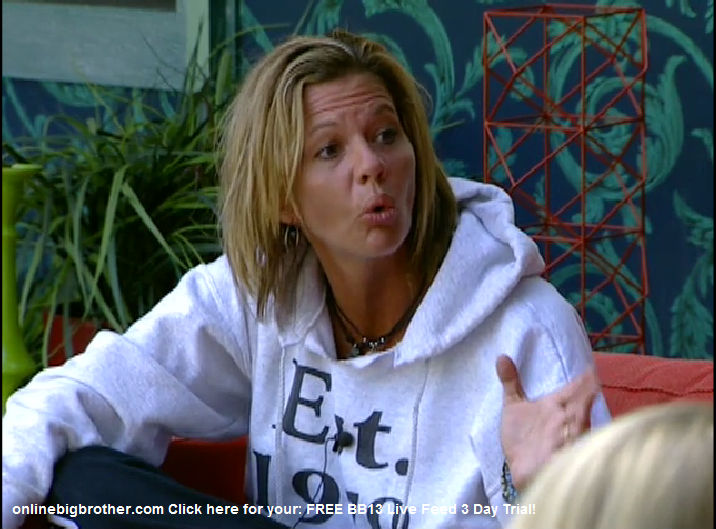 Shelly tells Jordan that she hurt her incredibly and their alliance. Shelly says that I know you two are together and that I am playing for third. Shelly says that yesterday I felt that you were honest to me about everything… and Jordan you have never lied to me … and after that I felt so much better … Shelly says that at the point I got the truth from you …I put the dog under your pillow. I felt good after yesterday …and I have a lot to make up in this game to you and Jordan. Shelly says that I will not put you up. Rachel says that we need someone who will not play sides. Jordan says that you and Adam have played sides. Shelly says that in her speech she will tell everyone that she will have their (Jordan and Rachel) back for the entire rest of the game …I will make it clear that I will not turn on you. Jordan says that right now they (Kalia and Porsche) won't even talk to you because they think you are going home. They discuss how the double eviction voting and prior discussion went down. Shelly says that she knows she hurt Jordan and she feels really bad. Jordan says what if it comes down to it and you vote out Rachel if she is on the block because it's an easy decision. Jordan talks about how worried she is about not being able to trust Shelly. They asks Shelly why she was so happy during the HOH competition. Shelly says because she knew she was going up and that they only hope was for them to win. Jordan asks if she made a final four deal with them … Shelly says no… I don't want Kalia or Porsche to win. Shelly says that this is a personal situation now between us. Jordan says we just have a few more weeks and we need someone we can trust. Jordan and Rachel both say that they would rather have Dani to have won than them. Rachel asks Shelly if she can have a minute with Jordan. Shelly stands up and tells them that after this game she will do anything for them for life … I am not going to BLANK YOU AGAIN! Jordan says I want someone to go to the end with Rachel …if I go home and vice versa. Shelly says that she does not want to be with them. I won't… I will not vote you out Rachel .. I will not vote you out Jordan. Jordan asks if Shelly ever threw competitions. Shelly says that she only voluntarily dropped off the banana competition.
FLASHBACK – Don't miss all the drama!
Superpass – 3 Day FREE Trial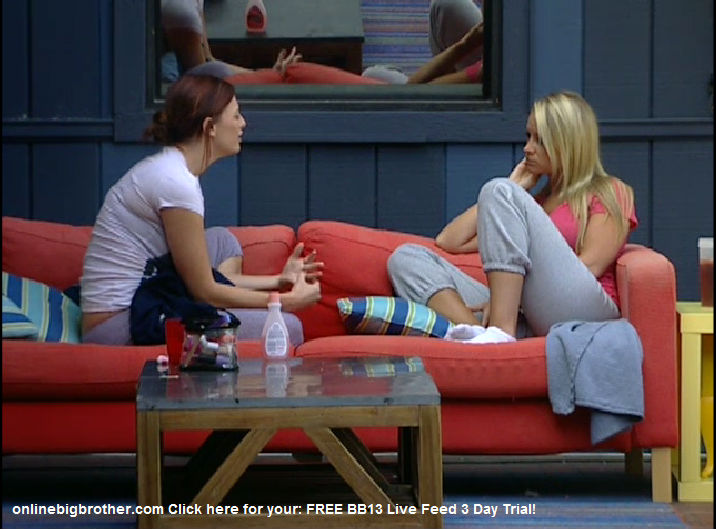 11:30am – 11:55am Jordan says that she lied about the robot …she told me that she lied …she must have forgot. Rachel says that she doesn't trust Adam at this point… Rachel says that the argument to keep Shelly is that Kalia and Porsche do not like Shelly. Rachel says that Adam has been staying up with them all night. Rachel says that we are in a really bad situation.. its really a situation of which is the lesser of two evils. Rachel says that Kalia thinks she has already won. Rachel says if we just look at logic in this game. Rachel goes through the votes from each eviction. Rachel wonders when it was that Adam first decided to keep her. Porsche comes out. Jordan tells her that they are thinking of keeping Shelly … well maybe.. Porsche says well don't think about it too hard .. whoever is left we will get out next week. Porsche says whatever if the four of us are still working together …then it doesn't matter. Porsche heads back inside. Rachel says the only reason why I would want to keep Shelly is because they hate her .. and because they are trying to make deals Adam. Rachel says now they will try and make deals with Shelly. They continue to go over the pros and cons of keeping Shelly vs Adam. Jordan is really nervous now about how Shelly just lied to her face. Adam comes out and they tell him that they were talking to Shelly. And that they told Porsche the they are thinking of keeping Shelly and Porsche said whatever it doesn't matter. Jordan asks why do they feel so they feel so safe with you. Adam says because they think I can work with them and that I am better at beating you. Jordan tells Adam that they don't need someone who is nervous about working with us. Adam says I know. Kalia tries to come out into the backyard.. and gets pissy when they tell her they want to talk to Adam alone. Rachel explains that Kalia making a final two deal with you is ridiculous because there are still five people in the game. They talk about how they don't want someone who sleeps all day to win. Jordan says that keeping Rachel in here next to you is a bigger target. Adam says that he could have gotten Rachel out over Lawon but I didn't. Jordan and Adam explain that we have the votes in the jury and if you go with us …we will award it to you over them. Rachel tells Adam that he has just as good of a chance to win against Jordan or me. Adam says that he knows Kalia and Porsche just used and manipulated him and that he hated that .. Adam says that they know I am an emotional person and they feed on that… Rachel says and they will probably take each other. Rachel says that we aren't promising you final two ..we are promising you final three and a fair fight.
WATCH all DRAMA unfold LIVE on SuperPass! FREE 3 Day TRIAL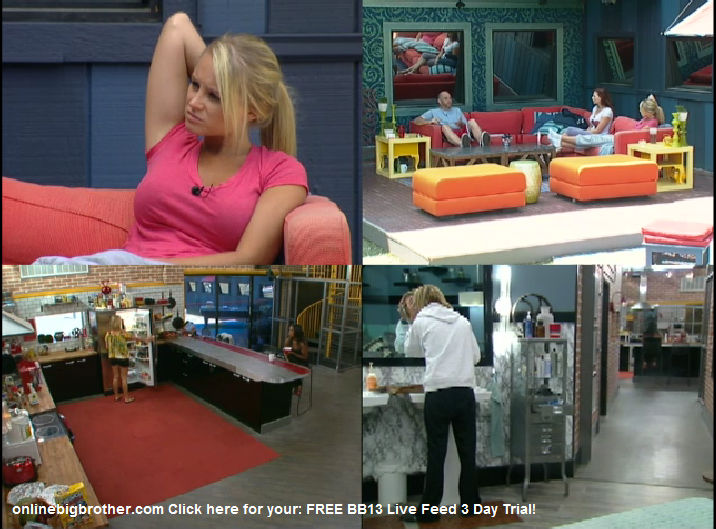 11:55am – 12pm Meanwhile in the kitchen, Kalia and Porsche are pissed that all the game talk is happening and that they are worried about what is going to happen. Kalia is pissed that she can't go out into the backyard. Kalia says that she feels it's Rachel who is calling Shelly and Adam in to campaign because she is the new captain of the ship. Porsche says that she hopes that their newbie deal is still good. Kalia is pissed because she feels she has kept all the deals that she's made and it's too bad others don't do the same thing.
12pm Jordan and Rachel says that you can get through this game without lying. Adam says you do have to tell some fibs. Adam says that he thanks them for talking to him. Adam says that he really wants to call Shelly out. Jordan and Rachel tell him not to do that. Adam says that she is offering you everything …and she has nothing to offer.. Adam says that she throws competitions and then cries that she loses competitions.. Adam says don't cry about it when you throw competition. Adam tells them to do what they think is best and that what's best is that you keep me and I will get those BLANKs out. They end their conversation. Jordan goes to tell Kalia they can come out side now they are done talking.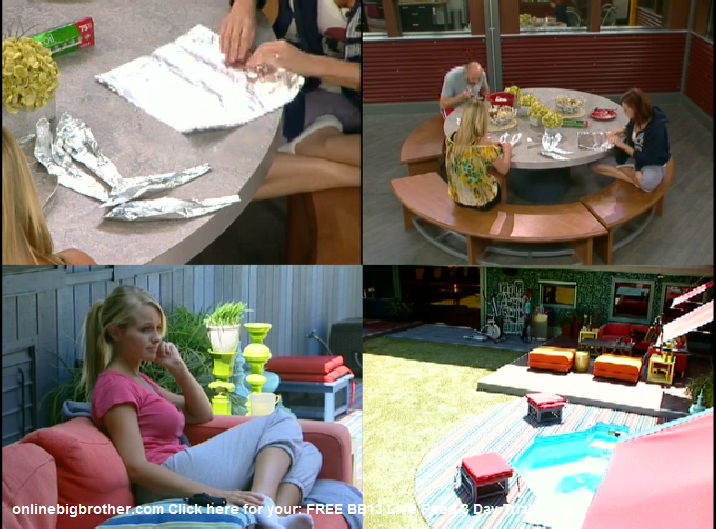 12:25pm Porsche and Rachel are in the kitchen making bunny ears out of tin foil, while Adam eats at the table. Adam says that they need to be a little longer. Porsche says that's what she said. Porsche says its not the size of the pipe that counts its the motion of the ocean. Jordan, Kalia and Shelly are out in the backyard talking about drinking, food and other random stuff.
If you like this site and want to help us keep it running please consider donating, Your donations go directly to paying the server and bandwidth fees. Donate Link

Big Brother 13 Live Feed Image Gallery
Follow: @BigBspoilers and @Dawgsbigbrother on Twitter for recent crazed out spoilers. Theres also our Facebook page.
Big Brother 13 Spoilers POLL CAST your VOTE!