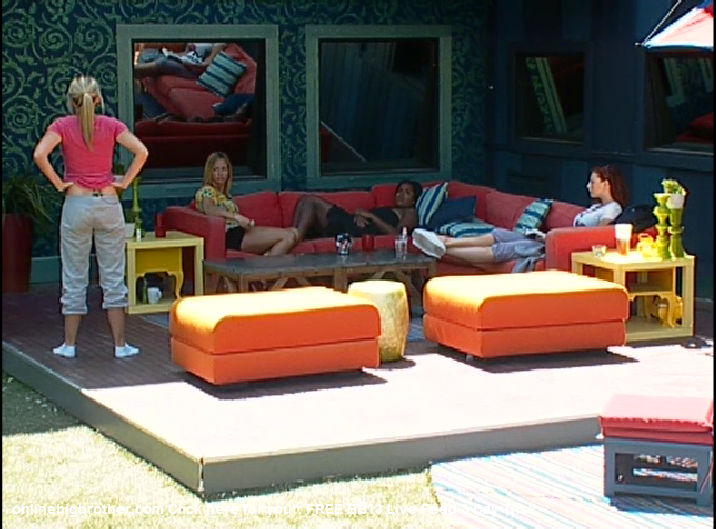 Watch the Big Brother 13 live feeds on your Android and iOS devices.
Sign-up for the 3 Day Free Trial
12:40pm – 1pm Jordan, Rachel, Kalia and Porsche are talking about the votes. Kalia is telling Jordan and Rachel that she is worried about how they are talking and scheming with Adam and Shelly a lot lately and that she thought they were all on the same page with voting out Shelly. Kalia says if we really have a final four deal.. then it doesn't matter who goes this week Rachel says that both her and Jordan haven't made up their minds about what they are doing and that they may not even vote together. Kalia says oh ..I just assumed you would. Kalia says that she doesn't understand why no one has felt the need to ask about her vote. Jordan says that if no one is campaigning to you ..then I assume they are working with you. Kalia says that they think my vote is worthless. Jordan tells Kalia and Porsche that we've been on opposite sides of the house …you're either with us or not. Kalia says that there is no guarantee that whoever stays will work with them. Jordan says that she thinks they will get rid of Rachel then her. Adam and Shelly come out into the backyard. They all start talking about and remembering past houseguests and the beginning of the game. They start asking Rachel about her season and how Brendon and Rachel met.
WATCH all DRAMA unfold LIVE on SuperPass! FREE 3 Day TRIAL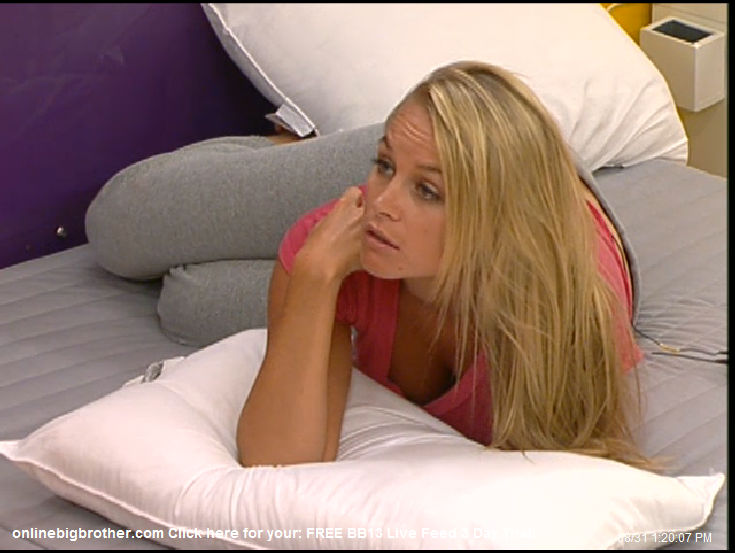 1:20pm Jordan and Adam are in the bedroom talking. Adam says that when he shakes on something it is for real. Jordan tells Adam about her discussion with Kalia about how if they win she can't trust that if they win they won't try to get rid of Rachel. Jordan tells Adam that she can't keep Shelly .. I can't get burned again. Adam tells Jordan thank you, thank you so much ..and thank you for being the person you are …I owe it to you as well. Adam tells Jordan that she has always been true and honest with him. Adam says that he is good with Rachel too.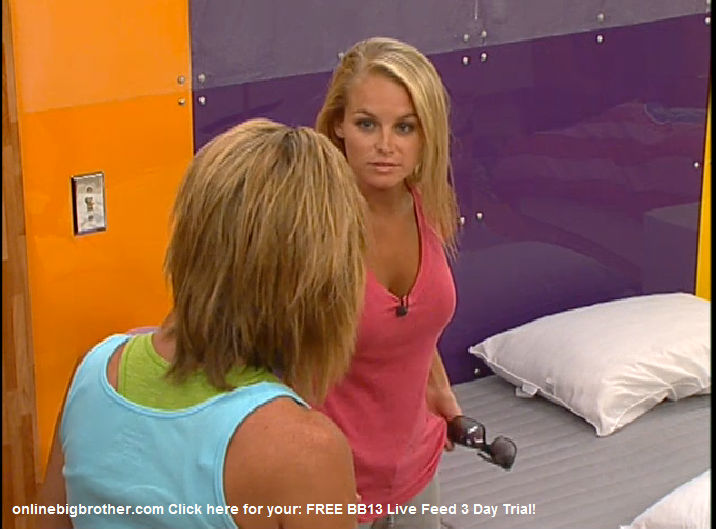 1:35pm Jordan and Shelly are in the bedroom talking. Shelly tells Jordan that she will never hurt her again and that she can trust her. Shelly says that she can see the disappointment in her eyes. Jordan says that she put Shelly way up here like how she felt she could trust Jeff and that all went away. Shelly says that no matter what happens if you vote me out or not I want us to be okay. Jordan says that we will be. Jordan says that we had your back the whole time ..and you will see that .. Jordan and Shelly leave the room and head back out with the others taking HOH photos. Outside Jordan tells Shelly that after finale night everything between everyone is done …I am not holding on to anything.. Shelly says good.
1:40pm – 2:20pm HOH photo time. All the houseguests are going around the house taking photos. They take one of Adam doing a cannon ball into the pool. Kalia and Rachel start playing a card game out on the backyard couches. Porsche and Kalia look through the photos on the camera. They Porsche joins their card game.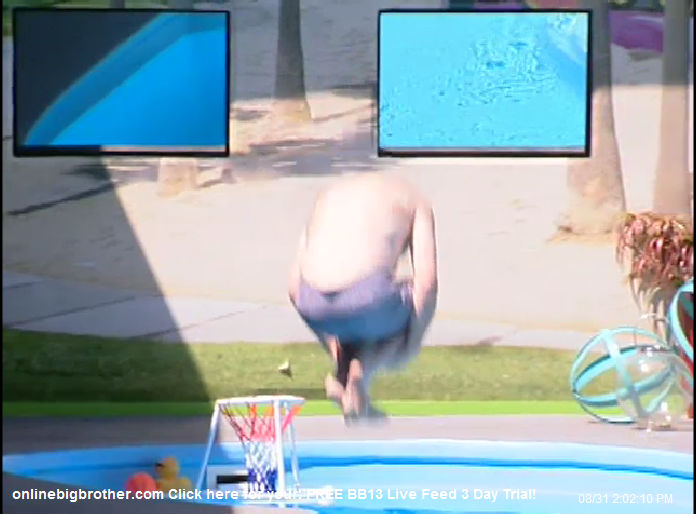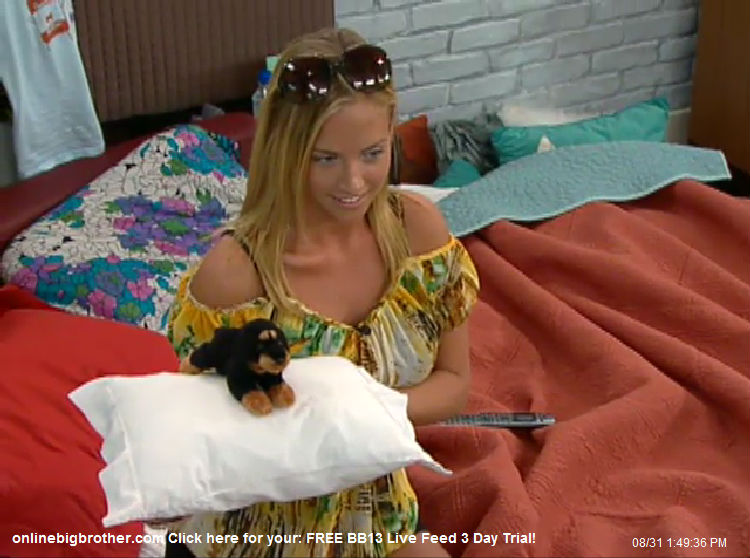 2:20pm – 2:45pm Jordan heads out into the backyard to workout. Shelly is suntanning. Adam, Kalia and Rachel are playing a card game. The card game ends and they stop playing. Jordan is doing laps around the backyard. Rachel and Adam are in the bathroom. Rachel is changing. Adam takes a shower. Adam says thank you …thank you ..thank you once again. Rachel says yeah and if you BLANK us over … Adam says I would not just be BLANK you over I would be BLANK your boyfriends over too. Rachel says yeah. Rachel joins Jordan as they walk around the backyard. Rachel and Jordan talk about what to make for dinner.
If you like this site and want to help us keep it running please consider donating, Your donations go directly to paying the server and bandwidth fees. Donate Link

Big Brother 13 Live Feed Image Gallery
Follow: @BigBspoilers and @Dawgsbigbrother on Twitter for recent crazed out spoilers. Theres also our Facebook page.
Big Brother 13 Spoilers POLL CAST your VOTE!

Share it YO!!
Tweet