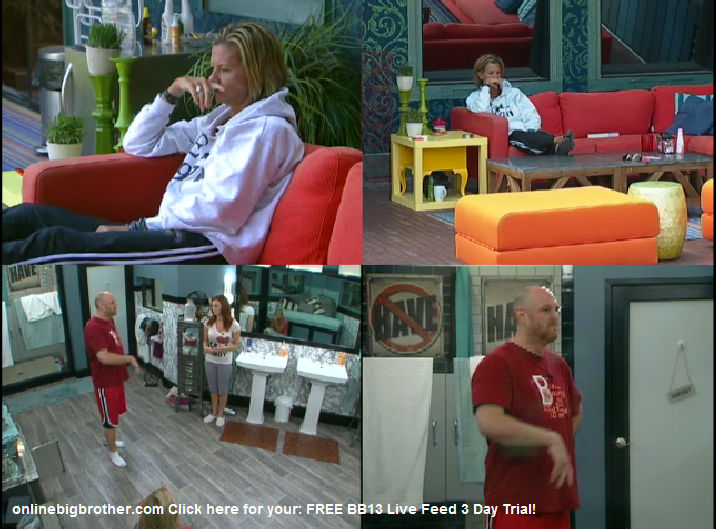 Watch the Big Brother 13 live feeds on your Android and iOS devices.
Sign-up for the 3 Day Free Trial
10:05am When the live feeds come back, Rachel and Adam are in the bathroom getting ready for the day. Adam says that he still feels like such a fool. Rachel says no. Adam says that outside the house he is such a nice guy and trusts people and feels like he was taken for a fool. Rachel says that we all have… look at last season with me and Britney taking baths together and then… you know.. Adam says yeah and heads out into the backyard. Jordan joins Rachel in the bathroom. Out in the backyard, Adam and Shelly talk about how it is day 61 in the house. Adam asks questions about Shelly's daughter. Adam and Shelly then talk about packing for tomorrows live eviction. Shelly asks so.. 14 days left? Adam says about that ..we're still not sure yet. Adam says that's insane. Adam says alright … laying back down. Shelly asks you're laying back down? Adam says yeah .. I thought I would work out but ..I'm tired.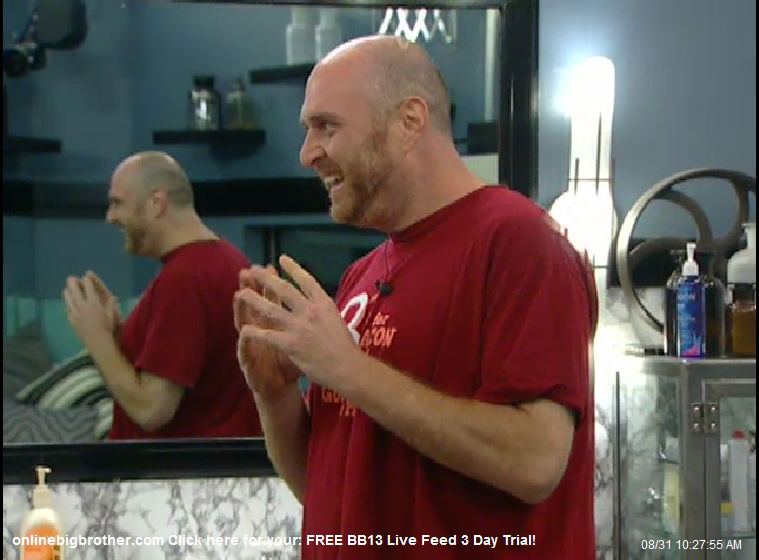 See What They Can't Show You On TV! SUPERPASS – 3 DAY Trial!
Adam goes to talk to Jordan in the bathroom about how he didn't sleep well and that he is just pissed off. Adam says that he is going to have to do something that is not true and honest …and he is going to have to lie to them (Kalia and Porsche). Adam says the thing that pissed me off about her (Shelly) is what I am going to have to do it to them. Adam says that he wanted to play the game as honest as possible. Jordan says its just a game and you have to do it some point. Jordan says but you're for sure with us. Adam says yes. Jordan says well don't scare me. Jordan asks do you want to win or do you want to be nice. Jordan says you have to lie. Adam says that Kalia and Porsche we telling him to tell the girls (Jordan and Rachel) whatever …and then BLANK them. Jordan says I am glad you told me that .. because now I am going to try even harder for HOH. Adam says that if he was working with them he wouldn't tell them what they are saying. Adam says that they want me to work with them. Jordan says that when it comes to it you can't be like I can't do it. Adam says no … he is sticking with the people that have been more honest with him from the beginning …and not the people that came to him a week before..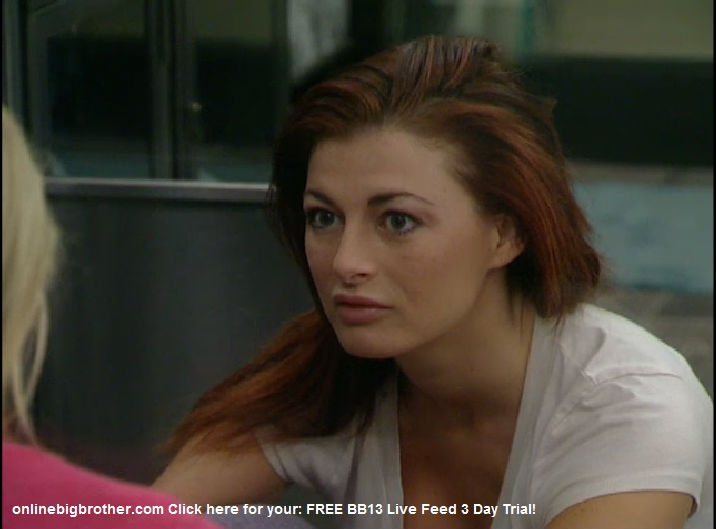 10:30am – 10:40am Rachel and Jordan are in the bathroom talking about how Kalia and Porsche think they have already won. Jordan says that if Kalia wins I will throw up. Jordan says that she is glad Adam told her that. Jordan talks about how her gut tells to get rid of Shelly. Rachel says well maybe we should tell Kalia that we are thinking of keeping Shelly …and see how fast they turn on Adam. Jordan says we can't let them win …all they do is sleep. Jordan says that Adam told us all that …and Shelly wouldn't have .. because she will go where ever the power is.. Jordan and Rachel try and figure out what the HOH competition might be .. Rachel then heads to the kitchen to make breakfast.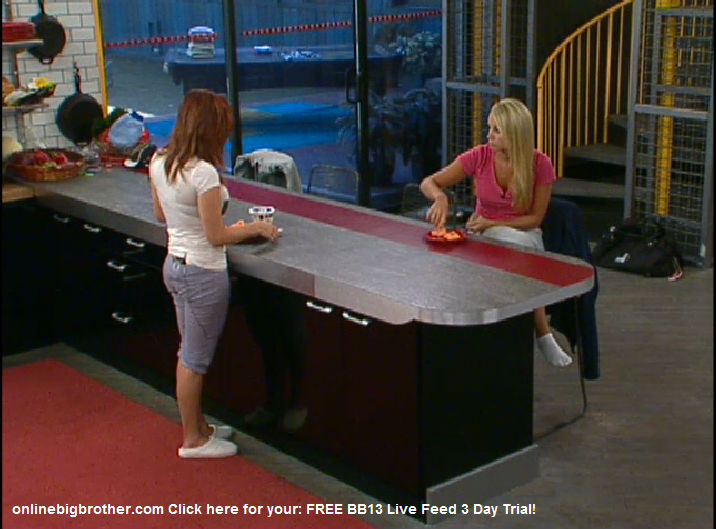 10:40am – 10:50am Rachel and Jordan are in the kitchen. Rachel says that if Dani had never gone with Kalia and Porsche …she would still be here with us and she wouldn't have been teaching them all that stuff and she doesn't get to reap any of the benefits. Rachel sits down to eat at the kitchen table to study the memory wall.. Jordan heads out into the backyard to do her laundry.
If you like this site and want to help us keep it running please consider donating, Your donations go directly to paying the server and bandwidth fees. Donate Link
WATCH all DRAMA unfold LIVE on SuperPass! FREE 3 Day TRIAL

Big Brother 13 Live Feed Image Gallery
Follow: @BigBspoilers and @Dawgsbigbrother on Twitter for recent crazed out spoilers. Theres also our Facebook page.
Big Brother 13 Spoilers POLL CAST your VOTE!