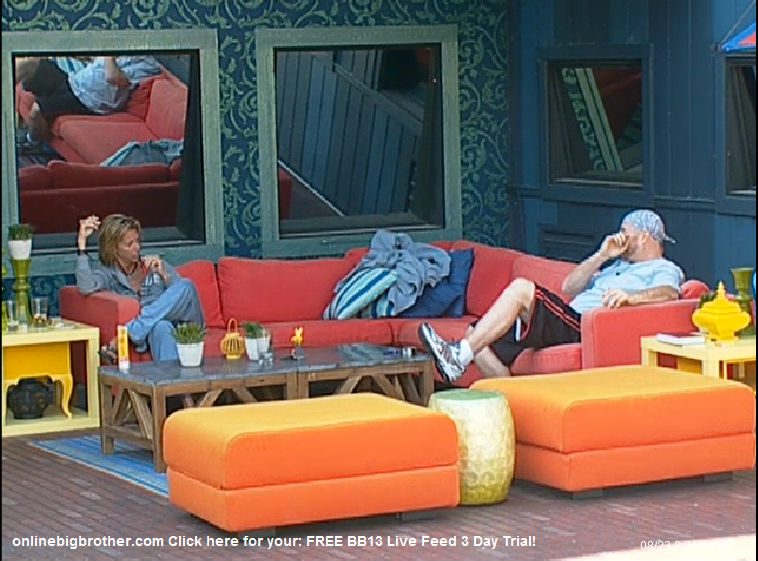 Watch the Big Brother 13 live feeds on your Android and iOS devices. Sign-up for the 3 Day Free Trial
9:20am – 9:40am Shelly and Adam are talking in the backyard. Shelly and Adam are in the backyard talking about keeping Dani. Shelly wants to make the big move. Adam wants to vote Dani out and win the next HOH. Adam says that his target is Rachel. Adam says that he thinks he can explain to Jeff that it will be okay because they still have the numbers and Jeff can play in the next HOH. Shelly says that she understands and says that Rachel is a human shield. Adam explains that this week it will come down to who win s the HOH .. because they will be the deciding vote. Shelly asks so your mind is pretty made up. Adam says yeah, I like the game move …but if Jordan wins HOH …then I am going up. This week is the deciding vote only needs 3 votes. Adam says also that Porsche can be swayed but that because Jeff took her off the block ..its more likely that they could sway her vote. Shelly says but they wouldn't know who's votes it was. Adam says yeah but then they won't trust either of us..
WATCH all DRAMA unfold LIVE on SuperPass! FREE 3 Day TRIAL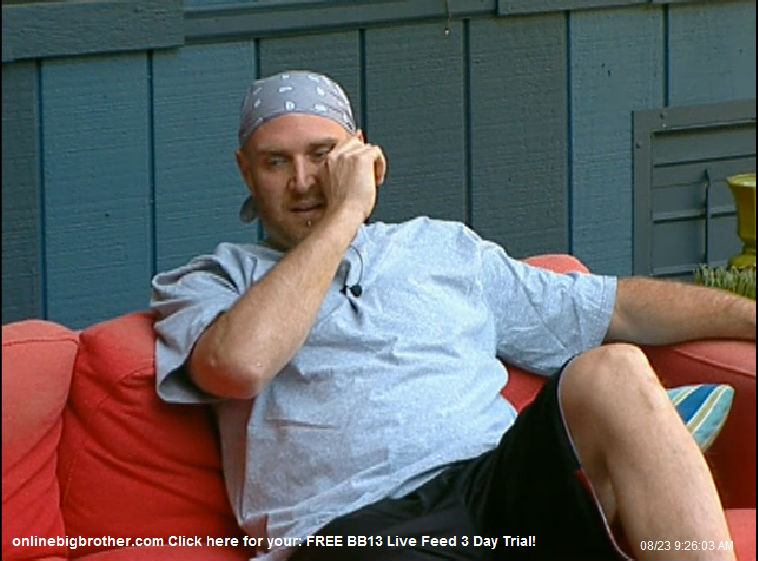 9:40am – 10:05am Rachel comes out into the backyard and the conversation ends. Rachel soon heads back inside. Adam says that at 6 or 4 people left you and I are going to have to earn it to get rid of Jeff. Shelly says but if you go home are you going to regret it? Adam says no ..before yes ..but now no. Shelly says you just have to realize that if you don't win ..you are going to be one of the next out. Adam says that he knows. Adam says that what bothers him about Dani is that she said she was the one that saved him from going on the block but then tells Jeff and Jordan that it was all Kalia's HOH. Shelly says she agrees thats what happened and understands why Adam is cautious about Dani. Rachel comes back outside and the conversation ends again. Shelly heads inside and then comes back out and her and Rachel talk about Brendon and then they talk about Shelly's husband and daughter. Shelly wonders what she can do to thank her husband Tony. Shelly says that she prays to god that her work doesn't send her on a trip somewhere when she gets out. The conversation changes to talking about LA. Rachel and Shelly discuss what this weeks HOH competition will be like. They both think it will be a questions competition like a true / false or something like that. Rachel hopes that it will be a physical question comp. They talk about how they haven't had a group havenot competition. Rachel says that she had a dream about them locking the havenot room. Shelly and Rachel talk about the bed situation. Shelly says to Rachel I don't know if I am allowed to say this but …you guys playing again this time …do you get a bigger stipend? Rachel says oh ..I wish! Big Brother then cuts the live feeds.. When the feeds come back, Rachel and Shelly talk about Brendon and his schooling.
Sign-up NOW and watch the houseguests live!
Click here for your: SUPERPASS – 3 DAY Trial!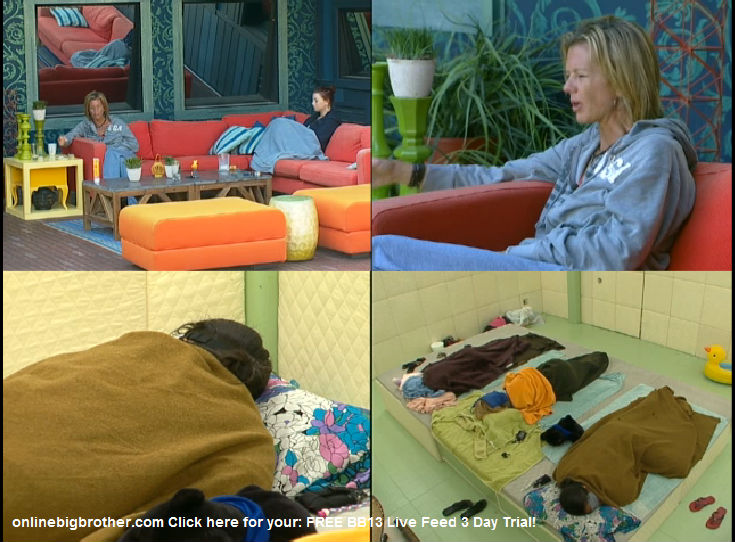 10:10am – 11am Shelly and Rachel continue to talk about random stuff. They are talking about Rachel's schooling and her sorority They compare their schools and sororities. Adam has a shower, then joins them in the backyard …he looks bored with their conversation, then heads inside to make breakfast. All the other houseguests are still sleeping..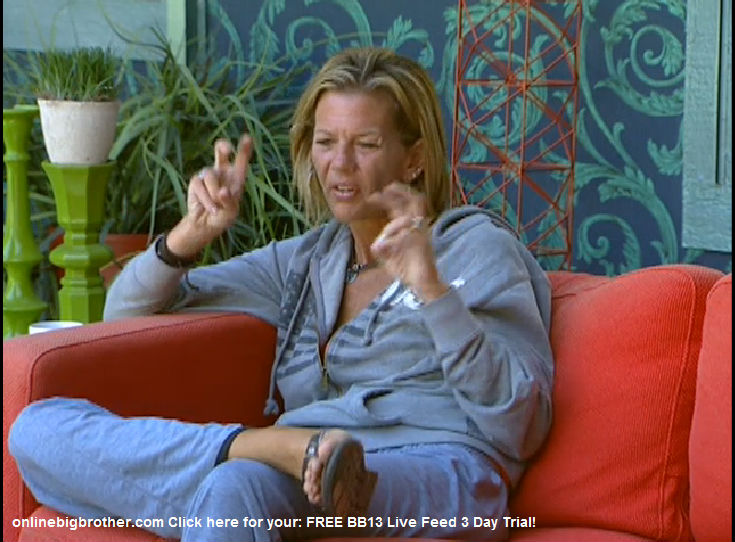 11am – 11:30am In the kitchen Adam is cooking breakfast. Shelly heads inside and tells Adam that its quiet in here. Adam says yup, everyone's still sleeping. Shelly says lazy bums. Shelly goes to the bathroom and then heads back outside. Shelly tells Rachel that she might as well put her bathing suit on and lay out …it's boring inside. Rachel asks if they are still sleeping. Shelly says yeah. Shelly and Rachel go right back into talking about their sororities. Shelly then says she needs to go do something… she says she is going to go clean the bathroom, then put on her bathing suit and lay out. Rachel says she will probably work out around noon. Shelly heads inside. Rachel starts reading the bible.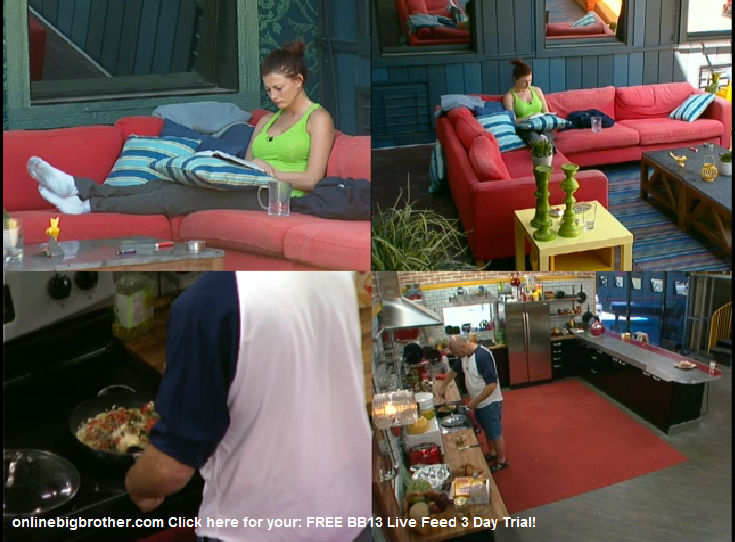 11:30am – 12:05pm Shelly heads out into the backyard to clean the windows. Rachel heads inside to grab a drink. Adam is sitting at the kitchen table eating his breakfast. Adam and Rachel talk about everyone being lazy. Rachel says that they will probably sleep for a few more hours too. Rachel asks what time they all went to bed. Rachel then heads back outside. Shelly got bit in the butt by a bug, she went inside to look and then came back out to show Rachel her butt. Adam is now cleaning up in the kitchen. Adam finishes up and heads out to the backyard. Adam starts talking about his Bar Mitzvah anniversary is coming up on the 25th and hope that if he wins HOH there will be a photo of him back then. Adam talks about drinking when he was younger. Adam starts talking about being Jewish.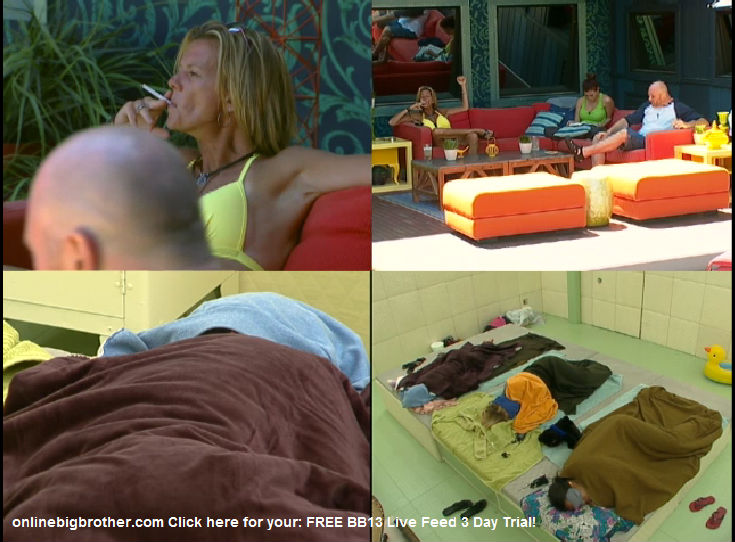 If you like this site and want to help us keep it running please consider donating, Your donations go directly to paying the server and bandwidth fees. Donate Link

Big Brother 13 Live Feed Image Gallery
Follow: @BigBspoilers and @Dawgsbigbrother on Twitter for recent crazed out spoilers. Theres also our Facebook page.
Big Brother 13 Spoilers POLL CAST your VOTE!


Share it YO!!
Tweet