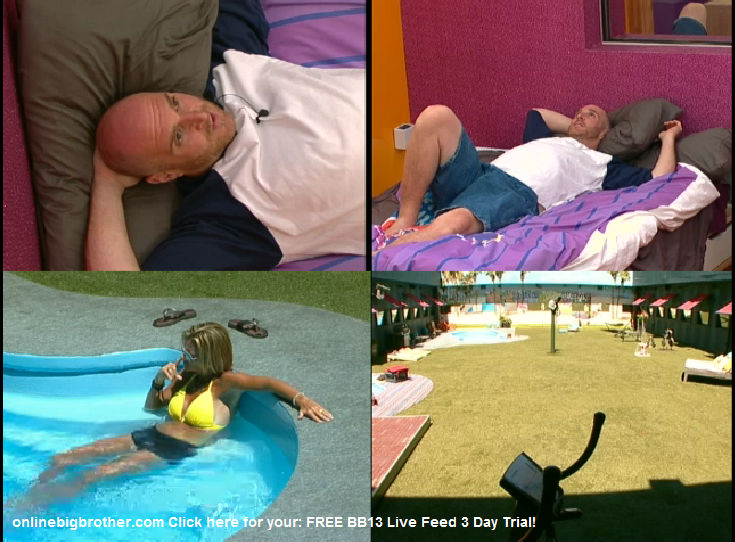 Watch the Big Brother 13 live feeds on your Android and iOS devices. Sign-up for the 3 Day Free Trial
12pm – 12:30pm Shelly, Adam, and Rachel are sitting out on the couches. Rachel and Adam are talking about god and evolution. Adam says that he doesn't believe certain things like Adam and Eve. Adam says that everyone can believe what they want but that he hates it when people try and shove their beliefs on other people… that just isn't right. Rachel head inside and Shelly gets into the pool. Adam starts reading through the bible. All the other houseguests are still sleeping. Adam then heads inside to the candy room to lay down. Rachel changes into her workout clothes and heads out into the backyard to workout.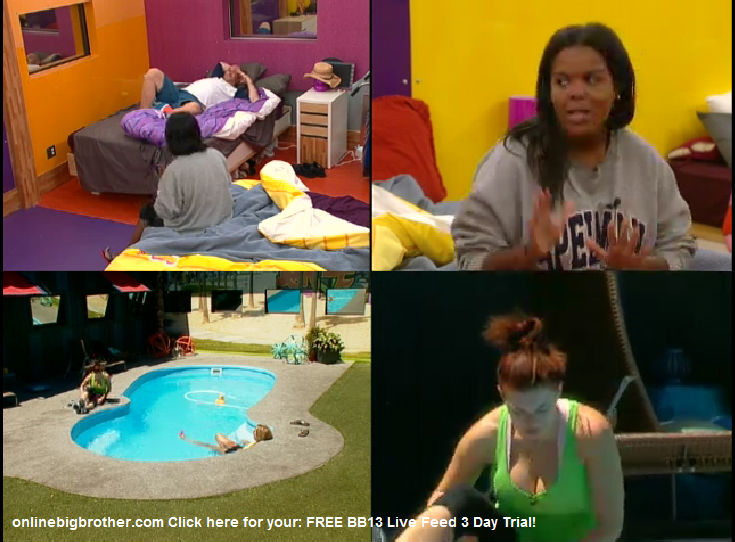 TRY the Live Feeds for FREE!
Click here for your: SUPERPASS – 3 DAY Trial!
12:40pm Adam is laying in bed awake whispering to himself. Adam says starts talking about Shelly and how he can't trust her. Adam says that the only reason Dani came to Shelly is because she knew this was going to happen to her. Adam says good try Shelly. Adam says what do they think he is stupid… does she really think I'm that stupid to fall for this plan orchestrated by Dani!?!? Adam says that he isn't falling for it. Kalia comes into the candy room and Adam says good morning …I mean good afternoon. They start talking about how the game gets personal and its hard to separate it. They start talking about Rachel and how something must have happened in her life that makes her not be able to be happy with herself and needs someone else to make her happy. They talk about how she needs to find a job and Adam wonders why she cant just work in Vegas and come visit Brendon on the weekends. Adam says that Rachel said she couldn't do that because she didn't want to be away from him. Kalia says that Rachel hates LA and she hates it …she will resent Brendon for making her go there. Adam says that Rachel and Brandon came into the house thinking it was us against the world and they didn't have to do that. Dani comes into the candy room and then leaves. Adam and Kalia talk about how the only way you can feel safe in the house now is if you win HOH.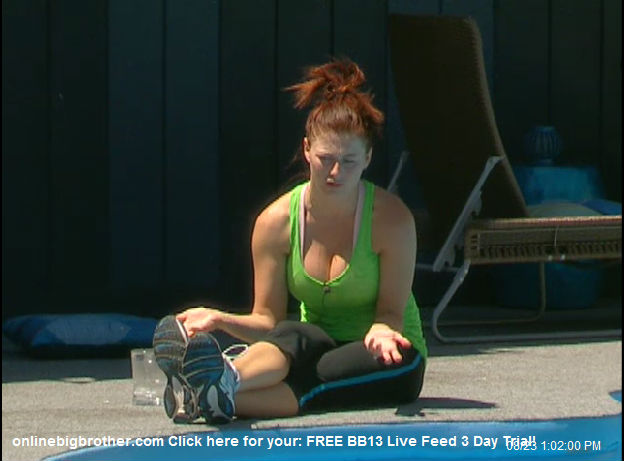 1pm Rachel and Shelly are talking by the pool. Rachel says that she is worried that Adam and Porsche want to keep Dani. Shelly says that she is good with our group right now, but that she is just wondering where it leaves you and I at the end. Rachel says that we just need to win HOH. Shelly says so you think its going to be questions like true / false. Rachel says yeah. Rachel and Shelly discuss how and why they fought. Rachel says that she was just scared because Brendon was leaving and she saw Shelly talking to Dani and Kalia and it scared her. Shelly says that she will talk to everyone regardless of the game. Rachel says that even she has times when her and Jeff don't get along. Rachel says that there might even come to a point where Jeff and Jordan nominate me …but I have told them that I won't nominate them ever ..I will walk out the door before I do that. Rachel says that there will come a point when people want to get rid of Jeff and I … but I think its stupid because keeping us as bigger targets is better for everyone. Dani comes out into the backyard to lay down and they quickly change the conversation.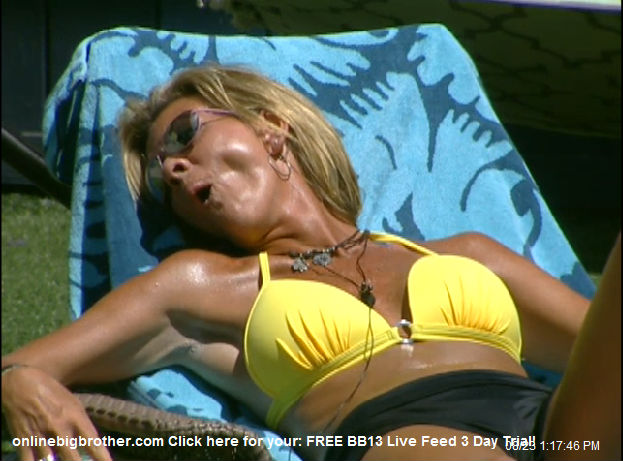 1:15am – 1:30pm Porsche is finally awake. Kalia and Porsche are in the bathroom talking while Porsche gets ready for the day. Meanwhile out in the backyard Dani tells Shelly about how she tied nooses around the little people Rachel made. Shelly laughs. Dani asks Adam if he got the gifts they made him. Adam says yeah thank you. Dani says your welcome jack hole! Shelly and Dani start talking about Adam. Shelly says that she talked to him forever and that she is at the point where she is trying to figure out what will get him to flip. Shelly says that she is trying and will talk to him again later. Up in the HOH room Jeff and Jordan are awake and getting ready to head downstairs. Porsche and Jordan head outside. Jordan starts doing laundry. Porsche lays out and starts talking about how she did a good job on her bikini line …saying she doesn't look like a hairy platypus no more.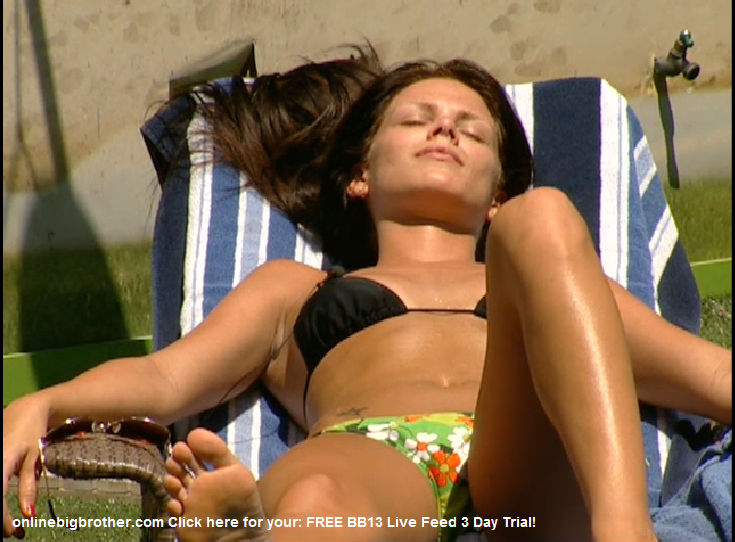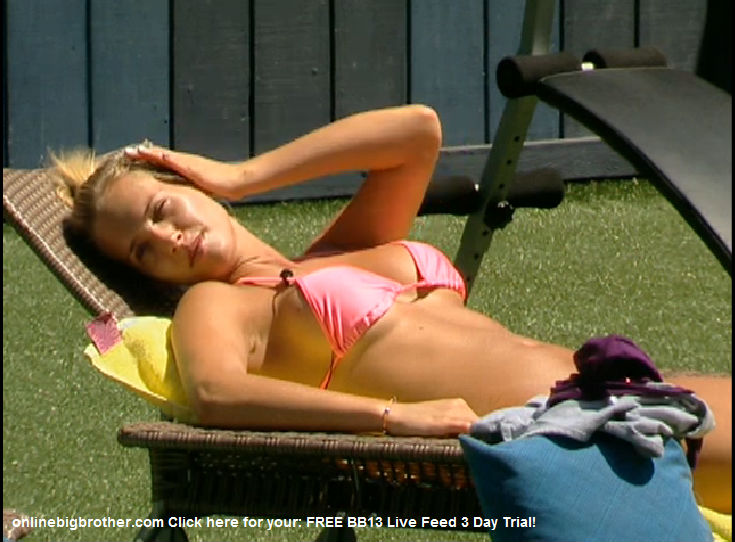 1:35pm Jordan, Kalia and Shelly are in the kitchen eating and making lunch. Porsche, Adam and Dani talk about the morning wake up songs.
1:40pm – 1:50pm Dani heads inside and complains about how some of her stuff is missing… her nail polish, sunglasses… Meanwhile out in the backyard, Kalia tells Porsche that her whoha feels amazing ..she just whet and did all of it … well I left a little bit of it. Dani comes out and says some people are so rude ..and that she would like to meet their parents and have a little chat with them. Kalia tells Dani that she shaved all of her whoha ..Dani says EWWWW… I don't want to hear it! ..why are you telling me this?! Kalia says because it has been a source of discomfort since the beginning..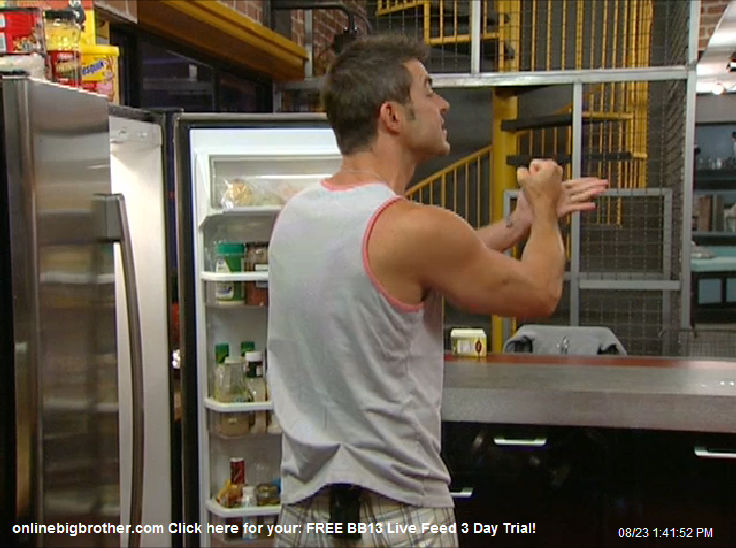 In the kitchen, Jeff is talking about how he is over it …but that he is tired of people slamming doors. Jeff is going off about how Dani is telling people that he swore to god that he wouldn't back door her. Jeff says that he has been saying in the diary room ever since she tried to back door him ..that he can't wait to stick the knife in her back. Jeff says why the hell would I swear to god …I would never do that ..that is BLANK..and now she is making people think that I am lying. Jeff says that he has integrity why would I lie about that. Jeff heads outside to sit on the couch with Jordan.
2pm Jeff, Adam, and Jordan are talking in the backyard. Jeff and Adam are talking about working out later. Adam tells Jordan that pretty soon he will look like Jeff and then you will leave him to be with me and Jeff can have Fara. Jeff says whoa! Adam says just kidding Fara I don't want to be with Jordan … Adam then says that didn't sound right ..nothing I say comes out right… Porsche, Jeff and Rachel are in the kitchen making something to eat. They talk about how they are going to be on lock down soon. Kalia, Dani and Shelly are all laying out in the backyard suntanning. Kalia gets into the pool.
24/7 UNCENSORED Big Brother 13 Live Feeds!
Click here for your: FREE 3 Day TRIAL!
2:15pm Dani is in the backyard telling Shelly that Jeff had told her that she was a have not but she is not going home.. Shelly says wow! ..are you going to talk to him? Dani says that there is no point. Dani says that she will talk to Adam. Shelly says that she doesn't know what she will say to him …because she has already tried everything to try and sway him.. but he just won't. Shelly says that she doesn't get it ..that Adam is fine just making it to final 6. Dani says yeah he thinks that then he can fight for himself. Porsche joins them and they talk about how they will soon be on an out door lock down for a half hour or so.. The conversation changes to talking about random stuff.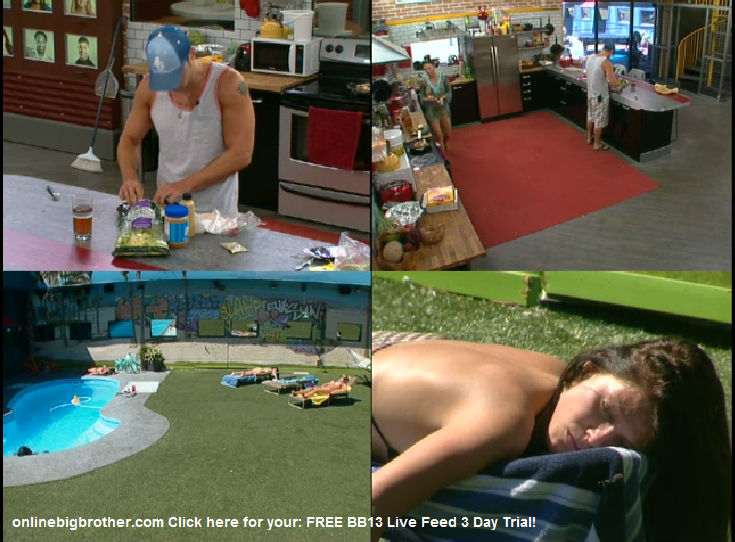 2:30pm – 2:45pm Jeff, Shelly and Rachel are sitting on the backyard couch talking about random things and eating. Jordan, Dani and Porsche are laying out suntanning.. Shelly goes inside to tell Adam that the lock down is going to happen in one minute. Adam says he will wait for them to tell us. Shelly heads back outside. Big Brother cuts the live feeds and when they come back Adam is out in the backyard. Random conversations on the couch ..while the others suntan in silence. Pretty quiet backyard. Jeff goes over and gets into the pool.. The rest of the houseguests are laying out…
If you like this site and want to help us keep it running please consider donating, Your donations go directly to paying the server and bandwidth fees. Donate Link
Sign-up NOW and watch the houseguests live!
Click here for your: SUPERPASS – 3 DAY Trial!

Big Brother 13 Live Feed Image Gallery
Follow: @BigBspoilers and @Dawgsbigbrother on Twitter for recent crazed out spoilers. Theres also our Facebook page.
Big Brother 13 Spoilers POLL CAST your VOTE!

Share it YO!!
Tweet