Watch the Big Brother 13 live feeds on your Android and iOS devices. Sign-up for the 3 Day Free Trial
12:20am – 1am In the bathroom, Jordan, Rachel and Shelly are talking. Shelly complains about chicken wings being too hot. Shelly starts talking about having a surgical operation to take a muscle out of her starfish when she was younger. Shelly starts going in to way too much detail about this. Shelly and Kalia are getting ready for bed.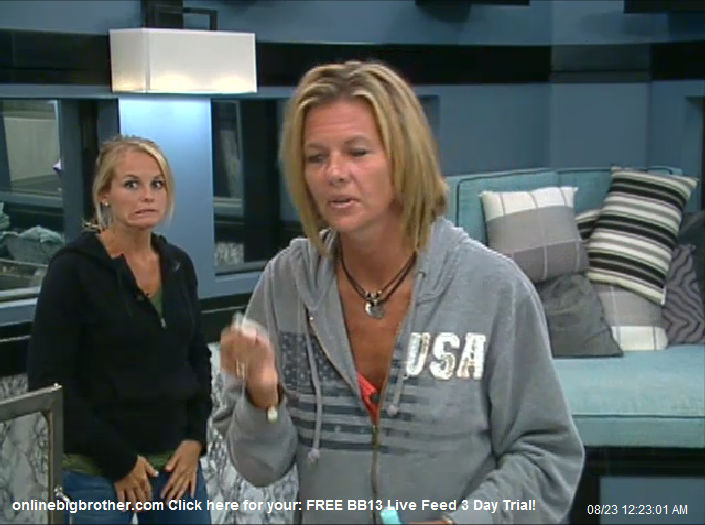 Meanwhile out in the backyard, Jeff and Porsche are doing arts and crafts. Adam walking around smoking. Jordan then joins them out in the backyard. Adam and Jeff then go to play a game of pool. Jeff heads inside to go to the bathroom. Jeff runs into Kalia and tell her briefly that she can't believe anything Dani says about his word or his character… and that if she has a question about something he said ..that she needs to come ask him talk to him about it. Jordan goes to sit with her feet in the hot tub. Kalia and Shelly join Porsche out on the couch. Kalia starts making things with arts and crafts. Shelly then joins Jordan by the hot tub. Shelly starts talking about thinking she could change the way people are …but you can't . Jordan says that she felt the same way her season. Shelly says that when you have all these people looking at the same end prize you get the same thing. Jordan starts talking about her family and missing them. Jordan says she can't stand all the cattiness. Shelly says yeah I know …I wake up and think here is another start to another BLANK four days. Jordan says that maybe after Dani is gone and she isn't in peoples ears it will be a lot better. They talk about Dani going to sleep already. Jordan says that she feels bad for Dani when she sees her crying. Jordan tells Shelly not to say anything about what they've talked about. Shelly say oh you can trust me …I wouldn't get you into trouble Jordan .. all passing it around does is start fights and I don't want that.
WATCH the houseguests LIVE on SuperPass!
Click here for your: FREE 3 Day TRIAL!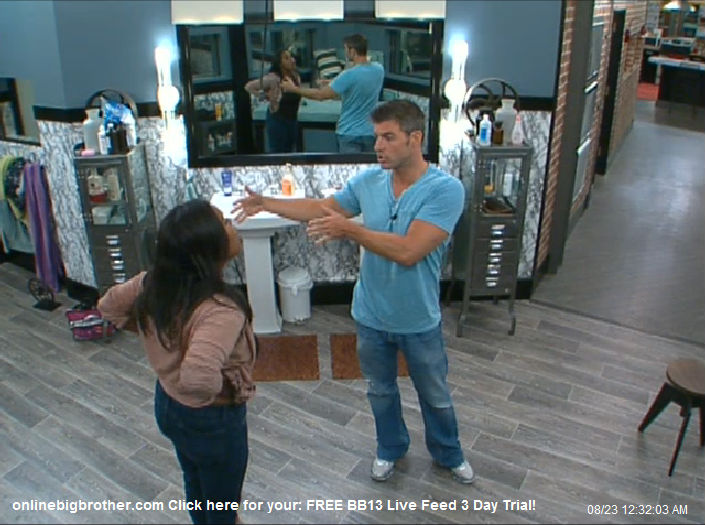 1:10am Kalia, Porsche & Jordan talking about food and other random stuff. Jeff and Adam finish up playing pool. Jeff and Adam join them by the couches. They start making fun of Rachel. Kalia and Porsche then head into the kitchen to get something to eat. Dani is up and comes through the kitchen. Porsche tells Dani that she almost got into a fight with Rachel. Porsche leaves. Kalia goes to the bathroom to get ready for bed. Porsche tells Dani that Jeff came and told her there was no deal between Jeff and Dani. Big Brother tells Dani to go and exchange her mic with one in the storage room.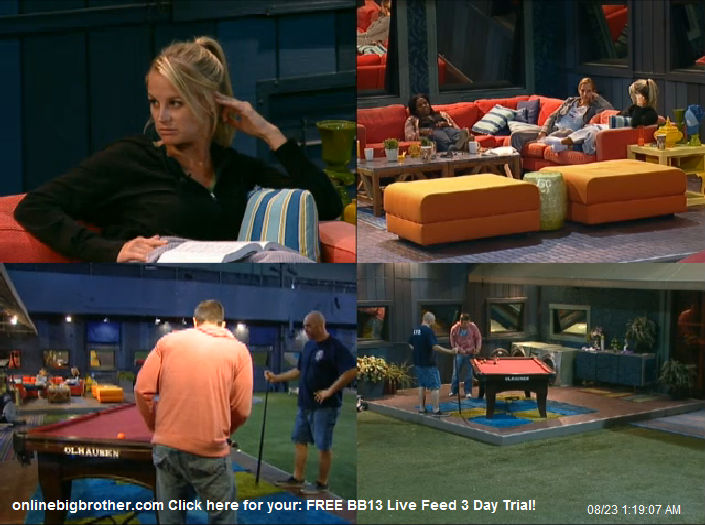 Up in the HOH room, Jeff and Jordan are getting ready for bed. Jeff is getting after Jordan for sticking up for Rachel. Jeff tells Jordan to start sticking up for Adam and Shelly. Jordan says that she is ready for this to all be over. Jordan asks Jeff what would have happen if Brendon would have stayed. Jeff says that he doesn't know. Jeff says that he hopes that one of them win so they can put them two (Kalia and Porsche) back up on the block.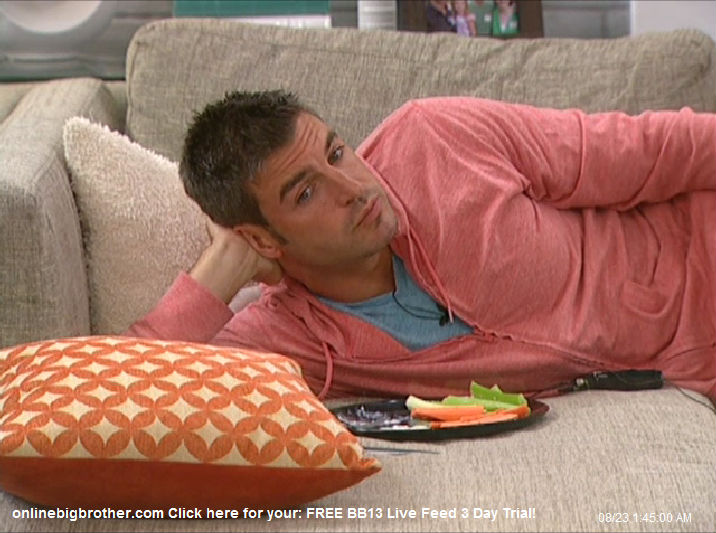 1:45am Dani, Kalia and Porsche are in the havenot room talking. Kalia is talking about how Rachel was questioning them about who was into the condoms. They questioned Rachel on if she used them and she said no she is on birth control. They talk about how they doubt her since they have not seen her take a pill since the day she came in house. Porsche and Dani leave the havenot room. Dani heads outside and Porsche goes to the kitchen. Porsche then comes out into the backyard to find Dani crying. Porsche gives her a hug. Dani says that she doesn't understand Adam. Dani says that she feels she helped him out this whole game and that she is also so tired of hearing Kalia talk about what she is going to do next week. Dani says that she will talk to Adam, but that she feels like she is fighting a losing battle. Dani says that Adam always listens but at the end of the day he is going to do what Jeff wants him to do. Porsche says that we can all make final two deals with Adam, we can go in there and wake him up. Dani says ya, but Rachel is in there, I have thought about it.
FLASHBACK – Don't miss all the drama!
Superpass – 3 Day FREE Trial
Dani says that this house is so stupid, like seriously, so stupid, all it is… is like a dictatorship this whole season and that is why I didn't want to be any part of it and these people don't get it… why would you want to sit here all summer to write somebody else a pay check, it does not make sense to me. Porsche says that Adam would probably cream himself if you tell him something like, like that he can do something on my dad's web site. Dani says she couldn't offer him something like that, it would have to be my dad. Porsche say yeah, but your dad would want you to do whatever would keep you in the game. Dani says yeah, but he wouldn't believe me. Dani says that Adam is literally like obsessed with Jeff. Porsche says that it is a long shot, but you have to turn every stone before Thursday. Dani says she knows, it's just hard too when everything I tell him he is going to go and repeat to the two of them or Rachel. Porsche tries to give her ideas to feed to Adam. They start bashing Rachel. Dani says that she feels like she has a lot to offer….but at the same time she feels like anything she says is going to go back to Jeff and all that Adam cares about is making it to the six, but who cares …you still have to make it to the fast forward. Dani says that she thinks the fast forward will be a week from this Thursday. Kalia pokes her head out the backyard door and says hi. Dani says that she really thinks that we are plotting her demise, if she asks just tell her I am upset cause I am leaving.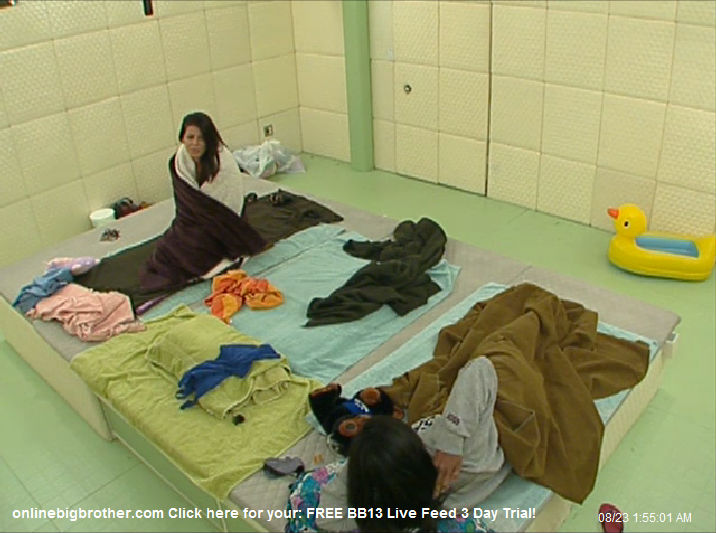 2:35am Up in the HOH room, Jeff and Jordan are talking. Jeff is questioning whether Adam and Shelly really want to win the HOH competition this Thursday. Jordan says that she wonders who would Porsche would put up. Jeff says that Porsche said she would putt up Rachel and Shelly. Jordan says that she said she was putting up Shelly as a pawn. Jeff says that if Kalia wins she will put up pictures saying this is for Dani. Jordan says you know she went back there and told Dani what you said. Jeff says that he knows they did. Jeff starts getting mad about how he is the only one pulling his weight in his alliance. Jeff says and yet they have the nerve to be questioning his decisions.
Sign-up NOW and watch the houseguests live!
Click here for your: SUPERPASS – 3 DAY Trial!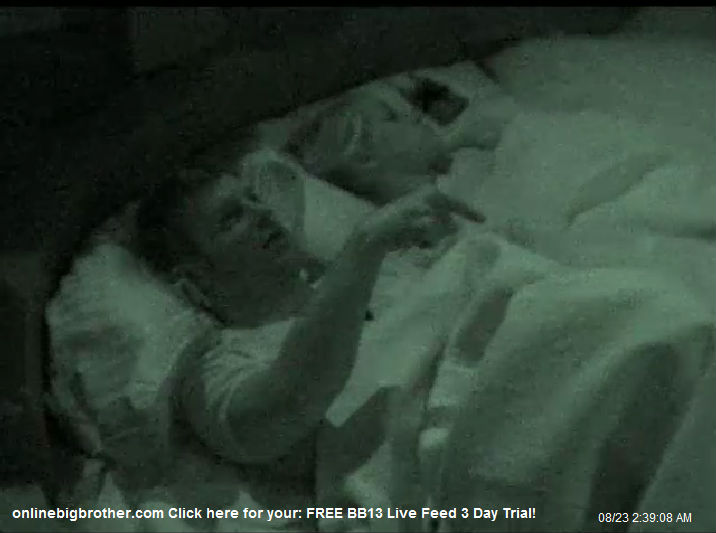 Jordan says that she is definitely putting up Kalia if she wins HoH this week. Jeff tells Jordan that Porsche is going to skate by yet another week. Jeff says that he thinks Adam will go after Kalia because he doesn't like her. Jeff says that he is not getting rid of Rachel and wants to go to final three with her. Jeff gets frustrated and tells Jordan to stop being so friendly with Rachel because she is making Adam and Shelly nervous. Jeff says that if he went to the jury 3rd, he would be in everybody's ear. Jeff says that he would be like dude, Shelly played both sides and she talked shit about all of you. Jordan says that she thinks people go by friends, whether they like you or not. Jeff says well people don't like us, well ..not really. Jeff says that there are only three that don't like us. Jordan says that she stresses about it and wants to see Jeff make it further. Jordan tries to defend Rachel because she's being picked on. Jeff says that he thinks Rachel deserves it because she's mean and that's why people are mean back. Jeff says that he wants to go to the final three with her because no one likes her. Jeff starts talking about what Dani has been telling everyone one. Jeff says that he wonders if Shelly made up that shit about Dani saying half of production will quit Big Brother if Dani leaves this Thursday. Jordan says that Shelly was wondering if, because she got extra advan.. Big Brother cuts the live feeds.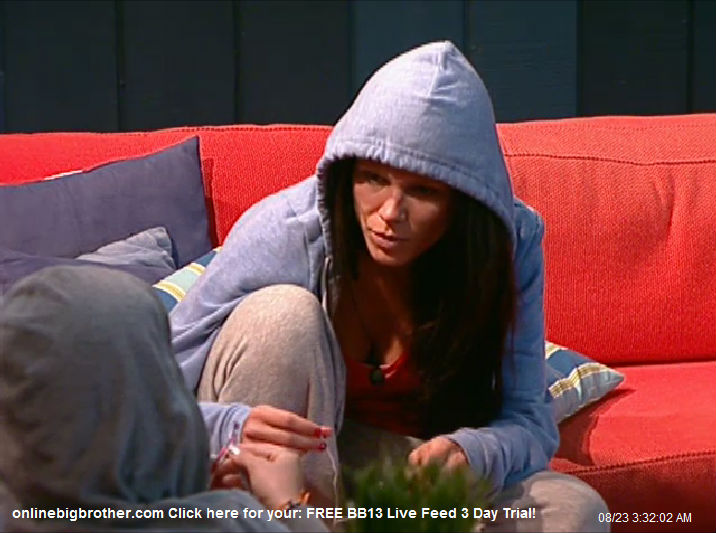 3:25am – 4am Dani and Porsche are talking about ways to save Dani. Dani wonders how she can sell Adam her soul. Porsche says that Adam needs to start thinking for himself. Porsche is trying to come up with ways to save Dani by lying or manipulating people. Dani says that she has already thought them all the ideas and says that there is just nothing that she can do because Adam is so far up Jeff's butt. Dani tells Porsche that one of the main reasons she wanted to back door Jeff was to protect Adam. Dani says she told Adam that she only campaigned for Dominic to stay over Adam because she felt guilty that Dominic was going home because of her. Dani says that she will tell Adam all this again tomorrow. Dani says that it will be a huge game move for Adam if he votes to keep Dani. Dani says that no one will remember Adam if he doesn't make this big move, he'll just be remembered as the guy in the elf suit. Porsche says that she will try to work Adam for his vote as well. Porsche says that she plans on playing on Adam's ego by telling him that she has friends like Janelle and Dick who will totally respect Adam for making a big move to save Dani. Porsche says she will tell Adam that she is playing the way she thinks Dick or Janelle would play and respect. They decide its time to go to bed. Daniele stops by clay arts and craft people they made and puts a noose on the people Rachel made. All the houseguests are now asleep….
WATCH all DRAMA unfold LIVE on SuperPass! FREE 3 Day TRIAL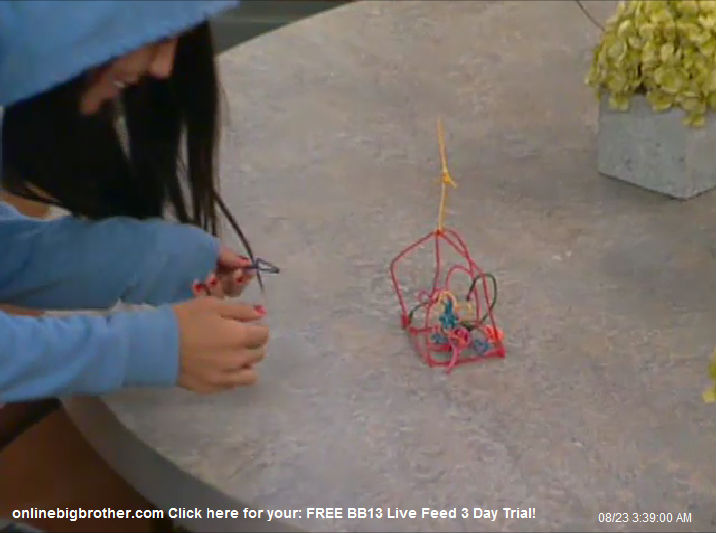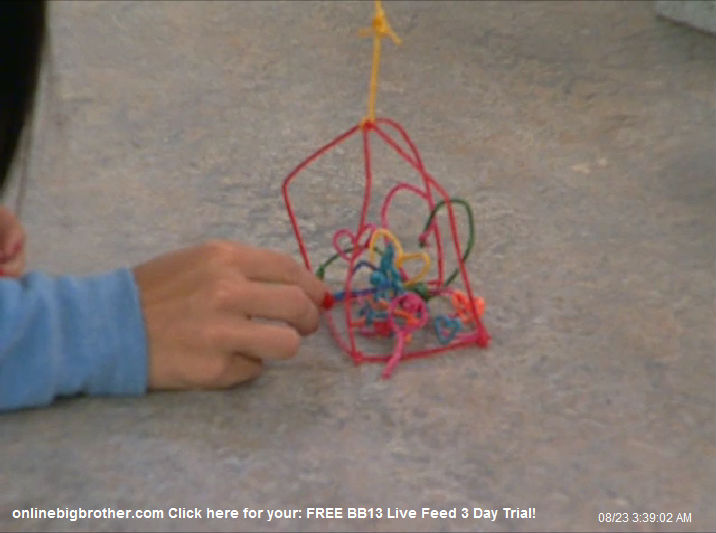 7:25am All the houseguests are still asleep..
If you like this site and want to help us keep it running please consider donating, Your donations go directly to paying the server and bandwidth fees. Donate Link

Big Brother 13 Live Feed Image Gallery
Follow: @BigBspoilers and @Dawgsbigbrother on Twitter for recent crazed out spoilers. Theres also our Facebook page.
Big Brother 13 Spoilers POLL CAST your VOTE!

Share it YO!!
Tweet