POV Holder:
?
Next POV
Sept 6th
POV Used
?
POV Ceremony
Sept 8th
HOH Winner
?
Next HOH
Sept 11th
Nominations:
?
Have Nots
?
POV Players
?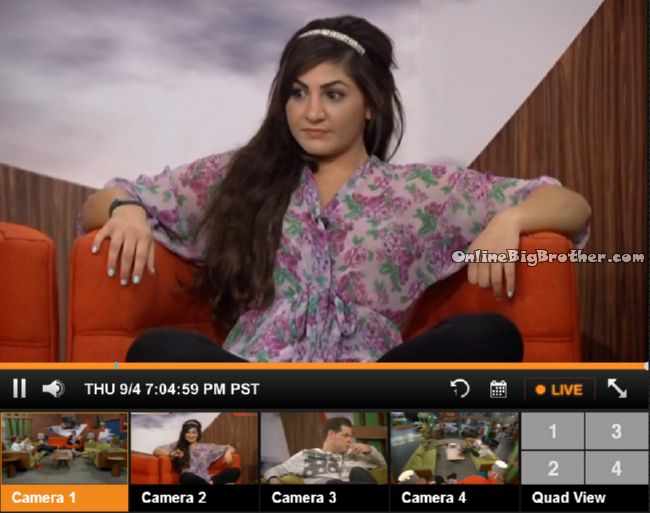 7:05pm Living room
House guests are trying to figure out why Christine got so many boos. They think she crushed people in the Diary room. Derrick brings up Christine saying nobody at her work liked her she told him they thought she was evil. Frankie chimes in says he knows Christine said mean things about his family. Derrick explains when a house guests "Crushes" people in the DR  the audience is populated by fans and those fans get pissed.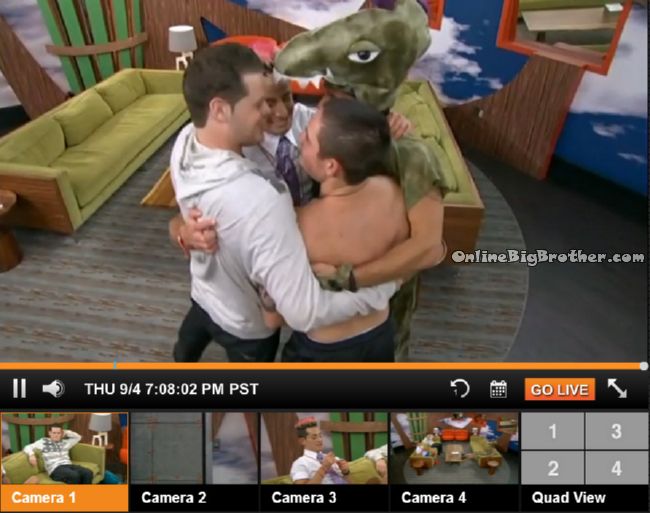 Victoria leaves the guys all start hugging "we made it final 4". Frankie asks when they should "Britney" Victoria. Says maybe after the the Veto. Derrick "We're not going to crush her right right now I want to tell her hours before the vote. "..
Derrick says last year Aaryn didn't get that booed he cannot understand why she was booed so much. Derrick thinks that it's scary someone can get booed like that. Derrick – "She wasn't a racist"
Frankie is all of a sudden saying he understands why Christine got booed she said HORRIBLE things to him and Nicole. Victoria joins them says she's certain Christine said horrible things about her.
Frankie adds that it's not Live Feeders hate her nastiness was on the episodes.
Frankie – they gasped when I won the Veto but I think it's because I won something, "She was so close to beating me" Derrick couldn't tell if the fans cheered when he won the HOH.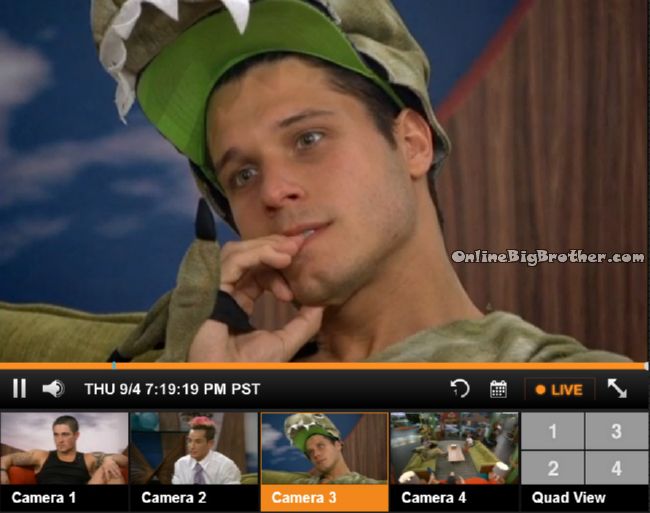 7:19pm Living Room Everyone but Derrick
Frankie says he's going to be honest with Cody. He tells him America looks at Christine's relationship with Cody very badly on camera.
Caleb and Victoria agree.
Frankie – Nobody faults you for what you are doing.. you are playing a game for 1/2 a million dollars it's a little different when you are married.. You are a good comforting friend
Frankie – I my opinion she didn't look at you like a friend she looked at you with love in her eyes.. It's possible she was in love with you
Cody – I wouldn't say that
Caleb – I wouldn't say in love with you she liked you
Derrick comes back from the Diary room
Cody – I didn't act crazy different with her I wasn't jumping on top of her
Victoria – she's married and you are single
Caleb – you are single
Caleb – She looked at you a little but more of a friend.. the world sees you as playing the game.
Caleb adds that Cody acts the same way with all the girls but Christine only acts that way around Cody.
Frankie – Exactly she looks at you as more than a friend.
Cody – we'll see when I walk out if I get booed.
Derrick – go in the DR and talk to them about it
Caleb – they'll tell ya
Frankie – it was the way she looked at you that the world thought was wrong not the way you looked at her
Caleb – you will not get booed
Cody – I wasn't expecting to hear booed
Derrick – I think there was more than that.. She said some really mean things about people in this house..
Derrick brings up Nicole telling him about how horrible the things Christine says.
Frankie – You guys we had a villain and we didn't even know.. and she's gone.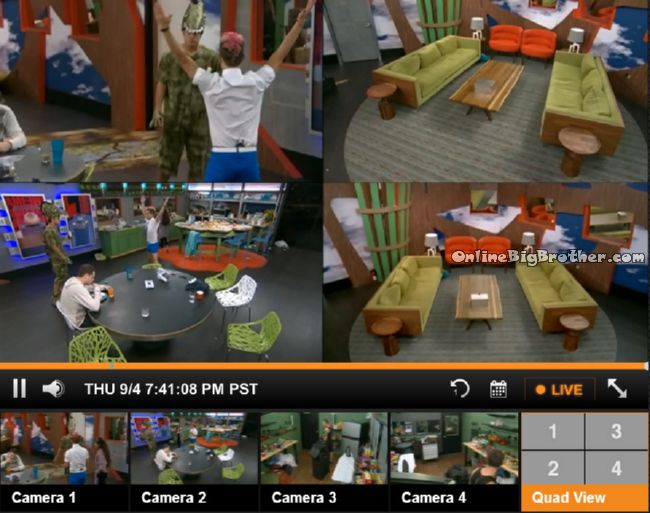 7:41pm Milling around
Frankie keeps bringing up how everyone gasped when he won the POV. Frankie explains that he had won 10 seconds before Julie said.
Lots of speculation about when the
Frankie says Christine's boos were worse than Devin.
Derrick and Victoria say Devin never got booed.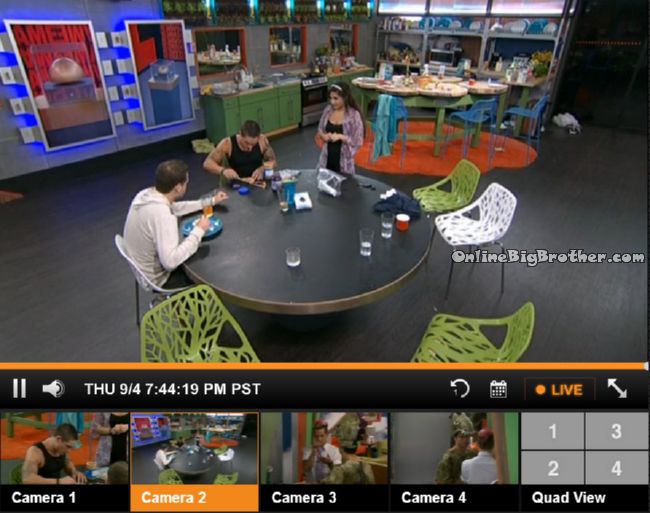 7:44pm Reset button on the memory wall
Derrick says he won't push it tells them it must be Pandora's box but this late

Derrick – You Obviously know Why I did what I did..
Victoria hugs him "I love you"
8:06pm Everyone but Derrick in the kitchen
Still trying to understand why Christine got booed so much. Frankie thinks it's because she said HORRIBLE things about his family and sister.
The HOH is Tonight. Feeds are free for two days –> Try It Free! Subscribe now to the official BB16 Live Feeds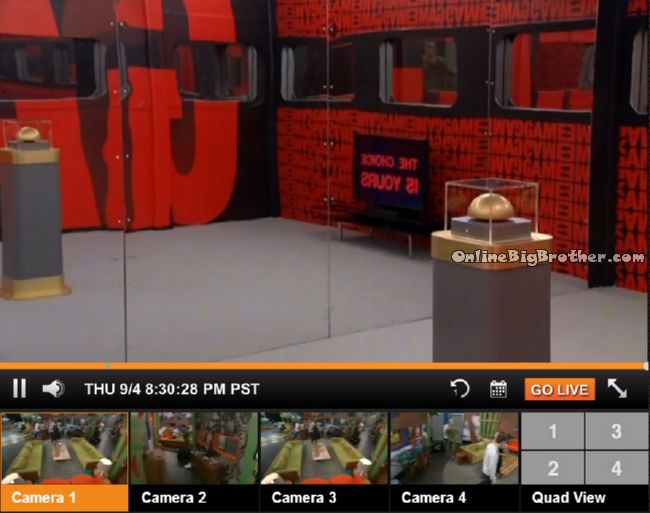 8:29pm Have nots open ..
The button is covered by a Plexiglas case they don't know when they can open it.
8:32pm have nots Derrick and Caleb
Caleb says Frankie told him he's going to throw the HOH so he can play in the next one
Derrick – OK Frankie you do that

8:40pm Fire Room The 4 guys
Caleb wants to tell Victoria that they have a final 4. Derrick tells them there no game to be talked this week.. He doesn't want to crush Victoria until right before the vote. Says there is no need to.
Frankie wants to because it will make good TV.
8:49pm Fire Room everyone
Derrick says the people watching the show are probably happy because they got out someone they didn't like and wanted out for weeks.
8:58pm Fire Room Derrick, Cody and Derrick
Talking about the HOH coming up they seem to think it will be endurance. Caleb says he will be scared to put Frankie up if he wins HOH because he can win the POV.
Derrick – that's a heavy weight title fight right the… Battle of the beasts.
They solidify their final 3
9:20pm HOH competition has begun
What Julie said about the twist
#BBrewind
If That button is pushed in the coming days then next weeks live vote will stop live on the air The two nominees Will immediately come off the block The Game will rewind and the entire week will be replayed that means next week's nominees could go from being on the block to becoming head of household. It's a week you do not want to miss as we are full steam ahead to the finale. Tune in Sunday to see who is the new Head of Household To see this Big Brother Rewind twist unleashed on the houseguests and to witness the return of Big Brother legends Jeff and Jordan for a surprise announcement. Then to make way for the NFL we are changing our schedule for the rest of the season.
POV back up for grabs Tuesday 8/7c then the Live Eviction will be Wednesday 8/7c will another house guest be evicted or will the game stop dead in it's tracks.
Make your Amazon purchases through the links below it Supports this site
[polldaddy poll=8285104]