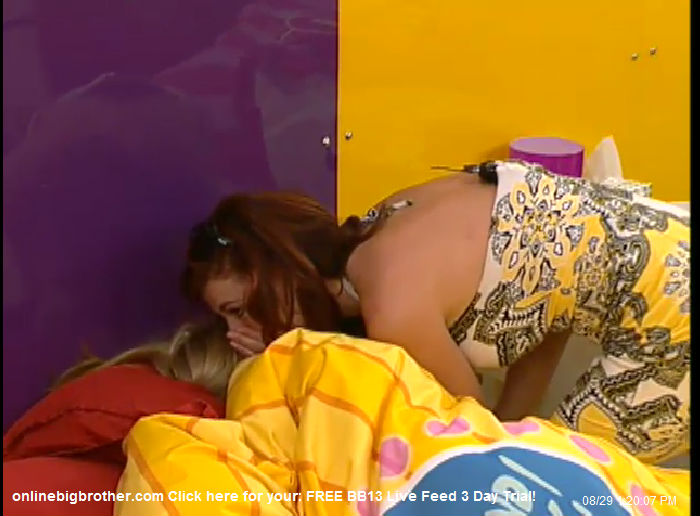 Watch the Big Brother 13 live feeds on your Android and iOS devices.
Sign-up for the 3 Day Free Trial
1:20pm – 1:30pm Rachel comes out of the diary room and goes to the candy room to talk to Jordan. Rachel tells Jordan that she took a test and its negative. Rachel is not pregnant. Rachel says that if it was a different result then she wouldn't have been disappointed. Jordan says oh good. Rachel says that is one less thing to stress out about… now I just need to figure out why I am sick. Jordan says that it might be stress. Rachel says maybe. Rachel tells Jordan that Shelly came up to her and asked if there is anything else they need to talk about or if there is anything else she can say to them. Rachel says that she said we are still thinking about it …and that we really need to win HOH. Rachel says that Shelly said if they do need to talk they can talk later. Rachel says that she misses Brendon. Rachel heads into the kitchen.
WATCH all DRAMA unfold LIVE on SuperPass! FREE 3 Day TRIAL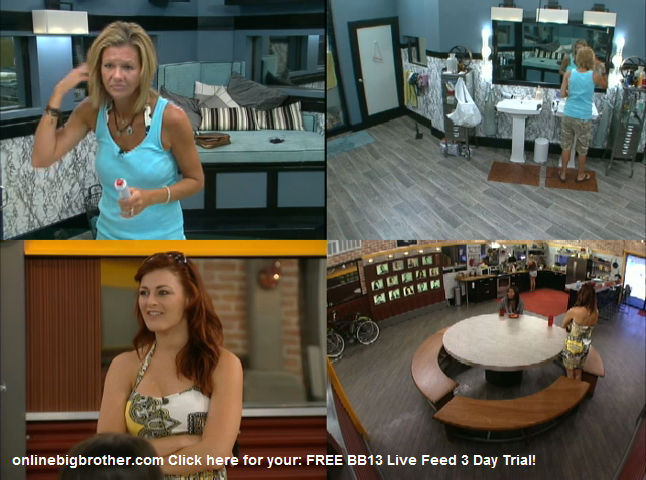 1:40pm – 2pm Rachel asks Kalia if she knows what she is going to do with the votes. Kalia says that its important that they all stay united in their votes… and that it is six in one …half a dozen in another. Kalia talks about how Shelly has been putting all of us against each other. Rachel says that there are pros and cons to keeping them both but that Shelly has been very manipulative. Rachel says that Adam at least has showed that she sticks to his word. Kalia tells Rachel that both Dani and Jeff threw the corn hole POV. Rachel says oh.. Kalia says so really Adam never won anything. They talk about whether or not Adam has been throwing competitions. Kalia says that Adam has been studying dates for so long and knows the game inside and out …and he goes out as the first person in the before / after competition. Kalia says that she asked him and he said he just had a brain fart.. and was really mad that he messed it up. They talk about how no one can trust or tell Shelly anything. Rachel says that a pro for keeping Shelly is that she will freeze and not win HOH or POV. A con for Adam is that he might win HOH or POV. They talk about how they wish the purple room wasn't locked and wonder why it is locked. Kalia tells them that her vaginal area does not look the way she wants it to look. Porsche says I did not want to hear that! Kalia start complaining about how it has been 55 days since she has had some bootylicious…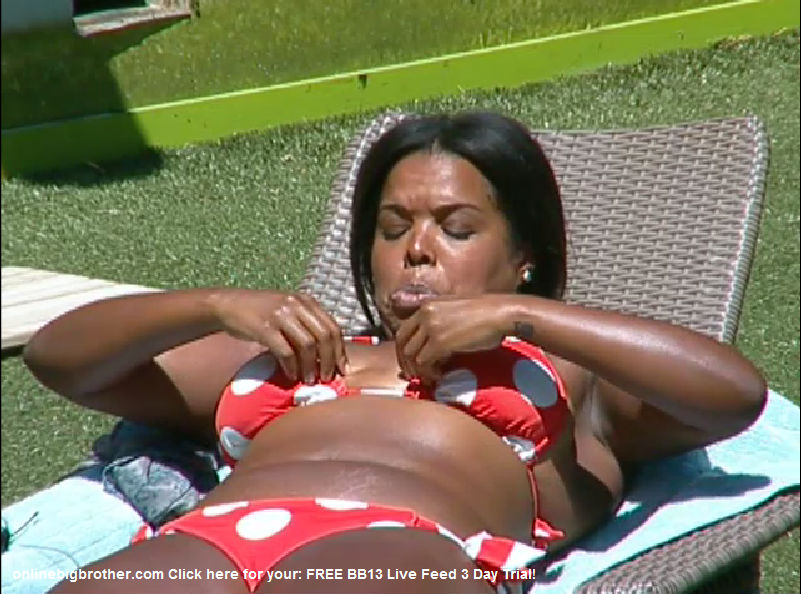 2:20pm Rachel leaves and Kalia asks Porsche if it was a little too much. Porsche says no, I think it was good and we don't have to bring it up again for a little bit. Kalia says that we need to just keep planting the seeds. Kalia starts going on about how long its been since she's had sex and how bad she wants it. Shelly joins them out in the backyard to suntan. Kalia starts telling Shelly about what Rachel and them were talking about …how they are still undecided and the pros and cons to keeping them both. Rachel joins them back in the yard again. Rachel starts talking about how she would really like a boy and a girl. Shelly asks what Brendon's middle name is .. Rachel says Joseph. Shelly laughs and says Brendon's middle name is Bj..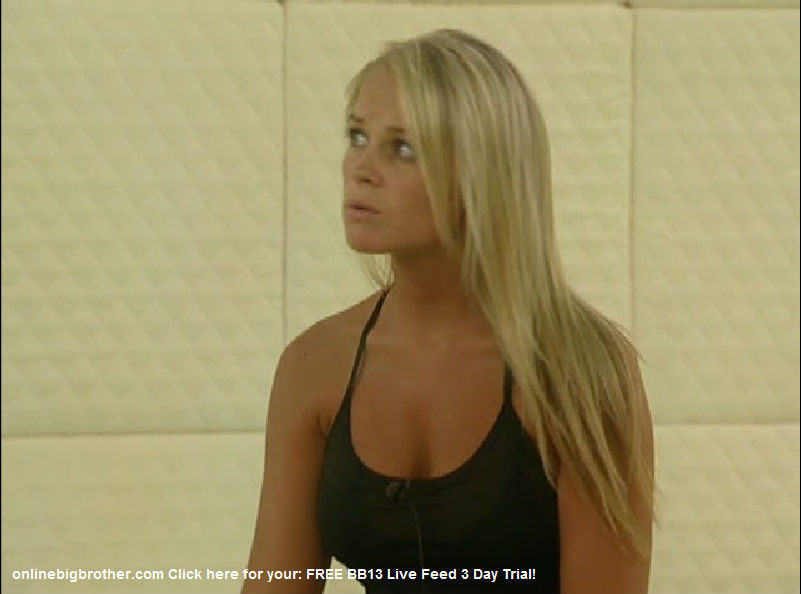 2:25pm – 2:30pm Adam and Jordan are in the HaveNot room talking and Jordan is telling Adam that he needs to just pick a side. Adam says that he has and that he is with them. Jordan says that he can't just keep riding the fence and that if they win HOH next week he can't flip again. Adam says no I won't I understand and if you save me this week …then I will owe you… if you feel any doubt then vote me out. Jordan says that she has already had someone burn her and if it happens again then I will FLIP OUT! Adam says that he knows no one will take him to the final two. Jordan says you don't know that. Jordan says that they want to talk to us today …and so if you hear anything …then just know that we are saying whatever they want to hear. Adam says he knows that and that they know they can trust him because they have never heard anything come back about me. Jordan tells Adam that Rachel and I already discussed it and we are taking you.. in a perfect world if we all make it the final two we are taking you ..100%. Adam says that he wants to earn it and that his word will speak for itself. Jordan says that they are worried that he is out there talking to them late at night and they are offering you deals. Adam says that last night they were talking about Shelly and how she can't be trusted. Jordan tells Adam just because he is third ..doesn't mean he will be third out. Adam says thank you .. its who I would rather sit next to. Adam heads up to the HOH room to listen to the music cd. Jordan goes out side to work out.
WATCH the houseguests LIVE on SuperPass!
Click here for your: FREE 3 Day TRIAL!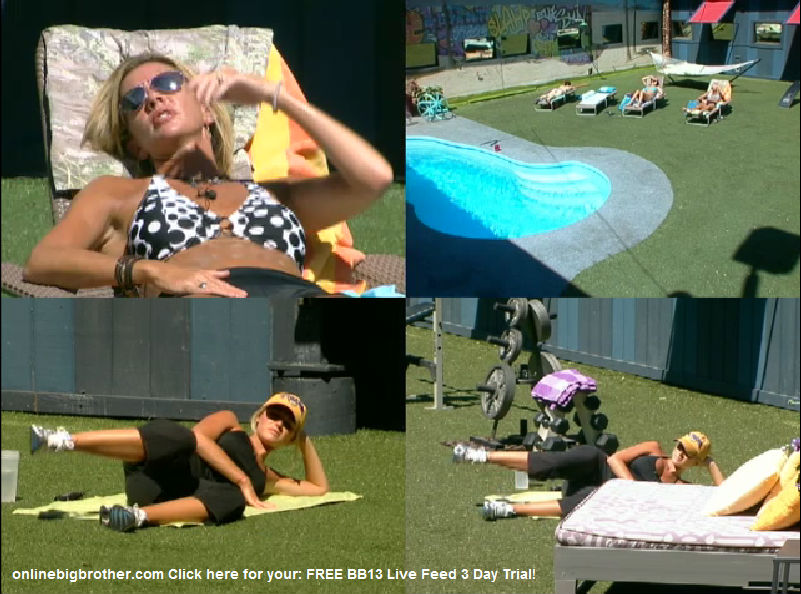 2:45pm Kalia, Shelly, Porsche and Rachel are suntanning. Shelly is talking about how it was the most humiliating experience she has ever had to go to the bathroom in the HaveNot room while she was on lock down. They continue to talk about random stuff…
If you like this site and want to help us keep it running please consider donating, Your donations go directly to paying the server and bandwidth fees. Donate Link

Big Brother 13 Live Feed Image Gallery
Follow: @BigBspoilers and @Dawgsbigbrother on Twitter for recent crazed out spoilers. Theres also our Facebook page.
Big Brother 13 Spoilers POLL CAST your VOTE!


Share it YO!!
Tweet