Big Brother 13 Live Feeds Can be watched on your iPhone and Android Mobile devices sign up -> Watch Big Brother 13 on Your iPhone or Android Phone
3:30pm Backyard Suntaning Porsche and Kalia Kalia is telling Porsche how bad everyone wants Shelly out.. she looks up at Porsche asks her if she's sleeping. Prosche looks up says she's listening…
Porsche: "It sounds like they are getting rid of Adam.." Kalia thinks that Shelly is going.. Porsche disagrees they are worried about Adam winning comps. Kalia: "the bottom line who ever she keeps is still working with us".. Porsche believes Adam wants to win comps he's "building a resume to win Big Brother 13". Kalia isn't sure that Adam can win comps even if he tries.
Sign-up NOW and watch the houseguests live! Uncensored Live Feeds 3 Day Free Trial
3:38pm JR Havenots They are trying to figure out who KP want to have safe this week. Jordan thinks they need to get rid of Shelly because she is such a liar and a backstabber. Jordan says she had a long talk with Adam today they really figured things out. She pressed him to start making a choice of who to be with JR or KP. Jordan: "I told him he saw me yell at Shelly and I told him I would get mad if he screwed us"
Jordan says she told Adam if he's not final 3 with them then he's going home this week. She demanded a answer from him and asked Adam for a straight shooter answer. After the conversation Jordan felt like he was honest with her and she thinks they can trust him to put up KP if he wins HOH. Jordan is also confident that Adam will not try to take Rachel out Jordan really pushed the fact that Rachel is one their team. Jordan laid out to Adam their plan for the next week is to get Kalia out.
Rachel says that Porsche's Veto win was hit or miss it have nothing to do with Brains or physical. Rachel thinks Kalia has really stepped up her game and needs to go next week. JR start to size up the remaining players and how good they are in the final comps. Rachel thinks Adam has been throwing comps all year he'll be good at questions, She thinks Prosche is only good at Skill comps. Jordan agrees but thinks Porsche might have a edge on physical comps.
Jordan: "Shelly got to go"
Rachel: "I think so to"
Jordan: "We need each other we have to work together and Shelly's first opportunity she will screw Rachel over"
3:50pm JR walking around the baclyard they are laughing at Dani for being in the Jury house. Rachel says that Dani lied to Brendon twice she swore to him she wouldn't put him up the second time and she did. (Ahh Rachel is shooting straight Shelly style now)
Jordan starts talking about the comps that ask you questions about other houseguests are hard because she really doesn't talk to many people. She says she really struggled with the questions in Season 11.
4:05pm Kitchen KP Both are agreeing that Shelly needs to go but are worried that they might keep Shelly because she's cut a deal with them. Kalia wonders if JR will split the vote and make her be the deciding vote. Porsche doesn't think so because that will shift the power over to them. Porsche calculates there's a 5% chance.. (lol she really said 5% ) They wonder who will go up if Rachel wins HOH and Adam goes home this week… There not sure, but they think it's possible that KP will go up. Kalia: "If rachel is smart… which she is she will put up 2 threats Kalia and Prosche and use Shelly as a backup".. POrsche: "Then I will need to win Veto and Jordan and I vote for you to stay"
4:30pm Quad Adam sleeping… JR running laps.
They take a break and start talking about Kalia.. Rachel says that Kalia think she will win the game, "that is why she offered Adam that Final 2 deal she's covering all her bases" (I didn't know Adam told JR that.. damn KP are screwed unless Kalia wins this next HOH)
Rachel thinks that Kalia getting JEff out was not a big move she thinks the biggest move in the game at that point would of been getting Rachel out.
Jordan thinks Rachel will win BB13 if she makes it to final 2.. Rachel thinks if it's JR int he final 2 then it's a 50/50 shot.. Jordan tries to convince her otherwise.. Now Rachel goes on and on about how she's playing for second place..


5:13pm Rachel working out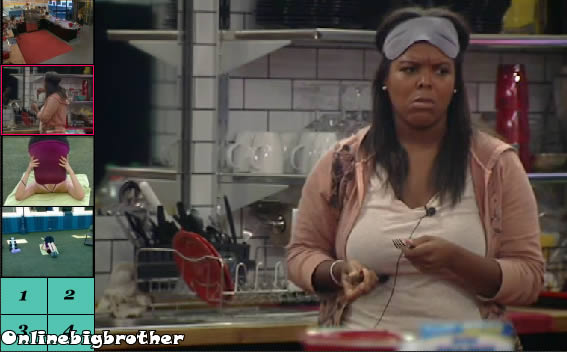 5:20pm JK Kitchen Jordan tells Kalia that Dani was talking shit about Kalia the night when she was drunk and talking to JJ in the backyard. KAlia: "umm really?" Jordan: "Ya.. you, Adam, Shelly, Porsche and Rachel she said something about you all.. I told Jeff some people will be upset when they hear what she said" Jordan now starts knocking Dani for being Drunk and always playing with her hair.. Jordan does a small impersonation of Dani during that night. (Hasn't Jordan pulled out most of her hair this season while sober?)
Jordan does mention that Dani is the type of player that can separate game and personal relationships.
Share it YO!!
Tweet