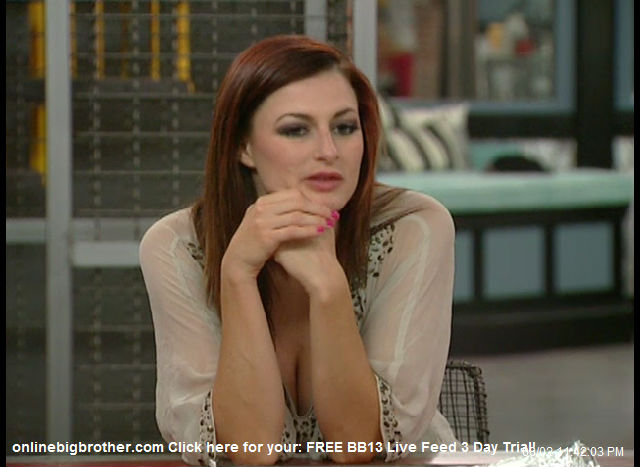 11:40pm Rachel, Brendon, Jordan and Porsche are talking about Britney Spears's ex Kevin Federline and how Britney said that Kevin was really packing. Porsche says it's big. Rachel says that Brendon's size below the belt makes her happy. Brendon tells her not to go there. Jordan tells Rachel and Brendon to keep that information to themselves. Rachel starts talking about how her sister is engaged to a Canadian and moving to Canada after her wedding. Jordan asks if Canada is considered another country? ..then asks if she needs passport to get there. Rachel starts pushing Jordan and Jeff to get married. Jordan says that she's not ready to get married. Jordan says that she needs to get her life together first. Rachel tells Brendon that she wants to just go ahead and get married in September. Brendon says that the wedding isn't that big a deal for a guy. Rachel says that she will get married in a trash bag. Jordan tells Rachel not rush it. Brendon says that there's not enough time to get everything planned. Rachel says that their moms can do it all. Brendon says that he wants to do it right and he really wants all of his family to be there.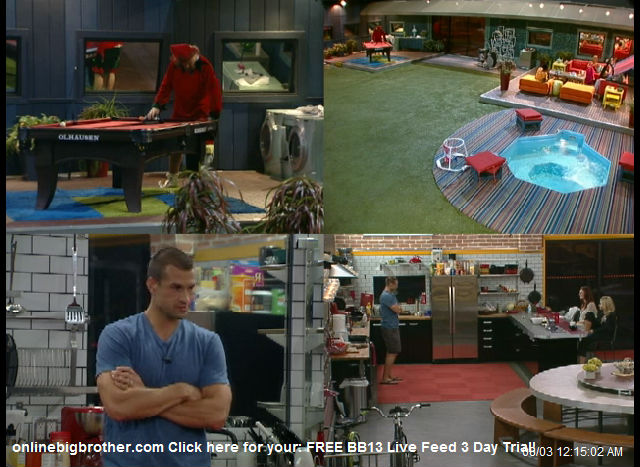 12:15am Jordan, Brendon, Rachel start talking about what they think the twist will be. They talk about how they know one is coming soon but that they are not sure when. Jordan says that Julie Chen told them it's a summer of twists. Rachel says that she wonders why if Brendon won the veto and pulled her off …why aren't they both safe? Rachel says that the whole situation sucks!! Rachel says that not only for the four of us but for the game. Rachel says that the fans can't be happy about her and Brendon being split up. Rachel says that she called Dani the wicked witch of the HOH and that Brendon called her Judas in the diary room. They wonder if there will be a Pandora's box. Jeff joins them. Jordan tells Jeff that he smells like beer, but that it smells good. Jordan says that Jeff will call her when he's had too much to drink. Jordan says that she doesn't go out much, she's more of a homebody. Jeff, Brendon and Adam are now playing pool in the backyard. All the houseguests are talking about random stuff …no game talk. Jordan asks Rachel if she'll try and be on BB14. Rachel laughs says she's going to be on BB every year until she's old. Jeff smiles says he can see that happening. Brendon shakes his head.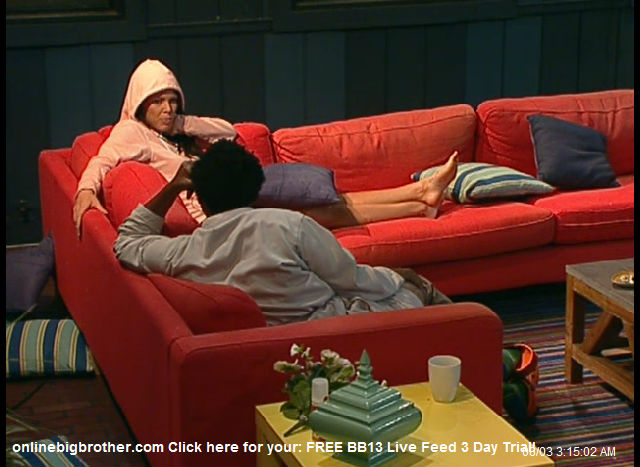 3am Dani, Lawon and Kalia are talking in the backyard about random things. Lawon and Kalia tell Dani about their talk with Shelly earlier. Kalia then says goodnight and heads inside. Lawon asks Dani for some advice about what he should say to people that ask him where he's at in the game, like how Shelly asked him earlier. Dani tells Lawon that Shelly is always trying to get information from people. Dani tells Lawon to turn things around on Shelly and ask her questions. Dani says that Shelly keeps asking her about Dominic's secret about how he was raised and how he talked about it in his opening. Lawon says that he wants to know how Shelly knows about it. Dani says that he thinks Cassi mentioned something about it to Shelly. Dani says that Shelly has brought it up her like four times. Dani says that she thinks Shelly should let it go and says that it's kind of rude for Shelly to ask her over and over about it. Lawon mentions about how excited we was when he got the callback for Big Brother we didn't think he had a chance but he was just himself and it looked like it paid off.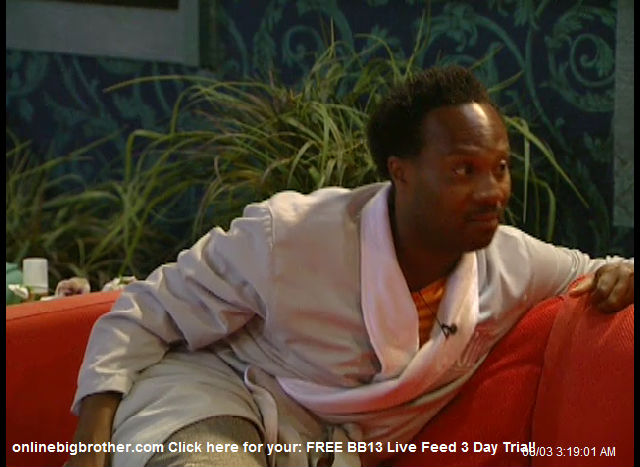 Lawon and Dani say that they have to get Rachel out. Dani says that they could do some damage. Lawon says that they need her out. Dani says that if she gets over that week she's going to be a different person, we have to get her out. Lawon says what about Porsche? Dani says that she thinks Porsche is a lot better when she's not around Rachel. Dani says that last night Porsche got reprimanded by Rachel and Brendon for hanging out with her. Dani and Lawon both says that they don't like that Brendon and Rachel did that to Porsche. They say that she is not a child and that it's her life. Meanwhile, Jeff, Jordan, Porsche, Kalia, Adam playing the guessing game. Dani asks Lawon who he would target if he won HOH. Lawon says that he would go after Rachel and put up Shelly too. Dani says that Lawon could tell Shelly that she's a pawn. Dani and Lawon think that Adam will put up Rachel if he wins HOH. Lawon tells Dani that Adam said Rachel needs to get out of here. Dani says that after this week Jordan and Jeff will be like game on… since they know they will at least be in the jury. Lawon agrees. Lawon says that he thinks Brendon will give a nasty goodbye speech on Thursday. Dani says that she thinks he will mention floaters in his speech. They talk about how Rachel was rude even after everyone put all that effort into the fake wedding…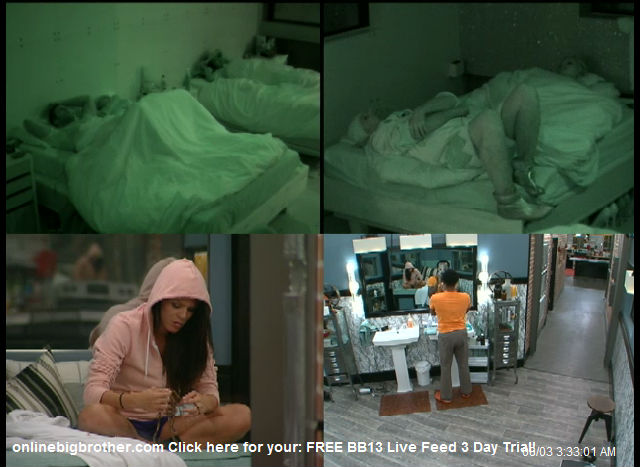 3:30am Dani and Lawon are now talking in the bathroom as they get ready to go to bed. Dani says that she misses the moments when she used to hang out doing infomercial's with Lawon, Dominic, Cassi and Kalia. They talk about how they both had a lot of fun doing that. Porsche joins them in the bathroom. The other houseguests continue to play the guessing game. At about 4:20am the guessing games end and the houseguests go to sleep…
5:45am All the houseguests are still sleeping…
Share it YO!!
Tweet