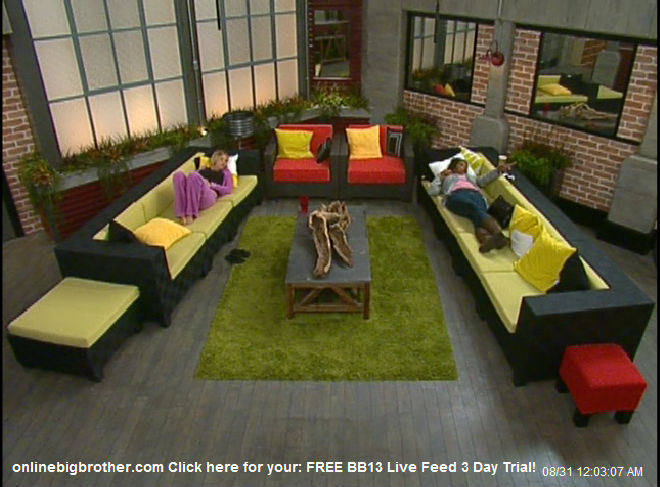 Watch the Big Brother 13 live feeds on your Android and iOS devices.
Sign-up for the 3 Day Free Trial
12am Jordan, Rachel and Adam are in the kitchen. Adam is putting away the dishes. Jordan explains to Rachel that she is going to bed because who knows what time they will be on lockdown tomorrow so she would rather get up early. Jordan says.. because tomorrow is Wednesday finally. Rachel then says that she is going to go to bed as well. Meanwhile, Kalia and Porsche are in the living room staring up at the ceiling talking about what lights are never on and how Adam says they went out day whatever. Porsche & Kalia head into the kitchen to have a snack. Adam tells them that he is tired of doing nothing and that if he goes to bed early at least he can get up and do a work out. Adam says that he they will probably be on lock down some time tomorrow anyways. Porsche says yeah and tomorrows picture day. Porsche and Kalia are trying to make a pawn and a queen for the chess set. Shelly comes in from the backyard and scares them. Porsche says she thought it was production. Kalia says she thought someone was robbing them. Shelly asks are you serious. Shelly heads to bed. In the candy bedroom Jordan & Rachel talk about studying in the morning. Rachel says that it's the best revenge from Jeff and Brendon. Kalia comes into the candy room. Rachel questions if Dani took her beanie dog to the jury house. Kalia says no. Kalia leaves then two seconds later Shelly talks to Rachel through the window in the other room with her stuffed puppy dog talking in a weird voice telling Rachel a birdie told her something to day …look under her pillow. Rachel finds her beanie dog under her pillow. Shelly says puppies need to stick together ..and then leaves the room.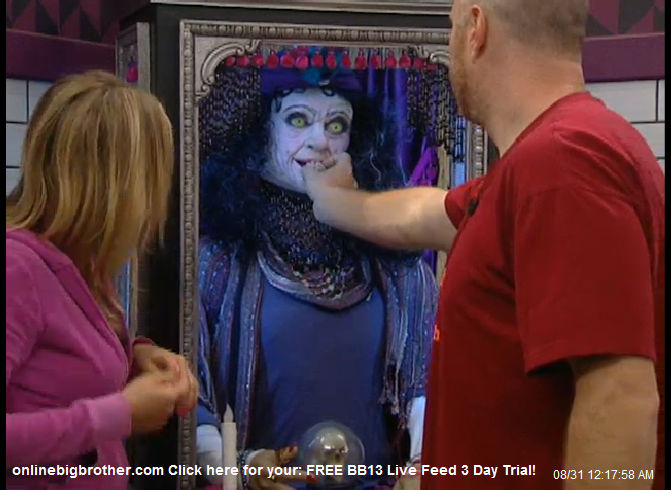 WATCH all DRAMA unfold LIVE on SuperPass! FREE 3 Day TRIAL
12:15am – 1:25am Adam, Kalia and Porsche go into the purple room and look at the fortune teller. Adam says that he tried everything ..he unplugged it, played with knob on the back .. Adam then punches the fortune teller in the stomach… then he holds the hand of the fortune teller and kisses it. Nothing happens so they leave the room. Adam says that he is going to have one more smoke and then head to bed. Porsche and Kalia go up to the chess set. Porsche and Kalia head into the HOH room to get ready. Kalia says that Shelly has been acting so freaking weird today. Kalia says that Shelly was saying that everyone is going to be surprised on Thursday ..it's going to be a fun crazy day..they wonder if she did get something from the fortune teller. Kalia said she asked her if she got any more leverage with them …and how Shelly said everything she could and that Adam will probably be the one to stay. Kalia says that she trusts Jordan now that Jeff is gone. Kalia says that even Jordan will probably step up and play the game harder and that she sees him talking to Adam a lot more. They wonder why Rachel and Jordan haven't come to them for a final four deal …but realize that they probably see it as two to one because Porsche can't play for HOH this week. Kalia says that the four of us need to talk tomorrow to make sure it happens. Porsche and Kalia start studying the events of the house. Porsche is folding over the corners of the pages in the bible for the days of the events of the house and sticking days of the week stickers on the pages. When they finish they start to use it to study and question each other. The conversation turns to wondering what the HOH competition will be like.


TRY the Live Feeds for FREE!
Click here for your: SUPERPASS – 3 DAY Trial!
1:25am – 2am Kalia and Porsche talk about how they really need to talk to Rachel and Jordan about their final four deal. Porsche asks if Kalia has talked to Rachel about their final two deal yet. Kalia says no and that she probably won't until next week or the week after. Porsche and Kalia start running through the scenarios. They talk about whether or not Shelly has a power and then talk about how powers have worked in other seasons. Porsche calls it the reapers power of veto. Kalia says that it would be insane if all these people voted for Jordan to win again. Kalia says that we absolutely need to talk with them tomorrow because it would suck to have Rachel or Jordan to win HOH and then we are on the block. They talk about how either way one of them is going up with Adam on the block and that they can't let him win the veto. Kalia and Porsche go to sleep.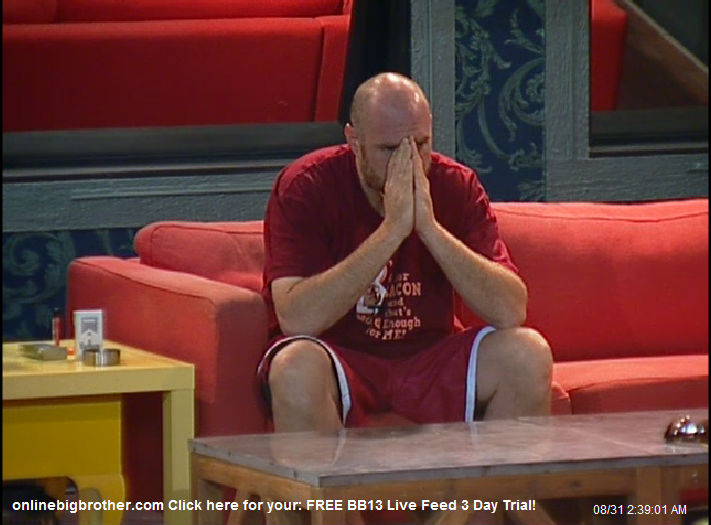 2:20am – 3:10am Adam is in the backyard by himself smoking in silence. After sitting and smoking in silence for an hour Adam goes to the bathroom to get ready for bed and then climbs into bed to go to sleep.
6:10am All the houseguests are still sleeping..
9am – 10am Shelly is the only houseguest awake and up moving around the house. She is out in the backyard smoking, doing laundry and reading the bible. Big Brother wakes up the houseguests and you can hear the first wake up song: The Beatles – Blackbird
Big Brother then cuts the live feeds to the we'll be right back screen..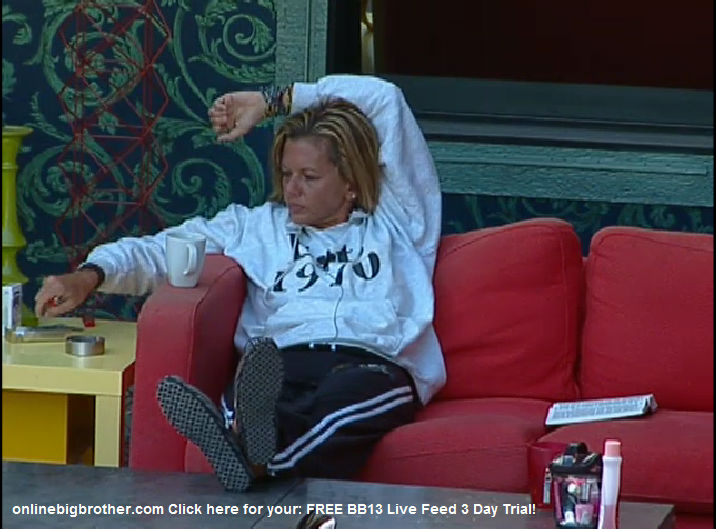 If you like this site and want to help us keep it running please consider donating, Your donations go directly to paying the server and bandwidth fees. Donate Link
Sign-up NOW and watch the houseguests live!
Click here for your: SUPERPASS – 3 DAY Trial!

Big Brother 13 Live Feed Image Gallery
Follow: @BigBspoilers and @Dawgsbigbrother on Twitter for recent crazed out spoilers. Theres also our Facebook page.
Big Brother 13 Spoilers POLL CAST your VOTE!


Share it YO!!
Tweet