Watch the Big Brother 13 live feeds on your Android and iOS devices. Sign-up for the 3 Day Free Trial
9:15am Big Brother wakes up the houseguests. Shelly and Adam are in the backyard smoking. Shelly says in case you haven't noticed they are protecting themselves like mother and daughter. Kalia joins them in the backyard. They talk about how their bodies really take a beating in the big brother house. Kalia heads back into lay back down. Adam says that he is nervous. Shelly says don't be nervous ..you know we're going up. Just think its more camera time. Adam says it's not the camera time I want. Adam says that he wishes everything would just speed up. Shelly says that at least we know what is going to happen. Shelly and Adam discuss how everything changed because Porsche opened up Pandora's box. Shelly says that $5,000 wasn't worth it, especially after just getting through the fast forward. Adam says that they make it really tempting. Shelly says that 1% of the prize money is not worth it. Adam says that our fate is now in Jordan and Rachel's hands and they will do what's best for them. Adam decides to go lay back down. Meanwhile, Rachel and Jordan are laying in bed talking about how they need to buckle down and strap in win stuff. They try and go back to sleep. Adam comes in and gets back into bed. Rachel gets up and goes to the bathroom. Jordan gets up and Adam tells her that he really doesn't like that Shelly is talking shit about everyone.


9:40am – 10:15am Rachel walks really fast from the bathroom to the bedroom. She grabs something from the dresser and then walks really fast huffing and puffing all the way back to the bathroom. Jordan asks what is wrong with you? Rachel says nothing. Jordan says well why are you acting like that. Rachel says that she just doesn't feel good .. she feels sick. Jordan asks her if she needs to throw up? Rachel says she thinks she may have the stomach bug, and that she feels really weird. Rachel then says that maybe it's just something she ate yesterday …like all that cheese. Jordan says well you haven't been feeling well for awhile ..maybe you caught a bug or something. After Jordan's shower Rachel says that her body feel like what it feels like before you get your period. Jordan wonders if its just stress. Rachel and Jordan start talking about their dogs. They talk about working out after the POV ceremony. Rachel asks are you excited to get our keys back? Jordan says yeah. Jordan asks are you excited there are only 17 days left? Rachel says yeah! Shelly joins them in the bathroom to take a shower.
If you like this site and want to help us keep it running please consider donating, Your donations go directly to paying the server and bandwidth fees. Donate Link
See What They Can't Show You On TV! SUPERPASS – 3 DAY Trial!
10:30am Adam and Jordan are in the candy room talking about how they are all still good. Adam is really annoyed with Shelly and says that he could just go off but it won't do any good. Adam says that he doesn't think he needs to keep campaigning. Adam says that he feels like they are good. They talk about how Shelly is trying to cover her tracks ..she is trying to be good with me, you and them. Adam says that he wants her out! Jordan says that basically one of us needs to win HOH this week.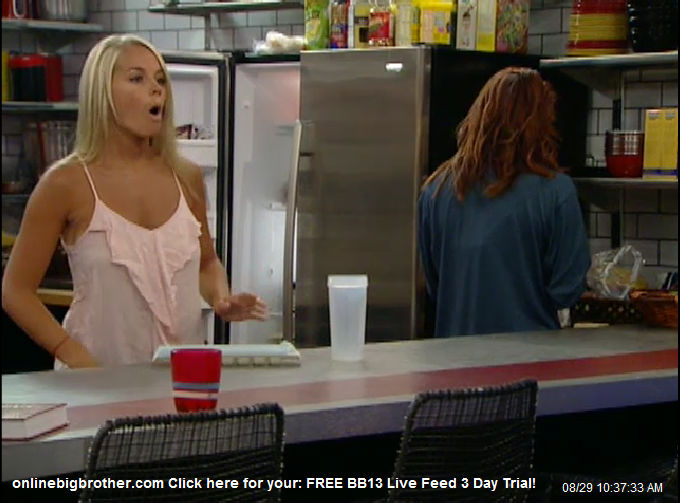 10:40am Rachel, Adam, Jordan and Porsche are in the kitchen. Jordan forgets her mic and Big Brother tells her to put it on. Jordan is all surprised that she doesn't have it on and can't remember where it is. Shelly and Kalia are getting ready in the bathroom. Shelly says that maybe she should have been getting ready this morning rather than sitting out side looking at birds like an idiot.
10:45am – 10:50am Adam, Porsche, Jordan and Rachel are out in the backyard. Adam says …just one more plea .. please don't use the veto. They laugh. Jordan asks if anyone has even not used the veto while being on the block. Adam explains that its happened and they went home. Shelly then comes out into the backyard complaining about her boobs being wet… Big Brother switches the live feeds to the TRIVIA screen… Looks like the POV ceremony is happening now..
WATCH the houseguests LIVE on SuperPass!
Click here for your: FREE 3 Day TRIAL!

Big Brother 13 Live Feed Image Gallery
Follow: @BigBspoilers and @Dawgsbigbrother on Twitter for recent crazed out spoilers. Theres also our Facebook page.
Big Brother 13 Spoilers POLL CAST your VOTE!


Share it YO!!
Tweet