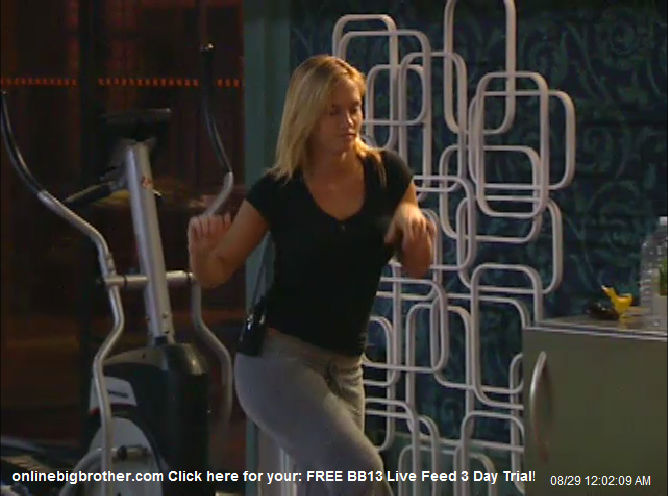 Watch the Big Brother 13 live feeds on your Android and iOS devices. Sign-up for the 3 Day Free Trial
12am All the houseguests are in the backyard but Porsche. Porsche is in the kitchen doing the dishes. Kalia and Rachel get scared by a wasp and Shelly comes to the rescue to kill it. Adam asks if everyone is going to bed. Rachel and Jordan head inside to go to bed. Porsche comes out side and say all the kids are going to bed its time to party. Adam asks Porsche when she is going to open up her Champaign bottle. Porsche asks I dunno when do you want to .. right now? Adam says its your bottle ..whenever you want it. Shelly says maybe tomorrow when we go on the block. Porsche asks what and make it a celebration? Adam says thats if she even uses the veto. Shelly says she is using it and we are going up on the block… Adam says we'll see about that .. Shelly says why would she not use the veto.. Adam says lets see if we can convince her. Shelly says we will be sitting up in those chairs come Thursday. Porsche says if it was any other veto we would have a chance. They continue to talk about the veto competition. Porsche says that it was soft and cushy … so I could just squeeze it between my legs and just sit there… Shelly says …that's what she said! They laugh. Porsche talks about how she's softer now because she doesn't do as much exercise as she does at home and work. Meanwhile Kalia, Jordan and Rachel are in the bathroom getting ready for bed. Rachel talks about her high school boyfriend that used to buy her pizza and Oreos every day because he thought he was being nice …but really he was making her fat.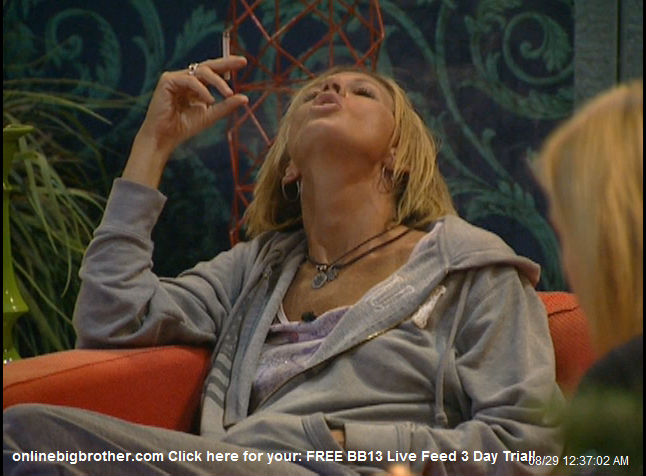 12:20am Adam, Porsche and Shelly talk about how they need to start being nice in their goodbye messages because everyone is going to the jury. Porsche says that she wasn't that nice with Brendon … she was just honest. Porsche says that with Jeff he just told her that she was tired of being second place. Adam says that at least the jury people have time to think about the game for awhile. Porsche says sorry for what happened to Adam and Shelly. Adam says its not your fault. Porsche says that she will definitely stick by whoever stays and whatever deals you have to make to stay … but just know (laughs) and says even though it will probably be broken! Porsche says just know if its one of them its their boyfriends that will automatically give them the votes if they are in the end. Adam says that would be the icing on the cake for the season …if they actually take game into consideration or… vote for them. Kalia comes outside to join them. Adam heads inside. Shelly tells Porsche and Kalia to keep tabs on him. Kalia asks if Shelly has talked to them yet. Shelly lies and says no …I will talk to them tomorrow ..all I need is one of them. Porsche says we shouldn't have told them about the purple room (Fortune Teller). Shelly says I know for a fact its not anything. Shelly says if it was going to say anything I gave it 3hrs ..its nothing. Meanwhile, Jordan and Rachel are in bed talking about how awesome it would be for them to make it to the end because they have been fighting all season. They decide to go to sleep.
TRY the Live Feeds for FREE!
Click here for your: SUPERPASS – 3 DAY Trial!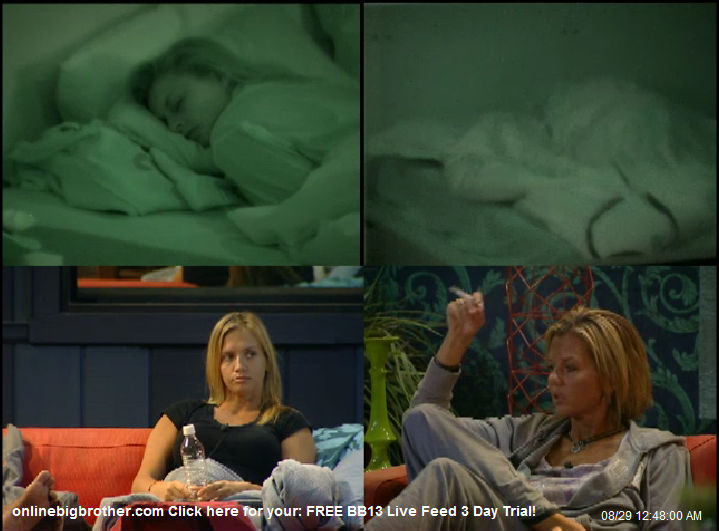 12:40am Porsche, Shelly, Adam and Kalia are talking in the backyard. They talk about past events and competitions of the house. They start studying the days of the house. Adam is really helping Kalia who has no idea what day things happened. Shelly heads to bed. Kalia asks if Shelly has gone in there and made a deal with them… even though we have a final five together. Porsche says that she has to say whatever she needs to stay. Kalia says but is she lying to us like she is lying to them? Kalia says that she thinks she lies and has lied a lot during the game. Adam heads inside. Porsche and Kalia talk about how they need to start studying and about how paranoid Shelly has been. Porsche says that Shelly says she hasn't talked to them yet …but I saw her walk into the candy room to talk to them. Porsche says that she lied to us straight up. Kalia says that she wants to talk to Rachel and Jordan to find out who they should vote for. Porsche says that she just doesn't trust Shelly …she blatantly lies to our face. Kalia and Porsche head inside. Adam, Kalia and Porsche head up to the HOH room. Kalia tells Adam to keep an eye on Shelly and see how much she is talking to them. Adam says what can she even offer them. Kalia says that they could be thinking that she can't win anything. Kalia says that Dani told her to stick with Porsche and Shelly . Adam talks about he wants to make the moves to show why he should win … but Shelly just wants to others to make the moves. Adam says that Shelly told him that she was the one that convinced you not to put me up. Porsche says are you joking. Kalia explains that it wasn't like that.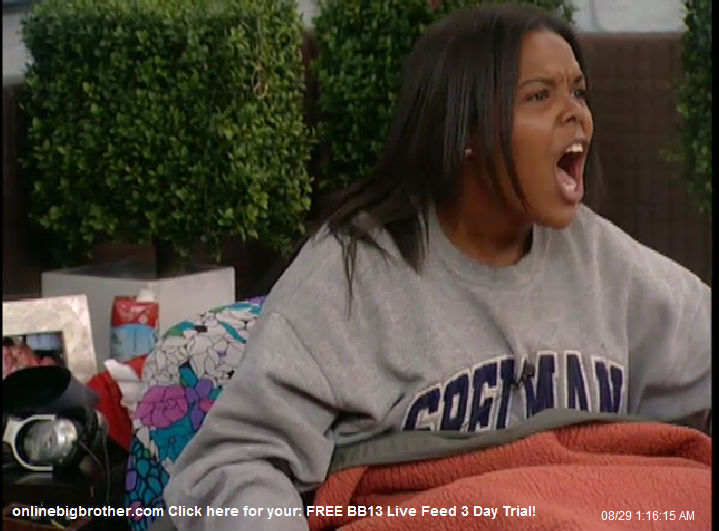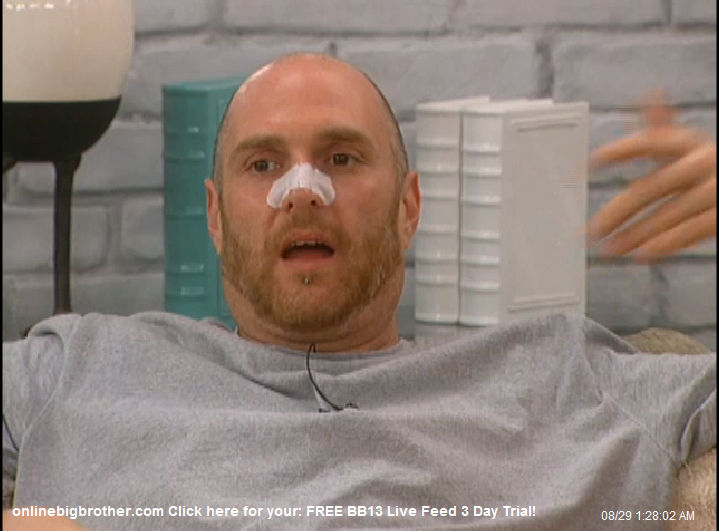 1:20am – 2:50am Adam and Kalia talk about how Shelly lies so much and how could she … she is a mom. Adam then puts zit strips on with the girls. Kalia, Adam and Porsche talk about movies and other random stuff. Kalia coaches Adam what he can say to Rachel and Jordan to help get them to keep him. Kalia says just say that you helped try to keep Jeff, you don't lie and that you don't run back in forth with information. They talk about how Rachel has wanted Shelly out since Cassi. Kalia and Porsche tell Adam that they know Shelly lied to them tonight about talking to Rachel and Jordan. They talk about how they need to get Rachel out because she is fighting. Kalia and Porsche agree also that they can't let Jordan get to the end again ..she has done nothing to get here …her boyfriend did everything. Kalia talks about how quick Jeff wanted to throw out Brendon and Rachel and vice versa. Adam heads down to the backyard for a smoke. Adam talks to the camera about how he needs Rachel and Jordan to keep him. Adam says that he needs to win HOH to prove his worth. Adam then heads to bed. Up in the HOH Kalia and Porsche are in bed together talk about past events of the house, getting to the end, and past seasons of BB. Kalia and Porsche talk about sticking close to and taking turns being with Rachel / Jordan and Shelly. Kalia and Porsche go to sleep.
Sign-up NOW and watch the houseguests live!
Click here for your: SUPERPASS – 3 DAY Trial!
6:20am All the houseguests are still asleep..
If you like this site and want to help us keep it running please consider donating, Your donations go directly to paying the server and bandwidth fees. Donate Link

Big Brother 13 Live Feed Image Gallery
Follow: @BigBspoilers and @Dawgsbigbrother on Twitter for recent crazed out spoilers. Theres also our Facebook page.
Big Brother 13 Spoilers POLL CAST your VOTE!


Share it YO!!
Tweet